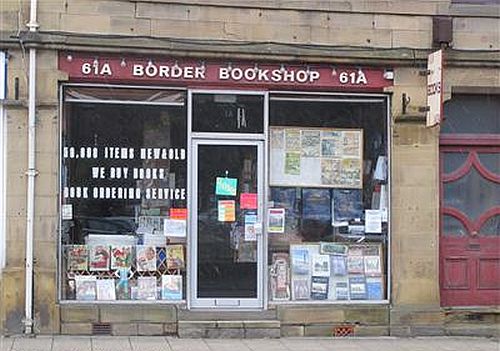 I lost count a long time ago of the number of times I called in when I was passing through Tod, browsed through the hundreds of football books, and bought books when I needed reference material for anything I was working on. What a beautifully organised bookshop; rooms and rooms of books all sorted into sections and subjects and topics. Magazines, comics, annuals, you name it, they'd be there somewhere. But for me it was the rows and rows of football books that were the attraction. Someone I know said it wasn't so much a bookshop but a Tardis, filled with rooms, nooks, crannies and passageways and just after you thought you'd been in the last one, you found another one; and all of them immaculately set out and presented, never a book out of place. Victor had followed Burnley for over 50 years. He died on New Year's Day.
*************
Storms, tempests, monsoons, gales, had lashed the country day after day. The Daily Express headlined continuously with doomsday warnings. Floods of biblical proportions covered vast swathes of the countryside. Streams became rivers, rivers became lakes; the land for miles and miles fast disappearing beneath brown swirling water. Whole towns awash, small villages completely cut off, power-lines down, thousands of homes ruined. People canoed down the streets. 25-foot waves battered the shorelines, beaches disappeared, promenades crumbled, landmarks disappeared; cliffs tumbled into the sea, Aberystwyth almost vanished. In Wales, the south and the south-west there was no respite. And that, for the Yeovil game, was where we headed on the Friday before the game. The football supporter is a hardy specimen. Nigh on 1700 of us wrapped up, wellied up, hatted up, all determined to get there and follow the lads; 1700, a quite astonishing turn-out for such a distant game. The day before we departed, the Daily Express changed headlines. Floods and rain would be replaced by Arctic conditions that would last for weeks.
There were no new players as yet, the January window only a few days old. But O'Neill had returned from York. Ross Wallace back from a long injury had played half a game. Vokes had signed a contract extension. With the transfer window being open various names were touted as Burnley possibles; Ashley Barnes stories would not go away. Luciano Becchio turned up from out of nowhere, Nahki Wells was a target, but the one I liked was Billy McKay from Scotland. Now there's a proper name, a no-nonsense name, a footballer's name, a name that sounds like it belongs to a striker; none of this Johnny Foreigner stuff for me. And, befittingly, one of Burnley's most prolific strikers was called McKay back in the 50s and Jimmy Mac rated him the best goal-poacher he had ever played with rattling goals from all angles, at any height, from left or right. For most of the game he'd read the newspaper, contemplate the meaning of life, or just stroll around with seeming disinterest leaving any hard work to his teammates. Work-rate, tracking back, covering; what were they? But when he and ball met in the penalty area he was lethal. He didn't stay long, no-one quite sure whether he fell foul of Alan Brown on account of his on-pitch 'laziness', or a verbal set-to with Bob Lord when legend says McKay told him if he wanted a drink, 'och the noo' he'd bloody well have one.
Coach departure at 10 from the Turf; all the same familiar faces plus several new ones, most with a brolly or plastic mac tucked away somewhere. On Twitter a couple of days earlier the Yeovil plod had advised people at the away end to wrap up in suitable weatherproof clothing. This was an exposed, open end, they warned, standing only, just like football used to be. Huish Park holds just under 10,000 and was only built in 1990 when Yeovil were in the Conference. The old ground had the infamous slope upon which giants were slayed in the FA Cup like Sunderland in days of olde. If you put a coconut at the top end it would roll all the way down to the other, although there is no evidence to suggest that anyone ever actually did take a coconut in.
On the way to Burnley from Leeds, trotting happily along the pavement, without a care in the world, as the morning traffic whizzed by, was a little black sheep. I've seen some funny things in my time on pavements, but this was a first. We took this as real good luck sign. On the hotel notice board in reception it said Welcome Burnley FC. Surely it couldn't, wouldn't be the lads. Surely it was a welcome for us. But no: the team were staying there as well. The last time this happened was five years ago in Plymouth and that was the promotion year. I mentioned this to Sean Dyche later; I'm sure he was impressed.
On the way down we heard the news that Ashley Barnes had signed. We stopped at Upton on Severn. There was every chance it was about to be renamed Upton under Severn as the raging river swirled just a foot below the flood defences. Even the ducks were in canoes. It's a nice little village and has the kind of tiny shops where if you have a mind you can buy spare parts for your church organ. The rain had stopped mercifully. Oliver Cromwell made the place famous when he crossed the bridge at Upton on his way to Weatherspoon's at Taunton.
I can report to you that we breakfasted with the team and mingled, Mrs T quite beside herself surrounded by so many young fellas glowing with health and positively radiant with fitness. They didn't ask us for our autographs because Sean must have told them not to bother people at breakfast. The previous night we sat and watched Leicester take Derby apart sitting with Trippier and Ings. Mrs T chatted away to Danny about being brought up in Netley Abbey. Funny to think that we probably walked by him playing footie in the school yard when he was just a little nipper in the school there, as we walked to the shops. Her sister's house was just over the road.
Of course what they all had for breakfast is confidential. It would be wrong of me to reveal the names of the three players who had to be shown how to use the toasting machine. Our friend Anne was toastmeister and is now available for training days. I wouldn't dream of telling you which player ate the most, which player had a plate of scrambled eggs and then buried it with an inch deep layer of tomato sauce, or who had the full English, or who just had a banana. Mind you, there's nowt wrong with tomato sauce. It's one of your five fruit and veg and has contents that help fight cancer. I will report though that as hotel breakfasts go, of all the ones we've had on our travels with the Supporters Club, this one at the Holiday Inn, Taunton, was one of the best.
On game-day, we'd all planned for one of two eventualities, more rain or bitter cold. None of us were prepared for the warm sunny day and the blue skies. I sat at this game dressed like Scott of the Antarctic as the sun shone from a cloudless sky. Before the game there was a most pleasant stroll round the streets of Taunton. I was impressed by the food stalls; the Italian Hot Sausage Co, the roast pork baguette stall, the West Country Pasty Company.
Huish Park was heaving with Burnley folk, the standing area a reminder that there needn't be any problems with standing at football grounds. It's ace going to games like this where you meet and greet faces you haven't seen for a while, people from all parts of the country, people who have come because it was another new ground to visit. The stewards were a good bunch. Those of us at York in the pre-season can remember the utterly pathetic, miserable sods there that confiscated the inflatable dolphins that everyone had fun batting around. Here at Huish Park the stewards returned the inflatable footballs with a smile.
And the game: a win was imperative. Leicester were now 7 points clear, QPR only a point behind. And Burnley hadn't won away for some time. They did win but despite Yeovil's lowly position this was no easy pushover of a game. The last ten minutes were nail-biting. On 80 minutes and two goals to the good, Burnley were coasting and in control. But this is Burnley and somehow a hopeful low cross from the left gently made its way into the far corner of the Burnley goal with defenders either mesmerised by its serene passage into the area, or all of them leaving it to each other. One messageboard poster summed it all up nicely: 'As relaxed and assured as an evening with the Pasadena Roof Orchestra until we decided to let someone skip past 3 or 4 defenders with 10 minutes to go… leading to the mandatory period of angst before the final whistle.'
From that point on, Yeovil, average height something like 6' 3", pumped, pummelled, pushed ever more threateningly at the Burnley goal. On 80 minutes there we were, relaxed, calm, at ease, enjoying the moment, admiring the setting sun, and then suddenly it was worryingly tense. Until that soft goal went in, there was only one team in contention and looking likely to add to the goal tally. Vokes had hit the post minutes earlier. The Yeovil keeper had made a couple of excellent saves. By this time news that QPR were winning was filtering through. The giants of Yeovil continued to hammer away, every ball lobbed into the area giving us the heebie-jeebies. Shackell was whacked, the injury minutes mounted up, five of them in all, and they wound down with agonising slowness. The last three wins have all come by the odd goal; tickets should now carry a health warning. Before Yeovil scored the game should have been dead and buried, totally beyond their reach. Three or four goals wouldn't have flattered Burnley despite this being a difficult pitch and not quite being at their fluent best.
Ings and Vokes scored the goals, our very own Little and Large; Ings' an absolute beauty when he picked up the ball maybe 30 yards out and let fly and it went like a rocket into the far corner. It was so stunning; blink and you missed it. Vokes' was the result of quick thinking by Marney when he picked up on a Yeovil error and the resultant ball across the box was neatly converted by the Big Man about 10 seconds later. Ings' strike must surely be a contender for one of the goals of the season. Alas speculation mounts regarding his future in direct relation to every goal he scores. Meanwhile Billy McKay scored again for Inverness. The game ended with something we hadn't seen all season. Ings was taken off and replaced. On came the new man Barnes for a few minutes.
The win saw the 50-points landmark reached. 'Staying up, staying up, staying up,' the Burnley fans sang. People were now looking at permutations and how many points would be needed for second place. Winning half the remaining games would guarantee 80 points. 82+ usually means an automatic place. Which would be the team to crack first, with it looking now that Leicester, Burnley and QPR would be the three that looked likeliest to pull away from the pack?
Another messageboard poster listed all the positives of the season so far: the hard part is behind us, the games played, the points tally, the lack of injuries, the two games a week period all done and dusted, 12 points clear of 7th place Reading, 21 games left and a leisurely 16 weeks to play them, no major suspension worries, a new signing at last. This was all real glass half-full stuff. It made you want to break out into a quick song and dance. And then he asked: 'What can possibly go wrong?'
Back to earth with a bump; we're Burnley supporters. We know full well all the things that can possibly go wrong. There's many a trip between a muckle and a mickle.