I've done some grumbling too in my time. Years ago in the blessed Stan's reign when the club had a messageboard; I grumpily asked why the money couldn't be found for a striker like Shefki Kuki to enhance a real chance of promotion that season. Barry K was chairman and answered in the next programme. The retainer (it seems like 10 years ago) had me sharpening my pen some while back. But in matters to do with team selection, individual players or tactics, I keep well clear of criticising. I'll moan and groan to Mrs T sitting in my seat but that's where it stays. I wrote that in the second half against Everton Burnley were impotent; impotent as in ineffective. Is that moaning? No it was just fact. They just couldn't get the ball off Everton who strangled the game from the off in that half.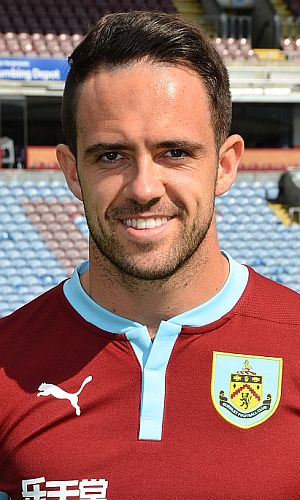 Danny Ings disrespectful?
They worked their socks off at Arsenal but things are not hunky dory at the moment. Things are not going as well as they did a year ago. But are players having off-days, or are they still performing at their own personal max, but the quality of the opposition makes it look like they're having an off-day. God knows I had enough off days in my other life headmastering. Some days I made decisions that turned out later to be wrong. Sometimes I did things I later regretted. Sometimes I went into school feeling thoroughly washed out and couldn't have done a good day's work to save my life. Sometimes if one of the kids had been up all night I went into school with my eyes propped up with matchsticks. But in my day there was no twitter, and no message boards where parents could dissect me and give me a mark out of ten for the day's work. No doubt they would have done. And I would have fumed. What did they know about running a school, to be precise – nowt.
And what do I know about being a top footballer? Who am I to tell a Burnley player he's had a poor game or been out of his depth, or tell Sean Dyche what tactics to employ or what team to select, now that things are turning difficult? And yet after the Everton game a few people were beginning to do this.
No-one ever sets out to be deliberately wrong, or underperform, or have a bad day. And it's the same with footballers on the pitch. There are days when nothing goes right, the ball doesn't stick, it rebounds off your shins, a shot goes wide, a header is muffed or a pass goes astray. And sometimes as is happening right now, they come up against teams that are clearly better and individual opponents who are simply top of the range.
We have a bunch of honest, whole-hearted, genuine players, not without skill and talent. They were fantastic in the Championship. Now, they still give their all like they did at Arsenal but some of them must have cringed if they'd seen or heard the comments that came their way via messageboards after the Everton defeat.
These are some of the topics, headings and comments that appeared on two of the main Claret websites after the Everton defeat…
It's beginning to look a bit of a shambles…
A lot of people have been let down…
Relegated by Christmas…
We deserve to be where we are…
Danny Ings goal celebration was disrespectful…
Fans are growing increasingly restless…
Performances resemble a Brian Laws team – what utter drivel. There were games at that time when players just threw the towel in and spat the dummy out (the latter Brian Jensen's words not mine). It was a time when some key players had not one shred of respect for the manager. They took cakes in to celebrate his departure.
Danny Ings' goal celebration was disrespectful to fans… he cupped his hands to ears and apparently yelled 'what, what.'
So what: what absolute tosh. I didn't know whether to laugh or cry when I read that. None of us can begin to imagine what went through his head when that goal went in. None of us are professional footballers; none of us have the first idea of the pressure on a scorer who isn't scoring, the beginnings of self-doubt, the erosion of confidence, and certainly the growth of paranoia if and when you become aware that some supporters are having a pop at you.
He hasn't signed a new contract and that seems to be at the heart of any criticism fired at him by a section of support that presumably views him as being disloyal. But, there is nothing to say he HAS to re-sign. He has chosen a certain path and it leaves me not critical but puzzled. By running down his contract in this way he is surely in a risky position because he has no long-term security. One dreadful tackle or bad injury could finish his career before a summer move is completed. His knees are suspect enough. So: I'm curious as to the advice and guidance his agent is giving him and I'm certainly curious to know if he has been tapped up and knows already where he is going. But, whatever the lad does or decides, thanks to a season of goals that took us to the Premier League and £120million+ to come, he is well in credit.
Fans are growing increasingly restless… Not where I sit and not the ones that I know. At the moment there is an incredible sense of realism about the place. We have a set of players who are what they are. I'll have a guess that the only people who are restless are those that take a perverse pleasure in writing about it. 99.9% of people are fully aware that promotion was a fairytale, that the club achieved something that no-one even half expected. We're now up against world class players. We knew from the word go that even with the millions coming in it would be a struggle. The standards in the Premier are now even higher than they were 5 years ago. Where are these 'weak' teams that we thought we'd relieve of 3 points?
Sean Dyche was appointed two years ago on Oct 30. We've seen enough condensed into those two years to fill several years. A shaky start, a few shaking heads, then shaking with pride and emotion at the end of last season, and now a few folk have got the shakes at the thought of this season and what's to come. A small number are saying they'd rather be back in the Championship. But what's to come is actually re-assuring – a manager who is forever positive, players who have not thrown in the towel, the prospect of forthcoming great games, the possibility of a Houdini escape act, maybe even a Cup-run – who knows. The only thing you can predict about football is its unpredictability.
With all this in the background off we went to Arsenal. Well: not actually me and Mrs T; we're saving our pennies and doing the Supporters Club QPR weekend. We remain cheerfully chipper about things. We did Arsenal a few years ago when they beat us 3-0 in the Cup. All I remember is the soaking we got right on the front row that was directly beneath the lip of the roof. Rainwater poured off it directly onto us. I read that Arsene Wenger was responsible for every aspect of the stadium design and the facilities; that he had final say on everything. Well Arsene you made a right cock-up of the roof that's for sure. It's a shame he wasn't sitting with us that day and got the drenching that we got.
You'd have to ask Massimo Cellino for the Italian translation of cock-up (Cazzata I believe). Leeds jokes were plentiful after the latest sacking there.
'Only three more managers to Christmas… everybody can be famous for 15 minutes, or the manager of Leeds United…
But it was the chairman of the Leeds United Supporters Club, Ray Fell, who came out with a pearler when he said 'I hope Leeds don't turn into a laughing stock'. Where has the guy been? An image of an ostrich with its head in the sand springs to mind. Is this guy serious? His beloved club has been a laughing stock for God knows how long. Furniture, cars and goldfish all on rental contracts that had to be terminated, players taking their own sandwiches to training, doing their own laundry; you couldn't make it up. What a TV footie soap opera you could write; something along the lines of Boston Legal but with directors in boardrooms instead of lawyers, Massimo Cellino instead of Denny Crane. There's talk of Red Bull now buying them out.
Dented but not broken, said Sean Dyche before the weekend, his theory was that Arsenal might well have been worried by the visit of Burnley. The latest Sunday Independent interview revealed that he tells the players that every defeat takes them one step closer to the inevitable win. Every team they play now knows that Burnley will one day win a game. Every team they play now is therefore worried that they will be the ones that provide Burnley with their first win. Every team they play now is therefore under pressure. They do not want to be the first team to lose to Burnley. No-one wants the embarrassment it will bring.
And: 'They are not playing like a beaten team,' said Robbie Savage in his BBC column. But he pointed to something significant. Of their average 9 shots per game, only a third were on target.
Before the game Professor Wenger would have been telling his players: 'Burnley have not won. They are due to win a game. They might be bottom but they can play a bit. That Ings lad scored last weekend so will probably score again. That big centre-forward is due a goal. "J'ai un mauvais sentiment." I have a bad feeling about this. I do not want Alan Shearer or that gobby Robbie Savage on MOTD talking about Arsenal losing to Burnley. '
And they did not. The 3,000 Burnley fans there sang and roared and remained defiant but it was to no avail. Arsenal survived the test and were not the first team to lose to Burnley, winning 3-0.
The day after Halloween: Sordell in and the Jut out, Marney back, a woman shot dead near the ground just before the game, amazingly high temperatures for the time of year, 60,000 crammed in the ground including David Beckham and Kevin Costner; the usual M&S Saturday afternoon routine for moi with a hot chocolate downstairs whilst Mrs T did the shopping. You get a tiny shortbread the size of toenail with the drink. I asked could I have two and the woman behind the machine looked at me like I was Oliver Twist asking for more. At this time it was still 0-0 at the Emirates and Piers Morgan was tweeting that it was ridiculous, Burnley were playing Arsenal off the pitch. That came as a bit of a shock; the first half by all accounts had been all Arsenal's with Chris Kamara reporting that it was 8 minutes before Burnley even touched the ball.
In three Premier games so far the opposition has had one stand-out player; in this one it was Alexis Sanchez – exceptional said Wenger. 'Incredible,' said Dyche who added that he had told his own strikers to take heed of his qualities, razor sharp pace and instincts, scrapping for every ball, dominating play, scoring twice and running the show. Burnley lost, but those that were there were proud of them with 'keeper Heaton giving a superb performance and making a string of saves to keep the score down and applauded off the pitch by his Arsenal counterpart.
There were no Evertonesque gripes after this game save for questions about all the first-choice summer transfer targets that came to naught and whose responsibility that was. There was a string of names but not one arrived, resulting in questions about the level of available funding and an inability to compete on the field. This time it was the boardroom receiving the flak. But after Arsenal, websites and media gave the players we do have nothing but praise:
We were battered but gave 100%... well done Clarets you contained a wonderful side for the majority of the game but their class shone through in the end… another defeat but plenty of positives… fair play for hanging on so long against the big boys… the gap in class is way too far but these boys are giving everything… never expected to win but they played their hearts out… 70 minutes magnificent defending and all you could hear was In Our Lancashire Homes… we played well today especially for the first 20 minutes of the second half… admirable and unstinting commitment, energy and valour all over the pitch… nothing to be ashamed of… disciplined from front to back Burnley were in no mood to roll over and die… don't let the score fool you, Arsenal did not coast to victory…
This was a visit to one of the great citadels of football. But just as against Everton and Chelsea you can only contain world-class players for so long. And as Sean Dyche observed, the Premier league is unforgiving and harsh. Burnley are just not ready to meet these teams just yet; multi-million pound teams like this get you by the throat and they don't let go. And yet there was no embarrassment and no humiliation, we're a hundred miles away from any of that yet; only the supreme efforts of players who never gave in and never let their heads drop. Next up Hull City – the first win is getting nearer.