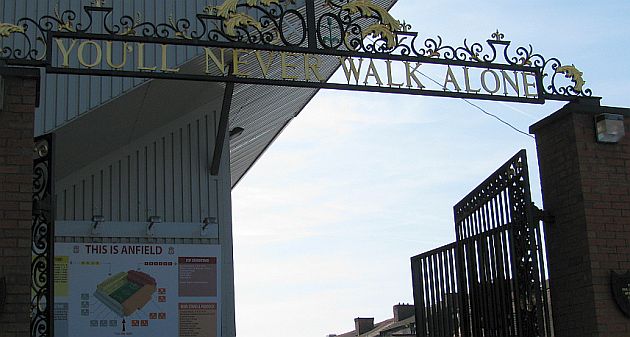 Their display against Man City in their 2-1 win had been by all accounts outstanding, whilst Burnley's against Swansea had been lacklustre. This was surely a Liverpool walkover.
The last win there was by 1-0 with an Ian Brennan piledriver. It was the game when Jimmy Adamson gave them a memorable team-talk the day before. He had them sitting down paying attention and one by one he spoke to them and told them what was expected. To each player he gave a specific instruction. He looked at them one by one and spoke in that slow almost drawl of his.
You will do this… you will do that… your job is to… you will stick close to… you will cut out all the crosses… you will drop back and cover… you will man mark… Even Paul Fletcher was given a man to mark.
Each and every one of them had a specific role and until he got to Peter Noble they were all defensive. He looked at Peter Noble and went quiet. Then he spoke and to Peter Noble he gave a lone striker role.
'You,' said Adamson with a straight face 'will be the Lone Ranger.'
Fletcher had a think and quickly decided what he would do. There were no texts and emails back then so early on Saturday morning he sent a telegram to Noble.
'Best of luck,' it said, 'from your pal Tonto.'
The 1-0 result remains one of those legendary scores in BFC history. Liverpool threw everything at Burnley and had shot after shot. Stevenson in goal was magnificent and made save after save. This truly was one the greatest performances by a Burnley 'keeper. And the goal was just something truly special, a 30-yard thunderbolt that Clemence could only claw at. The Liverpool team and fans could not believe they had lost.
For me and Mrs T it was a trip down Memory Lane to places where we did teaching practices years ago when we were at training college. Signs brought back memories – Croxteth, Walton, Aintree, and Fazakerley. Between '63 and '66 I went to a few games at Anfield. Shankly was manager. They had emerged as a team to be reckoned with players like Ian St John, Roger Hunt, Peter Thompson, Ron Yeats and Tommy Lawrence; champions in '64 and FA Cup winners in '65. I did a teaching practice in a school in Bootle Docks, St George C of E Secondary School, and the memory is still imprinted in my head. It was grim place back then and one of the first things I noticed was that the long curtains in the huge hall had been set on fire. The kids were Reds, the lot 'em, a tough, hard lot and because I had a huge scar on my cheek, the result of a boil I'd lanced, they thought I was hard case too. Half of my face looked a real mess like I'd done a few rounds with Henry Cooper.
'How d'ya do that sir,' they asked looking at it in admiration. Well: I certainly wasn't going to say all I'd done was make a mess of a boil so I said I'd got into a bit of trouble one Saturday night.
'And you should have seen the other guy's face,' I said throwing an imaginary punch and doing a quick Ali shuffle. They took it all in and I was home and dry for the next three weeks.
Mourinho's snarls and contempt were replaced now by Rodgers charm offensive as he paid huge tributes to Sean Dyche and the Burnley team. Dyche is surely manager of the season, no matter what happens, Rodgers maintained.
In the press it was Ings, Ings and Ings as this was the game seen as his chance to impress and stake his future place at Liverpool. The national press viewed it as an almost done deal. The local media seemed in favour of the deal. The Liverpool fans seemed less certain. By the end of the game they must have wondered what the fuss was about. He was one of a whole team that was simply outclassed. He ran and chased and had the odd little moment but as one reporter wrote, he was little more than a footnote. He was given no opportunity at all to shine like he did at Old Trafford.
All Sean Dyche could do was hold up his hands and say that Liverpool were just too good and the way they played was what multi-million pound players do when they in the mood. And boy, were they in the mood; the score might have been respectable, but the lesson Burnley received was chastening. This was the corner shop versus Selfridges. This was players who can run and are fit and have incredible spirit, against players who have all that plus marvellous individual skills, vision, awareness, first touch, pace, and passing accuracy. The team and bench they put out cost something like £134million. 'Three quid, we've only spent three quid', the Burnley fans sang again.
Not that long ago on Boxing Day, Liverpool had been decidedly mediocre somewhere in mid-table. How they won that game remains a mystery. Burnley were by far the better side and all of us left Turf Moor shaking our heads at the injustice of football.
But since then Liverpool have progressed and got better and better. Since then they have hit a vein of form that has left them unbeaten in 12 Premier games. Rodgers has found his formula and got his team selections sorted and has so many options. Burnley have none. The side was unchanged yet again. The tweaks that can be made are limited. Wallace for Kightly, Duff back in for Keane, Ward for Mee; but these are hardly earth-shattering. The only thing you can say in their favour is that they would be fresh. With Marney out, there is absolutely no cover for the two midfield guys, Jones and Arfield, and Taylor is still unavailable.
Burnley remained what they are; honest, willing, hard-working, and determined. These are all admirable, but no match for moneyed clubs that can scour the world for talent and when that talent gels and comes good it is all too much for a side like little Burnley, especially when there is nothing to bring from the bench. Publicly he says the right things, but I can't believe that behind the scenes Sean D isn't tearing his hair out that the January window was so fruitless.
What did so well for Burnley in the Championship is simply inadequate for the Premier League. They may well hang on in there. They remain in with a chance of survival, might just pinch a couple of 1-0 wins; but if they do, it will be by the skin of their teeth and sheer bloody-minded willpower, maybe on the very last day at Villa. But clubs like Liverpool succeed because they can play dazzling football.
So Burnley did all their usual things, ran, chased, harried, defended, pressed, hustled and harried. The press agreed; they were game and plucky. They always will be. But without Tom Heaton Liverpool would have had four by half-time. This was Heaton's game and the score was restricted to two. It might have been just a single goal if defenders, Keane the main suspect, hadn't let Sturridge steal in and presented him with an unchallenged header, a total gift of a goal. From that moment it was game over, Liverpool visibly relaxed, eased off and coasted out the game.
In the second half Liverpool never reached their first half brilliance but with both Kightly and Boyd out of sorts, chances created by Burnley were few and far between, the nearest a Barnes header that Mignolet, not that long ago a dodgy keeper candidate, saved with ease. Ironically Mignolet was Anfield's forgotten man until brought back as a sub at Burnley on Boxing Day. As Liverpool now sauntered, Burnley began to look better.
We came home surprisingly blasé about the whole thing. Whilst the Swansea defeat was depressing, this one was more or less expected, routine, just a game to be got out of the way until another one came along that Burnley might just sneak a point or even a win. The Villa win in the last minute of extra time the night before was a sickener; the result of a penalty gifted them by the West Brom keeper who had a 'mare of a game. It put Villa three points ahead of the bottom three.
If Villa stay up and Burnley don't and the difference is just a point or two, they'll look at that last minute winner as their lifesaver whilst we, amongst other things, think of the penalty that wasn't awarded when Vokes was clearly grappled and impeded by the Swansea defender..
'Determined, organised and robust,' said the Mirror.
'Brave, game and willing,' said the Independent.
'Much to admire, their work rate and confidence in possession often limiting Liverpool far more than City managed at the weekend,' said the Telegraph.
It was easy to find praise but in truth any attacking intent was minimal and this was a Burnley midfield that was over-run over and again by the sheer speed of thought of Liverpool's incision and relentlessness – the latter the very quality that has so often been Burnley's own trademark.
Whilst we had the Jut and Wallace on the bench, Liverpool had Kolo Toure and Mario Balotelli. Both of them were subjected to good natured chants and abuse from the Burnley end as they jogged nearer and nearer towards us. Balotelli scowled, looked disdainful and arrogant – or is just an act. He made a rude gesture and received the jeers he deserved. I wondered if this hand motion down by his nether regions was perhaps designed to boast about the size of his d*ck. Or did it just mean he is one?
He remained unused and unamused but at least I could tell grandson little Joe that I had actually seen one of the great characters of the game close-up trying to look mean and 'ornery. The effect is spoiled though by his daft, silly haircut, one of those all-shaved-off at the sides and on top, save for a tuft that reaches from his forehead down to the back of his head. It was rather like seeing a paintbrush on legs. No matter how hard anyone with one of these haircuts glares, glowers and grimaces, even if they look like they want to take you apart limb from limb, it is impossible not to laugh and feel completely unthreatened.
Toure was class. 'You're just a sh*t Ya Ya Toure,' the crowd sang good-humouredly. Toure laughed and applauded. We applauded him back and he now has all our respect. It was one of those nice little moments that happen in football. Message to Balotelli – you don't have to be a plonker.
I had a little think about old Scamper the Scottie the day after Crufts. Jimmy Adamson had a Scottie dog and it was seeing a picture of Jimmy with the dog in his garden that made me smile and think it was time I got stuck into the Adamson book. There's a bond between Scottie owners mainly because they're such cantankerous critters, obstinate and wilful. They love to roll in anything that smells dreadfully. Fox poo is a particular favourite. Scamper featured in It's Burnley Not Barcelona, of course when we used to go on walks down the canal path and we'd sit on a favourite bench we had in the sunshine and chat about BFC things. That's the great thing about dogs; they're good listeners and never answer back. Sometimes I'd be chatting away and hadn't noticed he'd run off to chase a duck or a goose. So when the 2014 Crufts overall winner was a Scottie I felt well chuffed. It looked sleek and shiny in the picture I saw. Scamper did all kinds of gruesome things when he was in the garden and he thought no-one was looking, including attempting the burial of a dead hen under a rhododendron bush and I often wonder if Jimmy Adamson's Scottie did similar things. I have to confess he never looked as well-groomed as the one at Crufts. He loved to lick out the gravy tin that he'd slurp until it shone. No plate of cakes or biscuits was safe on the coffee table if you turned your back for a second.
And fearless too; he was the Brian O'Neil of the Scottie world. It must be five years now since Scamper had to be put to sleep. I have a hazy memory it was the Christmas of 2008 when we were heading to promotion so that he never had the pleasure of chatting on that canal-side bench with me about that great achievement and Wade Elliott's wonder goal at Wembley or Pato's at Reading.
Shame too that he never knew of the win at Blackburn a year ago. It's just not the same talking to a cat.