Not surprising then that Turf Moor is one of his favourite places along with Barnsley and Bradford. Clarke recently rated Burnley as number 4 in his all-time top 40 football places and wrote:
Every day at some point, I think, dream, fantasize about this club, of a freckled gal with auburn hair, of townsfolk of all ages attending the match. Of players walking their various routes from home to the ground all emerging at the players' entrance at 1.30, truly a team. They're receiving words of kindness after a defeat from a tea lady, or from a steward who might be unheard elsewhere.
I can taste the corner shop selling claret and blue liquorice. I can picture the big derby when it comes round again advertised only as Burnley versus blank blank because they cannot bear to say those two words. And in between showers, a rainbow arc straddles the dark Pennine hills in the distance and the gleaming, steaming slate roofs of terraced streets near Tur Moor. Always near.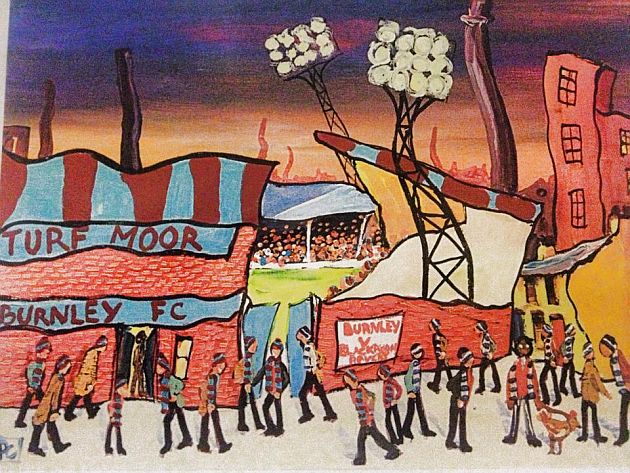 We'd fixed this holiday in Tenerife some time ago little thinking it would mean we'd miss the game at home to Arsenal and Burnley would be well in the fight to stay in the Premier League. By rights, the pundits said, Burnley would be dead and buried. We could be forgiven for thinking they wouldn't be far wrong. And yet everyone was wrong. There was still plenty of life in the team with everything still to play for. So, as we got on that jet, heading south for some sun, it all seemed so straightforward; just keep Leicester and QPR below us and inch ahead of Hull with their nightmare run of games, and all would be well with the world.
Got to say the Yorkshire Lounge at Leeds/Bradford airport is today's Thomas top tip. We had breakfast and a few scoops in there, all part of the modest price, lazed around enjoying the quiet. In fact it was so comfy we decided that next time we'll just book a weekend in there and not go away anywhere.
Villa and QPR had played in midweek before we flew off with the websites engrossed in discussions as to what the best result for Burnley was. It actually ended 3-3 with the vast majority of people agreeing this was the best possible all-round result for Burnley with both teams dropping two points and both of them having just six games remaining. For Burnley, it meant a precious game in hand and with Villa due at Spurs next it was all looking good.
At Golf del Sur there was a bit of a quandary on Saturday; Burnley v Arsenal on the telly but it was at the same time as Happy Hour with cheap G&T and bingo round the pool with bottles of champers as prizes. Not that it's top stuff. We were assured last year it's best not to win, the stuff is so undrinkable. Second prize is two bottles. Just about this time last year we watched Blackpool 0 Burnley 1, as poor a game as you could see and memorable only for Kightly's nice goal and a miracle clearance of a thunderbolt shot heading for the top corner by Trippier.
Burnley had no right to even vaguely think about a point from the Arsenal game. Arsenal on fire, no end of consecutive wins, 10 from the last 11 games, Giroud scoring for fun, Chelsea still in their sights; Wenger seemed to have found the formula at last. It was one of the two games, Spurs the other, we'd all decided it was probably best to sit through with head in hands, hiding our eyes, and wait for the winnable games to follow. But with football still so unpredictable and a point won against Spurs, inside us all was just that tiny little glimmer of hope, the merest flicker, a smidgeon, an almost invisible soupcon, that we could hold out against the brilliant football, the incessant attacks, the darting Sanchez, and shots from every angle raining down on a heroic Heaton.
The compromise plan was laid then. We'd have a Happy Hour, enjoy a few scoops, Golf del Sur would become Golf del Slur, and then we could head to the TV in the bar, surrender to fate and watch things through a haze, anaesthetized against the possibility of a football lesson.
This was the game when the Yanks invaded Burnley with NBC doing their whole programme live from Turf Moor to 95% of US homes. Kyle Martino said it could be a historic weekend witnessing the win that could keep Burnley in the Premier league. Rebecca Lowe didn't quite get her stats right but her intro was from the heart:
Turf Moor is what English football is all about. It has the heart of English football. Every fan in that stadium will come from that town; most of them will probably have walked from their house. It's all very close to the action. It's not the biggest of grounds so you get a really good atmosphere there. I'm expecting really passionate home support, because of how close they are to doing something they've never done – stay up in the Premier League.
The image of everybody at the game coming from the town and walking to the game from their house is probably a hundred years out of date but what a wonderful image, like the Lowry picture 'Going to the Match', and local Burnley artist Peter Chippendale's Turf Moor pictures. Lowry's picture is supposed to be Bolton Wanderers but it could as easily be Turf Moor. It went at auction in 1999 for £2million. Peter can only dream.
Sitting in the sun watching on TV we had a sense of what it must be like to be an expat miles from home and missing the action close-up and personal. Benaldena Clarets, Melbourne Clarets, Vancouver Clarets, Dubai Clarets, Indonesia Clarets, groups all over the world; whatever the time zone folks would be huddled up in front of a big screen somewhere, their beating hearts still at Turf Moor. This was surely game of the season so far with so much to play for in front of a packed stadium.
At 3-o-clock by the pool the Villa supporter put his club shirt on. He had a weekly system always backing Villa to lose. If they lost he made a few quid and if they won he was over the moon. He hadn't actually realised the game was on live in the bar so off he went and disappeared for the next 90 minutes.
With Villa 1-0 up and us shaking our heads at the unexpectedness of this, we decided by then they were well out of the danger zone but with Sunderland and Hull still vulnerable, and losing, there was still plenty of hope for Burnley with their game still to come. It was a feeling that grew as each G&T went down so that by 5.30 a Burnley win seemed a reasonable result with an Ings hat-trick. Confidence increasing, the sun cooling, the gins refreshing, a win would be just the tonic.
The gins were lined up, anticipation switched to maximum. But game of the season: phooey, not from where we were sitting. We might have got the wrong impression from TV but it all seemed such a non-event.
Ba humbug: what a let-down. Gin is no answer. The Villa guy had it right. Over the moon with his team's unexpected win, all we had left was a headache and the feeling that things were slowly unravelling especially with Leicester winning. This was an occasion, said one report, when two worlds collided at a venue stuck in a wonderful time warp. For Burnley it was muck and nettles against a club that demands caviar.
A Trippier free-kick, an Ings overhead attempt, a Barnes snapshot were the limited offerings against an Arsenal side that took the points with the daftest goal you could see. The ball pinged and ricocheted around the box until it smacked into Duff's head and plopped invitingly at Ramsey's feet. Ramsey shot firmly into the net, a goal that was messy not Messi. The word fortuitous is inadequate. Funny how the top teams have these strokes of luck; not funny that it is the bottom teams that are the victims. Not rocket science to figure out that it's these misfortunes that land them with ultimate relegation.
After that, and as we tried to work out which was cheaper, two gins for the price of one or one at half price, all Arsenal had to do was stroll the game out offering little more other than a shot that forced a save from Heaton and another that missed by an inch. It was their day and they knew it when Boyd missed a golden chance as a Barnes cross was fired over. Boyd in the perfect position, not an Arsenal player near him, 1-1 an absolute cert, us little band of Burnley folk ready to explode with joy. And he missed, missed the ball completely. We sat open-mouthed, aghast.
There in a nutshell was why Burnley have scored so few goals; the inability to take golden chances that in this division have to be seized. In no way were Burnley given a football lesson and might well have snatched the 1-1 draw.
Ah well, we drifted away from the bar having seen the ever-present pluck and spirit, but the usual weakness up front. A carnival this was not and the Bishop of Burnley, a self-confessed Arsenal fan but wearing a Burnley scarf, no doubt slept well.
The gin wore off and dolled up in our glad rags we returned to the restaurant for dinner and the cabaret. If we felt gloomy at the defeat it soon wore off with food, wine and the operatic evening. But the Three Tenors this was not. This was more two fivers and a canary. Laugh: we nearly died.
The Antonio Banderas lookalike was quite decent with a nice line in humour; the blonde in the middle was pencil slim and six foot three; no heaving bosom and magnificent cleavage on this soprano. She towered above the two tenors, the one to her left being the senior; 70 if he was a day, with slick, jet black dyed hair. We knew it was dyed because slowly under the lights the dye began to trickle, imperceptibly at first, then slowly, and then more clearly down his forehead.
Under the heat of the lights occasionally he would lightly dab his perspiring forehead with the silken handkerchief that he took from his top pocket with a swish and a flourish. Maybe it was part of the act but slowly his forehead began to turn darker and darker. Little trickles of dye began to make their way down his cheeks and the back of his neck. By the time they'd reached the climax of Just one Cornetto, he'd morphed into Al Jolson.
The defeat at Everton served only to increase the feeling that you can't make a silk purse out of a pig's ear. Harsh words perhaps that might be more kindly expressed as you can't make a Premier League team with Championship players even if some of them are a bit better than average. But the big shortcoming was clearly there; the paucity of chances created and the inability to score when the rare chances arise.
The Ashley Barnes sending off certainly didn't help and it could be said this was a sending off waiting to happen; his style so much akin to a bull-in-a-china-shop. Dyche had no defence to offer save for saying he is a 100% player committed to the team. But Barnes walks a tightrope in every game he plays and the attempted scythe from the rear for which he received the first yellow at Goodison left one speechless.
Maybe the bigger talking point was the Mirallas stamp on Boyd. On the strength of the Barnes/Matic incident Mourhino blagged himself a spot on the sofa on the SKY Sunday morning programme and proceeded to lambast Barnes mercilessly for an hour or more.
As every expert on TV that saw it said; the Mirallas challenge was a straight red. Referee Jones gave him just a yellow. Who knows what might have happened if the game had then been ten versus ten? Sean Dyche refrained from legging it to the SKY sofa saying only that this was a game where the big decisions all went Everton's way.
Yet those decisions were in no way responsible for this defeat. Yet again few chances were created. There were just two in 90 minutes, the first when Jones was put through and from just a few yards failed to score. Then in the dying minutes a cross from the right came to an unmarked Ings on the penalty spot and his header went embarrassingly high over the bar. There has been just one goal in the last seven games. It was easy to see why. Whilst Leicester roared their way to a third consecutive win, Burnley lost yet again with just a toothless whisper. Other than making it difficult for an opponent to win, there seemed little else on offer.
'A valiant performance,' said the Sundays but it was a defeat that had more than just a few resigned now to relegation as Leicester beat Swansea, setting up the fixture against them at Turf Moor as critical to the season's outcome. More than a few people suggested that the Barnes sending off would at least force Dyche's hand so that he would have to change things. One goal in seven games and just one win in twelve. Ings no goal since the game at Old Trafford, that sparkling first half performance there by Ings and the whole team seemed a lifetime ago.
Pen pal Gunnar from Aalesund summed it up nicely: 'I think Burnley are struggling at the moment. Their play is not fluent; their wide men do not get as involved as before. No-one seems to be dangerous in front of goal. Things have to change for the Leicester match.'
'Self-inflicted wounds and a searing sense of injustice brought Burnley to the brink of Premier League extinction,' said the Mirror. 'And looking like a team increasingly resigned to their fate.'
Five games remaining: probably three wins from those five games needed. It's hard to see that happening but beat Leicester and who knows? It could still go to the final game at Villa. The coach seats are booked.