The Daily Express went into overtime during the week with its doom-filled weather headlines. Dozens of MPs continued to claim expense allowances for gas and electricity. Basic pensioners shivered. Mrs T got the hot water bottles out. I stocked up on candles.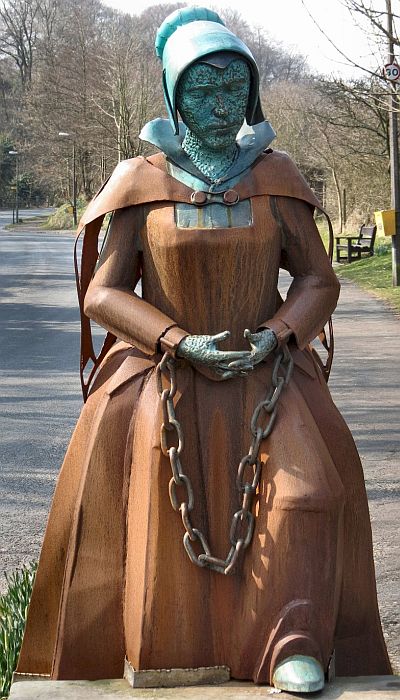 Alice Nutter
I stood by the TV. Pictures of a boiling hot, sunny Brisbane and the First Test warmed me up. England's batting left me cold. In Bacup, a region of fervent Claret support, snooping, mealy-mouthed, council officials had sent health and safety spies to mount a campaign to make life difficult for the Bacup Coconutters Morris Dancers. They 'black up'; a crime to them no more racist than the little frilly skirts they wear. Don't tell me there'd be the same 'secret dossier' of their crimes if their faces were Claret and Blue. The jobsworths made out it was to do with dancing in the road, safety and traffic problems. But it would be OK to dance on the pavements instead, in and out the lamp posts.
I couldn't help dwelling on the news that I really am a descendant of, and related to, the Pendle Nutters. At first we couldn't sort the link between Elizabeth Nutter (my 9x great grandmother) and Alice Nutter, and then Mrs T had another breakthrough when she found that Elizabeth was the daughter of Alice Nutter the one who was hanged at Lancaster. It made Alice Nutter, born in 1540 my great, great, great, great, great, great, great, great, great, great grandmother. Her father Gyles was born in 1500. Truth is you look back along an ancestry line as long as this, from family to family, and you go bog-eyed.
I thought having someone who was an engine driver was cool; I thought having a real skeleton in the cupboard, the guy who fell in the river, drunk, and drowned was mint. But this, being related to one of the Pendle Witch clan way back in Elizabethan times, was just jaw-dropping. Good Queen Bess, then James 1st, Guy Fawkes, pantaloons and ruffs, codpieces and executions, yeoman farmers and Will Shakespeare; it's all there folks in the timeline.
Poor Alice, a member of a respectable land-owning family, it's pretty clear was guilty of only one thing, of being in the wrong place at the wrong time. She'd called in at Malkin Towers (which wasn't a tower at all, just a shabby old farm building) on her way somewhere else. Various Catholics and witchy people were having some sort of get-together and dining on a stolen sheep. All those present were arrested on suspicion of black magic. Alice was roped in for having stopped for presumably no more than a chat, a warm by the fire, and a lamb chop; a victim of the intrigue, suspicion and false accusations that were rampant then.
The uplands around an embryonic Burnley and outlying villages like Newchurch, Sabden, Barley and Roughlee and all the desolate moorlands, were wild and lawless places (a bit like Nelson today), a 'dark corner of the land' said contemporary historians ( a bit like Ewood). How can anyone live in a place like this said Danny Blanchflower when the Tottenham coach pulled up? Theft and begging were commonplace. In these small villages, filled with superstition, being a 'witch' who could heal people in the absence of any doctors was almost a profession. If you knew a few herby cures, could cackle convincingly and had a wart on the end of your nose you were halfway there. It didn't help that they were Catholics, almost the same as being a terrorist back then after the Guy Fawkes plot to blow up Parliament and the King. Alas, families in these isolated places often fell out with each other and it was two of the pointy-hat families that were the worst. It was James 1st when he came to the throne in 1603 who decided it was time to stamp it out. The Pendle Witches et al were on borrowed time although a favourite recipe of the time is still well-known.
Fillet of a fenny snake, In the caldron boil and bake, Eye of newt and toe of frog, Wool of bat and tongue of dog, Adder's fork and blind worm's sting, Lizard's leg and owlet's wing, For a charm of powerful trouble, Like a hell-broth boil and bubble … Double double toil and trouble, Fire burn and caldron bubble.
When one poster began a thread on the Clarets Mad message board with the title 'The Season Starts Now,' he was pretty much derided and shot down in flames. Such is the nature of messageboards everywhere, populated by anonymous folk quick to find fault and respond with smart answers.
What the guy meant was: ok, we've had the first 15 games and now it's the break. We've done fabulously well, beyond anyone's hopes. We're top, but from the Forest game it's like a fresh start and we have it all to do again for the next 15 games. And if the points return can be the same or not far off, we can still be top. A tall order but with the 2-week break it was indeed like starting all over again with a refreshed and rested squad.
The club's financial report for the year ending 13 June was published. It posted a loss of £7.6million for the year. It raised barely a ripple in the supporters' pond. The news had already been broken weeks earlier by Mike Garlick in a canny bit of fan/board communication. The raised eyebrows that arose back then were now subsided. The surprises, if there were any, were in the detail. Staff costs and wages were still above £15million but turnover was down to £15.2million with the reduction in parachute payments. With the forthcoming total loss of parachute payments, that level of staff wages was therefore clearly unsustainable. Loan debts totalled £9.3 million of which £6.4 was owed to directors. Much of the remainder was money borrowed from individuals supporting the buy-back of the ground. Interest on that was £1million a year. But the club once again owned Turf Moor and Gawthorpe. Then we all heard what Blackburn Rovers and QPR owed and the FFP rules that will hit them. Oh how we larfed.
What did arise was a brief discussion on the merits of renaming the stadium. News emerged that Derby would benefit to the tune of £7million for letting a sponsor name the stadium. It's a personal view. Some think the name Turf Moor is utterly sacred and never to be tampered with. But income is desperately needed. Renaming has to happen. I'd hate to see it known as the Wicked Stadium, God forbid. The 'Wicked Bob Lord Stand' is bad enough. But what about the UCFB Turf Moor Stadium if the UCFB would stump up a million+ a year. But something like 'The Spillers Shapes Dog Biscuit Stadium' would be unbearable. The 'Turf Moor Mint Stadium' would have been OK while Eddie was here; seeing as the defence had more holes than a packet of Polos. Whatever happens, as long as the new name incorporates those two iconic 'Turf Moor' words, then the idea should be pursued.
A huge contingent of Burnley supporters made the journey to Nottingham, Ings and Vokes returned from international duty unscathed. Ings scored twice against San Marino; Sunderland and Gus Poyet allegedly sniffing after him and rumoured to be preparing a January bid. Stories continued to link Dyche with Crystal Palace. Pulis was the eventual outcome.
Marney was side-lined again so could Burnley do a Robin Hood and take points from the wealthier Nottingham Forest, and bring back some hard-earned plunder to the poor, goode folke of Burnley? Billy Davies, the current Sheriff of Nottingham had other plans. But Little Billy was thwarted. Burnley did not come back empty-handed, returning with a point.
'It was a travesty,' said the indignant Sheriff who said they were utterly dominant and was astonished they hadn't whupped the trespassers. The 1700+ troops who were there were grateful to come back unbeaten. The reports they brought back were filled with relief; in truth the Sheriff's men might well have triumphed.
'A point was a superb result today and kept the long run going… it was a game we could have lost and had no complaints… a point was a good result… thought we did well Forest were rampant… under the cosh for long spells… worst Burnley performance of the season… absolutely battered today… not sure how we came through that… huffed and puffed throughout and didn't look anywhere near a top of the table side… Marney's energy and verve were missed….'
One fan who was there was particularly blunt: 'That was the worst I've seen us play this season. In the second half we were totally outplayed and very lucky to come away with a point. Daylight robbery is the best way I can describe it. The most worrying aspect for me is that we didn't compete with Forest. They just seemed to want it more and we were second best all over the park. Maybe we missed Marney in midfield. Jones and Edgar never got any sort of grip on the game. We'll have to step up on this form though or we can forget about promotion. Forest fans were singing "top of the league you're havin' a laugh."
Others were nowhere near as critical as that, suggesting that the defensive display alone was worth the point with the back four outstanding and this was a side that dug in, put the shutters up and showed huge discipline and resilience. 'Resolute - as unmoved as a rock in a raging sea,' said Monday's Telegraph. 'Superb battling display,' said another Daily. Claridge on the late night Football League Show was surprisingly generous, stunning all of Burnley with his generous comments that Burnley could well go all the way to automatic promotion and this was the kind of display that was the evidence; a side does not play well but comes away with a point. He did question the penalty that put Burnley in front.
A Trippier cross smacked into the arm of the defender sliding in to make the interception. Ball hit arm, or deliberate arm hit ball? Was it a penalty? Of course it was for one simple reason; the referee said so. I suspect had that been against Burnley we'd have been a bit disgruntled. Nevertheless Vokes hit the penalty home with ease. For a few minutes Forest were put out of their stride, clearly miffed at the decision and the unjustness. The little Sheriff fumed. The lead, however, did not last long with Forest equalising a few minutes before half-time. A cross and there was Cox to bundle it home unmarked at the far post. Where the marking and the awareness, Dyche might have asked in the dressing room? It was a rare lapse in what have been weeks of defensive quality.
Despite Forest's dominance of possession and hitting the crossbar, in fact they created few clear cut openings and at the other end Burnley did have chances of their own that were either saved or blocked.
Meanwhile Dyche well pleased with the point and acknowledging that Burnley had not been at their best, came out with surely the quote of the season: 'I knew Billy had injury problems. He was down to his last 32 players.'
And my pal Higgy, father of two rumbustious lads and manager of a Sunday lads' football team came out with this pearler:
'Balls pumped up, goals cleaned and rebagged, bibs same, paperwork sorted, team and tactics sorted, half-time Jaffa cakes sorted, game on, hopefully. One player at kick-boxing tournament, another grounded for calling his grandmother 'old' so can't play, another lad benched for pretending to be a wolf for a whole training session. My lad on his last chance following a brekkie coco pop tantrum… Does the other Mourhino have to put up with this kinda stuff? Kids' footy, it's a different world tha' knows.'
On 22 November 1963 President Kennedy was assassinated. The first ever Doctor Who was broadcast on 23 November. The Beatles were top of the charts. On the 23rd Burnley beat Aston Villa at Turf Moor 2-0. The crowd was just 13,606.
And 50 years later on 23 November 2013, Burnley despite Billy Davies' splutterings, were still top of the division.