It was a week of culture with visits to Scotney Castle and then Rudyard Kipling's house in rural Burwash. The WW1 exhibition at Scotney brought a lump to your throat. I was astonished to read that Kipling was earning £5,000 a year from his writing in the early 1900s. That's some serious money.
I was brought up on the Just So stories and The Jungle Book. Kipling is an immense figure in English Literature but is decried in these days of political correctness and anti-jingoism for being an Imperialist and too British. Phooey to that. When I was a little lad we used to look at the maps of the world on the back of our exercise books and admire the British Empire coloured in red. I loved Kipling's house. You could fit my little office into his study six times.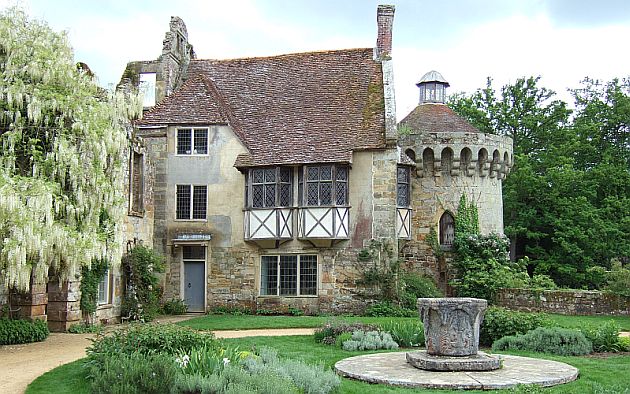 The prospects for Burnley at Stoke City seemed grim. No-one likes going there. The ground sits atop the hill a bit like a medieval citadel. Whenever we've been, it's been cold and windy. It's a horrible, fanatical, aggressive place and the last time we got a parking ticket for good measure. Then in the pouring rain with the gate locked, the police kept us standing around until the Stokies had departed. Nevertheless nearly 2,500 supporters made the journey for this Premier game.
You always hope for a result but what came was, I would imagine, just totally awesome if you were actually there and were part of it. 2-0 up after just 13 minutes; this was surely the stuff of fantasy in the land of the stripy giants where every Stoke player looked at least 6 feet tall.
Football is funny though. I'd said to Mrs T that if Danny Ings could rediscover his scoring touch then anything was possible. The head said a Stoke win but the heart always has that hope of a win. And in the back of my head was that Kipling poem 'IF' – once voted the nation's favourite poem. If you can keep your head when all around are going mental… if you can stay calm when life's bricks hit you on the head… and all that kind of stuff…
If, when boots are flying and backs are against the wall… If, when legs are bruised and tackles go flying in… If, when pundits around the land give you not one hope in hell… and Garth Crooks is spouting utter tripe… If when we are always last on MOTD … But Danny scores at one end and all the lads dig in with heart and soul at the other… Then anything is possible and we can live in hope…
For some reason as we headed back north I was not surprised when Mrs T said we'd scored. There was that kind of feeling, that this could be a surprise result. But when the second went in just a minute later and it came up on her phone then this seemed so brilliant that I nearly went into the back of the lorry in front. It was one of those red Norbert Disentangle things, French I think, that seem to be hoovering up lots of other trucking firms. Not as prolific as Eddie Stobart but they do make a change.
Result of the day, said the Grauniad, and might well change Burnley's season. Two predator strikes from Master Danny had Stoke fans silent and totally taken aback. Before the game on their websites they had been anticipating a cricket score. Stoke slung 62 crosses over in an aerial bombardment that would have crushed most other teams. Only one breached the wall.
Quote of the day maybe came from the Sunday People report. 'Possession might be nine tenths of the law but it was equal to the square root of sod-all as Stoke had 73% of the ball to no avail.' The Telegraph managed to get in a little dig at the way Coyle departed in 2010, adding: 'Each Burnley player seems to appreciate that no team is greater than the sum of its parts and that is Burnley's greatest strength.'
Jimmy Robson during a morning spent signing copies of the Buchan book has no shortage of memories of the great team that he played in way back in the late 50s and early 60s. He was on the front cover of one of the Charles Buchan Annuals. What he picked out though was a picture of the fearsome Billy Elliott. At Burnley he'd played as a winger but at Sunderland he played at full-back giving out the same rugged treatment to wingers that as a winger at Burnley he'd dished out to full-backs. Jimmy was playing one of his earliest games for the first team, whilst simultaneously working down the pit as an electrician for a year instead of doing 2 years National Service in the forces.
He remembered there were five of them, himself, Brian Miller, John Connelly, Adam Blacklaw and John Angus. They met with the first team for training on Tuesdays and Thursdays for half a day. These were the days that Bob Lord had all the players at the Sparrowhawk for a meal. Jimmy cited Lord's generosity to the players. He chuckled at the Paul Fletcher story that at Christmas when Lord gave all the players a Turkey, they compared how big they were. Players who got the biggest turkeys knew they were not being sold. Anyone with a small turkey was worried he was on his way. 'No I'm not sure that's quite true,' he laughed. Old Bob was no fool. He didn't exactly give them away. His butcher's business billed the club so he made a tidy sum out of it - kerching.
Jimmy well remembered the day as a young player he was up against Billy Elliott when Elliott came back to Burnley with Sunderland. There was one particularly hard encounter when Elliott clung on to Jim's back as he skipped past him, and on they went with Jimmy carrying Elliott on his back, until both ended up on the floor rolling around. 'Just make sure you don't come back over this side again son,' growled the irate Elliott when they finally got up. Burnley went on to win 6-0.
Once in the first-team he started on £7 a week with an extra £1 for a draw and £2 for a win. In the summer it was a basic £6 a week. On a Saturday he arrived at the ground by bus and went back to his digs on the bus. For the Sunderland game he was deputising for the absent Jimmy Mac, away on international duty. On the way home on the bus he heard fans behind him talking and saying just think how many we'd have won by if Jimmy Mac had been playing instead of yon Robson.'
Two disallowed goals still irritate him, one at Wembley in '62 for an offside decision that he disputes to this day, and a header in the semi-final in '61 that he still says was the perfect header but was disallowed for a supposed foul when he rose up to meet it. It was a game that Burnley lost 0-3.
Jimmy had no car until the early 60s when the maximum wage rule was abolished and Lord doubled his wage from £20 a week to £40 a week. He bought a Ford Anglia and thinks it cost him around £600. He features in the new Buchan book, now in the club shop. It's always heartening to see something appreciated; all of us love a bit of praise. John Gibault in Seattle mailed to say he loved the copy that had reached him safely.
'What a great book. It brought back so many memories. It reminds me as I'm sure it would remind anyone, how great a club Burnley are. The articles written 60 years ago are just as true now, reflecting the essence of the club, as they were then. It was a great stroll down Memory Lane. The book is a great testament to a bygone era. I love it. I've found a bookstand to put it on so I can have it displayed in my study and open at a random page every day.'
There are mixed feelings about National Service and the compulsory 2 years in the army. An old TV series on Granada used to make fun of it, the The Army Game in the late 50s. Today the experts say it would do the errant young good to spend 2 years being taught discipline in the army. Of those who had to endure it all those years ago it would seem that there was a split between those who hated it, and those who said it changed their lives for the better, gave them 3 meals a day, and taught them a trade. I was in the 6th form at school and breathed a sigh of relief when it was ended.
But: without it Burnley might never have won the title in 1960. The Trevor Meredith story is the stuff of romance; a farm boy in Shropshire who learned his ball skills endlessly practising against the cowshed wall and old barn doors. Doing his National Service he met Walter Joyce who saw he could play a bit and recommended him to Burnley. So, he arrived at Burnley and years later scored the winning goal at Maine Road that won the championship; from farm to fame – priceless.
Roy Keane, their assistant manager, had left Aston Villa. Whenever I watched all he seemed to do was sit rooted in the dugout glowering when Villa were on SKY. We'd watched how poor Villa were against an equally poor Southampton earlier in the week. The basic tactic seemed to be to boot it up front for the speedy Agbonlahor to race after. It was hard to see how Southampton had reached 2nd spot. Merson reluctantly predicted a 1-0 Burnley win and you feared this would be the kiss of death. Not many days earlier Burnley were tipped to go a whole season without winning a game. Now they were favourites to win this game after the two recent victories.
The game was preceded by Black Friday; the day when stores up and down the land open their doors to reveal TV's and sundry stuff at bargain prices. People queued from midnight in some places. The news and Youtube showed the chaotic, unruly, frequently violent scenes in gory close-up; the police were called to many of the supermarkets to sort the warring factions out. God help us if food shortages ever hit the nation. But: next year, here's advance notice, on the last Friday in November my garage doors will be open so that raving footie fans can fight over the piles and boxes of unsold Burnley books that currently reach the ceiling, bargains galore, and tea and coffee available from midnight. Maybe the bloke who runs the chippie a hundred yards away might open up.
Just goes to show: never believe what you see on the telly. This was an Aston Villa that bore no resemblance to the one we saw on Monday on SKY. A smart looking team in crisp white shirts played crisp, smart football in the first half and there could be no grumbles at the 1-0 lead they took in at half-time.
Memo to decision makers for next season: white shirts, claret or black shorts, white socks, so slick, spick, span, so immaculate, so stylish, and as a bonus make players look bigger. White: so much better than the black pyjama top shirts with the peculiar collars, and the awful grey/silver things that look so tatty.
Joe Cole was at the centre of most of Villa's good things in his first game for almost a year, for good measure scoring the Villa goal. Whatever Burnley tried just wasn't coming off and at half-time the game had the look of a 1-0 away win all over it. We groaned and squirmed through much of the time with Villa bossing the game, probably 99% of us thinking this was just one of those days. It wasn't supposed to be like this after two wins on the bounce and Villa statistically one of the worst teams in the division despite their position above us.
And then Ross Wallace came on. What a difference a sub can make. The Jut and Arfield had made no difference at all, but Wallace proceeded to have a quite magical 15 minute cameo and transformed the Burnley performance. So much so that by the end and the final whistle we sat there shaking our heads at the chances missed and wondering just how we had not won this game. Ings and the Jut lay on the turf in utter dejection; both of them knew they had missed golden opportunities in the final minutes.
Ings had equalised from the penalty spot after the Jut had been hauled down in the box in the 87th minute. After that he hit the post in a scintillating move at pace that carved Villa wide open. Kightly too had fashioned a terrific chance for himself bursting into the box, skating past defenders, but his shot was blocked by the goalkeeper and hacked away. Other chances came and went; the ball missing attackers' feet by inches and leaving us with heads in hands. For all their slick play and possession I can't think of any chances Villa had to match those that Burnley had in the final quarter despite Lambert's protestations that they should have been out of sight by half-time.
But, out of the jaws of defeat, a point salvaged; spirit, desire, effort, belief, all still plentiful. Only a draw but the appreciative crowd positively buzzing on the way out; seven points out of nine – memo to self: this is the road to salvation (and white shirts are ace).