Was it this special? His stay at Burnley was in no way a disaster but neither was it inspirational. He signed several good players but Sean Dyche has taken them to a whole new level. If Howe had managerial qualities that didn't work at Burnley, they have been more than impressive at Bournemouth where no-one can take away the promotion last season when he clearly was inspirational. Horses for courses I guess. Opinions are divided regarding his time at Burnley. For me there's just a couple of questions: if he had stayed would we be top of the division today? Or would we still be letting in goals for fun?
Perhaps I'm just in a questioning mode. Why do we give millions of pounds in Foreign Aid to India, a country which now has an ambitious space programme, plans to send a rocket to Mars, and has the wealthy Venkys to feed the ever-growing population wholesome yummy chicken dinners?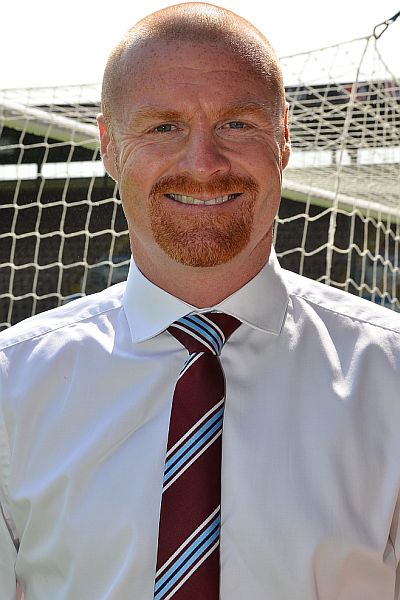 Sean Dyche, manager award in consecutive months
And while I'm pondering on the nature of things; why does Halloween get bigger and bigger every year and Bonfire Night dwindle? I can't abide Halloween and all that it has become but bemoan the passing of bonfires on street corners and penny bangers and jumping jacks. If your garden was big enough you had a bonfire of your own. We'd go round chumping (collecting wood for the bonfire) all over the place; make a Guy and sit him on the top. Our mums would make parkin and toffee and the whole street came out. In the days leading up to it we'd make the Guy and sit him in a pram and push him round the streets and shout 'Penny for the Guy.' That was the money we spent on fireworks. Few of them cost more than tuppence. Now you need a mortgage to buy a selection box. I went into Sainsbury's to buy some for little Joe and she said that box is £35 sir. (They never call me 'sir' in Wilkinson's or Netto.) I nearly fell over and needless to say didn't buy it. For that price I can buy a Gold ticket at the Turf and still have change. At school we'd learn what the Gunpowder Plot was all about and it was a history story that always had me hooked. I always used to make a balsa wood aeroplane and fasten a rocket to each wing. When I lit them it usually flew round in circles on the floor or up my granny's leg. She'd get hopping mad, and I'd get a clip round the ear. Yes sirree… those were the days except that some idiot on the Longside would usually lob bangers down into the crowd in front; no stewards or Ground Safety Officer around in those days folks.
With this being the home game nearest to Remembrance Day there were impeccably respected tributes before the game. My grandfather somehow got through 4 years of World War 1. He was part of a three-man mortar team. It was something he could never talk about without his eyes filling up with tears at the memory of the things he'd seen. The only thing he ever said was that the parcels sent every month by my grandmother filled with foodstuffs, chocolate and pairs of dry socks, kept him going. My father was in the RAF in Africa for just the last two years of the war. According to him it was the hot desert sun that burned off all his hair. There are fewer now of these guys who fought in World War 2 around to tell the tale. There are none left now from World War 1. 1914: the beginning of World War 1 and the year Burnley won the FA Cup with a Bert Freeman goal – the last carefree summer until the war kicked off at the end of July.
With Blackburn Rovers in such dire straits (a club where the word prudence is used only to call the cat), there were fundraising suggestions on the websites. One poster suggested a 'Chicken in Need Day', or a 'Parson's Nose Day' or 'Chicken Relief.' The general reaction to the huge losses that were posted was one of pleasurable gloating. Burnley have losses to post too, but nothing on this scale. Another poster was rather more analytical in his appraisal:
'An excess of 130% wages to turnover ratio; on crowds of around 11,000. They won't even be able to service the debt at that rate. Even if they got promoted, £30million would be sucked up in fines straightaway. They'd still have massive wages to pay and the losses would still creep up and up and they'd be straight back down again. Come January 2015 at the very latest a transfer embargo awaits (it could start as early as this summer) under FFP rules. Rumours abound that they have defaulted on payments for Rhodes, so a transfer embargo awaits anyway. Given the size of their predicament they won't get the much touted £10million for him, more like £6.5 million or so, so no gain there…
Whichever way you look at it I reckon they're f*****d flatter than steamrollered dogsh**. Their best option would seem to be to opt for administration, take the ten-point hit and hope to avoid relegation. That would see the back of the Venky's (and can I say a great big THANKS to the comedy chicken farmers). There isn't another sugar daddy out there; so it would probably mean reverting to a supporter-owned model, and a swift decline into League Two or even lower. I just hope we kick their arses before this happens.
Back on planet earth, (Blackburn haven't lived there for years), Ings was championship player of the month and Sean Dyche was again manager of the month. Add to that the call-up for Jay Rodriguez to the England squad, Ings a second call-up to the U21s squad, and Burnley fans were truly proud. Sean Dyche is now the first Burnley manager to win consecutive monthly awards. Harry Potts won it twice and Brian Miller won it twice. There was unanimous agreement that to win it in consecutive months at a club where there are clear financial constraints, the 'star' player was sold before the season began, and the squad is so small, is a monumental achievement. There's a genuine affection for local born Jay Rod. A twitterer tweeted that she overheard two guys at Euston station talking about his selection. She said it felt like they were talking about one of her family. I guess that's the thing about Burnley. At the moment that's just what it feels like – one big family. There are times when football is so incredibly powerful.
Throughout October I guess before each game most of us kept asking 'will the wheels fall off?' But they didn't. Millwall looked like it was going to be a bad day, but it wasn't. And next up was Bournemouth. It's been a while since games approached where we've felt such anticipation and enjoyment seeing all these exhilarating games that have come one after the other.
In the summer Howe was on record in one newspaper piece that he felt he should have stayed at Bournemouth; that the move to a bigger club came too soon. That said, there are no regrets, he added. Most fans agreed that he came in to a difficult situation with an ageing team on high wages. But at the same time it could be said he came to a club that was in a good position to head for the top six even with those same players.
There were some who predicted a goal fest against a Bournemouth team that had leaked goals week in, week out. The glass half empty group foresaw a banana skin game, the kind of game where an away side comes and wins because that's just the way things happen when a returning manager or player arrives.
It was neither, although at one stage it looked as if it would be the kind of smash and grab raid that leaves you shaking your head in disbelief. Of course it had to be a game when the usually wretched Bournemouth defence looked impregnable; that it had been coached to perfection and drilled meticulously week after week. Centre-back Elliott Ward had a mammoth game. The whole back four looked like a brick wall. Burnley dominated the first half but somehow either Burnley missed good chances, Bournemouth got bodies, heads and legs in the way, or the goalkeeper made good saves, and there was one acrobatic goal-like clearance that was worthy of an Olympic Gold. 0-0 then at half-time and you wondered if this was going to be one of those days.
When Bournemouth took an early second-half 1-0 lead with a vicious shot from the edge of the box then you really did think that this was going to be Bournemouth's day and Howe et al would return to the south coast chuckling all the way at the sheer cheek of it. Their ten coaches had departed at 7.30 a.m. from the normally tropical south. In the morning the M6 was declared a skating rink after a downpour of hail and sleet. On twitter the club advised care was need because of monsoon conditions. The away fans must have thought they were heading to Siberia. That's what it felt and looked like on the moors above Burnley as we drove over with temperatures just above freezing and the skies blacker than any of my dear departed mother's burnt sausages. Mercifully it was dry for the Remembrance ceremony when Chris Gibson played the Last Post like Gabriel himself.
A Bournemouth win would have been a travesty after second half headers straight at their goalkeeper, a Treacy free kick that he miraculously palmed away, a Vokes header that looked like it would trickle in but shaved the post, two low diagonal balls across the box that were inches away from being converted, plus sundry other shots that went high or wide. And all that is before any mention of two penalty claims, one an absolute stonewaller when Ings was sent flying three feet up in the air by Ward well inside the box; the second when it looked like Ward again with an arm clearly round Vokes' middle as he powered through, both incidents right in front of where Mrs T and me sit. Yet another referee in need of Specsavers waved play on. Add those to all the first half chances made and a comprehensive Burnley win would not have been an injustice. 20 shots in total and only seven on target tells its own story.
At last a deserved Burnley goal arrived with just minutes to go when Ings headed in a ball knocked on by Vokes. It was Ings who was the bravest as he beat Lee Camp from close range.
Reactions to the result were mixed. Some said Burnley looked tired. Some said several Burnley players had off days. Some said Burnley never really got going. But others said it was a storming game and a credit to the championship. In truth it was just one of those days when in the first half the Bournemouth goal seemed to lead a charmed life. This was a 'could have won it, should have won it' game, exasperating and frustrating, but again a gripping game that you couldn't take your eyes off for a second. And, this was a result decided by penalties not given. A poor decision gave the cup game to West Ham. A poor decision at Millwall denied Burnley a probable win; and two poor decisions against Bournemouth denied Burnley another win. But the lead at the top was stretched to two points when Leicester surprisingly lost leaving Burnley in pole position with a goal difference worth an extra point and two weeks to rest some weary bones.
Little Joe when we told him the score was disappointed but pleased with his picture of Tom Heaton. His class history topic is the 1960s. I told him about the title win of 1960, the Cup Final of 1962 and the World Cup win of 1966. 'And me and granny got married in 1967,' I told him. His little eyes lit up. 'And we bought our first car in 1968, for just £400.'
'Did you really granny?' he said looking wide-eyed at her. 'And everything then was in black and white wasn't it?'
I'm waiting now 'til they do the next decade and I can tell him about the Team of the Seventies. And trust me; my flares, floral shirts and kipper ties were all in glorious Technicolour.