The natives are getting restless
Feature by Dave Thomas
Updated Tuesday, 8th November 2011
Seeing how generally undemonstrative Eddie Howe is on the touchline made me ponder on the managers at Burnley who have been truly passionate over the years.
Harry Potts certainly was. Off the field a quieter more gentle man you could not wish to meet.
Mancini at Villareal was not the first manager to slam his head on the dugout ceiling. During a game Harry would jump up and down in the dugout so often he frequently went home with a lump on his head. He was fined more than once for berating referees and at Reims, furious, in the European Cup he even did the unforgivable and ran on the pitch to put the ball in the correct place for a Reims free kick when the French guy stole about 20 yards. The French eh, never did trust 'em.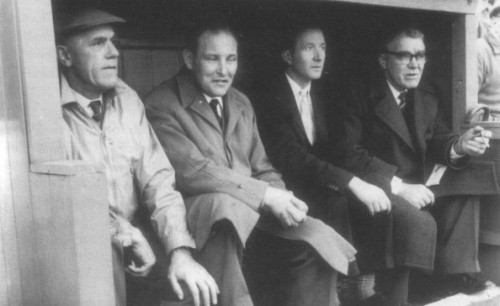 Harry Potts (second from left) calm on the bench ahead of kick off
Ralph Coates when he sat beside him in the dugout said that Harry would start a game calmly; then as his irritation grew there would be little grunting noises. These would get louder and louder; then he would shout at all and sundry, get redder and redder and for the coup de grace bump his head when he leaped up.
I never saw Jimmy Mullen close up but they say he too was a touchline ball of fire. Clive Holt told the story in a programme that he was so steamed up at halftime after one poor display that he stormed into the dressing room and started to dish out a real tongue-lashing. Trouble was; it was the wrong dressing room. Stan T was vocal and would stand right at the edge of the box glowering if things were going badly. When Stan was on the touchline and a player was having a 'mare there was no place to hide. Steve Cotterill: didn't anyone within hearing distance of him complain that his language was appalling? And he was a whistler, two fingers in the mouth and let fly. Not many women can do this but Mrs T can.
All that contrasts so much with current boss Eddie Howe. He's one of the quiet ones. I can't think I've once seen him at the touchline snarling fury, Warnock style, at a referee. Constant shouting at the players is certainly not his style. He doesn't stand there clapping his hands for 90 minutes like Coyle used to do whilst simultaneously shouting, "Watch the runner; watch the runner." He doesn't incessantly instruct players where to run and who to cover and what to do like Stevie C used to do – and woe betide them if they didn't, said Clarke Carlisle. I can't imagine Eddie "sacking" three players at half-time like Stan allegedly once did.
I suppose it was too much to expect, a third consecutive league win against Leicester. In truth, by the end of the second half, they were just too good, they had too many players better than Burnley's, they had more shots on target, and they certainly had the benefit of some dubious refereeing decisions.
It all looked promising at the end of the first half. Leicester made all the early running and went 1–0 up with a swerving shot that beat Grant all ends up. But Burnley came back into it really well, got at Leicester, got some good football going, and fizzed several crosses over that on another night might have become goals. The equaliser came in a bizarre fashion when the goalkeeper punched the ball straight to the head of the diminutive Wallace who headed it straight back over him from about 15 yards. If Burnley had gone in at halftime 2–1 up it would have been no more than they deserved.
But halftime ruined things. After that Burnley made sporadic chances, had a couple of good opportunities, but it was Leicester that dominated and took complete control. It became men against boys and their 3–1 lead was deserved though some might say their third was a very soft penalty. A player goes into the box at terrific pace and goes down in a heap under a challenge. It will always look bad. This referee gave the penalty.
What infuriated the Jimmy Mac end, where we sat again, was the blatant push in the back on Edgar that went unpunished. It was a stonewall penalty, it was visible and clear to everyone at that end. Well not quite everyone, the one that mattered waved play on.
Amougou came closest to scoring with two good attempts; the first a strong header that was heading for the bottom corner but it was cleared off the line. His second: a snapshot from the penalty spot that went straight into the keeper's hands. Austin went close with a diving header. At some stage he hit the post but we missed that one it was so far away.
A frustrating defeat in some ways, for Burnley weren't disgraced. We've sat through some mind-numbing performances this season on occasions, but this wasn't one of them. But the faults remained on show; the lightweight diffident nature of some players; the loss of form of others, and manager tactics that left us wondering just who was supposed to be playing where, particularly Wallace, Rodriguez and Stanislas.
But, at the end of the day, it was all down to one thing. Leicester were just better in all areas.
The next day, the Express headlined with its usual almost daily gloomy weather forecast… freezing conditions on the way; the Mail headlined with the chaos that is Greece. The Telegraph headlined with Tax the Bankers. They were reminders that there is indeed life outside Turf Moor. Mancini hinted that if Tevez apologised he could come back. The Ferdinand race issue dragged on. I wish these guys (Evra as well) would say immediately exactly what was said. They don't help their case by not doing.
On the day of the Bristol game we headed over the Pennines to Newton le Willows for a visit to see relatives. When we got there Uncle Arthur had just switched off the Newcastle Everton game in disgust when Everton went a goal down. He is in his 90's so we can forgive him any impatience. At this stage of his life he has decided time is too precious to watch rubbish. He should be a Burnley supporter. Nephew Andy arrived at half-time by which time we'd put the game back on again. Andy too was miffed and had slammed the door so hard when Newcastle went two up it nearly came off its hinges. I listened to them cursing and grumbling and muttering how this could end up in relegation and thought everything they said could apply equally well to Burnley. It was quite entertaining.
It ended up a valiant defeat as Everton pulled it back to 2–1 and then pretty much dominated the second half. But it was no valiant defeat at Bristol for the sad Clarets and the 666 faithful followers who supported them there. It was a comprehensive 3–1 defeat after Wallace with his fourth goal in as many games had pulled it back to 1–1.
You groaned when you heard that this was Bristol's first home win of the season. Need a home win, need a team of patsies to turn up, who ya gonna call? Burnley – who else? Amougou was the scapegoat, the sacrificial lamb so that Easton could return. With the way Jay Rod is misfiring at the minute you could do worse than give Amougou a run at centre-forward. By God he'd put the wind up a few centre-halves backsides.
Since the appointment of new manager Derek McInnes, Bristol had bucked up their ideas. It was McInnes who replaced Coyle at St Johnstone. Was it not McInnes that Coyle recommended as his best replacement when he walked out of Turf Moor? I have a vague recollection that the club announced they were looking for another young and hungry manager at that time. You immediately thought – hmmm maybe McInnes? They turned to Brian Laws and ever since have asked, well who else was there available, when things went pear-shaped and Laws had to go?
After the game there was an emerging anger and clear finger-pointing at the Board, some of it hyperbole perhaps but not all:
Dismal display again passing sideways and backwards most of the game… Our current strategy is a shambles… from a £90million Premier Club to a poor championship club in two seasons… Premier League to lower leagues in three seasons… Howe cannot and must not be absolved of blame for some of the decisons that have been made recently… how quickly fortunes change, 2 years ago we were drawing 3–3 at Man City… never mind protesting at Rovers I feel like protesting at Burnley… for God's sake Burnley how much worse can it get… Bristol scored 4 goals at home in 3 months… they put 3 past Burnley in 73 minutes… we were bloody awful all over the pitch… how the board of directors have let us get like this without the slightest rumbling of discontent on the Turf is beyond me… if this trend continues, relegation and gates of 9,000 is the future… something has gone woefully wrong this season… back to the 'little old Burnley' routine, skint (apparently) and muddling through… one thing is certain, that Eddie Howe is receiving the sympathy vote and the perception is that of a Board that is to blame… If Laws was given a "hospital pass" what has Howe been given… the second year of parachute payments and here we are with a squad size that resembles the days of Cotterill's reign… the transfer policy is a joke…bottom three by Boxing Day…
Peter Reid is the answer but I'm buggered if I know what the question is…
"It's just people switching off and losing concentration," said Manager Howe. Trouble is Eddie the problems go way deeper than that; it happens so often it might just be that there are players in this side who are just not up to it. The way Edgar missed the header that would have cut out goal number one was something you're more likely to see on Towneley Park. The way Adomah was free to break two thirds the length of the pitch for the third was criminal. The lack of form of the two great hopes McCann and Rodriguez is worrying. You begin to wonder if it is the result of a more general malaise, despite the soundbites that come from the players one by one after each defeat.
"I don't think we've been outplayed by a team this season bar Middlesbrough," Eddie added. Sorry Eddie but I think you must be watching a different team to the rest of us. We even made Barnsley look like Barcelona.
After a year in which Brian Laws was pilloried by the fans and removed from his post. Eddie Howe has been here almost a year. It is difficult to see any way that he has done better than Brian Laws. That he has been here for nearly a year and the jury is still out, perhaps speaks volumes in itself. A year on from Laws' removal, the playing staff has been changed with a draconian ruthlessness, but replaced by nothing better. Wage levels have been reduced but the mantra is "there is no money."
The old saying 'too many chiefs and not enough Indians' could never apply at Burnley now that the chiefs have all been shipped out.
The tolerance of the Burnley supporter this time round is exceptional. For the moment there is a general acceptance of things and a patient attempt to understand the finances that we are told are rocky. There is an acceptance that Howe is here for the long haul if only for the fact that the club couldn't afford to sack him and his staff even if they wanted to. There have been no demonstrations of dissatisfaction to match those of the latter stages of Brian Laws' tenure. But the agitation is beginning. Lose at home to Leeds in the next game and you can well imagine some heated, vociferous protests at the end. It doesn't bear thinking about. Of the last 6 games the points haul is 6 out of 18.
The man in the street sees things in simple terms. He sees that we are in the second year of substantial parachute payments and only 2 years ago won the Premier lottery. Of course he knows that we paid off a lot of debts and the Premier season cost a bob or two; but he now sees a very limited team scrabbling for points at the bottom end of the division. In short, he sees very little for his money.
And: whilst Ian Holloway plays the loan market like an old master over at Blackpool and currently has his side in the top six; Eddie Howe seems to have little to work with, or any ideas how to improve things or bring in fresh blood. And Burnley, (whilst I'll stick my neck out and say will scrape a few wins and not be relegated) currently tread water in the bottom six.
Nevertheless, Mrs T and me booked coach and tickets for the away games at Birmingham and the Supporters Club weekend at West Ham. We love our weekends away in London. The last time we were at West Ham we conceded five. This next visit could be another goalfest. I can't decide if we are devoted diehards, or just plain daft.
Interact with us