A bright blue sky and a rising sun said yes we did. The world looked good. The toast tasted better, the coffee perfect. On the walk to the paper shop I felt like saying to everyone I walked by, 'Hey did you know Burnley beat Blackburn yesterday?'
Two goals in the last 17 minutes to come from behind; this was a win that was written in the stars. It just had to happen and it had to be Shackell and Ings that scored. The pictures that flooded the websites were fabulous. Was this the day that the balance of power began to shift from a declining Blackburn to a Burnley that if they reach the Premier League will have 5 years of huge secured income whilst Blackburn's dwindles further and further and their crowds slowly vanish. But nobody was counting chickens just yet, oh, except the Venkys and the Blackburn allotment holder who found he had one missing on Sunday lunchtime. Apparently he saw it on TV and yelled at his wife, 'hey that's my f*****g chicken.'
A few people on the estate know I'm a Burnley fan. 'Doin' all right, good win, said Stuart from next door. He's a Leeds fan. The lad behind the counter in the bank grinned. 'You won,' he said. I needed more money; bus and tickets for Charlton to pay for, and Barnsley and Watford. We won't know until the season's end if history has been made. But in the meantime you have to help in the attempt to make it. There was a nice 6-minute highlights package on the Sky website that I saved. I must have watched it a hundred times. How brave was Shackell; how lethal was Ings? How totally shattered were those long-faced Rovers fans?
The papers were generous with double page spreads: 'Danny Ings was not even born, Sean Dyche had hair and Alastair Campbell was about to be a trainee journalist when it last happened. So forgive the good people of Burnley for their wild celebrations at Ewood park as 34 years and 11 months of hurt turned into joy and expectation', wrote Alan Nixon in the Mirror.
'Every journey is made up of single steps but some may seem more significant than others and Burnley's first victory over their East Lancashire rivals for 35 years could be pivotal in their pursuit of a Barclays Premier League place,' wrote Pete Oliver in the Times.
'Hunger takes you so far, class the rest of the way. In a typically intense East Lancashire derby, Blackburn Rovers' desire gave them the lead, but Burnley's talent took them to the win,' wrote Ian Ridley in the Telegraph. 'I told the players to enjoy these magic moments because they are part of history,' said Sean Dyche.
And back in '79: the Mirror was quick to point out that a gallon of petrol was 98p a GALLON (repeat a gallon), VAT was 15%, Sony introduced the Walkman, McDonalds put the Happy Meal on the menu, Sid Vicious died of an overdose, Pink Floyd released The Wall, Maggie Thatcher swept to power, and the average house price was £13,650. Harry Potts was manager at Burnley.
Sean Dyche praised the board for Burnley's success:
'There was a nice honesty from the board when they came out in pre-season and called it how it was. It was when Charlie was sold and they said, look, it has to happen to safeguard the future of the club. OK, that maybe re-aligned everyone and they thought OK there are realities to our club. We still want to be successful, we still want to move forward and we still believe in the group of players we have. That galvanised everyone. We thought let's get back to what we are which is a really good club with a rich history, not with massive resources but we want to be competitive and we want to punch above our weight as Burnley have done many, many times before. There was a nice reality about it and slowly but surely because of what's been achieved on the pitch so far, it's galvanised that feeling and the felling is as tight as it's been in many years at Burnley. We're enjoying that and we'll safeguard that. We want to continue the journey and we do this one game at a time.'
Pre the Birmingham game he talked about being limitless and relentless. Lee Clark was full of praise for the Burnley side citing them as an example of what can be done with a never say die spirit and their unbelievable attitude when every single player has a fantastic work ethic.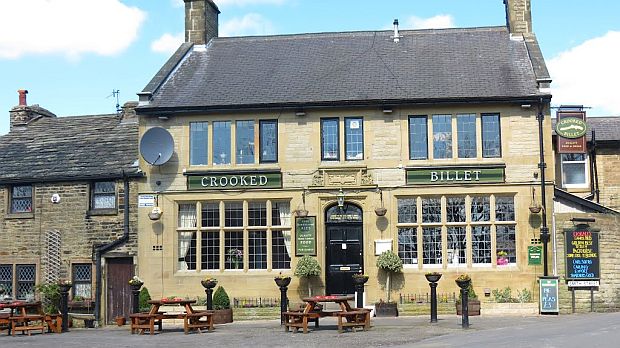 Pie & peas and a taxi from the Billet for a fiver
I was actually in Burnley on Wednesday. Alison Leigh at the Crooked Billet in Worsthorne became a sponsor of the Buchan book. I'd never set foot in this pub before but even empty first thing in the morning it felt homely and welcoming. Spanish Classes, cyclists groups, Quiz Nights, Thai nights and a list of ales as long as your arm. But the thing that appealed to me was the Pie and Peas with a taxi to the game on a Saturday for a fiver. Now that's a bargain, I thought. How good is that? Next, it was across Burnley and up to the printers, Hudson and Pearson at Dunnockshaw, to give the green light for the Buchan book, and then next, back across Burnley again to collect Jimmy Mac for Pork and Apple pie at the Queen, Cliviger. The point of this little travelogue is simply to say that everyone I met had a smile on their face and was still buzzing after the win at Ewood. All that plus another gorgeous blue sky spring day. Conversations centred on something else as well, that IF, IF should Burnley beat Birmingham then an astonishing 10-point gap would open up between Burnley and third place. Nobody hardly dared say it or think it, but the tantalising prospect was there. QPR had lost at Brighton as we hoped they would. Derby had only drawn at home to Bolton.
The lead stretched not to 10 points but a very healthy 8 after a controversial injury time leveller resulted in a 3-3 draw in front of over 1,500 Burnley fans. As soon as it was scored virtually the whole Burnley team chased after the referee remonstrating and claiming that there had been a handball. Shackell continued remonstrating long after the final whistle had gone. This is a guy who is the epitome of cool. When he is upset you know something is wrong. Three times Burnley had taken the lead, Vokes' goal coming as late as the 86th minute. Before the game most of us might have settled for a draw, before the game I'd guessed at 2-2, but to lose the lead deep into injury time and in such a manner was hugely exasperating. Added to that was an injury to Ings who left the stadium on crutches to protect his damaged ankle.
Marney, Duff and Vokes scored the goals. 'If Ings doesn't score, Vokes does,' said the Sky anchor-man. Trippier got yet another assist to add to his remarkable tally.
Birmingham manager Clark kicked the boards and leapt up and down like a dervish in delight at the final whistle. But he fumed at the referee for allegedly mocking his captain, Paul Robinson, following Burnley's second goal and Robinson's booking. In truth, I suppose, this is a poor Birmingham side and nobody should mock the weak.
M6 travel problems, a controversial Birmingham goal, pictures showing that the ball went in off Macheda's arm, and the talismanic Ings injury left a sense of deflation even though it was yet another unbeaten game at a place where Burnley have rarely done well in recent years. But the thought occurred: in the long run could that late, late contentious equaliser be very costly?
The pundits and neutrals all agreed that this has been a thrilling game, end to end stuff, a game that Burnley could maybe have had dead and buried by half-time. In total 22 shots and just 4 on target was one reason why it was just the one point gained. But credit gutsy Birmingham as well they all reported.
And so Leeds: In two home games Leeds had shipped nine goals with their prospective Italian owner, Massimo Cellini, accusing them of being chickens after the massacre by Bolton. He missed the 4-2 defeat by Reading having returned to Miami to await news of two things. It was perhaps as well; if he'd seen that debacle, you wonder what he would have said next. A Football League board meeting on Thursday would tell him whether or not he was fit and proper. In Sardinia he was waiting to hear the outcome of a tax evasion case.
'The question of what happens next hangs in the air like an unpleasant smell,' wrote Phil Hay in the Leeds Evening Post. As a Leeds resident and a keen follower of Leeds United's misfortunes, it has been a smell that has hung over the club for far longer than just the last few weeks.