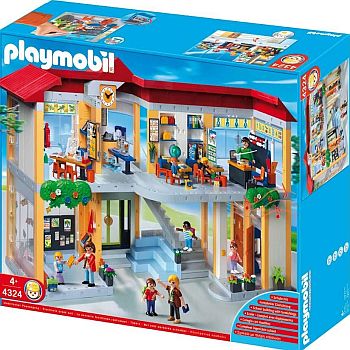 So for him, Christmas Day and Boxing Day were wonder days of magic and wide-eyed enchantment. He hasn't been to a Boxing Day game yet when we usually lose. He will. I'll make sure of that. Should have brought him this time – it was a win.
It was his birthday as well earlier in the month. We bought him some Clarets stuff from the shop. He is obsessed with tape measures so we got him a claret tape measure. That shop sells some interesting stuff sometimes – a claret and blue tape measure seems an odd thing to stock – but we snapped one up. I always look to see which books are flying off the shelves. I often stand there and say to the unsuspecting browsers, "Hey that's a gud 'un," and point to Entertainment Heroes and Villains. "Cracking writer that Dave Thomas."
It's a sales ploy that's only ever worked once. "Who," most people say. "Oh the footballer, bah he were a gud 'un. Didn't know 'e wrote books."
We bought Joe a Playmobil school for his birthday. The box was as big as our lounge. It seemed reasonable to think the thing would be mostly in one piece, ready to play with, ready built. My heart sank when we opened the box to find we had to build it ourselves. Including the infernal little fastenings there must have been 2,000 pieces. It was the classic nightmare. It took two of us two days to put it together.
Last year I got him a sit-on tractor with pedals. You may suppose (correctly) that putting things together is not my strongpoint. This item had the usual unfathomable instructions but there weren't too many pieces so I thought, "Hmmm this looks a piece of cake," and ploughed on.
I'll do the end of the tale first. I must be the only person on the planet who ended up taking a toy tractor to a local garage to be dismantled so I could start all over again. What I had fixed together was premature. There was a key piece to fix first to do with the steering before you fixed the wheels on with little metal caps that you hammered on. And once hammered on they stayed hammered on.
And so I went down to the little back street garage near us and feeling dumb and stupid asked the guy could he help me out. The guy was tickled pink. It was the first time ever he'd had to fix a toy tractor for a Burnley supporter. The garage was filled with Leeds United pictures. I chatted about Burnley. Eventually using his special tools, drills and oxy acetelyne (honestly) he got the thing apart. He wouldn't accept any payment so the next day I dropped him a bottle of fizzy. "If you support Burnley I think you need all the help you can get," he said, cheeky sod.
The moral of all this I suppose is if you're no good at fixing things, don't try to assemble toys at Christmas. But, if I put any shelves up one day (very unlikely), I can at least use the claret and blue tape measure.
When was the last time we saw 23 attempts on goal from a Burnley side – 13 of them on target? We saw the first Boxing Day home win since 2005. It was Eddie's 50th game in charge. Those people who forecast the bottom three by Christmas were feeling pretty red-faced – but mind you 6 or 7 weeks ago they had a fair point, when we were minutes away from the bottom three at Hull. This was a Boxing Day game that was entertaining from start to finish. It also had El Hadj Joooooof.
I thought at first he looked a neat, tidy and industrious player, a reformed character. It looked like he had calmed down and learned a few lessons. As the game wore on it was clear that this was simply a mirage. What an irritating, silly, annoying, provocative little twerp he was as the game progressed. He could start an argument in an empty room. Pity, he's a decent player. On top of all that, the more abuse he got, the more his antics increased and the more he played to the crowd. It was interesting to see he was cheered and applauded by the Doncaster fans as he went off a few minutes before the end. Suppose he wore a claret shirt (I know a stupid idea) would we be the same. Would we welcome him as Burnley fans, as the Donny fans seem to have done at Doncaster, simply because he played for Burnley and wore the shirt?
Boxing Day was my birthday. We stopped buying candles a long time ago and a birthday win was a highspot of the day. Paterson's goal too, well deserved after his long lay-off and struggles of the last 12 months. What a silly boy though, taking his shirt off and earning the unnecessary booking, ecstatic though he might have been.
A well deserved win even though the first goal might have been fortuitous. Was McCann deliberately body-checked in the area? Mrs T and me were dead in line, and had no idea why it was given as he dropped to the ground like a sack of spuds. Rodders smote it home. Doncaster hit the post and it ricocheted clear. The luck was with the Clarets at that moment. Rodders smacked the crossbar with a great shot, Paterson was on hand to accelerate in and head home. Their luck out, our luck in and that's how you win 5 out of 6 and creep up the table to within just three points of the top six, an astonishing achievement after the frustrations of four defeats on the trot in November, a run that included some truly awful displays.
The third goal was the icing on the cake and for once we'd left early to get back to Leeds in time for a birthday meal and a few scoops with chums. It must be many a year since we've left early. How frustrating to hear the roar of the crowd that says GOOOAAAL and you're halfway to the car and a quick getaway.
What was fascinating about this game too, was the attendance. Doncaster hardly filled the away end but nevertheless 16,700+ turned up. I reckon that's around an extra 3,000 people turned up simply because it was Boxing Day. Where we sit there are always huge swathes of empty seats. For this game they were packed with families and unfamiliar faces. It forever intrigues me; why don't they come more often?
Headline of the week: The header to the Clarets Mad report on the game by Martin Palk aka the Quoon, 'Clarets enjoy Plum Diouf'. Article of the week was surely the Times analysis of Owen Coyle's desperate situation at Bolton. The Mail suggested he had a month to retrieve the situation. News of the week was probably the report that Blackburn Rovers lost £18.6million for the year ending June 2011, the overall debt being £26million.
By the time of the Hull City game I was turkeyed out. I love Turkey, plus the leftover turkey with cranberry sandwiches, the enormous turkey pie that Mrs T makes and the utterly orgasmic turkey soup she does with the carcasse, stock, and every bit of leftover veg and stuffing and God knows what else she lobs in. We inherited this enormous pan from her mother that was making rabbit soups in the 1940s for the war effort. Now it makes soups for us. We could start up a business and call it Soups R Us. On top of all that I was still guzzling the remains of the mince pies, Christmas cake and cheese. By the time Hull turned up I was longing for egg and chips.
Hull must have longed to see the back of Burnley. A 1–0 win meant another double over them. It wasn't pretty and it was another game when you came off with chewed finger nails. If I have a New Year's wish it's to win a few games by a sufficient margin so we can spend the last 20 minutes relaxed and comfortable.
This was a dull, dismal day with the rain drenching all and sundry. It's the first time at a game when we've sat in deep puddles. Quite how you get puddles when you're sat 20 yards under the stand roof is a tribute to British weather or the height and design of the Longside roof. But 15,000+ were not put off by the prospect of a soaking.
The win moved Burnley up to 7th and was the sixth win in seven games. I couldn't help thinking though that the Gods were with us yet again. Hull had 14 shots and just one was on target. Two of their attempts were dreadful misses. They sent their attempts high, wide, close and missed by inches. The Burnley goal was gifted by a calamity between goalkeeper and defender who collided, or hesitated, we were too far away to see clearly, but the ball ran loose and seemed to be heading into the net and there was Pato on the spot to chase in and put it home. It was a goal that was almost as embarrassing as the goal music. And yet for all the Hull chances, Grant in goal had barely a save to make other than a couple of punches from crosses
Burnley had two or three other good opportunities, the ball rolled across the goal-line tantalisingly close but there was no-one to tap it home. Rodriguez elected a spectacular volley from maybe 12 yards out, instead of controlling the ball, and his subsequent shot nearly hit the corner flag.
As the end of the game approached I said to Mrs T that Paterson would get the MOTM award. He'd run around and chased all afternoon and scored the goal. "But Marney is my MOTM," I said. He was everywhere and had the best game I've seen him play. Treacy was recalled and made you wonder why. Wallace had a good second half.
So what a year of change it's been: in fact what a two years since the Scotsman walked out. "I'll never be evasive," he said on TV after the Wolves game. I thought immediately of the interview with Campbell on the Town Hall balcony after the Wembley win. Campbell himself said a while later that it was a masterpiece of a politician's evasiveness.
On the way home I tried to fathom out just how and why we've had this good run that's taken us to 7thand top of the form table. Some of the wins have been deserved and thoroughly earned. The result and manner at West Ham was superb. Some of the wins have been down to good fortune – and nowt wrong with that. Lucky sides get promoted. Unlucky sides generally head downwards. The defeat at home to Portsmouth was undeserved. For me we looked more solid and in control of games when there was Bartley and Marney and McCann in midfield. That means you have just one wide player and for me Wallace is the pick of the bunch.
And New Year questions:
Are we really as good as 7th with the prospect of a top six place if this improvement continues? Will Barry Kilby retire as chairman sometime this year? Will Brendan Flood win his mega court case against the Bank of Ireland? If he doesn't will he have to step down as a director? Will either Paterson or Rodriguez be sold?
After the game we stayed with chums in Burnley for New Years Eve. It wasn't leftover turkey. It wasn't egg and chips. It was a yummy Lancashire Hotpot. Amen for that.