This was a season of wonderful flowing football and passages of play. It was a season of one-touch passing and quick movement. It was a season of players who could dance with a football at their feet. It was a season when Danny thrilled us with his dancing on YouTube. It was a season of wonderful goals, some spectacularly individual but many of them the result of marvellous team-play. It was a season when all were agreed that this was one of the finest teams to have graced Turf Moor.
If football is the beautiful game, then this was the beautiful season. This was a team that was up there with all the teams that had won titles and promotions. For younger fans it was the best they had ever seen. For those a bit longer in the tooth there would be endless debates about how it would have fared against the Harry Potts '50/60 title team, or Adamson's 'Team of the Seventies.' Such topics are part of the ceaseless fun of football.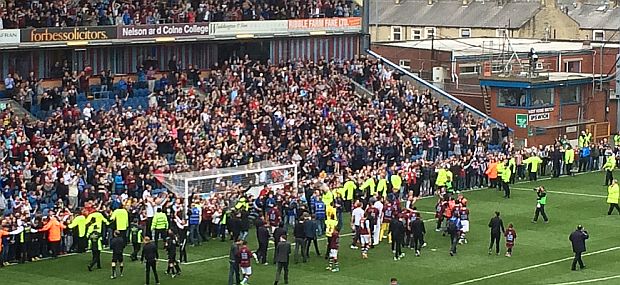 One thing however, that all were agreed on, was how difficult it was to choose any one player of the year. Sean Dyche was of the same opinion saying that he had never known a season when it had been so hard to single out any one player, believing that it was a reflection of how much of a team effort the season had been. 'You could go through virtually every player at some stage of the season and think what a season they've had. I could name the whole team. There are some who don't catch the eye as much as Ingsy or Vokesy. But they are all invaluable to the team, the people at the back and in midfield who don't always get the accolades.'
One thing he was emphatic about was that, 'There have been magic moments, consistency, great performances, team performances, people have been under the radar, people have done the unnoticed work well. Eventually, all those things make a real team and that's what this group has been. There are things I talk about a lot; the tactical framework, the understanding the players are finding, the energy, the effervescence but most of all the quality. It's been a real team.'
His comments about the job being that of a 'horse whisperer' would not go away. 'You have to know players as people, know their quirks. I can almost smell their mood. I call it 'horse-whispering'. I watch them, then pop round after training; ask them if they're OK. I tell them "well done Saturday, different class." I read The Horse Whisperer. If that can apply to a horse then with all respect it can apply to humans. Treat them correctly, respectfully.'
The words 'unexpected… unanticipated… unforeseen… unpredicted' appeared over and again. Writer and columnist Stephen Cummings wrote: 'Outstanding, scarcely believable, astonishing, brilliant; trying to describe what has been witnessed at Turf Moor over the course of the last nine months will only lead to adjective fatigue.'
Reactions were of delight and incredulity, joy and astonishment. An estimated 20,000 fans crowded round the Town Hall and lined the streets for the parade to the ground on Sunday 4 May. Stuart Pearce and Neil Warnock both advocated that Dyche should be named the Manager of the Year.
Of course the usual 'celebrities' voiced their pleasure, Alastair Campbell, Tony Livesey, John Kettley amongst them but the most intriguing was from several thousand miles away. Not many in the football world are aware that one of Burnley's most avid followers is Cardinal Wilfred Fox-Napier of Durban, South Africa. He contacted the local Burnley Express:
'The manager had a definite plan and he made sure that the squad knew the plan and fitted into it like a glove. Of course the inspired performances of Danny Ings and Sam Vokes had to be seen to be believed. To gain promotion with two games to play and to do so on a squad of players that was developed rather than bought, is so reminiscent of Harry Potts in 1959/60. In that side too there were some magicians, Jimmy McIlroy, Ray Pointer, Jimmy Adamson and Adam Blacklaw to name some of my personal heroes. I'd love to recruit Pope Francis as a Clarets supporter, but being Argentinian he will probably shout for Lionel Messi and the like. Nonetheless I will ask him to keep Burnley in his prayers.'
He had already tweeted: 'En route for Rome and Ad Limina visit which will include meetings with Pope Francis; will have to tell him about BURNLEY'S great achievement.'
And: 'Who knows, with Pope Francis's influence, Burnley might surprise even the big boys. Can't wait for the next season!'
Cardinal Napier would no doubt include Andy Lochhead in his list of favourites. Andy had already sung the praises of Sam Vokes earlier in the season. Now he was even more fulsome.
'Sean Dyche has gained automatic promotion on a shoestring budget. I think it shows that with organisation and the right manager anything can be achieved. Burnley should be an inspiration to other small clubs that a Premier League place can be gained without spending huge amounts. I think Sam Vokes has been brilliant. I was undecided when he first came to the club. He had been on a lot of loans but Sean has turned him into a great centre-forward. His playing style reminds me a little of myself and he has been a great foil for Danny Ings. We were there celebrating in the chairman's lounge until about 10pm. It was a great night and a relief to finally get there. I'm looking forward to next season with optimism. We should have nothing to fear.'
That most distinguished servant of the club Michael Duff described his second promotion to the Premiership as the greater of the two.
'I think this season has got to be seen as better really, because of being around the top since August and everyone expected us to go away. Players talk to players and speaking to players in the past week or two they said themselves that they expected us to fall away. Everyone did. But we've almost got stronger. Someone said we stumbled over the line, second or third in the form table. That's not a bad stumble. It's been a fantastic achievement and that's because of the consistency. Last time we got promoted we were almost like a cup team. We did unbelievably well in the FA Cup and the Carling Cup and sort of just sneaked our way into the play-offs, sort of a cup competition in itself. I'm not taking anything away from that but I think to show the consistency we have this season has been just brilliant. It just shows what you can do with a bit of hard work and togetherness which almost sums up the town mentality. I think that's why the supporters have come on board because they've seen that we work our socks off in every game and every day in training. It does mean a lot when they stick with us. I don't care how being promoted at Turf Moor compares to doing it at Wembley. I've done them both. The challenge is to stay there. I don't think there's unfinished business after the last time; it's just a hard league to stay in. We wouldn't be the first that went up and came back down and we've already been written off. It's hard to say about next season because you don't know who's going to be in the league yet and because you don't know who's going to be here and who's not.'
Tom Heaton said that manager Dyche should take the bulk of the credit for what had gone on.
'I think most of it can probably be poured his way. He sets the standard, the expectation, the format, what he wants. He simplifies it for players. We knew from pre-season there was something special and we managed to keep it going. He's been fantastic to play for and he should be very proud. The manager sets the stall out where he simplifies it for the players and I think once you get that physical conditioning that we've got, that we certainly had in pre-season, we've kept that going and once you apply that physical conditioning to the game, it simplifies things. We know we've got quality, so if you can put the work ethic and the application in there which we've done in every game this season, you're already going to give yourself a chance, especially in the Championship where fine margins make a big difference. It's been superb. It's been a brilliant achievement, just incredible really. There are some great sides in the Championship this year and we're one of them. We're there on merit and there's certainly a lot of pride in that. I set out when I started playing football as a kid tom play in the premier league. When I left Manchester United a few years ago it was the aim to get back there. To get there is fantastic. It's a level everyone aspires to. I couldn't be happier to be there.'
Sam Vokes earlier in the season had praised Dyche. 'Dyche is the reason that Burnley are currently doing so well. He is very high on different types of psychology and he is into that. He is a good motivator off the pitch and in the changing rooms. And, I think it's why we are doing so well at the moment. Coming in with playing experience has helped and at the age he is, he understands tha lads and gets on with them off the pitch. He's been a great manager for the lads in terms of man-management and manages the team so well. Within the camp we know how good we are as individuals and what a great team spirit we have. It's why we are able to keep up with those clubs that have spent millions.'
Sean Dyche, meanwhile, wasn't getting too carried away when the points were in the bag after the Wigan game. 'It's an internal celebration for me. But internally I can assure you I'm more delighted than you'd ever know. I'm extremely proud. The players have achieved so much and there's that pent-up kind of anxiety of getting over the line when you're so close. But I don't get too high with the highs or too low with the lows.
'There are words we've used a lot, relentless, limitless. It's just a mindset. The hardest thing is all the noise on the outside. But it's only noise if you stay focused on what you do. Real achievers I believe stay focused on the job in hand, whatever that job might be. If they don't get caught up in all the noise around them they stay focused on that role and responsibility. And they've done that. The players have been absolutely exceptional this season. Next season all we can do is what we can do. I'm always reality bound.'
Kieran Trippier was certainly looking forward to the new season especially returning to the Etihad. There's a song that's sung on the terraces at Burnley about favourite players and it ends with the line 'he's one of our own.' Long after other players had left the building after the Awards night Kieran Trippier was still there and loving every minute of the occasion. 'Kieran Trippier he's one of our own,' sang thirty or so people round the bar and they meant every word. Some players have that indefinable quality and character, be it humility or commitment; people see them as part of the Burnley family, one of their own sons. Trippier is one of them.
'I'm looking forward to playing in the Premier League now and I want to play against the best players and the best teams. I'm looking forward to going to the Etihad. City let me go and I don't think I got the opportunity there but I came here and I've enjoyed myself. I've been here three seasons now and been player of the year and got a promotion so it's not been bad. I've always said to myself, my dad my mum; I'll never make a better decision in my career to sign for Burnley. I'm happy at Burnley; I'm 10 minutes away, close to my family and friends. The season has been unbelievable. What a set of lads, you have to cherish these moments. Look at Heats, Tom Heaton, last year he got relegated with Bristol City and now he's part of the defence with the best record in the Championship.'
Skipper Jason Shackell was one of three players winning places in the Championship team of the year. The others were Kieran Trippier and Danny Ings. Shackell was an ever-present in every game of the season, a remarkable achievement in itself. With promotions at Norwich and Wolves already under his belt he declared this was the best one.
'It's been my biggest involvement. I've played every game this season so for me personally this is the best promotion by far. You see some of the clubs and the money they've spent, so to do it with such a small squad is an incredible achievement. I can't give the gaffer and staff enough credit. They've been brilliant and the lads have been absolutely magnificent. We stay together. People have doubted us from the outside so maybe that's galvanised us a little bit more. The lads will always have each other's backs and I think that's shone on a few occasions. From day one we knew we were a good team and a good squad and then the results started coming and that just breeds confidence. We grew and grew and now we can reap the rewards. The gaffer gets us working day in day out and the lads have really bought into what he wanted and what he believes and we've been a real tight-knit group from the start. Anyone who knows the gaffer knows he wouldn't let us lose focus. His mantra has always been that we do it day in and day out, no matter what happens. From being fourth favourites top go down and then getting automatic promotion with the likes of QPR, Reading and Wigan below us, just makes it an incredible achievement.'
Two Burnley supporters are Dave Burnley and Tony Scholes. Dave Burnley lives in the Stoke area and doesn't even own a car. He wasn't always called Burnley but changed his original name to Burnley. Tony Scholes is editor of the Clarets Mad website one of the most widely read sites in football.
For Dave Burnley it was one of the most remarkable seasons in the whole history of the club. It was a reflection of the underdog tag that has been affixed to the club since as long as he can remember and was the reason why he first began to follow Burnley. He remembered when way back in the pre-season period and the first game against Bolton it was all doom and gloom. Everyone including himself had predicted a lower half finish. Nevertheless out of blind loyalty he put a small wager on at the bookies that Burnley would end with a top-three place at 50/1 never thinking he would have anything to collect. He thanked everyone at the club from the co-chairmen to the cleaning ladies but his 'biggest accolade goes to our imperious leader who has transformed our club from apparently going nowhere to where they are today, Saint Sean, the Patron Saint of Underdogs.'
Tony Scholes was similarly deeply affected. In April he wrote a 2,000-word piece for his website, calling it 'My Unshakeable Belief.' This is the essence of it:
Easter Monday, 210 April, 2014: that date is up there now as one of the best I have experienced as a Burnley supporter watching the Clarets so long there have been far too many ups and downs to mention. Given that I started watching us in the top flight and given that's where we are going next season, I've witnessed the same number of promotions and relegations. Seven of each is the total with the first of them ending what was simply an horrendous 1970/71 season.
I'm not sure when I got the unshakeable belief about this season and I'm not sure what brought it about for someone who, despite not being negative, is always worried that things will go wrong. I suppose I'm similar to Barry Kilby, the self-professed club pessimist, who said to me earlier this year, "My mum used to say if it's that good, it won't last."
Pre-season started with a defeat at Morecambe. Dyche spoke only in the last week at some of the barracking he received as we lost 1-0 just days into pre-season training. But, we then got off to a decent start and I think we all sat up and took notice at how well we played in game number 5 at Derby where we won 3-0. Then there was a resounding 2-0 win against QPR, everyone's favourites for promotion. It had been our first massive challenge and we'd passed it with flying colours and more. By now supporters were beginning to believe in the team although it was still no more than a good start.
We'd notched 44 points by the half-way stage of the season and I certainly thought we would be in with a chance if we could repeat that in the second half. What was to come was at times simply difficult to take in.
That unshakeable belief of mine; when did this worrier of a supporter finally realise something very, very special might be on the menu? Blackburn: What a day! So many Burnley fans there had never witnessed anything like it. Many hadn't even been born the last time we beat them. I came home and watched it again, and again, and again. I can tell you on every matchday since, except before the Middlesbrough game, I've relived the moments when the goals went in followed by the final whistle. I love Sky+.
We came home with an 8-point lead over Derby and from that day my unshakeable belief never wavered. When the Watford draw came that's when I referred to the lights at the end of the tunnel.
It was all done and dusted for me at the seaside. No way was Dyche going to allow us not to get the necessary points. "Are you nervous?" asked a friend before the Wigan game.
I'd watched Shackell scoring at Ewood, then Ings scoring at Ewood and then the hysteria at the final whistle at Ewood. Then I'd one to the Turf all relaxed. I still find it hard to believe I was so relaxed, so confident. It's just not me; has this bloke with the ginger goatee somehow got inside my head? As it turned out our players were also full of confidence. We brushed Wigan away just as we'd done QPR in October and Forest at the end of February. The after-match celebrations were wonderful. The tears came on Tuesday as I suddenly realised the enormity of what we'd achieved.
It's been one of the most incredible seasons I've had watching Burnley but where does it rank alongside the other good ones. Firstly, I know where I place our manager. When I first started watching the Clarets we were managed by Harry Potts. I adored him and will never forget the first time I met him. No one will touch Harry Potts for me but Sean Dyche, I can tell you, now runs him a close second.
I think most people will agree that this team has outdone that of give years ago. Captain of that team was Steve Caldwell. He sent his congratulations this week, calling it outstanding; an achievement he agreed surpassed that of his own team.
What we have achieved this season is, I really do believe, the finest achievement at our football club since I was first taken to Turf Moor by my dad in October 1960. I'd just missed the championship title season of 1959/60; my impeccable timing again. I cannot think of anything at Burnley Football Club since that title win that can match the achievements of Sean Dyche and his team. The manager's one-club mentality has got everyone pulling in the same direction. I'll stand alongside thousands of Burnley fans watching OUR team playing Premier League football. I really can't wait. I have that unshakeable belief.
Tony speaks for all of us. Can any of us wait to see what the new season will bring?