During that time and in the week before, I lost count of all the big news items. Capello went. Suarez wouldn't kiss and make up with Evra. AVB seemed to be upsetting all and sundry at Chelsea with Jim White in the Telegraph likening him to football's Frank Spencer. Prince Charles announced that he was a Burnley supporter. And Barry Kilby announced his forthcoming retirement as Burnley Chairman.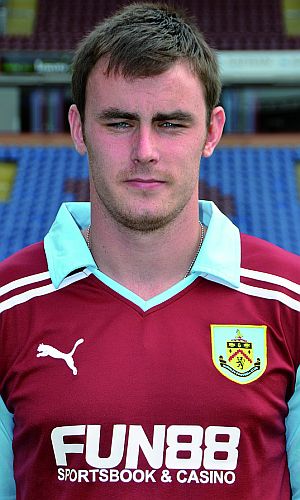 How does Keith Treacy merit a Burnley shirt?
We collected the new/replacement computer when we got back from ten days down in Kent. It was a Florence Nightingale visit so that we could 'nurse' a poorly friend after an operation. They live very close to the Tenterden Steam Railway and the high spot was seeing Thomas the Tank Engine trundling over the crossing at the bottom of the hill. I guess at heart I'm just a big kid. On long journeys I count Eddie Stobart lorries which I guess is equally sad. The problem is, if one is pulling a Tesco trailer, does it count?
The Southampton game was within reasonable travelling distance from Kent but I guessed at it being a Burnley no-show so we didn't drive the 80 miles or so to get there. Good decision or what? It was indeed by all accounts a no-show, surprising in fact considering the stirring displays of the previous away games.
We missed the Barnsley game but cheered up as the scores came in. We were far from cheerful driving home. The M25 was blocked ahead of us both ways so we headed off up the M11 so that we could join the M1 further up. Oh how clever we are, we thought, only to find the M11 was also blocked both ways because of another accident. An hour and a half we sat there watching ambulances and police cars zooming up and down the hard shoulder and a helicopter hovering a few miles ahead. Eight hours later we arrived back in Leeds. At least the house wasn't frozen up and pipes bursting.
The new computer (please God) seems OK. The last one came with a continental two pin plug power cable and was declared corrupt on the test bench. This one (Samsung) came with a set of instructions in Russian. How nice though to get back to writing again and finally sending off the Roger Eli stuff. The time in Kent was spent re-reading and fine-tuning.
The defeat at Reading was frustrating. Roberts seemed to muff his shot and it somehow looped and arced over the vainly flapping hands of goalkeeper Grant. At the other end we hit the post twice and Austin missed a golden chance when the goalkeeper stuck a leg out. So, yet another defeat there and you couldn't help but think of those marvellous goals from Paterson and Thompson back in 2009.
So who will be the next chairman? You assume it will be one of Brendan Flood, Clive Holt, Mike Garlick or John B. Brendan Flood must take the credit for funding the promotion season and is certainly a visionary but he has a nasty financial court case coming up. Clive Holt has been there since Gladstone was Prime Minister and probably knows where all the skeletons are buried. There's an unconfirmed story/rumour that when Owen Coyle's mobile phone bill arrived at BFC it was noted that calls had been made between this particular phone and a Bolton Wanderers number before the defection took place and it was the eagle-eyed Clive H who found them. "I couldn't possibly comment," Prime Minister Urquhart used to say. John B seems to be very much a man of the people. Mike Garlick would seem to be the quiet one, the dark horse coming up on the outside. But whoever it is will only be the fifth chairman since Bob Lord took over in the mid-fifties. It's a remarkable statistic.
Barry Kilby's time has seen so much happen and there's no question that the steady hand he has provided, the caution and the care, has seen the club through some trying times in between the promotion of 1999/2000 and the Premier season. Ten years from now I'll still be saying that no man deserved the Owen Coyle walk-out less than BK. One of the images and sounds that still hasn't gone away is the chanting of his name at Old Trafford in the first game after the desertion. You can't think of many wrong decisions he has made in his time, save for the Laws appointment. But as Barry will say until his last breathe, the big names weren't interested, and just who else was there? Wolves have just discovered something similar.
Meanwhile: I look back at what Eddie Howe did in creating his new team and releasing and replacing the 'old guard and can't help but compare it with the shambles that is Chelsea. The clubs are poles apart in wealth and position, and in the way they are run; one by an oligarch with untold riches at his disposal. But the two managers, both of them almost novices in their early 30's, Howe and Villas Boas, inherited a common problem. Both had a team that had reached its end and needed reshaping. One of them has managed it, though it remains to be seen if it is the finished article and can become consistent enough to be a top-six contender. The other hasn't and has become almost a figure of fun and a caricature.
I came across another book that made me think now why didn't I think of something like that; 32 Programmes by Dave Roberts.
If you're a hoarder and collector like me of programmes and footie stuff you'll enjoy this book. This is a guy that collected over a thousand programmes and then faced the awful job of getting rid of most of them when his wife wouldn't let him pack them all in his suitcase and take them to the USA when they upped sticks and moved there. He'd planned to take them and leave all his clothes behind. What sensible bloke wouldn't? But broken-hearted he had to sift through them all and choose only the ones with the most significant memories from his collection to go with him.
Something similar happened to me twice except I wasn't moving to the USA. The first time it was when my parents moved from a large rambling house where I'd left collection number one after I got married. I seem to remember I kind of said just get rid of them. That was in about '67. In those days they didn't go for big money on eBay and there were some really old collectors' items from the 50s and 40s. Today several of them I suspect would fetch decent money. The second collection that I amassed after that between the late 60s and mid 80s was also disposed of when Mrs T and me downsized from a big old house to a little place out in the suburbs. This time I kept a few before I sent the rest to charity shops along with millions of old National Geographics. The few I kept followed no real selection logic. I just liked the covers.
Collection number three now grows again, very often stuff that I need or simply fancy if I'm working on a particular book. Boy how annoying it is to buy copies of programmes that I once had and got rid of. I was desperate to buy a copy of Jimmy Mac's first game for Burnley at Sunderland. I've only ever seen two come up on eBay. Alas my £20 limit wasn't enough. A pension only goes so far. Roger Eli played two first-team games for Leeds. I only managed to get one of the programmes. Maybe pride of place goes to a battered, scruffy, torn, shabby, dog-eared copy of Everton versus Burnley; a game in which Harry Potts appeared for Everton and a young Jimmy Mac was in the Burnley team. What I look out for at the moment is the home FA Cup-tie against Derby in 91/92 when Roger Eli scored goal of the season against Peter Shilton. When the book comes out we're doing a package that consists of book, plus all three Derby Cup game programmes, all signed.
I watched Benidorm the other night for the first time ever. At the end of it I thought I'd never ever see anything quite so cringe-worthy and embarrassing ever again. It was hypnotically bad. And then I spent the following day watching Burnley 1 Millwall 3. It was difficult to decide which was worse. The only consolation was Eddie Howe saying that was the poorest he'd seen Burnley play. He won't mind therefore if I let rip on here then.
You wonder how a team that played so well at Reading could be so abject in the next game. You wondered how the first half could be so awful. You wondered how so many players could play so indifferently and appear so out of sorts. I rarely single out individual players but I wondered how Keith Treacy in particular merits a Burnley shirt.
This was the same kind of display we saw against Peterborough, only worse. This was the same kind of display we saw before the run of good results began before Christmas. This was the same kind of display that made us think earlier in the season that the dreaded 'r' word would soon be heard. This was the kind of display that made a mockery of any hopes of a top-six place.
To be fair, Millwall's second goal knocked the stuffing out of Burnley. It was a cracker quite out of the blue. But it was memorable, the kind of goal a player scores once in a career. Joey Gudjonsson once scored something similar. It was the kind of shot that usually ends up not just over the bar but over the stand. This one dipped at 100mph and went in. Even before that though, Millwall could have been three up such was the Burnley defending. At the other end three low crosses were rolled invitingly across the Millwall 6 yard box with no-one able to convert. Throughout all this the Austin was badly in need of a service. It never got out of first gear.
Marney, his running, break-up play, industry, and desire was sorely missed. McCann was busy prompting with a few surges, but is so terribly one-footed. Wallace scuttled about without any impact. Rodriguez battled for scraps. Trippier's usual marauding attacking play was down by 50%.
There was an improvement in the second half. Ings, sharp and nippy replaced the leaden Austin. Wallace moved inside. Easton replaced Treacy in a move that must have made Hines wonder why on earth he had moved north. But even Easton outperformed Treacey. It was a replacement that illustrated the paucity of what was on the bench. But things brightened up. Crosses came over, but shots never hit the target, 12 corners rarely cleared the first man and when they did they were comfortably caught by the goalkeeper. You did feel that if Burnley, bad as they were, could have got one, they would have gone on to get the draw. But then the inevitable happened. Millwall who had barely troubled Burnley so far in the second half broke (was it from a sloppy Burnley giveaway pass) and a lovely through ball was gratefully accepted by the runner who calmly slotted home.
The day by now was cold, dull, grey and dank; the mood of the crowd one of disappointed resignation. As soon as the third went in hundreds left the stadium even with 20 minutes left. It's doubtful that anyone contemplated a defeat against a team as lowly as Millwall. Even me and Mrs T left a few minutes early and missed the Rodriguez goal. Mrs T wondered how on earth anyone could pick man of the match after a game like this. Was there one - Duff the only real candidate? A horrible day then, the only bright spots being the defeats for Bolton and Blackburn.
HE DIDN'T BET THE RANCH BUT HE DARED TO DREAM – THANKYOU FOR EVERYTHING BARRY KILBY said the huge message at the back of the JHU Stand. It seems reasonably safe to say Burnley's position in the Championship is safe again for another season. It seems reasonably safe to say that Barry Kilby will leave the club in a damned better state than he found it. Thanks Barry.