Perhaps one memorable example was Scunthorpe arriving at Burnley during December 2010. They won 2–0 with Brian Laws succumbing to this fundamental law of Turf Moor and receiving his P45.
And thus it was at Portman Road with lowly Ipswich who hadn't won at home all season, winning 2-1. It leaves you scratching your head in bafflement – and frustration, especially when the very next game they lost 6–0.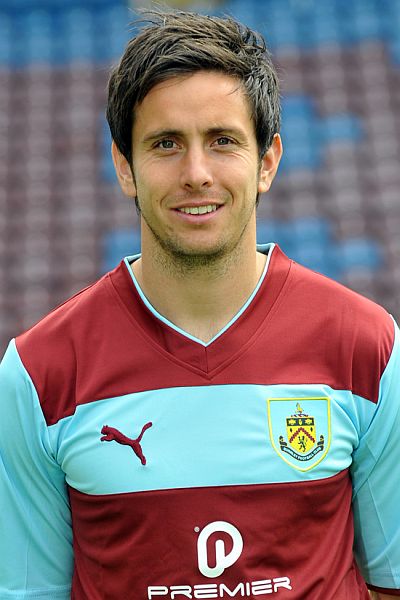 Brian Stock was outstanding against Charlton
There's this myth that authors make money out of writing. Well yes, that's true if you're John Grisham, Clive Cussler or maybe even Stevie Gerrard whose book sold 90,000+ copies I read somewhere. But I had to smile at the sad tale of Pippa Middleton whose book about party planning and catering netted her a cool £400,000 advance. And then it flopped spectacularly according to publishers Penguin and already it is being sold at half price. It limped to 5,000 sales when they'd budgeted for ten times that. Lucky Pippa pocketed her advance and smiled demurely and is now pleased to be "a writer." The second publisher I worked with brought me down to earth when he said some years ago, "You won't be a real writer until you stop writing Burnley books and write a proper book."
The very first book I ever wrote 'It's Burnley Not Barcelona' earned me a tiny advance; the publisher asked for it back straightaway as he was about to go bankrupt, and then within weeks indeed went bankrupt. That's the last time I've ever heard the word advance, unless we've played Monopoly at Christmas.
For the Adamson book I'm working on I desperately wanted to use a small chunk of the Peter Lorimer book 'Leeds and Scotland Hero'. Adamson had a torrid time at Leeds; any last interest he had in football management died there. Lorimer was certainly no fan of his and wrote scathingly about him. I did all the right things and asked permission from the publisher to use the appropriate pages. Told me first it would normally be £400 (plus VAT of course) but they would settle in this case for £120. Not a lot is it in the great scheme of things? It would just about pay for Pippa Middleton's pedicure. Beyond my pocket though. I mailed back and offered £50 – out of my pension. I daren't tell Mrs T. If anyone wants to sponsor the Lorimer extract at £120 (I'll pay the VAT) please let me know.
The Ibrahimovic goal for Sweden against England had everyone in raptures. Was it the greatest goal of all time or just the most spectacular? Andy Gray on Talksport went to great lengths to explain it was one of the greatest ever finishes – but greatest goal that was another matter. According to him a finish is just a finish and doesn't take into account the build-up and the context in which the goal is scored. So: what is the greatest ever Burnley goal then; Fletcher's overhead at Leeds in '74, John Connelly's solo run half the length of the pitch at Reims, Ashley Hoskin's run two thirds of the pitch at Swansea, or the Elliott goal at Wembley in 2009.
The latter has to be listed because of the sheer staggering impact of it, the Premier League millions it brought and the year in the Prem. It was a cracker of a goal in its own right but Robbie Blake probably scored several better from distance often from free-kicks. Bert Freeman scored the single goal that won the FA Cup in 1914; but taking into account the location and the financial salvation it brought to a club where the administration word had certainly been used in the boardroom, Elliott's was maybe the most important Burnley goal ever scored. The Andy Gray criterion for what makes a 'greatest' goal is simply will it be remembered years from now. Those of us who were there and saw the Elliott goal will never ever forget it. That it was the one and only goal of the game and decided the result also added to its massive significance.
The day of the Charlton game began grim, grey, dull, uninspiring. In the heat of India, England were toiling, trailing, humiliation on the day 2 horizon already. A smack in the face for the smug Tory-Libs at the by-elections; apathy at the Police Commissioner elections but as ever the great British dig deep for Children in Need. Sean Dyche and Alastair Campbell spotted having a meal at Mitton Hall. The Daily Express, weather obsessed, headlines with worst winter for 100 years on the way with Britain brought to a standstill. Meanwhile me and grandson Joe have 'discovered' re-runs of the old Technicolour Batmanseries on TV; the one with Adam West and his costume that had more creases and lumps than Norah Batty's stockings. It makes up for Frasier which seems to have disappeared from the screens.
By 3.00 the sun was out and the Cliviger Gorge as we drove through was simply stunning. It gets little publicity as a landscape feature but on a day when the sun shines, or in winter when it is covered in snow, it really is a sight to see. Pity the game's result wasn't of the same quality.
The talking point probably for the rest of the season will be was it a deliberate handball by Trippier or was it not? Whatever: it decided the course of the remainder of the game. A rocket shot hit him from close range as he was on the line. It all happened so quickly that for a referee to have decided this was a deliberate handball; he must have had the eyes of a hawk. From where we were it looked like his arms were by his side and the ball hit him rather than the other way round. No Charlton player appealed; the referee allowed play to continue so that Charlton then hit the bar. Truth is it all happened so fast I'm still not sure if I've got the order of events right. But next he awards a penalty and sends a protesting Tripper off. I suspect the Charlton players were as surprised as we were.
Grant saved the penalty which was sweet justice but down to ten men there was no justice with the eventual result which was a 1–0 Charlton win. In no way was it deserved. In no way was it a deserved Burnley defeat. Even with ten men Charlton were outplayed for long spells and created possibly only two real threats one of them resulting in their headed goal as Burnley tired and also paid the price for being caught upfield – with one man missing. For 75 minutes they ran, chased, harried, tackled and did their utmost not just to hang on to the point but to actually win the game. It was cruel that they didn't. This was as frustrating a game as you could wish to see; a game ruined by a knee jerk reaction from a referee who couldn't possibly have decided in that split second was it hand to ball or ball to hand.
The turning point: was it the Tripper sending off, or before that was it in fact the horrible miss from around 35 yards with the goal gaping when McCann fired the ball high over the bar instead of lobbing it accurately into the unguarded net. Had that gone in, the whole story of the game is altered. Even at ten men Charlie had golden chances to level the score, one of them when having robbed the defender and worked himself into a wonderful scoring position, he rolled the ball wide.
"I don't think the lad could get out of the way," said Charlton manager Powell after the game, adding that had such a penalty been given at The Valley, Charlton fans would have been up in arms.
Trippier's walk to the tunnel at the opposite end of the field was long, slow and dejected. At Leeds last year he was the victim of another harsh sending off the result of two yellows, one of them quite innocuous. He must surely think the football gods have it in for him.
For years and years it's been reasonable to think that Burnley are not a 'lucky' club. If things can go wrong they invariably will. If a referee makes a crass decision it will usually be against us not for us. Daft pantomime goals are inevitably scored against us not for us. We had the luck of ten years in that four or five weeks leading up to Wembley 2009. I wasn't the only one to say then that we'd probably used up all our luck for the next ten years as well. Everything went right. Against Charlton, everything went wrong and Lord only knows how many decisions could have been given against them, that weren't; a goalkeeper's handball outside the area, an elbow by Hulse on Shackell that laid him out.
Every Burnley player made a terrific effort to make up for the missing Trippier. It would be a hard man that found fault with any of them. Stock and Marney were outstanding. The whole team was given a standing ovation at the end, the crowd recognising the efforts they had made. It was a rare game for Charlie when he didn't score – but not for lack of trying. Despite this barren spell of all but two games, other aspects of his play drew admiration and applause, as they get better and better – the twists and turns, the heading, the support play, the even greater work rate and the neat bits of Arsenalesque ball-skill that he is adding to his repertoire game by game.
We cheered ourselves up afterwards calling at the Owl in Rodley near home for liquid refreshment and some good cheap pub grub that sweetened the sour taste left by Mr Madley. Funnily enough the dejection you feel after a defeat wasn't as bad as usual. At Cardiff we just couldn't wait for the game to end it was that bad. But this one was different. This was a game you felt that had been taken away from us; the points denied to us by a trigger-happy referee, a game when no matter what you do the result is pre-decided and you just know it's not gonna be your day.
Those lads in claret deserved better than this against Charlton.