Images and memories of the taste sensations of Marbled Steak at the Wapiano, Steak Minions at the Zula, Steak Tornado at Soprano's and harbourside breakfasts slowly faded.
A couple of days after we left there was an earthquake over there that was felt in the town, only a few shakes, the centre of it was a 100 miles away; so just after midnight as people wandered back to their hotels and apartments they could be forgiven for thinking they'd just had few too many drinks.
M&S was already full of Christmas stuff already, most Garden Centres were filled up with Christmas tat, Blatter was suspended, Qatar won the bid to host his leaving do, Rodgers was sacked at Liverpool, Advocaat left Sunderland; it was all happening. And that's even before you mention the Tory Conference. On a local website a guy was asking where he could get good manure from. The Tory conference was my immediate reply.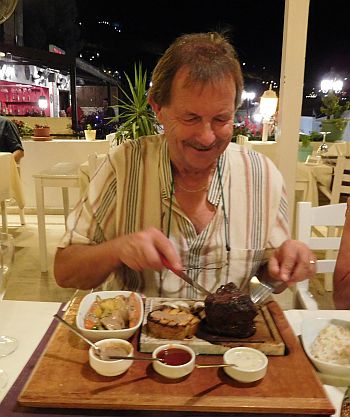 Of course we all wondered if Sean D would be approached by Sunderland, but surely no sane person would take the post was the general consensus. The Daily Mash suggested that jury service should include being Sunderland manager for 10 days. Big Sam eventually took the job.
Focus was on Northern Ireland qualifying for the Euros, a game that gave a bit of meaning to the weekend in the absence of a Burnley game. What a brilliant game it was and it was Burnleyesque inasmuch as the little team was joining the big boys. In Steve Davies and Oliver Norwood they had two key players. Norwood's performances left you wondering why Burnley hadn't pursued him instead of trying to land Lansbury.
Next up was Wales and Big Sam needing just a point. It was great to have a Burnley player involved. The pundits somewhere around the hour mark had just spent five minutes discussing and waffling how comfortable Wales looked; they were coasting to the finals with the score at 0-0, and it all seemed now to be just a formality. You knew what would happen; Bosnia promptly went and scored. On came Big Sam and at this point it still seemed set fair for Wales with Israel losing at home to Cyprus. Bosnia scored again. But Wales were through, another fairytale.
To give it all added interest, Burnley players and ex-players featured; Stephen Ward for Eire, Big Sam for Wales, Danny Ings and Tom Heaton in the England squad and Kyle Lafferty and Chris Baird for N. Ireland. Lafferty said he hoped to meet Argentina or Brazil in the Finals. There were two groups that commented on this. Some noted that he said this was a sparkle in his eye as if he was joking. Others observed he was never the sharpest tool in the box and he probably meant it.
Gunnar wrote from Aalesund again. The Rotherham game had been on TV over there. At this stage two years ago Burnley had a record of 7-2-1 with a goal difference of 19-6. This time after 10 games it is 5-3-2 with a goal record of 14-11, including just two clean sheets. But after 10 games you cannot help thinking that a top six place is a decent bet. Ings and Trippier have been replaced with good signings. The Barton signing was a real coup and injured players are well on the way back to full fitness.
Amazing thing twitter: there are mixed feelings about the whole business of social media, good thing or bad, a source of aggravation or usefulness. It's like TV someone said to me, if you don't like what you see just turn it off, and that's true enough. But as a communication tool it's just amazing. Out of the blue the other day came something to me from Tony Kay the old Sheffield Wednesday, Everton and England wing half from back in the late 50s and early 60s. As a result we're now in touch and he's someone I can ask about then old games against Burnley.
Initially I just replied that I remembered him once decking Jimmy Mac and kicking lumps out of him in a game at Turf Moor. It must have been around '62 maybe. Hah he replied, I was just trying to make him hurry up a bit. I smiled at that. In an interview not too long ago he did confess to practising a bit of brutality (his word) every now and then. Then he added that he remembered Bob Lord bursting into the dressing room afterwards and nearly lynching him.
'We were going down the tunnel and into the dressing room. I was captain so I was last in line. I saw everybody safely into the dressing room. Harry Catterick the manager was behind me. We heard a voice screaming "where's that ginger-haired little bastard?"
Harry told me it was Bob Lord the Burnley chairman and ushered me into the dressing room. He was furious. Jimmy McIlroy was his blue-eyed boy and I'd kicked him because he was playing for time and I didn't like it. I told Harry to step aside and let him come in. Harry said to let it go. I said I'd chin him if he came near me.'
Now in his late 70s, Tony Kay works six days a week, goes to the gym three times a week and does a 100 sit ups every day. He was a tough, hard wing-half in an age of thudding tackles, letting the other player know you were there, and frequent outright intimidation. Who could you compare him to today at Burnley; probably nobody with the game so sanitised and 'clean.' Players like him are just not allowed any more, their robust style of play now long gone. Kevin Ball might be the nearest.
Two books arrived in the post to review. The first by Burnley supporter Tim Quelch isn't football but cricket. If you know his football books you'll know just what a lyrical writer he is with descriptive passages that would grace the great classic literature of the past. His book 'Underdog' was the story of his love affair with the little clubs and the giant killers of football with much of his own growing up and life thrown in for good measure. It all added up to make a wonderfully readable book. And now he has done the same for cricket mixing in his own story of growing up with stumps, bails, pads and bats.
Stumps, Runs and Rock and Roll is the story of 60 years growing up and being fascinated by the game. From 1952 to the present day it tells the story of games and heroes, scandals, events and trends against the backdrop of the social stories of the day, the news and politics and above all music, for Tim is a music buff be it rock, riffs or rhythms. If there's a cricketer with a famous name in this period, then it's likely Tim will have uncovered some story to tell and the music of the time that provides the backing.
Tim is a small boy when the story begins, cricket united his family, dominated their weekends. His dad played, his mum prepared the teas. It conjured up images for me of going to watch Todmorden in the Lancashire League on a Saturday afternoon in the days when I was still in short pants. We went as a family and at that point Tod was a top team with Aussie Jim Burke breaking all records. What I certainly remember are the teas against a backdrop of Centre Vale Park and the hills behind the ground.
Tim also absorbed his parents' music tastes. In later life he took his failing dad to quiet village games. When his mother was ill in hospital she always asked how England had got on. And in this way this is such a personal book based on vivid personal impressions.
Here is one of them at the very beginning of the book: 'I am lying in the long moist grass at the edge of the village recreational field, in dappled sunlight, watching dad bat. He is wearing thick, voluminous woollen 'whites' that are actually cream coloured. I hear a succession of cracking rifle shots, 'pock, puck', disturbing the languid summer hue. Engrossed, I watch dad brutally despatch one inviting delivery over the swings and into the melting road before heaving another high over the leg side boundary where the ball clatters against the village hall slates, then smacking yet one more low past the bowler with tracer-like fury. It is an unashamedly heroic portrait drawn by a small boy in awe of his father's strength, for dad was a powerful man, at least physically, a legacy of his daily wrestling with the notoriously stiff gear levers on the gypsum mine's giant bulldozer.'
What a beautiful beginning to the journey that lies ahead wandering through these pages of memory and nostalgia. (Softback published by Pitch at £17.99, 270+ pages of glorious writing)
The second book that came was the Stephen Cummings account of the season in the Premier League – Another Tilt at the Big Time. (Vertical Editions softback at £11.99)
In his introduction he writes of the season he wrote about 20 years in his Burnley Were Back volume, the story of a relegation season with Jimmy Mullen.
'Regrettably sunny optimism was soon replaced by worry which, in turn, gave way to grave concern as Burnley struggled to establish themselves at the higher level. There were a number of inadequate signings, goals proved hard to come by and wins were few and far between. Unsurprisingly, the season culminated in relegation and the Clarets were despatched from whence they came.
A few lines later later he uses exactly the same paragraph to introduce the 2014/15 season. Stephen is therefore a specialist. He only writes about relegation seasons. In truth the parallels he summarises are extraordinary.
The structure of the two books is the same. There is a detailed lengthy account of every game prefaced by details of the venue, teams, goals and times, scorers, subs, change in league position, referee, yellow or red cards, and the attendance. In years to come, therefore, it will be an excellent reference book for those wishing to settle an argument or nudge a memory, or indeed just re-live a game. I confess it's something I never have the patience to do with my own books and whereas as often as I can I will meander and ramble and digress about all kinds of things, some of them nothing to do with football, quite frequently wherever I've had summat memorable to eat, along with the stories of Burnley and players of yesteryear; Stephen is highly focussed on the match. His accounts and reports of all the games and his journeys and the build-up to each game are therefore detailed and explicit – and of course, thoroughly readable.
We'll all have our favourite games and performances but maybe the one that sums up Stephen's writing ability is the account of the Boxing Day game against Liverpool, the one where we played them off the park and lost 0-1. He opens with a moving and poignant tribute to Clarke Carlisle following the news of his attempted suicide. And then comes the blow by blow vivid account of the game in all its frustrating glory. Burnley truly sizzled that day and then Sterling stabbed them in the back. Stephen's account painfully covers the goal attempts and minutiae.
Just as with his 1995 book, he ends with his 10 reasons for the relegation and I'm pretty sure no-one would argue with them. They most certainly mirror my own thoughts.
His first book can be tracked down on Amazon and eBay; this new one is obtainable from Amazon and from Smiths in Burnley and Colne High Street bookshop and directly through Clarets Mad. At the time of writing it was not in the club shop. It's a welcome book, positively written, an accurate story of a frustrating season for everyone. It was a season where we came so near to an improbable ending. This book covers every bit of the hopes, the drama and then the final sadness as we thought of what might have been. I can also well appreciate the time, effort and hard graft that have gone into it.
"Bring on Bolton," said Matt Taylor a former Bolton player. An image of a stunning free kick goal he scored against Burnley at Christmas 2009 came to mind. Kevin Davies had backed into Steve Caldwell and got the dubious free kick. Up until then it had been all Burnley. It was the day Gartside told Brendan Flood in the boardroom 'we're coming for your manager.' Flood laughed it off. Little did he know what was to transpire within just a few days. Gartside indeed took the manager, and his new manager took Bolton down to relegation a while later. Karma. The new Bolton arrived at Turf Moor currently in the bottom three having won just one game.
A banana skin or what, we asked.