We ended up back to square one at the end of January tearing our hair out because the new machine we got (to replace the one that took 3 days to boot up) lasted three days before it too decided to go into 'rogue' mode.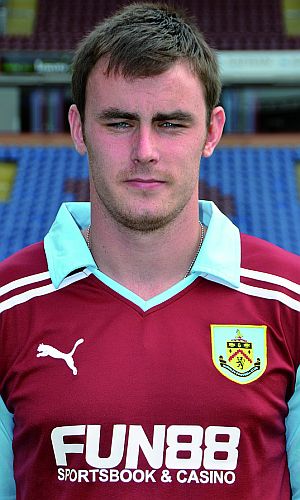 Keith Treacy, needing to take a long hard look at himself
So what's all this got to do with football and Burnley? Well for a start the diary piece I was working on went up in smoke. The final work on the Roger Eli book went on hold… just when the fun bit was starting and the first draft cover designs were arriving… they went on hold… and the new book that's on the go (subject doesn't want to announce what he's up to ) is at a full stop…
This stuff I'm doing now is on an old laptop. I had a load of stuff written about the Derby game (the gist being we should have won and Keith Treacy needs to take a long hard look at himself).
So first: the new machine lost Word. This was within three days. They guy at back-up helped Mrs T get it back… a morning's work whilst at the same time the guy from the alarm firm was testing the alarms and they were going off. I was sent out of the room on the grounds that I am less use than a chocolate teapot when it comes to fixing computers. It's an add-on that's corrupted something said the guy in Nottingham. What f*****g add-on, we haven't added any?
Then AOL went missing and wouldn't let itself be downloaded again. Ah said the guy at back-up something has corrupted itself. It's just normal teething problems with a new computer. It happens a lot. The word bollocks sprang to mind. He helped Mrs T get it running again; another morning gone.
Surely it's gonna be Ok now we thought. Well no actually; it decided that a fun game would be to sort of go to sleep when your back was turned but when you wiggled the mouse the screensaver would come on – but no desktop icons or task bar. This was always when you'd done an hour's work and then left the room. I swear it knew the minute you left the office.
Over a weekend it did this half a dozen times. Don't forget this is a brand new machine. This then is when we find out that you can ring no end of numbers but not the PC World shop where you bought it. And while all this is going on I'm desperately trying to finish off the Roger Eli book with the final proof reading, although anybody who has read Entertainment Heroes and Villains will wonder if anyone at all proof read that book.
We might be retired but for various reasons we don't have much spare time… so the one free day we had, a Tuesday by chance, the Nottingham game, we spent 5 hours making two visits to PC World (cos you can't phone them direct)… hanging about while the machine was tested… wandering round the adjoining Chain Stores, marvelling at the stuff on offer in Poundland… and in next door Poundstretcher, eating a large subway sandwich and wondering how to reply to the guy who took the order and asked were we having a nice day.
So: while we munched on tuna baguettes our machine on the test bench crashed. The obnoxious and very fat (he looked more like a darts player) store manager had grumpily told us that we had to prove it was faulty before they would even talk about a replacement. Oh and I thought everybody had a statutory 28 days to return items. Not PC World. It's 21 here, said Mr Grumpy. He had also explained that they didn't take calls from customers because of all the abuse they got. "You surprise me," I thought. I would have been happy to ram the defunct machine up his flash drive and kick him in the dongles.
And then it was good news time. The model we had bought was a special offer package. There were no more. There was nothing as good at the same price. No wonder they were special offer, they didn't pigging work did they? Yep you've guessed; it cost us another £100 to get a replacement. And – there wasn't one in stock. To cut a long story short there wouldn't be a replacement for at least a week… of the model that was the nearest in price to the b*****d thing we'd taken back.
So dear reader here I am struggling and trying to catch up on an old laptop but chuffed to bits that Burnley won 2–0 at Forest which coming at the end of the long day we spent at PC World did provide some comfort. And what I meant to begin this diatribe with was the Forest chants of "We want our tenner back… do you want Cotterill back?" And it's taken me a long to get to it.
It left us with the same number of points as the same time as last year and a fantastic away record and the fairly obvious view that if home form was as good we'd be up there with West Ham. From the commentary it sounded like another near 'complete' performance, notwithstanding Rodders' goof with the penalty. Still he made up for that with another header to add to the first and another couple of million on his sale fee. If you remember Connor Wickham went to Sunderland for 6million and hasn't been heard of since, then what price Jay?
And we signed a left-back. It did give me a shock when I saw the header – Lafferty signs for Burnley. What a mood there was then, the day after Nottingham. The squad intact, a new left back, two points off top six and smiles all round. But who'd be a Forest supporter as they linger at the bottom in an increasingly vulnerable position. You wonder too just where it's all gone wrong for Steve Cotterill, from being BYMOTP at Burnley to figure of fun at Forest. Back here at Turf Moor Towers there are varying views of him. I'm in the camp that says he did a damned good job for the first couple of years.
And Eddie Howe what can you say? From November bottom six candidates to January top six contenders. Dare we say he is indeed laying some very firm foundations? A few superlatives are beginning to appear in match day reports and on websites. Rodders' headed goals brought comparisons with Tommy Lawton who allegedly could put spin on the ball or used to look one way and head the ball the other to fool the goalkeeper. I'll guess Andy Lochhead was full of approval. What Jay does possess is the ability to leap and hover. It's a rare gift.
I had an adventure a couple of days before the home Posh game. Me and Mrs T went to the away game last year and it was during the spell when we looked awful and you wondered just where this club was heading. We've come a long way since. Anyway, I used my bus pass for the first time and got the bus into Leeds. Mrs T let me ding the bell to stop the bus when it was time to get off. I was so excited. In town I looked across one of the precincts and saw a bloke in a claret bobble hat and a scarf. A Burnley supporter in Leeds! Thing is, there's a lot of us in Leeds. He got the shock of his life when I walked up and shook him by the hand and told him it was good to meet a fellow claret in a place like Leeds. Poor old Grayson meanwhile: I really think he's done a great job at Leeds on low wages and loan deals. It's Bates who expects champagne on beer money.
There was a PC World in the city centre. I noticed a big burly security guard in the doorway. Apparently they're not there to stop people taking goods out. They're there to stop people taking faulty goods back in. Then it was back to the bus station via Leeds Market to get the bus home. The driver seemed to think he was Lewis Hamilton as prams, shopping bags and old ladies slithered about the bus every time he braked suddenly, or accelerated away from bus stops. Leeds though, on the whole, is a decent place. It's just a pity they have such an obnoxious football club. They seem totally the opposite of us –
How then would you define Burnley? According to Paul Rowling it's, "small club big heart." What other 'small' club takes 2,000 supporters to an away game. It's the perfect summary and covers all the years that I've been a supporter and all eventualities and situations, be they ups or downs. It was like the moment I saw the guy in Leeds with his bobble hat on. I just had to go over for a chat. It was like meeting a brother.
The Peterborough game was played in the most appalling conditions and I salute every single player who was on that pitch in that freezing cold. I wouldn't have put a dog out in that. It was arctic enough up in the stand so Lord only knows what it must have been like down below. Enough chances were made to win by a hatful but they were either snatched, or blazed over, or headed straight at the keeper, or bounced off his knees, or whistled by the post, or were deflected for corners. Then there was a good penalty claim.
The equalising goal with minutes to go was small reward for the most one-sided second half I have seen for a long time. Peterborough had lost their previous four games yet in the first half we contrived to make them look a decent side. Is it my imagination or do we always seem to struggle against teams that play in black? The longer the game went on you felt it was going to be a home defeat but the half time warm must have done something though. After that there was only one team in the game as Burnley poured forward. Rodriguez' goal was sublime, absolute class and deserved to win any game, a marvellous solo effort from near the half-way line, passing defenders as if they weren't there and then slotting home.
And then the chaotic attempt to get home on icy sludge covered roads that resulted in a gridlocked Burnley. We drove out of the car park at 5.15 first of all going up via Pike Hill, doubled back, and by 7.00 we had reached the gates of Towneley Park. Sod this we thought and found a space to park and walked to a pal's house just up Tod Road. Soup and toast thawed us out. By 9 the roads were clear of traffic. The packed sludge remained. Have they run out of grit already in Burnley? At least we didn't lose.
And who on earth is Jimmy Booker? He reported on the game for the Football League Paper and wrote that Peterborough bossed most of the game. At the top of his report it showed Burnley had 23 shots to Peterborough's 11, and had 54% of the play to their 46%. What game was he at?