We were roughing it and living close to nature in a luxury caravan. There was a TV but no SKY.
It was Wednesday morning before I found out that Burnley had lost in the League Cup at Port Vale. I sat on a bench outside the shop in the small village near where we were staying and scanned the results. My mouth dropped. Losing at Port Vale was not what I expected to see. The ducks, coots (hah remember that name) and dippers that bobbed up and down in the nearby stream heard a few choice words.
'Huh: thought they could just turn up, stroll about and the goals would come,' I muttered. It was a week in fact when several Championship teams fell by the wayside, put out by lower league clubs that were clearly more up for it than the strolling divas.
The gist of the match was summed up by a pal who went to the game and wrote (and I saw when I got back home): 'Back from Port Vale v Burnley, a drearier 96 minutes of football I have yet to see. God, we were awful.'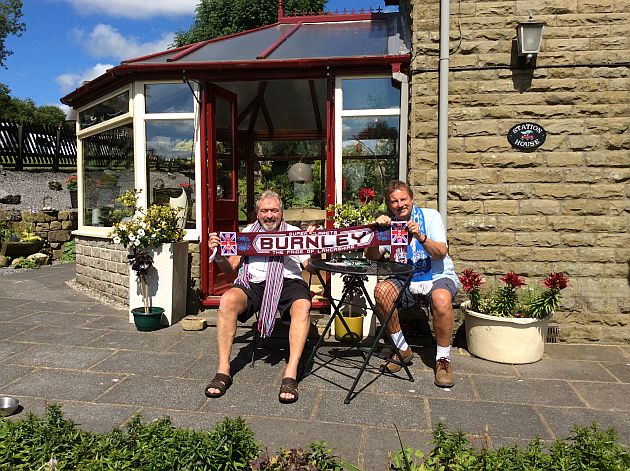 In other summaries popular words were poor, mediocre, poor, shambolic, poor, desperate, one-paced, poor and very poor. One team was up for it and it certainly wasn't Burnley by all accounts. Perhaps even calling them strolling divas is a bit flattering. This is Burnley; we like players who get blood, sweat and tears on their shirts, not after-shave.
I forget which day it was when the paper I bought announced that Lansbury was definitely on his way and Burnley's £4million offer had at last been accepted. This time I'd walked back from the shop before looking for news. It was actually Mrs T who spotted the paragraph and chirped up, 'Did you know we'd signed Lansbury.'
'Best to ignore it,' I said dipping a soldier into my runny egg. 'We've heard all this before.'
Wednesday (and we hadn't signed Lansbury) was a visit to a pal in Horton in Ribblesdale (see pic above), a glorious day of blue skies and warm sun and just as we arrived at his house right by the station on the Settle Carlisle line, what should come chuffing up the line but a chuffing panting steam train, a Black Five to be precise, belching smoke and noise and dragging its load of crimson carriages filled with steam train anoraks that love nothing more than to stick their heads out the windows for hours on end and inhale and savour the steam and smoke and smells that billow round their heads and wave to people who line the fields and station platforms.
Anyway, Brian, President of the local Horton Clarets Supporters' Branch, regaled me with the news that two of his pals had been to Port Vale and had said how bad Burnley had been the night before. Such was the weather, the stunning views of Pen Y Ghent, the fabulous sunshine and the thrill of standing on the station platform as that thundering giant stormed through, and filled with contentment and a sense of all's-well-with-the-world, I doubt I could have cared less about Burnley or the EU, the Greek economy or Jeremy Corbyn, at that particular moment.
Thursday: still in the Dales, the weather still warm and bright and no sign of the thunderstorms heading up from the south, still no Lansbury, but a trip to Morecambe by train from the local station and lunch with more chums at the Midland Hotel. Tim had news.
'Looks like we're signing a striker,' he said. 'A German, not definite yet, but they're already calling him Das Boot.'
By Friday (still no Lansbury) when we got home more information surfaced. He was a lower league player in Germany and apparently had scored a bundle of goals taking his club to the play-offs in their division. Frankly I'd never heard of him but Sean D was delighted that the newly established European scouting system was throwing up players such as this and Burnley had been watching him for a while.
'Who is Das Boot?' asked Mrs T who really thought that was his name. 'Have we really signed someone called Das Boot?' To be fair she'd never heard of the film about the iconic German U-boat film called Das Boot.
'No he's called Rouwen Hennings,' I explained as if I'd actually heard of him and knew who he was.
And there was still no Lansbury; he was in the Forest squad for the weekend game. To be fair no-one from Burnley FC had mentioned his name; it's been Forest themselves, SKY and the papers.
People good at maths had by now worked out Burnley had 9 strikers on the books – Hennings, Vossen, Vokes, the Jut, Long, Barnes, Gilchrist, Sordell and the kid just signed from AFC Wimbledon. Admittedly Barnes was injured long term, Long was considered unfit, Gilchrist was injured and the Wimbledon kid was for the Development Squad. But, even taking all that into account since when had Burnley ever had 9 strikers? Probably not since folk had walked out of the cotton mills decades earlier.
Top strikers figured in the list of 98 names from which we could choose our personal top 6 so that pictures of legends of the past can decorate the exterior walls of Turf Moor. Freeman, Beel, Casper, Lochhead, Irvine, Pointer, Hamilton, Eli, Blake et al; some great names appeared. But just how do you narrow your choice down to six from 98?
Well: for what it's worth my own choice was Bert Freeman, scorer of the goal that won the Cup in 1914.
Alan Brown who captained the side that in 1947 won promotion to Division One and were runners-up at Wembley; then as manager he was hugely influential in establishing Gawthorpe, was an innovator in coaching, and gathered the majority of the team that went on to win the title in '59/60. He left because he and Bob Lord were at loggerheads and supposedly barely spoke a word for the last months of his time at Burnley.
There's Jimmy Mac, of course, possibly the greatest player that ever appeared in a Claret shirt and what an ambassador for the club he has been.
Martin Dobson: supremely elegant, the kingpin of the 72-74 team that might well have been Team of the Seventies, had it been kept together. What service Dobbo gave to the club over hundreds of games.
Wade Elliott was in my six because of the goal he scored at Wembley, the £60million goal, and a stunning goal in any situation and context; not a bad footballer either.
And Robbie Blake: the little magician, the entertainer, unplayable on his day, ripping Spurs apart in that memorable Carling cup-tie and scored THAT goal against Manchester United, a goal that still brings me out in goosebumps whenever I see a replay.
The full list had the names of all the wonderful wingers we have seen over the years. If we are going to have 9 centre forwards we could do with one now.
Home to Birmingham: the day bright and sunny in Leeds, the forecast good, a day for shorts I decided, digging out the khaki favourites that set off the tanned legs nicely – tanned after all the Dales walking we'd done in the week. My father kept his baggy WW2 khaki shorts for years, standard issue in the desert where he served. If you'd fastened them to a rowing boat you could have sailed the Atlantic. Mine were just that bit more stylish – not a lot – but presentable nonetheless. A few other brave souls wore theirs, brave because across the Pennines in Burnley it wasn't all that warm.
Sean Dyche says he is pleased that Burnley fans now have a better understanding of the reality that exists at Burnley. We don't have loadsa money, we are careful with what we have, it's important to build up the infrastructure, it will not be a club that spends daft money, it will continue to develop players. But take away the Birmingham support and there were less than 12,000 Burnley fans there for the first home game appreciating that reality.
The reality that was on display during the game, however, was that referees will continue to affect results with unfathomable decisions, that this is a team that, yes, will fight and play to the last minute; it will be a team that will be difficult to beat, but on the evidence of the two games so far will be a team that finds it difficult to win unless it shifts up a gear.
Opinions were divided between those who felt that a below-par Burnley with too many mis-firing players, were lucky to get the point; and on the other hand those who were adamant that with the correct referee decisions in the big moments, this would have been a Burnley win. In the first few minutes the Jut was quite blatantly held and bundled to the ground when racing through. Is it any wonder the poor lad can't buy a goal? This was the big one that was talked about by all of us and the TV pundits who were baffled that both ref and linesman could have ignored it. In the second half the Jut again was hauled down in the box, this time with a little more subtlety and guile as the defender nearly pulled his arm out of its socket.
To our even greater astonishment Referee Coote did eventually award a penalty, but this time to Birmingham. With the score at 1-1 and Burnley now on top and dominant, the pattern of the game was turned upside down when Donaldson dived and utterly conned the officials.
On SKY afterwards his chirpy, unabashed, shameless confession was there for all to see and hear. You could only hope that Coote heard it later.
'I felt a slight touch. You get told to go down if you get a touch. So I went down.'
It was as blatant a dive as you will see and put Birmingham 2-1 up. To their credit back came Burnley raising the tempo. Step up Matt Taylor by now on for Kightly. One low mighty free kick from 30 yards was a range tester and smacked into the wall. But just minutes later, and if you were a Hollywood script writer this is exactly how you would have written it, he steps up again, this time just a tad closer, and smashes the ball home off the underside of the bar with a wonder-strike.
You might well argue that Birmingham were the better side overall but for them to win because of crass referee decisions would have been a travesty. Dyche was right; had the first penalty decision been given correctly and the offender red-carded, then the game dynamic favours Burnley and a win would have been likely.
In truth Burnley were not impressive. Things are not right. This is a team that labours and creaks and lacks penetration and incision. There are no players now that can do the unexpected so that defenders are taken by surprise and are caught out. Boyd, Vossen and Kightly had off days although it was Kightly who took the free kick that Vossen flicked on for Keane to score the simple far-post goal that brought the score to 1-1.
The opening goal by Birmingham was the sort that turns managers grey, route one, headed down 30 yards from goal and the receiving player takes a few strides before hitting a shot that eludes the diving Heaton. But again, the referee missed the little push on Keane who as a result failed to win the header. But, the goal stood. One minute the Birmingham 'keeper has held a long range free kick, and 30 seconds later the ball is in the back of the Burnley net. Over and done with so quickly I had to watch the replay at home to see how it happened.I was just admiring my Phil Brown tanned knees and missed it. All I saw was it rolling over the line.
A neutral might well have said what a cracking game, end to end stuff, two teams fighting and battling, thrills and spills; Cotterill hit the Burnley post, Vokes just missed a superb low cross from Darikwa, Sordell fluffed his lines when the ball came to him in the 6-yard box, a few great saves by both keepers, and controversial decisions galore, with the added ingredient of a text book, thunderbolt, equalising free-kick goal.
But it was a sour grapes taste that for me was the abiding memory. The modern game: where players are told to go down and deliberately con the referee, and players like Donaldson obey this to the letter and a gullible referee is totally fooled and through no fault of its own the other side goes a goal behind and the game is changed. It was so rank and obvious a dive I honestly thought the ref would card him for cheating or hold up a card with a score of 10/10. I honestly thought the ref would card Cotterill whose delayed and deliberate fall resulted in a booking for a bemused Mee.
Remember Dick Emery? Years ago we used to laugh at Dick Emery when he feigned tripping himself up but Donaldson tripping himself up was far from funny. To add insult to injury, immediately after his aren't-I-clever confession on air, he was made SKY man-of-the-match.
But: Burnley salvaged a point and it was away to a different hostelry after the game, this one up on the hills above Todmorden, think Wuthering Heights. the Shepherds Rest near Lumbutts. There are long walks all over these hills where years ago farmers scratched a precarious living; even the sheep have umbrellas and cottagers trudged to the old mill to work a 12-hour day. It's a busy pub, been there since the 1840s, you need to book, the views are spectacular, the food excellent.
By the time we left we felt a whole lot better and Das Boot will surely be slotted in to beef up the front line, although who will be left out is anyone's guess. But: if I hear the name Lansbury again, or see a referee like Coote again, I shall juthst thtamp my foot and thcream.