The lingering disappointment of the West Brom score slowly wore off. Me and Mrs T came out from behind the settee shortly after midnight. And there was some good news. My Hornsea friend found a pile of old 1930s football books in the wheelie bin next to his. The bin lid was half open, he said, and he just happened to see a George Best book at the top, and then beneath that were these very old footie paperback books. He fished them out and brought them over. Boy, I was well pleased. It was too much to have expected him to tip the bin over and completely empty it. Who knows what other treasures there were in there.
'More rubbish,' said Mrs T holding her nose because they did smell a bit of old age.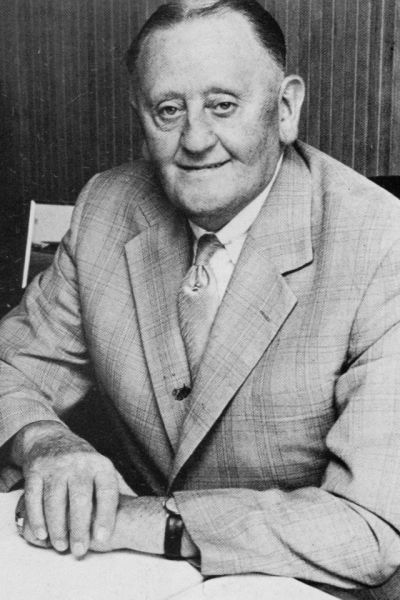 Bob Lord bumped into George Best in Burnley on a Sunday morning in 1968
The George Best book had two Burnley chunks in it, one that I'd seen in another book and had taken it with a pinch of salt; the story about the Sunday morning Best unexpectedly met Bob Lord in Burnley. But here it was again, and this time in a little more detail. True or not, there are certainly bits in that don't quite add up, it makes a good story, a bit like the ESPN Martin Buchan account of the punch-up in his office:
'There was a period from 1966 to 1969 when I found it difficult to walk down the street without being besieged by people wanting a chat or an autograph. I understood that I would have to accept it but on occasions it got silly. I remember leaving my home in Bramall one Sunday morning at about 11.30 to walk the quarter of a mile or so to the local newsagent to buy a Sunday paper. By the time I reached the shop, I had an entourage of around 30 people following me. The newsagent had one of the biggest disappointments of his life. He had all those people in his shop and he only sold one Sunday Mirror.
It reached the stage where I didn't enjoy going out. So, I would on occasions, though, borrow the car that belonged to my mate, the actor and singer Kenny Lynch. I had an E-type Jaguar at the time and I thought Kenny's Ford Cortina would be less conspicuous. Having borrowed Kenny's car one Sunday morning in 1968, I drove north of Manchester and found myself coasting round the streets of Burnley.
I used to get a buzz on such trips by thinking, 'Here I am, Britain's most sought after footballer, driving round Burnley on a Sunday morning. If the press want to find me they never will.'
I realised I was passing Turf Moor, the home of Burnley FC. The area round the ground was a maze of terraced houses, back to back with the odd patch of waste ground where some had been demolished. Being a Sunday morning it was quiet – a quiet that was for me all the more pronounced because the only time I had ever seen Turf Moor and its immediate vicinity was when United played there and the streets were thronged with supporters.
I stopped the car and got out. A group of young boys were kicking a plastic ball around a stretch of ground where houses had once stood. Feeling there was sufficient distance between us, I decided to watch them. They played as small boys do: shouting and screaming instructions in shrill voices and theatrically flinging themselves around the mud and asphalt as if they believed the dirtier they became, the better they had performed. Flushed and animated, the boys whooped every time a goal was scored.
When the boys fell, they'd scramble back to their feet again, giving only a cursory look at grazed knees. They gave one another a vigorous buffeting but needed no referee to run the game. When someone was fouled they had a free kick. When a goal was scored between the piles of coats that acted as posts, the ball was returned to the centre of the waste ground for the game to restart with a kick-off. They knew the rules and played to them.
I was about to get back into the car when I suddenly noticed someone was standing next to me. 'They're our future,' a thick Lancastrian accent said. 'Amidst all this debris of t' past, yon lads are our future.'
My peace and solitude was broken. I wanted to beat a hasty retreat back to the car and drive away. 'They want to be Frank Casper or Mick Docherty because for an hour or two it helps them escape from all this.'
I turned and saw that the man was pointing to the rows of terraced houses all around us. He was thick-set, in his late seventies and about five feet ten tall. His dark hair was flattened with brilliantine and grey at the temples. His face looked dour and solemn and the bags under his eyes gave him a permanently soured expression. His overcoat was light tweed and expensive. Underneath he wore a navy-blue three-piece suit with a watch and chain that even in 1968 was an anachronism. I recognised him immediately. He was Bob Lord, the Chairman of Burnley.
In my old jumper and jeans the old guy hadn't quite recognised me. I wasn't surprised; he was probably more used to seeing me in the United strip and even then at some distance. Then again, who would expect to see George Best hanging around the streets of Burnley at 10.30 on a Sunday morning?
'I escaped from 'ere,' Lord said gazing round. 'Built up a butchery business; done alright. Got a big 'ouse up by Padiham. Ah can see the River Calder on one side and Pendle Forest on t' other.'
'Sounds nice…You don't recog…'
Lord waved his hand at me and cut me short. 'Save thi breathe lad; 'aven't got me hearing aid in. Ah can't hear a thing.'
We gazed around for a few seconds then Lord sighed. 'Funny thing is, now I've got the big 'ouse, the money and bloody pressure of business, I come back 'ere. I got what I wanted in life. Now I feel I need to escape. That's why I'm 'ere, ten-thirty on a Sunday mornin'. There's nobody ter bother me. I can be meself for a bit.'
I smiled, slightly embarrassed and stooped to get back in the car.
'Think on what ah've said lad,' Lord said as he turned to walk towards Turf Moor.
'Stupid old sod,' I muttered and started the engine.
Later that season, when United entertained Burnley at Old Trafford, I was determined to find Bob Lord and ask him if he remembered talking to a shaggy-haired young man wearing an old sweater and jeans one Sunday morning near Burnley's ground.
I managed to find him coming out of the directors' lounge and recalled the Sunday morning. 'It was me', I told him. 'But you didn't recognise me.'
'Course I knew it were you,' he said. 'Only I reckoned you were doing your own bit of escaping, so I pretended not to know you.'
I thanked him and told him that this time I was glad he was wearing his hearing aid so we could chat. As we parted he turned to me again with an impish smile breaking through his dour expression.
'And another thing George lad,' he said. 'Next time don't call someone who's only trying to give you some fatherly advice a stupid old sod.'
Saturday October 4, the Leicester game: and surely this could not be as bad a display as that at West Brom. Football is a funny game. Leicester walloped Man United 5-3 and then went and lost 2-0 at Crystal Palace. Maybe, we thought, Burnley could pull off the impossible, find a miracle, raise their game, stand up and be counted, step up to the plate, pull a rabbit out of the hat, dig deep, find enough fit players and somehow score a goal. This was once a happy hunting ground for Burnley with a procession of 1-0 wins when it was the Gary Lineker Walkers Stadium and Burnley's shooting was crisp.
This game was a classic encounter between the richer promoted club with big backers and the small club counting the pennies. Leicester had splashed the big cash, £9million, on just one player, striker Ulloa. Burnley had dropped out of the chase for striker Deeney unwilling to dig deep into the piggy bank, preferring the Poundstretcher approach. Leicester were so far coping. Ulloa was scoring. Burnley, the Jut and Sordell, were not. Optimism, however, was alive and well.
The news was not good though. Ings was still missing, Marney and Jones still missing, Chalobah missing with a throat injury and Taylor still absent. And Burnley were just minutes away from setting a new record for the number of minutes without a goal, several weekend newspapers making a big thing out of it. You could be forgiven for thinking that the Football Gods were now toying with us for their perverse sport. Behind the sofa seemed the best place to be again and every now and then just take a quick peep at Sky Soccer Saturday. And yet, remarkably, 2,200 Burnley fans descended on Leicester.
It sounded from the off that Burnley were in a better mood than against West Brom. Mrs T and me elected not to sit behind the settee but pop out to M&S to pass away an hour. It was 0-0 when we left home but as we perused the salads in came the newsflash on her phone that Leicester had scored. A loud F*CK echoed down the aisle and the vegetables. Faces turned in shock. Me too: I was deeply shocked; mainly because it was me that said it. This is not a word you normally hear in M&S. The Barley Mow in Bramley maybe, but not in M&S, Pudsey, apparently the second largest branch in the country. As quickly as possible I hot-footed it to the next aisle, beetroot n stuff, and tried to look innocent, urbane and sophisticated amongst the onions.
By the time we left and had nibbled a few of the samples at the Deli counter it was 2-1. Kightly had equalised, swooping in like a flash to latch onto the downward header from the Jut. But then Burnley had conceded again within a minute. Game over we thought from far away, although it seemed clear that Burnley were having a good second half even with their injury ravaged team. But: when Trippier was stretchered off it seemed that the season was assuming joke proportions with yet another name to add to the players-out list. How could you grumble when more rotten luck was striking players down like some Biblical plague? Where was the self-styled Moses when you needed one – oh yeh buggared off to Bolton, the club that was 10 years ahead? Bolton and Gartside now bottom of the Championship and Moses presumably looking for another tribe to lead into the wilderness. Karma
Into injury time and then as most other scores had come in and we were resigned to another defeat, this time undeserved, Stelling suddenly grabbed our attention.
AND THERE'S BEEN ANOTHER GOAL AT THE KING POWER STADIUM, he announced in that dramatic and teasing way of his. BUT WHICH WAY HAS IT GONE?
Mrs T and me stopped breathing. And yet I knew it was Burnley even before he finished saying it. There was a twinkle in his eye and the hint of a grin. He'd only do that if Burnley had scored, I reckoned. He'd confessed on twitter during the week that he had a soft spot for Burnley on account of the team and players they had in the 70s, Thomas, Kindon, Casper et al. Up it came on the screen, Leicester 2 BURNLEY 2. I can't think I've felt so proud and joyful since Wigan last season.
Rod (according to Chris Kamara) Wallace was the scorer with an absolute peach of a free kick described in glowing detail by the grinning Kamara. Laughing like a loon he'd already struggled to pronounce Tripperay's name earlier in the afternoon and in the end gave in. Not just one goal then, but two they'd scored. Jubilant away fans, a delighted Sean Dyche praising Ward, Arfield and the magnificent away support.
'You could smell it in the air,' he said of the result and expressed amazement that Arfield was not in the Scottish squad. His reaction at the Wallace equaliser and his body movement and language was of a man who was so overcome and proud, so beside himself, that he just didn't know what to do, where to look, or even how to react. I wouldn't be surprised if there was a tiny tear in his eye.
But what a miserable sod Nigel Pearson was in the after-match interview. His graceless grumbles and bizarre analysis left us speechless and then fuming. Even Lineker on MOTD was moved to comment on his lack of charm. He clearly expected a roll-over victory and was stunned at the result. He just couldn't fathom that a patchwork-quilt team shorn of so many players had given his own team a second-half lesson.
'Bitter and disrespectful,' said the Daily Mirror. Leicester fans too seemed aggravated at the loss of two points. Their booing of the stricken Trippier was sour and unsporting.
And so: the international break. Spirits restored, morale boosted, West Brom a blip, two home games to come and the promise of that first elusive win. I'm even looking forward to an England game. And fingers crossed I'm allowed back into M&S.