And thus I came across a very readable piece called Burnley's Strange History of Fisticuffs between Players and Managers. The first bit about the bit of training-ground aggro between Stan T and David May some years ago I fancy is a fairly well known saga. Then there was a tiny bit about the poor relationship between Willie Morgan and Bob Lord, not entirely a secret. There was nothing at all about the explosive punch-up between Gordon Harris and manager-to-be Jimmy Adamson that Willie Irvine related in his book. But then came something really interesting on the ESPN site that shed a little light on a bit of Burnley history and the exit of Martin Buchan from BFC.
Buchan was a marvellous player and it was assumed (as one did quite a lot in those days) that he would therefore make a good manager. He came to Burnley in 1985 and lasted just a few months. The manner and reasons for his sudden departure always seem to have been a bit of a mystery, or at least a well-kept secret, until now, with only a few people knowing the full story.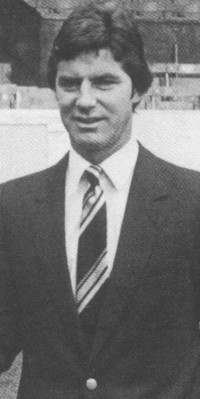 Martin Buchan
Apparently, provoked and goaded by a player who remained nameless in the exposé, he gave said player a bloody nose in his office one day. This particular player wanted away and was determined to get his wish. Accordingly he did the opposite of whatever Buchan wanted him to do (said Buchan). Then, one day, he strode into Buchan's office demanding a free transfer. The chief scout was there, made a comment and the player demanded to know what it had got to do with him.
Buchan twice asked him to leave. Then he began to guide him to the door. A punch was thrown by the player which caught Buchan. Buchan then smacked him back and landed one on his nose. The Chief Scout by now was in fits of laughter. Buchan's prompt thought was that the incident would do his reputation no harm. Hey you don't mess with this guy: that sort of thing. The dressing-room might develop a bit of awe.
Another player came in two minutes later as white as a sheet, clearly alarmed by the site of his colleague exiting the building with a bloody nose, and wondering if Buchan would flatten him as well if he said a wrong word. Player number one complained by letter to the chairman. The board stood by Buchan but that was the end of the line thought Buchan and a few days later he packed the job in.
His thinking was simple: he'd never fought with players as a player himself so what was he doing fighting with them as a manager. So, after four months in the job he left but the reasons for his departure were kept quiet and never made the press. He currently works for the PFA.
Presumably incidents like this were once commonplace, far more frequent than they are now in this age of litigation when dealing with players says Sean Dyche is like dealing with 25 different small mini-companies. These days, instances of a manager lamping a player and being reported in the press are few and far between. And when I read another piece in the Burnley Sunderland programme about the youth department I couldn't help but think how civilised it all sounds these days in contrast to those manly days of yesteryear when tempers flared so often both on and off the pitch and in half-time dressing rooms, disputes were settled by fists and then all was forgotten 24 hours later.
On the youth page in the Sunderland programme I read about: game schedule frameworks, adapted/conditioned games, overloads, underloads, enhanced coping strategies, in and out of possession elements, and constraint based environments. I don't doubt for a minute that they all mean something but there was a time when things were given plain-English labels. Forgive me for saying this but I had years of all this gobbledygook when I was a Headteacher. We used to write plans. Then they were re-labelled vision statements. That was just one of them and I used to groan.
My mind wandered back to the olden days when people like Jimmy Mac and Jimmy Adamson were beginning to make their mark. They came up against players like Jimmy Scoular, Eddie Clamp, Roy Hartle and Tommy Banks. Every team had its hatchet men. They had legs like tree trunks, fists like hammers, and eyes that narrowed as they homed in with a leg-breaking tackle.
I can't imagine what these guys would make of team talks and coaching involving constraint based environments, or, in and out of possession elements, but I can imagine a conversation between Hartle and Banks:
'Na then Roy, it's Burnley today and they've got yon tricky lad called Brian Pilkington to sort art. What's thee gonna do. What enhanced coping strategies will thee employ?'
'Well Tommy ah'll tell thi. It's simple really. Ah'll kick 'im inter bloody stand. 'E won't know whether he's in transition or th' infirmary.'
Or Burnley's own Harold Mather and Arthur Woodruff:
'Ey oop Arthur, who've we got terday. Ah've bin lookin' at game schedule framework, an' terday wiv got Preston.'
'Bloody Preston ey, well, ah'll tell thi, we'll 'ave ter watch art today for yon Finney. He's a tricky so an' so an' if we're not careful we'll be bloody conditioned game overloaded. Tha'll 'ave ter sort out some sort er constraint based environment. And Arthur we'll 'ave ter keep us eye on all this in and out o' possession malarkey. What der yer think? Can yer think of a coaching cycle specific topic that might come in 'andy? What's thy philosophy?'
'Well Harold, ah'll tell thi. It's simple really is my philosophy. Ah'll just kick 'is bloody kneecaps; that'll constrain the buggar.'
At the moment I know that Dave Burnley is currently working on getting his second volume of memoirs into print and the Charles Buchan Burnley Gift Book is almost ready for signing over to the printers. Things are pretty good too in the book section of the club shop where 9 titles currently sit on the shelves. That is pretty good going for any football club shop although the Arsenal shelves are probably the most impressive. Nevertheless, it's a long time since the club had such a varied selection on offer so it's well worth looking in.
Andy Payton, Paul Fletcher, Roger Eli, Fairytales the promotion season, Clarke Carlisle, Willie Morgan, Mark and Lester Davidson's memorabilia book, Mike Smith's 1914 FA Cup win book, the Jimmy Adamson book, are all in there.
One that won't be in there is FANATICAL, Pitch Publishing, the reminiscences of Gary Edwards, a Leeds United supporter who has not missed a game since 1968, and this I think is a longer length of suffering than any of Dave Burnley's. Gary was very helpful with the Adamson book and now in his old(er) age always regrets being so vociferous in his condemnation of Jimmy Adamson and hurling so much abuse at him on matchdays. He was a fanatical ringleader of the Adamson Out brigade. But today, Gary realises now what Adamson had to put up with, the problems he had and the difficulties with directors. Once they refused to countenance the signing of Kevin Keegan from Hamburg, Adamson as good as wondered why he was bothering.
Gary by the way says nothing at all about the day Burnley went to Leeds and trounced them 4-1. When Leeds lose he sulks, and watches episodes of Laurel and Hardy. He refuses to watch Match of the Day until Leeds are back in the Prem. I suspect he has a long wait. He once repainted a fire engine white. His decorating firm gives discount for the removal of red paint.
If Dave Burnley has his trademark denims and ancient sheepskin coat, then Gary's trademark was the vehicle in which he drove to games. Not many of us can say we go to games in our own hearse.
Would any Burnley fan want to read a book about Leeds United? Well why not? Much of this book is about the decline and the troubles of a club that once dominated football. Whilst Burnley are in the bigtime, Leeds are in the doldrums. Cellino has just sacked yet another key person on the staff there. One shouldn't mock the afflicted. But in the case of Leeds United, Burnley fans might well perversely enjoy reading about them.
Matchday Sunday September 28: two founder members of the Football League meeting for the first time ever in the Premier League. West Brom were fresh from their win at Spurs and a Carling Cup win; Burnley with no wins and just one goal to their credit, without four key players, Ings, Vokes, Marney and Jones. Taylor too was injured and presumably would have played.
In came Wallace, Kightly and Reid but sadly in the warm sunshine they were all given a bit of a lesson. Energy and vitality were sadly missing. Far too many individuals were simply invisible and with The Jut feeding off scraps and hopeful clearances and punts, it was sad to watch. The once impregnable defence was breached twice in the most infuriating way with a far post header from a corner that any manager would fume over when Craig Dawson of all people, a Burnley summer target, climbed high above Shackell and found the target with ease. The second from yet another corner, from this time the totally unmarked Berahino who headed home from the flick-on and will never score an easier goal.
Not once last season did we see anything as naïve as this. This wasn't one team being ripped apart by superb play. This wasn't Chelsea or Manchester City. This was basic defending that had gone to pieces from bog-standard corners.
'A timid performance,' said Gary Neville of the first half. On came Chalobah and Barnes for Reid and Wallace. 'No fire,' he added. 'Tame,' said Henry Winter.
If we thought things would buck up in the second half how wrong we were. A third came when a ball was played through, the striker ran on to it as if no-one was there, and tucked it home. The fourth mercifully came as late as the final minute so that it was too late for a fifth or sixth. The club did not get the better players they wanted that were their first choices in the summer and oh how it showed at the Hawthorns.
Just a stroll in the park against hapless Burnley, said theBirmingham Mail
Burnley were devoid of ideas, deflated and dispirited by the end. Live on SKY, any neutrals watching must have been wondering if this was one of the weakest ever displays by a Premier team. The answer is probably no. The worst was the defeat in the rain when Man City came to Turf Moor in 2010.
In the second half there was a good header from the Jute that was well saved by Foster. Sordell shot wide and Barnes blazed over the bar. That apart, it is hard to think of anything of note or anyone who came out of this with any credit other than maybe Chalobah who at least looked at ease and had that priceless knack of always being in space.
Years ago in the days of the Saturday evening sports papers local reporters like Granville Shackleton or Keith McNee would be joyful and full of praise after good performances but merciless in their criticism of poor displays, either by individuals or the team. They were never frightened of upsetting managers, chairmen or players. Those of us who read their pieces that were always fair and accurate, know full well what they would have reported about this one.
Of course you have to say that with Ings and Vokes missing up front, and Jones and Marney in midfield, the side that was put out was limited. Take the four best players out of any side in the Premier League and that side would struggle. But even so, you have to say that the calibre of replacements was sadly lacking and not for one minute looked Premier League standard. Marney and Jones were hugely, hugely missed. There was simply no-one to replicate what they bring to the side.
We are what we are, a club and team that performed miracles last season, but is struggling to adapt to the new standards required. The lack of pace is alarming and despite the acquisition of 10 new players, the lack of quality 'depth' in the squad is clear. This was a tubbing and embarrassingly on TV for all to see. The second goal was the killer. West Brom fans could not believe how easy it was for them. The euphoria of that marvellous day when Burnley clinched promotion with the win over Wigan now seems a long, long way away. If there are any consolations it is simply that they cannot possibly be as bad again this season and injured players will work their way back. And: this was only the second away defeat this year.
This was a bad day at the office; we all have them.