Was I greedy? Mrs T was absent again poorly, making it the second trip to Burnley on my own in a week. So I had hers as well. Mind you I did share it with another couple of guys on the table. They'd driven up from Tamworth for the game so had need of seconds more than me I suppose. What that showed I suppose, plus me from Leeds, and no doubt dozens more from long distances, is that the level of support for Burnley is quite phenomenal.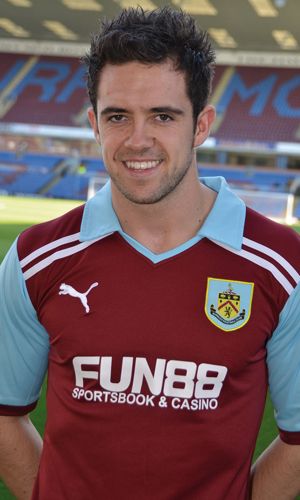 Danny Ings on familiar soil at Pompey
Premiership Blackburn brought just 1,100 to Turf Moor. Burnley took over 3,000 to Ewood. That tells you more. But Blackburn won and deservedly. It seemed to me though, that an outstanding Blackburn side, big, strong, quick, mature, (and probably expensively gathered) deserved a far better level of support considering their Premiership status. It was pretty much what it was, Academy riches versus Centre of Excellence not quite so well off. It was a brilliant achievement to have got as far as they did.
Anyway my little epiphany: I'd been a bit morose of late. Results not too good, only the West Ham game being worth driving 40 miles for in the recent weeks, a bit of back trouble, a few thoughts about exactly where is this club heading, no win in seven, what's the prognosis doc, and all that kind of stuff. But then sitting at the ground opposite the two-thirds full James Hargreaves with the warm sun picking out all the colour and spectacle, sensing the almost carnival atmosphere, feeling the anticipation of a possible giant-killing act; and I have to say it felt good, it felt special to be a Claret.
It didn't feel like a club, it felt like a family. It didn't feel fragmented, it felt united. It didn't feel down in the dumps, it felt optimistic and hopeful. And I thought how glad I came even though it used up a couple of gallons of the precious stuff.
It was I suppose too much to hope that these lads could pull off the 2–0 win. Those Blackburn lads looked like they'd been together for years. Some looked like they could walk into any Championship side tomorrow. Some looked like they ate iron girders for a snack. Their number 9 I'd like to see his birth certificate. And they had in their number 4 the best player on the pitch by a mile. A more unlikely looking gangly, round-shouldered, footballer/athlete you could not possible see. But boy could he play and as good as dictated the game.
But even so how well the Burnley lads played and until a truly unfortunate goalkeeper error gave them the second, they were always in it. It was a cruel way to give them the 3 – 0 overall cushion. But then this is what we do at Burnley and always seemed to have done over the years. Other than the 6-week run up to Wembley 2009, I can't remember a time when Burnley haven't had the Gods against them and our luck tends to be of the unwanted kind.
Yet still we come back for more, and drive up from Tamworth, and up from Sussex and across from Leeds and down from Settle. It was just nice to sit there and watch a game, and have something else to think about for a couple of hours other than reservoirs and streams running dry, hosepipe bans, petrol queues and panic buying, VAT on Gregg's sausage rolls, the Granny tax and Cameron and Clegg, the Morecambe and Wise of current politics. Actually comparing them to Morecambe and Wise is too much of a compliment to our smarmy twosome. The pair of them are just patronising slime-balls who wouldn't know real life and hardship if it hit them in the face.
Next up was Portsmouth away. The opposition website had Burnley summed up neatly. "Winless in seven games, conceding goals for fun, and their season has dissolved into nothing." The guy was confident of a Portsmouth win. I couldn't blame him.
A summary doesn't get more accurate and damning than that. It seemed a long, long time since that spell before Christmas when we were filled with such optimism. Portsmouth on the other hand had all to play for, battling for Championship survival after their points deduction. Wins against Birmingham and Hull had given them a huge boost.
Eddie Howe's pre-match exhortations were predictable enough, the same that any manager would say with his team drifting in limbo towards the end of the season. "We want to end the season on a high." Amen to that.
The south coast air and home territory must have done the boys good. Back on their own turf the southern contingent were re-invigorated. Maybe it was the salty air, the seagulls, the brief sojourn on familiar soil for the likes of Ings, Austin and Bartley, Tindall, Howe et al as they put on a second half super-show. By all accounts the first half was a no-show but then whatever was said at half-time did the trick – or Pato going off to be replaced by Austin who smashed home a 20 minute second-half hat-trick.
Trust us. We always go down for the Portsmouth game and stay with Mrs T's sister in Midhurst. This time we didn't. So this time they go and win 5–1. Not that we would have made it anyway. She's been proper poorly for a week nearly.
"Let me know if we score," she shouted down at 2. 45 as I settled down to watch Sky Soccer Saturday to relax with the papers. But I was nodding off within minutes and it was 3. 30 when I woke. Bloody hell, hoovering, cleaning, washing to load, washing to hang out, shopping to do, the onion patch to get ready, the next trench for the potatoes to dig… I was fair cream crackered. When I woke it was 1–1. That was trip one up the stairs to tell her. Four more trips I made as each of the other goals went in until it ended at 5–1; that was five trips up and down the stairs, not to mention the ones with Lucozade and pills. Meanwhile the Portsmouth faithful were in a state of shock at the capitulation. One website likened it to a car crash, another to a thunderstorm after the hot sun of the previous week.
"It would help if you gave me a little bell I could ring when I need something," she said from the sickbed. I pretended not to hear, although that would be marginally better than banging on the floor with a walking stick; something that grandmama used to do to drive us all scatty.
Next up was the great Rodriguez conspiracy theory on Clarets Mad. The news came that he would be out for several weeks. The reason given was "overuse." I found that rather cryptic; as mysterious as the strange injury to Aguero's foot at Man City that Mancini at first wouldn't talk about. It later transpired he'd had a bad skin reaction when he'd sprayed his foot. It didn't say whether he'd sprayed it blue or yellow.
Balotelli seems permanently injured – somewhere up inside his head seems to be the diagnosis. So what did "overuse" mean. Was it a repetitive strain injury in the leg or foot somewhere? Was it tiredness? Was it just a touch of the vapours? Or was it something cagey and shadowy? Then the Rodders injury was clarified to overuse of the groin; "Nothing serious but out for a few weeks…. It might mean his season is over."
The cynics were adamant. The conspiracy theory was this:
Burnley were safe. Rodriguez would most likely go to Everton or Newcastle. Bids had been received already and rebuffed some months earlier. Now he could be wrapped in cotton wool to make sure there were no hiccups to thwart any new deal. Maybe there was some gentleman's agreement behind the scenes somewhere. Hmmm… and maybe the moon is made of green cheese.
Still not 100%, Mrs T elected not to come to the Birmingham game but was beginning to move up a level to 'on the mend'. A busy day – up to Skipton first to collect several boxes of the Roger Eli book; Roger was up there too to get several dozen signed. I already had a preview copy and it looked good. All I wanted to see was that there were no mega typos. The only one so far was a missing 's' from the end of bottles. Then it was back home to make lunch for the invalid. Next up it was set off for Burnley and the Birmingham game. Leeds garages were a mix of those closed and without petrol, and those where things were quite normal. It was curious that two garages just a mile apart, one could be coned off, and the next one operating as per usual. At the one that was still open the price was 6p more than the one that was shut. Funny that.
It was back to earth with a bump against Birmingham. The first half was absolutely dire; aimless, clueless, widthless (that's a new word), leaderless and purposeless; in a word – useless. Overall Birmingham barely had to raise a sweat to win 3–1. After £32million of parachute payments plus player sales, Eddie Howe could barely put a first team out. Two of the five on the bench were youths, plus young Fletcher. Easton was absent having been told he has no future at BFC. Burnley woke up at 9.15 and were back in the game until approximately 9.30. During that time they equalised, whereupon Birmingham re-took the lead within a minute. Stanislas came on for the last 30 minutes and fired things up for 15 of those minutes until he too sank into the morass. Edgar headed wide from a corner in the first half when it would have been easier to score. Ings scored the equaliser but missed two other chances from around the 6-yard line when it would have been easier to score. The first of his 'misses' hit the bar which kind of masked how bad the miss was. Bad as we were Burnley amassed more shots on goal than Birmingham who had just four on target and three went in, the third courtesy of Grant having a groundhog day.
Two old favourites returned, Elliott and Caldwell. Both received warm and sustained applause. Elliott received cheers as well. No-one can ever forget that Wembley goal. Whilst he was neat and tidy in his play there was none of the dashing wing play that was his trademark at his peak. I can still remember the first time I saw him and the roasting he gave Mo Camara when he was still with Bournemouth. Caldwell meanwhile, gave the kind of solid, tough, commanding performance that comes with age and experience. His is the sort of leadership; his are the organising skills that are so blatantly lacking in the Burnley side.
Add to the defeat the bitter cold; and I said a silent prayer of thanks that I'd had a very fine plate of stew and dumplings with some chums now living in Burnley. Bread and butter pudding for afters and all washed down with a couple of glasses of Rose made it an evening not totally wasted.
After the game the manager said he didn't think "there was a great deal wrong". The captain of the Titanic said much the same as his chin slid under the water and he began to emit strange gurgling noises. Six wins out of twenty home games suggests there is a great deal wrong.