But I now belong to the group that looks at ticket prices before deciding. And Ipswich ticket prices were £23 for the over 65s – no thanks; £25.50 if you paid on the day if I understood it right. Contrast that with Millwall at £14. Little Joe had been asking could he come to another game so I got him a ticket for the QPR game. I think the Burnley virus is now well and truly embedded in him. Mind you he might just be a bit puzzled if I buy him one of the new BFC beach towels. They're black and gold – Wolves colours. I just wonder, is this the beginning of a move to make Burnley's away colours next season black and gold. You heard it here (almost) first.
Little Joe is already torn between what to be when he grows up – working in a sweet shop, Superman or an EU bureaucrat. I told him to go for the latter so that he could then support his old granddad in the manner to which he would like to be accustomed.
Burnley progress under Dyche has so far been phenomenal. Is it only 12 months ago that Eddie Howe upped sticks? The reasons for his departure were genuine enough and no-one could possibly regard him in the same light as Owen Coyle. He left after Burnley had gathered 11 points from 10 games. 12 months on before the Ipswich game there were 26 points from 11. With such a poor run of form at the end of season 2012/13 we could all have been forgiven for thinking that this current season would be a long, hard slog. Only in the penultimate game was championship football preserved.
So: top spot in mid-October amazed us all.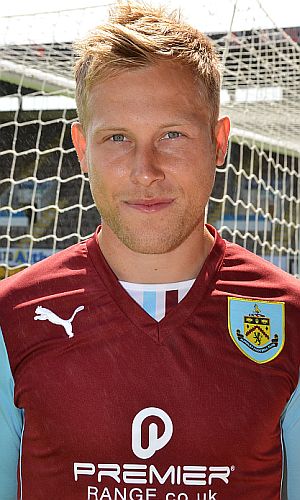 Scott Arfield scored at Ipswich with a deft header
Dyche attributed it to a number of things; having the squad for his own brand of pre-season training, , the expansion of sports science, re-aligning the scouting structure, improved fitness, the introduction of his own philosophy and the acceptance of his ideas. And on top of all that, every signing he has made has been a success and is a first-team member. Eddie Howe brought in some damned good players, but so many of his others were at best peripheral, and at worst a waste of money, and ended up being the ones Sean Dyche shifted out.
Saturday at last, Burnley hadn't won at Portman Road for over 40 years. The Beatles and Abbey Road topped the charts. Harold Wilson was Prime Minister. Martin Dobson recalled the occasion and that the 1-0 win could have been far more. When you go so long without a win at an away ground you think that this time the run is sure to be broken simply because of the law of averages. Such runs cannot go on forever.
It was an afternoon where you do a few odd jobs to pass away the time while the game progresses at the other end of the country. By all accounts this was a dull and dismal game according to Dickie Davies on Sky. A few garden tidying jobs, a bit of hoovering upstairs, a couple of forms to fill in and then as I'm trimming my moustache Mrs T lets out a yell. The scissors missed my nose by a whisker. 80 minutes and Burnley scored with a deft Arfield header from some distance, provided by a Trippier cross, just minutes after Charlie Austin had scored for QPR at Millwall to put them in the lead. It might not have been goal of the season but Sean Dyche surely provided one of the quotes of the season when he was talking about the one-club mentality: 'All noses are pointing in the same direction.'
At last: the spell broken with a 1-0 win. 600+ travelling fans were there to see it on a damp and drizzly day; the first win there in 43 years. By all accounts this was not a vintage performance but it took them two points clear at the top. Millwall equalised against QPR and even sweeter – Blackburn lost at home. Shackell was again outstanding by all accounts and with such good defensive cover Heaton 'had virtually nowt to do again,' said one eye-witness.
Message board comments were of the disbelieving kind: Would have been happy with a draw… still pinching myself that this is happening… but it's not down to luck because this is an honest-to-God good side…. Unbelievable…yet another week gone by with me saying to myself, surely this can't get any better and then it does… I can't stop looking at the table.
The tweets twittered away on Twitter: Astonishing stuff from Dyche's army… Running out of superlatives for Dyche and the team… Best start to a season since 1897… Smashing records all over the place… Loving being a Burnley supporter at the moment…
By some weird and wonderful coincidence, the skies above Burnley in the evening were just about the most stunning ever seen; all manner of colours from burnt orange to gold to sepia to red and yellow. It was almost mystical especially when the most spectacular gigantic rainbow appeared over Turf Moor. Were the football Gods telling us something?
Afterwards, the debate that took place was; is this a better team than that of 2008/09, the team that won promotion at Wembley, both being 'teams' in the full sense of the word where each player complements the other, when the pieces of the jigsaw fit together. The general consensus was that the current team has a far better work rate, every player working their socks off for 90 minutes, a greater tenacity but far less individual flair. Coyle's team had Eagles, Blake and Elliott, players that could turn a game in an instant. Questions were asked: about the better partnership, Caldwell and Carlisle, or Duff and Shackell. What would be the better strike partnership, Paterson and Thompson, or Vokes and Ings? What is the better midfield, Alexander and McCann or Marney and Jones, the best goalkeeper Heaton or Jensen? Solidarity, work-rate, parsimonious defending and unity is perhaps where the current side is better. With Caldwell's side you always felt that defensively you were never safe until you'd scored at least two goals. With Shackell's side you feel that few sides will score more than once. Clarke Carlisle in an interview said he thought the start to the season had been brilliant, that Dyche's side was way ahead in terms of professionalism and technical skills.
In honour of Harry's visit I dug out my battered copy of Tom Bowyer's book 'Broken Dreams', his study of 'the corruption and greed' in football. In Chapter 9 he covered Harry Redknapp, particularly at West Ham and with particular regard to the sale of Rio Ferdinand to Leeds United. Harry was emphatic that he never deserved the soubriquet 'Readies Redknapp.' There is no question that Harry Redknapp is one of the great characters of the game and Bowyer writes about him with what almost seems to be a degree of wry affection. He describes him as 'raucous… pugnacious… the former barrow boy and aspiring second-hand car dealer… a living symbol… portraying all the traditions of English football… football and money were Harry Redknapp's preoccupations during his seven years management at West Ham… 'At the end of the day no-one gives a monkeys' about you once your career is over so in my view you should make the bucks while you can… if there's a chance to earn a few quid, take it because it doesn't last forever,' are Harry quotes. Haggling over the price of a player was in 'Arry the 'Ammer's opinion, the epitome of astute business. Bowyer only touches on Harry at Portsmouth. I love the cover of 'Harry's Games: Inside the Mind of Harry Redknapp', where he is pictured in the style of a hitman from The Sopranos. Truth is Harry has almost assumed the hallowed mantle of a 'national treasure,' these days.
The promotion of the forthcoming game had been relentless. Sean Dyche and Tom Heaton were ringing absentee fans. 'I like the look of Burnley, I must be honest,' said Harry. 'Life has been blown back into Turf Moor and the town,' said Sean Dyche.
It's gonna be one of those days I grizzled driving over to Burnley. Traffic queues, lights, holdups in Hebden Bridge and Todmorden made it a journey of not far short of two bloomin' hours to do just 40 miles. On top of that I had a rotten nagging tooth ache and was unable to get a dentist appointment for another week. You could forgive me for thinking that the gloom would continue at Turf Moor with QPR upsetting the run of wonder-wins. But:
Oh me of little faith: when will I stop being a glass-half-full bloke? This was another wonderful win by the homespun little guys against the swaggering city slicker money-bags with a team filled with 'names' and ex-Premier players. It was Bank of Dave versus Bank of England. This was a classic game, in front of 16,000+ people, with everything you need to make it one for the scrapbook. There was a first-half of cat and mouse stuff but Burnley the team making more of the effort to win. Burnley into their stride of pressing, passing, raiding, holding, containing, retaining, thrusting (I'd better stop there) and at the back solid and other than one occasion as good as impenetrable; QPR staid, unimaginative, unambitious and rarely threatening. Every time I see him I think Tom Heaton in goal is worth a goal start. He fills them; he commands them and plucks balls out of the air for fun. In front of him he has a rock solid defence and in midfield and up front the players quick enough to turn defence into attack in a flash.
But no goals and the longer the game went on the more you wondered would this be a frustrating 0-0 draw. Not so: a move of bewildering precision, of lightning pace, of simple first-touch passing, a goal of beauty created by quick-thinking players that cut open the QPR defence like a surgeon's scalpel. This was Barcelona, Real Madrid, Arsenal quality; yes, it was that good. Before you could blink there was Ings like a blur clean through to score from 6 yards. Of his newest goal celebration the less said the better.
The villain as ever Joey Barton, booked already he was then penalised for handball. Now I might be wrong but I thought handball was an automatic yellow. The card stayed in the ref's pocket. The crowd howled for the red. In the second half Barton was hit on the head by a bottle thrown by an idiot from the crowd. Lee Hoos called this section of crowd Numpties in an earlier interview for damage caused to plastic seats. But, Barton's head is made of stronger stuff, nobody knows exactly what, and this time there was no damage at all from the full bottle of coke.
Villain number two was mascot Bertie Bee, sent off for offering the linesman a pair of glasses. Specsavers will be desperate to buy the photo. The newspapers couldn't decide which was the funniest, Optometrist Bertie, or Barton being smacked by Coke.
After the first goal QPR came into the game strongly; Burnley seemed to be caving under the rising pressure. There were some close moments including one open-goal miss that would have levelled things. Joey, villain-in-chief and seemingly PA to the referee, was then involved in Burnley's second and nerves-calming goal. It was bad-guy Barton who ended the tension when it was Ings again who secured the points. Barton chopped him down and Ings himself converted the penalty with consummate ease. Again, no yellow card for Barton; but credit to the guy, he later tweeted that Burnley were deserved winners and nary a mention of the lump on his head.
There were no villains in the Burnley team. Treacy was in for Arfield and did supremely well. A ball across the face of the goal in the second half was the pass of the game. Ings slid in but was a centimetre short. If you scored them out of 10 how could you give anyone less than an 8? And Charlie Austin: anonymous, never in the game, well shackled, can't even recall him having a shot.
'Arry 'Arry what's the score?' sang the crowd lapping up the occasion.
Little Joe was with us for his second game. I reckon he's learning about the game quickly. In between chocolate buttons his little voice piped up when the referee gave a free kick when two QPR players tripped up over each other and a Burnley player got the blame.
'That referee doesn't know what he's doing Pop Pop does he?'
This was a referee who gave out more cards than a postman at Christmas. Yep, I reckon little Joe, only 6, is gonna be OK as a pundit and he came away well pleased that his favourite Treacy had played. But as for the rest of us, wondering if this is really happening, all we can think is:
'Pinch us we're dreaming.'