Responses that came from a thread I put on Clarets Mad shed little light on what history now reveals to be a fairly puzzling affair.
However, one was from a guy who had known Shackleton personally for 40 years that sang his praises both as a person and as a genuine Burnley fan. And then the thread also prompted an email response from Robert Lambert from Ilkley who had also known Shackleton for many years. I met up with Robert one evening and he too emphasised what a genuine and longstanding fan Shackleton was.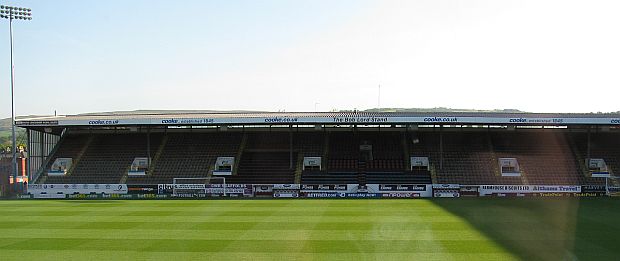 The Shackleton bid followed that of businessman Ray Ingleby and it was Shackleton's that became the board's preferred bid. Whilst Ingleby's was the more convincing of the two; Shackleton's was based on backers that he could never name and promises of money to the tune of £12million, but for which he had no concrete evidence. But whilst the Ingleby bid would have seen a new chairman, the Shackleton bid would have retained Frank Teasdale for whom at grass roots level there was little support. It was at a Clarets Independent Supporters Association meeting at The Sparrow Hawk Hotel in Burnley that 200 supporters quizzed Shackleton and very much gave him the thumbs down on account of the lack of detailed answers to their questions, and his support for the existing board. The pattern was the same on a radio phone-in programme and poll.
As the Burnley history books relate, Peter Shackleton's bid came to naught and faded away as just a distant memory. What Shackleton would not agree to was the removal of the chairman, Frank Teasdale, and he of course was the person that supporters wanted removing. It meant that Shackleton never had the backing of the fans. In came Barry Kilby as chairman of a new board and invited Ray Ingleby to join him.
Years later, a name that did come up however with a bit of googling was that of Ian Burns, which Clive Holt vaguely recalled when I mentioned it. It became clear that Burns was one of the contacts that Shackleton had and a prominent one at that. In May of '98, solicitors were reportedly tying up the loose ends of the Shackleton deal and £1million 'up front' was allegedly already in an English bank account, said local press reports. The cash would stay there until legal experts had agreed on binding guarantees. Once those were finalised the rest of Shackleton's £12million would follow. Trouble is - nothing ever came.
Clive Holt had made his own early, basic investigations into Peter Shackleton. He recalled:
'I did check Shackleton out. The thing I did was check out his home via one of my Sales Reps at the time; going to look at his home to check he lived at the address claimed. He also assessed the value of the home. This was all before Burns came on the scene, whom I never met and cannot even remember a telephone call – unless he was the one that called from France.
'The key fact was that before we would allow discussions to go any further, which I insisted on at the time and all the board agreed to, before doing things like 'Due Diligence' on our club accounts etc., they had to deposit £1million with our club solicitors into an escrow account as an act of faith, which is not unusual in this kind of deal. But, as we all know, no money arrived and therefore we did not get beyond two or three meetings and a lot of PR for Shackleton. There would be lots of promises for next week and the next week, but nothing came.
'The £1million was the gift for us to keep, even if they walked away, as I remember. After the second promise I started looking in other directions but Frank just kept on hoping it would come.'
'The one that called from France' was the call that came to tell Holt that the Shackleton bid was genuine. The French voice said the call was from Cannes. He still wonders if it was just a hoax call. Cannes or Bacup, he still doesn't know. It is possible however that it was Burn's French business partner, Michael Kupfer.
Things dragged on and on into September of 1998 with denials still being made that the deal was going to fold. But in June it was Ian Burns, not Shackleton, who contacted the local press to ease Clarets' fears that the deal was floundering. The saga would end within the week he assured them and the delay was only because the huge firm behind the deal and with all the money ready to invest, was involved in merger talks with another huge company and wanted to deal with just one thing at a time. Burns would only reveal that the company wanted to remain anonymous but was a major player in the oil and minerals industry with 750billion dollars of assets and was a company that wanted to own a British Football Club to raise their profile in the UK.
At this point the name of FC Basel from Switzerland, also looking for investment, crops up in connection with the same unnamed company. Burns was quoted:
'Some other people used by the company's financial arms are fairly major financial people and are shareholders and directors in some of Europe's major football clubs.'
Burns then clarified his own role: 'I am simply the guy who made the initial introduction to Peter and am acting as a courtesy spokesman. I am not part of the investors. I can only tell of the difficulties in completing such a large transaction.'
And yet, according to the Serious Fraud Office, Burns, who had once been a professional footballer for Everton FC, was a 'Bank Trading Programme fraudster' and in April 2000 was charged with conspiracy to defraud, although this was in connection with other events.
The name of Murray MacDowell a Canadian stockbroker, and according to press reports then the President of National Bancorp, appears in the story: 'He is a buyer of shares in the market for the company and was asked to hold funds and make the purchase of Burnley when asked,' said Burns. It was MacDowell who had told the local press that the investor group portfolio would be provided to the club's bankers and it would show the depth of funding and the source of the finance. It was MacDowell who explained to the local press why the £1million 'act of faith' had never arrived. 13 years earlier in Toronto, MacDowell had reportedly faced criminal charges in relation to trading and perjury.
Peter Shackleton himself certainly had some experience of raising money. This was in connection with the founding and funding of the Derby City Technology College of which he was principal. He would certainly have met financial contacts and big-hitters in the financial world whilst raising the money for his Landau Forte College. There were reports in the press at the time of the proposed takeover that it was in connection with the college fundraising that Shackleton and MacDowell first came into contact.
Five years after the failed takeover, in 2003, according to a report by Brent Mudry in the 'Silicone Investor', headed 'Wall Street Strategies muckster MacDowell now in jail', MacDowell was charged with brokerage fraud. He was also one of five people arrested by the Royal Canadian Mounted Police on suspicion of being a key figure in a cocaine import conspiracy. Mudry referred to him as being involved in 'aborted bids for a struggling British Soccer club in 1998.' Mudry included the caveat of course that he was presumed innocent until proven guilty beyond reasonable doubt. Detective Inspector Ron Allen of the RCMP was quite clear however that these were people that had been operating in Canada for decades. Clive Holt had joked that for all the board knew, the 1998 takeover finance might well have been South American drug money. Five years later, MacDowell's arrest was in connection with suspected drug importing from Costa Rica.
There are two possibilities at this point: that Peter Shackleton knew that he was dealing with fraudulent people and was willingly going along with them; or he simply trusted them as people who could help him with contacts in the investment world. The former is hard to believe.
Those who knew Shackleton well describe him as a dedicated Burnley supporter and he was a highly respected and accomplished professional in the education world. Was it Burns seeing him as the frontman, almost the patsy, whilst Burns saw an audacious scheme to somehow make a profit for himself? Or was it Shackleton first approaching Burns knowing that Burns had investment contacts? It then seems fair to ask the question: would Burns, claiming to be acting as just the 'courtesy spokesman', have been doing all of this without any kind of fee.
Burns' company was called KB Securities but was described in the Serious Fraud Office report as simply a paper company with no assets. Burns described it as having offices all over Europe. In the SFO press release, it was revealed that over a 9-month period in 1996 Burns and his partner Michael Kupfer obtained and spent over $2million on themselves; clearing their own debts and enjoying a lavish lifestyle involving private jets and expensive cars. The Serious Fraud Office found evidence that $850thousand found its way into Burns' wife's account. It was spent within ten days. He and Kupfer were said to have had contacts in the USA and Switzerland, a huge string of intermediaries, and were about to snare yet more money, telling victims that it would be held in a secure account until pooled with other investors' money. The SFO when investigating him focussed on frauds to the tune of $4.5million, but had evidence to show that a further $8million was being sought from victims. And this was the man that Peter Shackleton was working with. I find it hard to believe that he could have known about Burns' clandestine activities.
At one stage Shackleton had referred to five Swiss bankers being involved as the backers. Were these bankers also known to Burns? In the reams of local newsprint that were produced at the time, there is regular mention of 'Swiss bankers,' and that 'the money' was stuck in Switzerland. Did they actually exist? One piece describes Shackleton as speaking from Barcelona on a 'troubleshooting trip round Europe.' In another he described the £12million as being 'small potatoes' and there would be more to follow.
'I am dealing with people who are at an unbelievable height in industry. I am used to dealing with people who have a lot of money.' His Derby College was named after two of them, The Landau Charitable Foundation and the Forte family. 'I have been wined and dined at the House of Lords and met members of the Royal Family,' added Shackleton. He claimed to have advisers from both football and finance. He knew Stuart Webb, then the secretary of Derby County Football Club. 'I have loose associations with a number of leading football clubs in Europe.' His backers, he claimed, already had investments in some of those clubs.
However, some of the newspaper reporting may well have been fanciful. It was reported in the press that after he left the college in 1997 he had concentrated his efforts on brokering big money deals. His daughter Laura has no recollection of this unless this was simply the Burnley deals that the press were referring to . In fact he moved into the management of a group of care homes.
There is no evidence or suggestion that Shackleton was deliberately fraudulent. None of the available legal documents suggest this. But, he was named, by association, at one stage in criminal investigations which involved the most famous and high profile victim of the spider's web network of schemers and fraudsters - Brazilian football star, Romario, second highest scorer of goals in professional soccer after Pele and captain of the 1994 Brazil World Cup team. Polish investigators collected evidence from a Nevada District Court in the USA. It was these Nevada documents that mentioned the name of Peter Shackleton because of his association with Burns.
With the takeover bid of '98 finished, in April 2000 Burns was charged with conspiracy to defraud although not involving matters connected with the putative takeover of Burnley Football Club, and the full scale of his schemes emerged. After an 8-week trial he was convicted on 14 August 2002. As a result of illness the sentencing was delayed. When the sentence was eventually passed he was described as being guilty of 'open and brazen' fraud. In passing sentence the court took into account that Burns was unable to remember any of it, not even able to remember the trial, and Burns was suffering from a depressive disorder. He was given a three and a half year sentence.
To this day Shackleton and Burns are possibly the only two men that know or knew the complete story and the real truth of what went on. But Shackleton died in 2009 aged just 59. Which of them made the first move and initiated the whole fanciful idea of taking over a football club? What was their connection? Shackleton's obituary says that he lived in Allestree a suburb of Derby. According to the 'Company Director Check' website, Burns also lived in Allestree. I learned later from Shackleton's daughter Laura, that they had first met in connection with the local primary school when the Head was looking to raise funds for a nursery and he invited members of the community that he knew had business knowledge and contacts, to a meeting.
Burnley supporter Robert Lambert knew Shackleton well. They were at school together in Ilkley. They played Sunday football together. From 1970 onwards Lambert went to Turf Moor with him. After teacher training in Hendon, Shackleton taught in Colne, was ambitious, says Lambert, and then became head of a Warrington school. The City College in Derby, he funded, organised and built up from scratch.
Lambert went to his wedding in 1975 and attended his funeral and was totally adamant that Shackleton was devoted to Burnley. He testified that Shackleton genuinely believed in the takeover deal and what was happening and wanted to confide in close friends such as Lambert. In January, '98, Lambert was very surprised to see Shackleton in the Directors' Box at Turf Moor and remembers thinking 'what on earth is Pete doing there.' In April of '98 Shackleton invited Lambert and his son Nick to lunch in the James Hargreaves dining area at Turf Moor. Chairman Frank Teasdale and Ian Burns were also there. After lunch Teasdale left them to return to the Directors' Box, and they watched the game from one of the boxes although Burns remained indoors. He remembers the game, a 1-0 win against Bristol City, with the goal scored by Andy Payton. If there were takeover discussions at that meeting, Lambert was not party to them. What he also remembers is that Shackleton wanted to bring Paul Fletcher back to the club as Chief Executive, but there was no contact between them and Fletcher, today, has no knowledge of this. The last time Robert Lambert met Shackleton to speak to was at the Wembley, 2009 play-off final. To this day he is totally sure that Shackleton was sincere and genuine in his actions.
The local press wrote at the time: 'The bid seems shrouded in mystery. Why do Shackleton's backers wish to remain anonymous? What is the big secret, too many questions, too few answers?' By October of '98 MP Peter Pike demanded that Shackleton either delivered the goods or called it a day. 'He was making the club look silly.'
Through a mutual friend of Peter Shackleton's wife I managed to find out that the failure of the deal had devastated him. Her opinions of Ian Burns are plainly disparaging and she herself used the word 'gullible' to describe her husband in relation to the affair. She affirmed that he would have made no financial gain from any takeover; he was not involved for profit and his sole aim was to help the club he supported at a time when it needed help. He genuinely believed in what he was doing.
It was only when this article was in its final stages that I was then able to speak to Peter Shackleton's daughter, Laura Thwaites. The first question I asked was, 'Had I got it right; was my interpretation reasonable that this genuine, talented and honest man had been taken in by the unscrupulousness of others. Her yes-answer was immediate. She was delighted that she could help put the record straight.
She talked about her father's love for Burnley remembering the stories he had told of his history of supporting the club which started as a young boy travelling from Yorkshire for every game, catching the bus from Keighley, the same bus that Alastair Campbell sometimes caught. As soon as Laura was old enough she used to accompany her dad, home and away, never missing a game.
Peter, she said, loved the football club and just wanted to help. He was immersed in the takeover project and massively excited by it believing it would happen. Laura, today, works in football with a top operational position that will this summer see her relocate to Brazil for three months for the World Cup. To this day she and her mother still talk about the events and wonder how Peter could have been so taken in. But there were so many things that they didn't know and weren't party to.
Not only did he make no money from it (that never being his intention anyway), he actually lost money. By the time the dust had settled it had cost them their house, their savings and Peter's health. In fact it cost him far more than money. She asserts that in the aftermath he lost his dignity and self-respect, occasionally attending a Burnley game but hoping not to be recognised on account of feeling so foolish. It left him not only suffering from huge embarrassment, but stress and depression. The affair changed not just his life, but those of the whole family. They wonder if the cancer that came was rooted in all the suffering and stress he experienced when things fell apart.
Living in London, Laura still attends Burnley games when she can in the capital. She was overwhelmed by the piece I sent her and replied that her father was an amazing, proud and clever man and did everything for his family, work and football club. Her mother always said that Burnley was the third person in their marriage.
After his death, tributes were paid to his educational zeal and his accomplishment of being the founding principal of the country's first City Technology College in Derby. These were controversial at the time but Shackleton saw his school flourish and achieve impressive 93% A-level passes in 1996. In his professional capacity he was clearly a gifted man. On his death it was clear he was held in the highest esteem. Perhaps though, and it is conjecture, that enticed by the prospect of helping the club he supported, he was just another trusting but gullible victim of an international fraud network, a network that included drug-running, stretching from the UK to the USA to Canada to mainland Europe, with Peter having no real idea of what he had got himself into; an able man, but whose head was turned by the excitement and attractions of the football world and involvement in such an exhilarating deal.
Time and again in the story of football, common sense flies out of the window when supporters become involved with their clubs and dreams. Nowhere is this seen more often than at boardroom level when individuals who are top men and leaders in their fields of commerce can lose all sense of perspective and good business practice when they become enamoured by the supposed glamour of the game. It would appear that in 1998 many of the board were taken in by the Shackleton proposition; the scale of which was so dazzlingly huge.