Ten years ago it was a 1-0 win in a cup game when Papadopoulos scored the only goal in a contender for one of the most tedious games ever. We roared when he scored, not because we were thrilled at the win, but because we could all go home. I'd heard much about the Cornish pasties on offer then in the food kiosks and drove there looking forward to a treat. When I got there they'd run out. I knew then it was going to be a drab, long evening.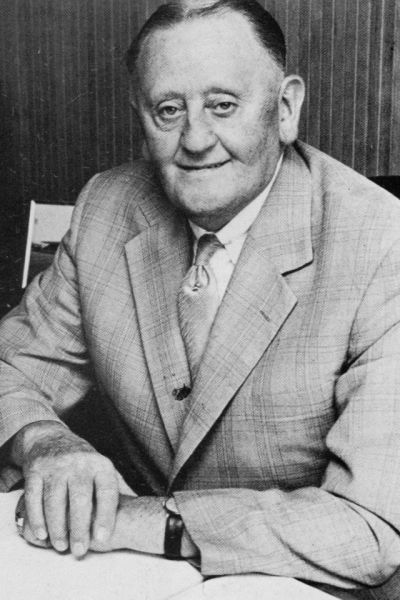 Bob Lord did not appreciate rudeness
The other time was August at the beginning of season 2012/13. Hot summer sun: you must be joking. There was a downpour of tropical proportions that soaked us to the skin between parking and the short walk to the stadium. It was another poor performance and a defeat. Chasing the game at 2-0 down, Eddie Howe took off a centre-forward and brought on another centre-half.
'Ah, protecting the 2-0 deficit,' said a wag behind us.
To make matters worse there was that bloody drummer hitting the thing all the way through the game. If you didn't arrive in Huddersfield with a migraine, you sure as hell left with one.
Still trawling through old emails I found one from Robert Nutter. Robert is from the Ribble Valley area but now lives near Windsor; his family owned a clog making shop in Nelson in the 60s and his parents were season holders until recently. He wrote:
'I was a member of Burnley Referees Association forty years ago and we used to train at either Turf Moor or Gawthorpe. Brian Miller used to take the sessions but Jimmy Adamson talked to us once. He came over as someone who knew a lot about the game and fitness. Jimmy was slightly aloof, maybe even austere but someone who commanded huge respect. Harry Potts lived in Simonstone Avenue a few doors up from us in Lawrence Avenue. I was good friends with his son Ken. Harry was always genial except when he joined in playing football in the park and then became very animated. Bob Lord lived on Whins Lane in Read and I used to deliver his newspapers. He had two big dogs and we were told not to enter if the gates were shut. I wrote to him while I was at university, complaining about him falling out with the TV companies and not allowing cameras in. I just thought it was bad publicity for the club. Bob Lord's reply was a classic.'
25 February 1974
R S Nutter Esq.
Van Mildert College, Durham
Dear Sir,
I am in receipt of your letter of the 20th instant. I have noted the contents and I do not appreciate your rudeness in any shape or form. I suppose you have dealt with quite a number of business ventures, and you have always made a success of them. But believe me; I have not the slightest intention of taking any notice of any words that you have written. You do not know anything at all about running a football club, and in the attitude you have shown to me in your letter, you never will. Do you really suggest that football being shown on television has not reduced the attendances at football matches? Do you really suggest that asking the television authorities for £10,000 for one match is as ridiculous as you indicate? What you want to do sir, is get your facts right. Come out of college and roll your sleeves up. Get some hard work done from the sweat of your brow and go home physically tired.
Yours Truly
Bob Lord Chairman Burnley Football Club
Old Bob's letter is a true reflection of the man; forthright, blunt, rude, overbearing and quite disdainful. But in his appraisal of the need for an appropriate TV match-fee he was 40 years ahead of his time. TV did get football on the cheap back then. If only Lord had possessed the entrepreneurial and interpersonal skills to match his visions for the game, he'd have been the most influential football man of the century.
Over 3,500 Burnley fans were at Huddersfield. Twice they sent batches of extra tickets. Twice they sold out within hours. Huddersfield had Pato and Adam Clayton back. Both had been kicked out of the club because of fighting at the training ground. Pato we believed had been told to clear off permanently. But football is football and tends to forgive its transgressors on the grounds of expediency. Thus they had both been brought back for the game the week before and both had scored in a win. Manager Robins had muttered something about he had standards to adhere to but good players were in short supply, or something like that. When Pato scored against Sheffield Wednesday his goal celebration was pretending to knock Clayton out again. Clayton obligingly fell over like he'd been poleaxed. Footballers - bless 'em.
Meanwhile the loan deadline day approached and Burnley were strongly linked with Craig Davies of Bolton. One story doing the rounds was that one deal had fallen through because Dyche felt the player in question would be a problem in the dressing room. One or two people as soon as they heard the news that Pato had allegedly been given his P45 felt he should have been invited back to Turf Moor. The loan window closed without any reinforcements. Chief Exec Lee Hoos described it as the hardest loan window he had experienced. Sean Dyche intimated his phone bill would be enormous. Targets had been priced out by economics. But any suggestions that Craig Davies had been a real possibility were brushed aside by Bolton manager Dougie Freedman: 'There was a small enquiry from chairman to chairman. There was no real enquiry from the manager to say we'll take him.' Conspiracy theories abounded that other deals had fallen through because championship sides did not wish to help the current top of the table leaders.
Those arriving in Huddersfield by train might have been impressed by the station, once described as a stately home with trains in it. This is a Grade 1 listed building described by Sir John Betjeman as the most splendid façade in England, second only to St Pancras, London. This is open to debate. I personally think that the second best façade belongs to Carol Vorderman. It cost £4million to renovate and won a grand European award for architecture (the station not Vorderman). Huddersfield has been a market town since Saxon times. In the Domesday Book it was known as Oderesfelt. During the Industrial Revolution, the Luddites, a thoroughly discontented lot, began to destroy mills and machinery until a thousand redcoats were brought in. The football team was once upon a time a power in the land and won championships in the 1920s. Bill Shankly and Denis Law cut their teeth there. More importantly, Andrew Jones was an award-winning pie-maker.
Without a Burnley win in three games the inevitable questions were being asked. 'Have the wheels come off at last,' 'has the bubble burst?' But the winning run could not possibly continue indefinitely. Only one defeat in 16 league games was a huge achievement. Pundits suggested that Burnley could not possibly keep it up with such a small squad and at Huddersfield the lack of cover for the still-unfit Marney was abundantly clear.
It was a horrible defeat that ended the top of the table run. It was a sour-taste defeat, an aggravating defeat that left us frustrated and angry by the end. By half-time no-one could have grumbled if Burnley had been 3-0 down. It was a poor, poor performance from Burnley, half-hearted, unconvincing, bereft of ideas, running into trouble, second to nearly every ball, over-run in midfield, Ings ineffective except for one missed chance from a Trippier cross. And yet, it was still 0-0 at half-time, through dogged defending and good fortune. Despite all that, by the end of the game, we came away angered by diabolical officiating by both referee and one linesman in particular, and one of the worst penalty decisions ever.
The lead that Huddersfield took was well deserved when Norwood struck home from 25 yards following a corner; though the origin of it was again a poor 'corner' decision that Dyche argued should not have been given in the first place. The killer goal came but minutes later when clearly outside the area, Duff was adjudged to have handled the ball when in fact he chested it; his arms well out of the way by his sides. All of us in the away end were incredulous. Goals change games; decisions decide games. When decisions such as this double a side's lead they are totally infuriating. The yellow card that Duff wrongly received would cost him dear much later in the game.
2-0 down and at last Burnley started to play, the hapless Edgar replaced by Stock, and the ineffective Kightly replaced by Stanislas who at last introduced some guile and craft into the Burnley side. Ings had already squandered one chance, the only one of the first half, electing to guide a deep Trippier cross into the net instead of heading the ball. It was Burnley's single offering of the first half. In the second, with Burnley dominating the final 30 minutes and beginning to look like table-toppers at last, Ings again caught the ball beautifully with a full blooded close range strike, but it was straight at the keeper who miraculously saved. A foot either side of him and it was a goal, a golden chance wasted.
By now with Burnley stroking the ball around with urgency and class, Stanislas was a real influence and put a superb low ball across that was smacked home by Vokes who came in like lightning. The away end rose and roared. And then deflation: the linesman stood with his flag raised for offside. Cue more incredulity at this decision. If he was offside it must have been no more than a centimetre. The referee couldn't wait to book him as he threw the ball to the floor. As soft and unwarranted a booking you will not see bearing in mind the number of times that players do this, and what you see on a football field that goes unpunished. Vokes might also have had a penalty claim upheld when he was hauled down. We looked in vain as the referee unsurprisingly waved play on.
Yet more Burnley pressure: by now Huddersfield a shadow of what they had been in the first half with Burnley unrecognisable from a first-half where they just chased shadows. Vokes headed on and Ings latched on to it, racing away and sweetly scoring. You'd have bet money on an equaliser but even with six extra minutes it was not to be. And, as the minutes ticked away, the icing on the cake duly arrived. Duff, already yellow-carded by the ineptitude of a referee that could surely do promotion work for Specsavers (I had my new ones on), was then carded again for bringing down Vaughan about to break away from him.
And so we came away: on the one hand deeply dismayed by the total capitulation of the first half, wringing our hands and covering our eyes at the sheer cringe-worthy awfulness of it; but simultaneously hugely aggrieved by officials' decisions that cost us a possible draw. I do actually have this crazy picture in my head of the men in black getting together in the pub the night before and discussing what they could do to help Huddersfield win. By the end Huddersfield could have had no grumbles had Burnley levelled the scores, despite that first-half horror show and Huddersfield playing like table-toppers.
Probably most of us have watched the replays of the 'penalty' that never was, on Youtube, over and again, wondering how on earth any referee/linesman can do something so monumentally crass; Duff not only clearly outside the area, but clearly with his arms by his sides. Vokes' booking was an utter joke. Many fans argued that Burnley got what they deserved because of the poor first half. But say what you like, they had weathered the storm and had survived through a mix of good fortune, the Huddersfield finishing and not least some dogged defending. Poor as they were they came out for the second half on an equal footing. But what good is an equal footing when an incompetent referee and inept linesman decide the outcome of a game. No side deserves that.
Leicester won to go three points clear at the top. QPR surprisingly lost at lowly Doncaster. So Burnley stayed second. And the minute's applause in the 13th minute for 13-year old clarets fan Henry Tattersall was another of those lump-in-the-throat moments as the whole ground, Huddersfield and Burnley alike, stood as one. We might be aggrieved at this Burnley defeat, but the grief felt for the young lad, outweighs it a hundredfold.