Burnley are not down, nowhere near down; they are not marooned and they are fighting as if their very lives depended on it. They lost at Old Trafford but it was a privilege to be there and be witness to a display that had every pundit and journalist purring.
It seems odd to be eulogising a performance in a game that was lost, but all of just felt such pride that there we were giving the richest club on the planet a football lesson. Van Gaal knew how lucky he was and the tale is that has put the name of Danny Ings into his ring binder marked 'Must Buy'.
Somebody cynical might say that Ings was playing to impress; but if he was – so what? Footballers are motivated by all kinds of things, by money, family, by the manager, by the crowd, personal satisfaction; but if he plays like that in every game that is left this season then Burnley can be confident that they will be there next season to share in the TV rights riches.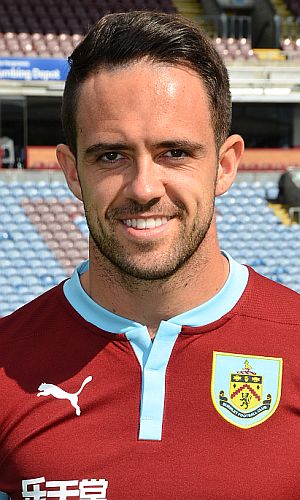 Danny Ings was everywhere at Old Trafford
Ings was everywhere in one of the best individual performances seen for years as he danced, tangoed, waltzed, dribbled, slalomed, twirled, pirouetted, accelerated, sprinted, twisted, turned and had United players chasing his shadow. One minute he was there; the next he was gone. All Rooney could do to stop him was to foul him and take the yellow.
The media was kind and there was a rich haul of compliments:
'Burnley were irrepressible, forcing their opponents into errors through the sheer intensity of their work-rate and then showing invention and enterprise.'
'Burnley did what they have done too often this season, played well and lost. It seemed at one stage that they would be this season's Derby County, relegated with a dozen points. Now they might be this season's Blackpool, relegated to an ovation. Sometimes United made them look like Barcelona. There were times when Manchester United were unable to come to terms with the speed and power of Burnley's play.'
'To say the Reds were lucky to win would be an understatement and they were outplayed for large parts of the game in their own backyard by Sean Dyche's sparkling Clarets.'
Mrs T saw the price of the Chelsea tickets that I'd left on the desk. She gasped. 'They're not £50?' she exclaimed horrified.
'Well that's how much I love you,' I said grabbing the chance to bank some Brownie points. I didn't tell her that they were only £23 'cos we were pensioners.
It was Tuesday evening when we got back from Kent; it was from there that we drove up to see the game. By the time we eventually arrived home I guess we were all punch drunk by the war of words, the torrent of media stuff, the opinions of the pundits (Merson quite beside himself on SKY Soccer Saturday), the acres of double page spreads and the avalanche of internet tweets and posts, plus Mourinho's blatant manipulation of the media. To cut a long story short, Burnley drew 1-1 at Chelsea and it was a game of controversy when referee Martin Atkinson stole the headlines along with Ashley Barnes, a red card for Matic, and Jose Mourinho's post-match reactions.
Journos love a story and boy did they have one, a story that centred around a tackle that wasn't a tackle, a foot colliding with a leg at high speed, a shove, a red card, and after the game an incandescent Mourinho calling for a ban for Barnes; incidents he would only refer to by number, and using the word criminal to describe the player whose name he would not say. The alleged 'tackle' was in fact the pendulum motion of Barnes leg that had made a pass and then impacted on the leg of the lunging Matic, the guy in fact who was actually making the tackle. The whole thing took but a second, the pictures of the moment of impact were horrendous; Matic could indeed have suffered a broken leg but the whole thing was a high-speed collision.
By late Saturday evening the witch hunt was in full swing with Shearer and Savage on MOTD and their little kangaroo court condemning Barnes and hanging him out to dry. Savage's face, by the way, seems to go a little more orange every time you see him. And his hair: one wonders if his stylist mistook the word bouffant for buffoon. If the quiff gets any higher he'll have to duck to get through a doorway. On Talksport Mark Saggers and Stan Collymore charged down their own apoplectic warpath.
By Sunday morning a million words had appeared, none of them appearing to have really looked at the complete incident, all of them including a picture of the horrific point of impact and if that's all you see then of course you'll think Barnes is a leg-breaker and a career-finisher. By now it was Barnes the criminal especially when The Special One appeared on Goals on Sunday. How he actually got there depends on who you listen to. Mourinho says he was invited by Kamara to appear. Kamara said that Mourinho texted him asking to be allowed to appear. Whatever way it happened was in fact dwarfed by how cringeworthy the whole thing was with the hapless James Beattie ditched so as to vacate the settee for the indignant one.
'Criminal' he emphasised again, demanding a ban. The night before he'd had friends round to dinner, he said, and they had all agreed (if I understood him right) that a six match ban would be in order. Kamara and his sidekick, sitting as if dazzled by the whole thing like rabbits caught in headlights failed miserably to ask any questions or raise any points that might have enabled them to challenge him. Months earlier his very own John Obi Mikel had infamously tackled Mikel Arteta with a potential leg-breaker. More recently there was a near leg-breaker by Gary Cahill on Hull's Sone Aluko. In interview afterwards it was suggested to Mourinho that Arsenal might be a little upset by the challenge on Arteta. The man who accused Barnes of a career ending criminal tackle (don't forget it wasn't actually a tackle) conveniently didn't mention how he had answered the Obi Mikel question.
'They like to cry, that's tradition,' he said of Arsenal or Arteta, it wasn't clear which. 'It's a man's game,' adding that he particularly liked English players because they just get up and carry on. English football is hard and aggressive. 'Football is for men,' he added. It left you desperately wanting Kamara to ask him did he know the English word hypocrite.
By now Piers Morgan had tweeted and described Barnes as the 'thug who tried to break his leg.' If that wasn't libellous I don't know what is. A lawyer I know confessed that had he said something like that on twitter he'd be worried afterwards.
By Monday a little perspective was emerging when Danny Murphy expressed some sympathy and understanding for Barnes and that the raised leg was not unnatural in the circumstances. By Tuesday John Barnes was saying something similar that the raised leg was simply the follow through. 'It wasn't even a tackle. He was going to pass the ball. He's followed through and caught him. It looked worse than it actually was.'
On Tuesday morning the video of Sean Dyche and his analysis of the key incidents appeared on the club site. It was calm, measured and reflective. Sean thinks before he speaks. The opportunity and platform given to Mourinho to spout his complaints on the SKY sofa, that Chelsea should have been winning 3-0 by HT had the referee done his job, that he hadn't the words to describe Barnes, was shameful. SKY should show the complete Dyche video in the interests of fairness and balance.
Dyche described the Barnes/Matic incident as a coming together, the upwards momentum of the leg making the pass then colliding with the incoming Matic. Significantly not one Chelsea player at the time it happened raised an arm or made an appeal, nor did Mourinho. It must have been an oversight by Mourinho and his staff that they missed the sly kick on Shackell by Diego Costa near the end of the game in the Burnley area. Had Atkinson seen it Chelsea would have been down to nine men. It is fair to wonder had that happened if Mourinho might have been carried away in a straightjacket shouting 'infamy, infamy, they've all got it infamy.'
The Costa kick was about the same time that Mee was laid low when he landed badly. Heaton put the ball out so he could receive treatment. Even my Chelsea pal that we stayed with agreed that it would have been the traditional football courtesy to play the ball back to Burnley at the throw-in. Chelsea didn't. There was a tweet later in the evening that Dyche had been overheard to shout at the Chelsea management: 'you're a f*****g disgrace you lot.' I'd like to think it's true.
'There's none as blind as them as can't see,' my Granny used to say. Certainly them as don't want to see. In the blue corner were people who hadn't got past the stage of seeing the Barnes incident as a 'tackle'. The Adrian Durham piece in the Daily Mail was something you'd screw up and light the fire with. Ian Wright added his two penn'orth. The poor standard of reporting, the lack of any willingness to look deeper than the picture of the impact of boot on leg, was beautifully exposed in a piece by Tony Banks in the Daily Express when he referred to Barnes as a 'defender,' as sloppy a piece of journalism as you could see.
In MOTD 3 you wondered if Noel Gallagher had hit the nail on the head when he asked if Mourinho was having some sort of breakdown under all the pressure. He remarked what most sensible people at the game had said; that Chelsea could only draw because they weren't good enough to beat Burnley. Merson on matchday afternoon had said that Burnley were out of their depth; an utterly banal and totally inaccurate comment. Chelsea player Felipe Luis made up for Mourhino's mutterings with his own brand of Portuguese common sense. 'We have to say Burnley played a good game and congratulate them.' Monday's report in the Daily Telegraph by Gerry Cox was the most balanced and accurate pointing to Chelsea and Mourinho inadequacies and how even the game was.
On Tuesday one can only guess what Mourinho's reaction must have been when the referee assessor's report was leaked and the actual notes were reproduced in a couple of papers. The report supported Martin Atkinson and his decisions. Burnley received the news that Barnes would not be punished with a ban. Chelsea received the news that their appeal had only resulted in the Matic three-game ban being reduced to two. The last we heard was that they were compiling a dossier of incidents and decisions to support the Mourinho notion that there was a conspiracy against Chelsea. He should have a chat with Felipe Luis.
Apart from the controversy and the fall-out (bits of Mourhino on the SKY settee still being shown late Tuesday night) what a game it was. Burnley were by no means out of their depth, (check the stats Merson), and might even have snatched an improbable win at the end when Ings was through, didn't see the pass to Boyd in a better position, ran on and fired just over. We were ecstatic enough when Mee equalised from a corner leaping higher than anyone else to crown his MOTM performance; had Ings scored we might well have collapsed with delirium and been carted away to A&E. These players ran, chased, harried and did all the things that have served them so well. A goal down, they did not fold.
Mourinho must surely have thought he had three more points in the bag when Chelsea took the lead. He could never have expected not to have won. If he thought Chelsea should have had a penalty, then Burnley too had a claim. Goalkeeper Courtois made two stunning saves to keep Barnes out.
Tuesday and Nick Miller in the Guardian took a new slant, comparing the two performances by the managers in their interviews. There was only one winner he decided, and it certainly wasn't Mourinho, even though 'Mourinho popped up on the biggest sports broadcaster in Christendom, whilst Dyche recorded an interview for the Burnley website on what looked like a camcorder they had lying around the office.' Whilst the former was seen by millions, the latter was seen only by thousands, a perfect reflection of the vast inequalities of the Premier League.
It was Mourinho's paranoia, and his suave, urbane, good looks, versus Dyche 'with his demeanour like an avuncular Wetherspoons bouncer' and his 'relatively sensible and objective' views about games involving their teams. Mourinho looked like he had 'his hump filled to the brim like some sort of injustice camel. The Portuguese stopped just short of putting two pencils up his nose and a pair of pants on his head to wibble his way through his surprise Goals on Sunday appearance.'
We all know that all managers tend to be 'one-eyed' but whilst Mourinho continually shoots himself in the foot and invites disdain and derision in equal measure, Dyche shows there is still room to view games with some semblance of common sense. 'Only one manager reacted with balance at the weekend and it was not the bloke chatting with Kammy and Shep,' asserted Miller.
'Dyche is about as far from being a Ginger Mourinho as you can get,' Miller finished. Amen to that, I thought, and hopefully we shall have no more of the Ginger Mourinho chants. It would now be an insult to call him that.