Blackcurrants and redcurrants all picked and in the freezer. Just like The Good Life, all was well with the world. I just couldn't resist having a good ruminate.
I decided a number of things in my little head; that no prison sentence was too harsh for the bestial couple who murdered little Daniel Pelka; that people like Cameron and Clegg are just not from the same planet as me, their bedroom tax needs a damned good rethink; that Ricky Gervaise is about as funny as a dead hedgehog; that 'Frasier' and 'Dad's Army' are my best ever TV shows and that I never get tired of watching 'Lonesome Dove.'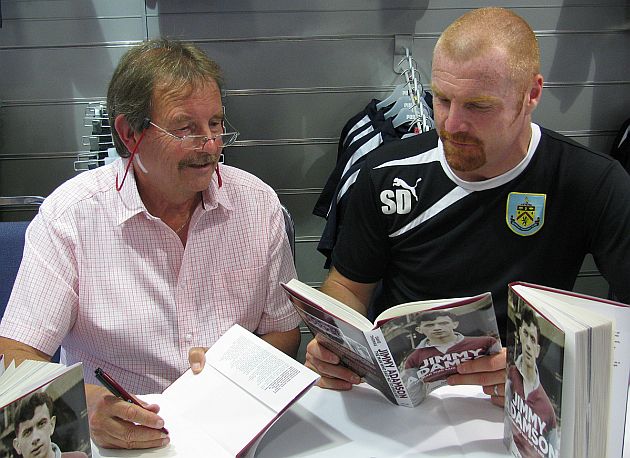 With Sean Dyche at the Adamson book launch
I'd also had some adventures with the NHS. I'd had a carcinoma thingy removed some time ago and in the Cameron/Clegg Utopia my regular check-up was 4 months behind schedule because of a backlog. To complicate things there was another of the buggers on my neck. My doc bless him got me in there pretty damned quick. It was a Nigerian guy doing the ops – he'd come up from London for a week to help Leeds clear the backlog before jetting off to the USA to do plastic surgery; he said the NHS was in a shambolic state and I'd be better off in Nigeria. Nice guy but didn't get my little joke. He was asking what conditions I suffered from and finally enquired did I have a pacemaker – no, I said, a Peugeot. There wasn't even a smile, not a glimmer; and then he wasn't too chuffed when my phone in my pocket rang, whilst I was on the slab, laid out flat, and he was just about to make the first slice into my numbed neck. Nobody ever phones me on my mobile. Nobody loves me, I don't care. I haven't had a call for weeks and even that was from the guy who rings to ask have you ever been sold one of those PIPS or whatever it is they're called and I always yell down the phone and tell him to F***K OFF. So I decided I didn't need to switch it off; the odds on someone calling were a million to one. And it bloody rang. "I'll leave it," I said. "It'll probably be Carole Vorderman. She rings me all the time. She can wait."
I always get to Burnley eventually when I'm having a quiet ruminate: and in the course of recent events I'd had some dealings with the club. Those dealings left me pondering on just what a knife edge the club is on. Of course it has to make some money to pay the bills, and cope with critical cash flow; but how best to do that? Charlie was sold… I guess we all knew it was coming. We're a selling club and have to live with that. That was reinforced at the Adamson book launch in the club shop the other day. Sean D came along and he'd just seen Charlie sold and he opened the Adamson book at random and it was the page where the club had just sold Dave Thomas – but went on to win the Division Two title. So Sean D spotted that and we all agreed that nothing changes and I was struck by how unfazed he was (well at least on the surface) with a sort of well OK we'll just get on with things. A very likeable, sociable guy I thought. Big, solid fella too… the sort that if he'd ever been a centre-half for Chesterfield, centre-forwards would have just bounced off him.
The basis of Burnley Football Club it has always seemed to me is that it is small, friendly, and woven into the fabric of the town. The town is small and as such it has a firm identity and has always been seen as a community club. I'd like to think it still is… but I'm no longer too sure. From the surrounding hills you can see it below, nestling in the town, fitting in like the piece of a jigsaw puzzle. "The club for its people" or "the peoples' club" somebody once said, possibly Dave Edmundson. The club was struggling and the begging bowls went out.
It's a parochial club. It isn't an Arsenal or a Manchester City or Manchester United where the bulk of fans are faceless and anonymous. It isn't a club that tourists from Japan or the Middle East have on their lists of places to visit while they're in the UK. Sure we have people who travel to games from far and wide, from way beyond Burnley. The list is endless; but they are people who are in the main either Burnley, or East Lancashire, born and bred; or a smaller number of people who have somehow built up a connection with the club even though they were born miles away. These people are not part-timers or one-off visitors. They are cast-iron regulars; albeit slowly dwindling perhaps for any number of reasons.
The little 'do' we had in the club shop was another indication though that these almost impromptu social things are where the club can open itself up a bit. Where else could you get six ex-players to call in and the manager just for an hour and chat away with a glass of wine. The guys from the 70s are a special bunch. Jimmy Robson was there too – the man who scored our 1962 Cup Final goal.
The letter I got from David Miles, who wanted to order a book, in North Carolina was special too; brought me out in goose bumps. I love getting letters like these and it's one reason why I write books. It sure ain't for the money. There he is over the Atlantic and it turns out he's originally from Tod and I was astonished to read my mother used to teach him at Roomfield Junior School. It was a long letter filled with references to things from our youth and even the old and ancient Todmorden Amateur Operatic Society, for which he used to play the trumpet. I had one starring role in Magyar Melody; it must have been 1960 or thereabouts and I had one line to say and I fluffed it every night for a week. That was when I accepted I was never going to be a movie star. He recalled streets we both knew, Billy and Roger Birch and other people whose names sounded familiar. He saw his first game in 1952 when he was 5.
Opening day meant that at last there was cash coming in, a little bit of the pressure off now that there was some Charlie dosh. Charlie was gone but John B in his programme piece was writing about 'we want to do better this season and really go for it' and I couldn't quite equate that with the willingness to sell Charlie. In the claret corner are those who argue he had to be sold while he was still worth something. In the blue corner are those who say this season is the last real chance with the final para payment to hang on to him and 'really go for it'. But one thing is clear; you can't sell him and then "really go for it." Unless of course you spend all the money on a replacement – and if you do that what was the point of selling him in the first place?
The attraction for the first proper game of the season was Bolton Wanderers. Burnley had had a good pre-season with four wins and one defeat. Bolton had had a lousy pre-season, nothing but defeats and one draw. In May, Bolton had announced their main sponsor would be 'Quickquid', a payday loan company. Phil Gartside had expressed delight in the partnership and hoped it would bring "some real fun to matchdays". Yeah right, Phil. People in debt to companies like this along with the infamous Wonga, have loads of fun trying to pay off their debts. Greg Hohnstein, head of Quickquid, had also expressed his delight and hoped it would bring "opportunities in the wider community." Yeh right, Greg. A month later the deal was dropped as a result of adverse criticism and fans' reactions.
A 12.15 kick off, was that a first; all to do with the celebrations for the 125th anniversary of the Football League. The day fine, pitch immaculate, 'wear your colours' the club asked, Australia fighting back in the Ashes, Rooney still at Man U, Fabregas at Barcelona and Bale at Tottenham, who cares a fig, picnic in the car park, Mrs T had packed a bag of salmon and cucumber sandwiches, I looked longingly at the healthy pies and hot dogs in the kiosks; back to the glossy programme, Barnsey's fanzine, hundreds of people buying the new Adamson book (yeh right Dave), crowds outside the pub over the road in the sunshine, anticipation, expectation, a touch of first-day nerves; fish out the season tickets, through the turnstiles, up the stairs, see familiar faces along the concourse, up the next stairs and out into the daylight… what a sight… fabulous… but hang on… rows and rows of empty seats.
I suppose 1–1 was about right and Sean D overall was pleased. Bolton are a strong, big side. Eagles was crisp and sharp, darting about and made their goal; why boo him? He served Burnley well. It was Burnley who went ahead in a game that was fast-flowing and entertaining but the groan-factor was ever present. Burnley had ten corners, all of them so predictably identical without variation or disguise; from not one did we ever look like scoring. And the shooting: abysmal and shots went over the bar or wide with infuriating regularity. The approach play was frequently great to watch but too often Trippier's skills down the right was cancelled out on the left by Lafferty's donation of the ball far too often to a Bolton player. Jones and Marney excellent in midfield, Long and Shackell strong at the back, Stanislas a threat, Ings the sort-of goalscorer, Vokes battled manfully against the Bolton giants.
The attendance was dreadfully low even with over 2,000 from Bolton. Even taking into account that the game was live on TV, that August is holiday time for many, the swathes of empty seats, even with some of them available at just £12.50, were a reminder that this club will struggle this season to fill them. It was 6,000 down on the opening game last season when Bolton arrived for the Coyle grudge match and the circling 'plane with its banner. You can argue till the cows come home that this club needs to sell players to balance the books; but seats don't fill up unless there is a top-six place and a real hope of success… and for that you need good players… on a good wage or they won't give you a second thought… and for that you need high ticket prices… and there comes a level when people can't afford them… so fewer season ticket sales… … attendances decline even more… and so it goes on… ad infinitum…
The real attendance indicator may well be the next-up Yeovil game… and something else… the board must learn that you really can't sell the best player and then say we want to "really go for it." People just won't swallow it.