The press were full of praise for Burnley and Ings. Talk on the coach to Bolton was of Danny's missed penalty; that it should have been retaken because the keeper was way off his line and so many players were running into the box before he kicked it. All of us were ashamed of the open conditions that the disabled supporters must sit in when the weather is so bad. Those of us sitting directly behind them in the James Hargreaves were horrified to see how they were so exposed. Whatever happened to the shelter that was built and was so hastily removed for the Prem season? Where is it? Why not re-erect it? The lack of shelter on offer now is dreadful.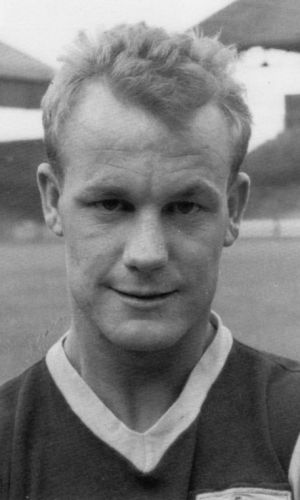 We talked too of the hard-as-nails Gordon Harris another Burnley hero who passed away. The young folk had no idea who he was. Those of us who watched Burnley in the sixties remember him well and with huge respect. He played 313 games, plus one for England, and scored 81 goals. I remember him for his wonderful mid-60s partnership with Brian O'Neil in midfield. Before that he was a truly menacing outside left with a cannonball shot. It was his cross from the left from which Jimmy Robson scored in the '62 Cup Final. His altercations with opponents were legendary. In today's game for softies he would have rarely lasted the 90 minutes. He laid John Bond out in a game at West Ham. He laid team-mate Jimmy Adamson out in the gym at Turf Moor during a 5-a-side game, something graphically described in the Willie Irvine book. He and O'Neil, plus the likes of Willie Morgan, Ralphie Coates, Willie Irvine and Andy Lochhead formed a superb team in 1965/66 that came so close to winning the title. It was a team that came to be sold off one by one, to pay the bills and some because their face no longer fitted. He was only 73 but had been plagued by ill-health for several years.
Sir Tom Finney, too, passed away aged 91. The scenes outside and inside Deepdale were deeply moving. Jimmy McIlroy rated him the best player he ever had even seen or played against; a man who could play in any forward position and was at Preston North End for the whole of his career. In Prince of Inside Forwards Jimmy said: 'Tom Finney was the greatest all-round player I have ever seen. He had more skill and skills than anyone I've known. He had tremendous speed and could score goals. He had speed off the mark, an exceptional ability to cross the ball at speed, wonderful ball control and a calm, unruffled demeanour. He scored goals slipping the ball past the goalkeeper as if he was just posting a letter.' No other player has played at outside right, outside left and centre-forward for England with the ability to switch from one to the other. He was two-footed, nimble, had superb balance, and was razor sharp. His acceleration and timing of when to make a sprint, and then shoot with either foot, was superb. He was totally unflappable even against the most brutal treatment and on top of all this was the perfect team man.
Comparisons are inevitably made with the players of today like Ronaldo and Messi. Those who saw him play insist that he could do all the things that they could do but the difference was he did them in an age when there was absolutely no protection from referees; if you were injured you simply played on and, on mudbath pitches. A few years ago he unexpectedly turned up at a book launch and the room was in awe of this modest man. Anyone who managed to get his and Jimmy Mac's autograph that night, on the same menu or picture, acquired something unique.
Meanwhile at Gawthorpe talk of promotion was banned at training. The P word they call it. It was the same in Coyle's time. Enter his room and use the word and you'd see the door slammed in your face, said former CEO Paul Fletcher. Danny Ings said there was no fine if they used it but they did get told off, he added. They don't look at the league table and just don't want to talk about it. His two goals were numbers 23 and 24 for the season. The lofted pass from Trippier for his second was the full-back's 16th assist of the season.
On Sky Burnley were mentioned in the same sentence as Barcelona. High praise indeed except it was only to say that the conditions that Barcelona were playing in were as bad as those at Burnley against Millwall. It's ten years on since the first book, It's Burnley not Barcelona. That was the season of defeats with scores like 5-6, 4-7 and 2-7. A lot of water has passed under the bridge since then. We went through near insolvency more than once, flirting with the top six with Stan, flirting with the bottom three after that; then that marvellous 2008/09 and promotion at Wembley. We've had Cotterill, Coyle, Laws, Howe and now Sean Dyche plus a change of chairman when Barry Kilby stepped down after his ten-year stint.
By now it wasn't just Somerset slowly disappearing it was the Thames Valley. The party leaders donned their wellies and splashed through the streets issuing sound-bites and having photographs taken, Wallys in wellies all of them; the deluge we experienced during the Millwall game a taster of what they've had for weeks in the south.
Bolton manager Dougie Freedman had been spouting how he had tried to sign Danny Ings from Burnley in the transfer window. He said it was the fourth time he'd tried to sign him. He mentioned an offer of £1million he'd made but the talks broke down. We discussed on the coach what planet he might be from. In his pre-match ramble he spoke of knowing everything about Danny, had a game-plan to contain him and they would squeeze the areas he operated in. We remembered Vinnie Jones who made an art out of squeezing opponents.
The yellow-jacket brigade was out in force to frisk and search us all as we arrived. The unsmiling guy who searched me was about 6' 6" and built like a brick you know what. They were looking for flares and I attempted a little humour and told him he wouldn't find any on me as I hadn't worn any since the early 70s. He remained stony faced so while his plate-size hands moved menacingly up my trouser leg I said: 'I think you call them flurs in Bolton.'
'Do you want to go in or not?' he growled with the kind of stare that Clint Eastwood used when he said 'make my day punk'. At this point I thought silence is the better part of valour, I didn't fancy a night in A&E and wimpishly nodded and said yes please. Once past him I blasted him with the invisible death ray I keep up my sleeve.
Freedman's plan seemed basic enough: smack Danny around. He was whacked and dumped in the fifth minute and after that, by his standards, had a fairly quiet game, every now and then rubbing and holding his chest as if he'd been left in some discomfort. But Freedman's master-plan didn't seem to include Vokes. He was left to finish off some intricate passing on the right, the ball coming to Kightly (ha ha Dougie you forgot about him as well,) then Arfield who then skipped along with it, and fed Vokes who scored from inside the 6-yard box. It was the deciding goal and left us all in a state of euphoria at the end; but how much more at ease we might have felt if Arfield had put away the best chance of the first half when he was clear on goal, but sliced the ball wide. When the final whistle went the massed ranks of jubilant Clarets roaring and dancing was a sight to behold. So too was Trippier's face and instant reaction; elation, joy, achievement, pride all rolled up in one small chunky bundle of beaming football talent.
Freedman lamented afterwards, citing they'd hit the crossbar and a ball had flashed across the goal. Wow: in Dougieworld this meant he thought they should have had at least a draw. To be fair Eagles and Chung-Yong Lee in the first half put Burnley under pressure on several occasions. But in the second half Chung Yong vanished and Eagles demonstrated the art of how many ways you can fire a shot up into the stands and hit a different spectator each time. His hilarious shooting should carry a Government health warning. Bit by bit Burnley got a stranglehold on the game, the defending was superb, the midfield immaculate, the full-backs adopting the Freedman master-plan of squeezing the wingers in the areas in which they operated; (the brick wall that was Burnley, said one unhappy Bolton website). From our front row seats it was close up and personal – the grit, resolve, bravery, the headers and blocks and the immense camaraderie.
Dyche thought his team was outstanding. The longer the game went on it was hard to disagree. He'd talked with the team about being relentless and limitless; the strikers instructed not to put limits on their scoring targets. And whilst Dyche seems to possess the wisdom of Nelson Mandela, the competitiveness of Attila the Hun, the motivation of Dale Carnegie, the insights of an industrial psychologist, and the rhetoric of Winston Churchill: as for Freedman, it was hard not to come to the conclusion that he seems a bit of a Wally; something that Gartside too has probably noticed.
The Supporters Club ran a weekend trip to Bournemouth. Alas we had to give it a miss because of a bit of a family 'do' on the Sunday. Every single away ticket had been sold. The weather forecast for the Friday journey was horrendous yet again; the south of England slowly sinking beneath the waves. The word was that on Friday morning it had been pouring down for several hours over Bournemouth. In Burnley it was hail. Every hour our chums Anne and Pete sent a text and others were on twitter:
Coach left at ten past ten… 40 of us…we can hear the clink of wine bottles… how nice… 12.30 bar now open… on toll road weather atrocious… Banbury cake in Banbury… weather still awful… stuck in traffic… pitch inspection at 7.30 am. .. not looking good… the most horrendous conditions imaginable …trains stopped between Southampton and Bournemouth… 10 to 7… weather horrendous… just seen sign 10 miles to Bournemouth… here at 6.30 and straight into dinner… not good news about tomorrow… 80mph gusts of wind all along south coast… absolutely shocking weather and no signs of that changing… absolute nightmare down here at the moment… a wild night… some people have changed rooms because of rain coming in… tree blown down behind the hotel…
Come midnight: Here in Poole gusting wind is now very mild and very drying.
At 7.30 am. The game was declared ON. In the hotel at breakfast there was relief that the night was over and a buzz that the game would go ahead after several hours of doubt and thoughts of a wasted journey. Burnley to Bournemouth: that's a long, long way and an awful lot of people, down for the weekend, were already there. Anne's texts resumed:
Met team walking round Durley Park… on coach just setting off windy but sunny… in the ground only got Pukka pies… been in club shop… makes Burnley's look rubbish… impeccable minute's silence for Tom Finney, at kick-off clouds came over and we sat soaked on second row… just as wet and grey on pitch… we are terrible, don't think we had a shot yet. Can see blue sky so hope it gets better… Stewart next to us eating large pasty …
I've seen Stewart eating pies before. It's a homely sight. On what Sean Dyche described as one of the worst pitches he's seen, Burnley fashioned a 1-1 draw and a point. On Sky, the match summariser was Paul Merson. If he was clearly unimpressed and probably nodding off watching it on TV, he made damned sure we nodded off listening to his drab, dull, mournful words of wisdom. In truth it was a poor game said most people who were there, comments ranging from uninspiring to stinker. Dyche was more tactful commenting that even with half the team below par they had still taken the point.
The most satisfied person on the pitch must surely have been Keith Treacy when he scored the equalising goal. During Eddie Howe's reign he had been banished for his sins to the Siberian outer edges of Gawthorpe, with Howe having washed his hands of him and his problems; funny how football sometimes works out. Dyche has slowly rehabilitated him and drawn him back into the fold. However, whilst most other folk were probably relieved to get back up north, Treacy was no doubt singing 'Oh I do like to be beside the seaside,' all the way home.