Credit to him: his City side were on track for promotion back to the Championship and he is clearly back in football with some style. Overall; he did well for Burnley but a Mirror feature contained a quote from him that caused no little interest.
Then Burnley was a fight, we were inches away from administration. I made them £15million quid in cup runs and transfers. But I couldn't get 300 grand and I spat my dummy out and left. I shouldn't have because the team I put together won promotion. I was too impetuous. (Steve Cotterill)
When Steve Cotterill arrived at Burnley, the cupboard was bare, the jar on the mantelpiece was empty, there weren't enough players to actually put out a respectable first-team and the club had hung on to its championship place by the skin of its teeth. With minimal resources Steve Cotterill kept the club in the championship, worked miracles for the first part of his tenure, then, truth be told struggled for the second, hamstrung by lack of money, and players, it is said, he was beginning to alienate.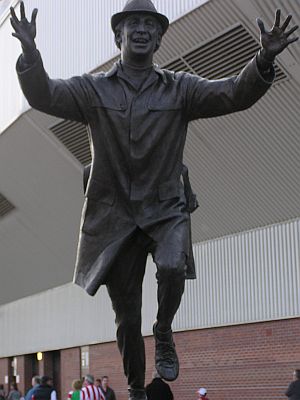 Bob Stoke danced with joy after beating Leeds
By the time he left, even with players that, yes, formed the nucleus of the 2009 promotion team, he had quite simply run out of inspiration. Several of those players had quite simply had enough of him. The parting of the ways was not so much Steve C spitting out his dummy and leaving, it was because he was asked to leave. It was inevitable, with falling gates, disappearing fans, and two long winless sequences. He had done his absolute best; there is no question of that, but he had run out of steam. For his sterling work in maintaining the place in the Championship, he will be remembered with respect; but it was clear a new man was needed.
Footballers who write their biogs and ghosted autobiogs will always put their own spin on any story they tell. Brian Jensen by the time Cotterill left clearly had little time for the man. In his book he recalls that there was always a difficult relationship between them; that Cotterill never saw eye to eye with several players and never had the support he craved. The roar of his Aston Martin at the training ground when he arrived was purely to impress them, they felt.
'He slagged people off for no reason. He was moody. In my view he was an arrogant beggar who had his head so far up his own ass that it was quite painful. He did not like me and I did not like him.'
As for Steve Cotterill spitting out his dummy, it was a strange way to do that when he sat in on his own 'departure' press conference. As for being impetuous, perhaps that is true. Brendan Flood recalls after a defeat at home to Southampton he went into the chairman's room angry and swearing. 'He was venting his spleen quite spectacularly about the players, the club and everyone who was at fault apart from himself.'
After Burnley it was a long and hard road for Steve Cotterill until he landed at Bristol City, turned things round and fashioned a team to battle it out for a promotion place, and a place in the Wembley Final of the Johnstone's Paint Trophy after centre-forward Smith brushed Gillingham aside with a Matt finish.
I had another attack of severe nostalgia again the other night. I'd just watched the second leg of the Chelsea Liverpool Carling Cup game and it was as if the clock had been turned back a few decades. The game seemed simple back then. Forwards tried to score, defenders tried to kick them. Tactics were uncomplicated and most games were end to end with supporters on the edges of their seats. Teams had five forwards, four in the 70s, with one thought only – to get in the opposition penalty area. Tracking back and helping the full-back – what was that? Flooding the midfield was an unknown expression; channels and transition – never 'eard of 'em.
And Chelsea v Liverpool took me back to all that. It had confrontations, dazzling forward play; there was a get-stuck-in passion to it. Hazard was like an old-fashioned winger of yesteryear. Costa put himself about like they did in the 60s and 70s when you put your stamp on a game, let defenders know who was boss and kicked first and didn't bother to apologise. 'Welcome to the game son,' as Andy Lochhead would say.
Players were felled, melees and brawls broke out, just like in the 70s, and the tackles were flying in hard and fierce. 'If the referee doesn't see it, it isn't a foul,' Paul Fletcher always said.
It was a cracker of a game with a referee who let them get on with it. Only one goal there and ironically it was an old-fashioned centre-forward's goal, a bullet of a header when he rose like an eagle, but scored by a full-back. The modern game oddly enough provided the clinching moment.
There was much talk of Costa over the next few days and the FA landed him with a 3-match ban for his behaviour during the second-leg. Brilliant player but watch where his feet and studs go; his bruiser of a face, a face that would frighten a police horse, with the cold eyes of an assassin, a throwback to Victorian times and those bare-knuckle, brawling, brutal pugilists who knocked each other senseless for a few quid. His style is rollicking, rough, rumbustious; with him you take the bad with the good. You can only say a silent prayer of thanks that he doesn't have teeth to match his studs.
Friday 30, Stardate 2015 and Burnley had still to find any reinforcements in the window. In truth there was little activity anywhere. Trips to Burtons, Poundstretcher and Spar were so far fruitless. Sean D had announced that it needed one big move somewhere to spark the domino effect so that other deals then followed. He revealed that a bid for Dundee United's Stuart Armstrong had been turned down. This was a strange one. The lad had a 100+ games behind him, was a key player to his team with goals and assists, had won various awards, but he was reportedly one for 'Development' at Burnley. The lad, I am sure, would have been delighted to go into the reserves at Turf Moor.
The not-quite-a-bombshell but almost was the Daily Telegraph report that Liverpool were lining up a £10million bid for Danny Ings but would loan him back to Burnley for the rest of the season. Our ears pricked up at that one, a deal that would satisfy everyone, clubs, player and fans although several Liverpool fans took to the web to say he wasn't good enough for Liverpool. Liverpool fans of course have had plenty of opportunities to recognise players not good enough for Liverpool having bought dozens of them since Benitez stripped Europe bare of expensive, mediocre players with Brendan Rodgers following suit.
The news was immediately scotched by the club when Lee Hoos pointed out that this kind of deal between two Premier clubs in the same transfer window was actually forbidden.
Saturday 31: the closing of the window only two days away, and a game at last with Burnley on the road up to Sunderland with Gus Poyet saying this was the game that could kick-start their season. Sunderland: forever associated with Raich Carter, Len Shackleton and Brian Clough, but a bit of a soap opera club in recent years, especially when Paolo di Canio was inexplicably appointed manager and whose parting shot when he was fired after an unprecedented mass rebellion from senior players, was to tell them they were cowards and rotten. There were stories he forbade laughter at the training ground. After di Canio the club needed calmness, composure and a level head. So they appointed Gus Poyet.
Sunderland was Jimmy Adamson's boyhood team and he went there for a short spell to manage, taking with him so many Burnley staff and players that the Mackems were seriously worried he'd change the colours to claret and blue. It was Adamson who was largely behind the sale of Gordon Harris from Burnley to Sunderland in the late 60s. Who will ever forget Bob Stokoe's dance of joy at Wembley when Sunderland beat Leeds United in the FA Cup Final. It was Stokoe who accused Don Revie of trying to bribe the opposition. Nothing was ever proven, but why make it up? Revie and money were two words often spoken in the same sentence. But back in the 50s it was Sunderland accused of under the counter payments. As far back as 1904 they were found guilty of dodgy dealings.
The day freezing, the journey treacherous for the 3,000 who went up there; the day before, several east-west roads across the north closed and stretches of northern routes clogged up with marooned lorries. Picture postcard photos filled the papers of the snowy wastes with farms and cottages peeping through the snow. Give me Kalkan in September anytime. The Clarets are a hardy breed, however; so stocked with pies, thermals, flasks and long-johns off they went with the same valiant determination as Scott of the Antarctic and Nanook of the North. Not that long ago I spent two years driving up and down the A1 in all weathers once a month – not nice.
When they got there, there was little to cheer about in a performance that by all accounts was as drab and dull as the awful grey/silver strip the team wore, the 'Bacofoil kit' someone dubbed it. The big talking point however was the substitution of Danny Ings taken off and replaced by the Jut. 'He's going on Monday,' said the conspiracy-theorists. Actually no: after the game Dyche revealed that he had contemplated not playing him at all on account of the pressure that the player had been under with all the transfer speculation providing such unwelcome distractions. Presumably that was a kind way of saying that Danny's head wasn't quite right. The look on his face as he came off and threw his gloves to the ground suggested he was not best pleased.
Those who were there were vociferous in their disappointment at what was seen by many as a poor performance, with both Sunderland goals so simple when an overlapping full-back got the cross in and the scorers were in acres of unmarked space.
'Very poor today just weren't up for it… really poor performance no urgency…shocking performance against one of the worst teams played this season… not enough energy and flow… a bad day at the office we just never showed up… dull boring predictable, unimaginative and shocking defending… an absolute shocker from all concerned… a game where we never carried any threat… what a miserable day that was. '
A few comments were a little less barbed:
'50% possession and more shots than them, not shocking… Heaton had pretty much nothing to do, but poor defending for their first and poor finishing at the other… created more chances than Sunderland but lacked finishing quality… '
One comment was hopefully not a portent of things to come: 'reminiscent of the listless, aimless performances that characterised the grim back-end of the 2009/10 season.'
Yet, in spite of all the dozens of adverse reports, how different it might have been had Barnes made better use of a Jones free kick out by the touchline in the first half with the score at 0-0. His header from the 6-yard line was put wide from a glorious position. He knew he'd missed a golden chance that would have totally altered the course of the game. Boyd too slipped so that he under-hit a shot from a great position.
Even with another defeat Burnley remained out of the bottom three when every side beneath them also lost. With that in mind perhaps the most telling comment was: 'the big frustration is how close we are to survival if we could just be a little braver in affecting the market in the next 48 hours.' Dyche was still suggesting that deals were edging towards the line but few fans were expecting anything much.
Not the best of weekends then; England trounced by the Australians in the one-day Final, Murray trounced by Djokevic in the Aussia Open and Burnley comfortably beaten. We sat and waited hopefully if not expectantly on the final day of the transfer window to see if anything might happen to re-invigorate a team that despite a two-week break looked both mentally and physically jaded. SKY had ditched its practise of having reporters outside the ground because uncontrollable, leering, pushing, shoving, gurning, goonish fans had made reporters so uncomfortable. Shame, it was half the fun.
Transfer deadline day and I switched on at 10.20 with notepad, coffee and slimmer's world biscuits to find a SKY bimbo in cleavage-revealing (I've seen better) purple dress at the media centre. 'This is where all your tweets and messages will come in,' she purred.
'Christmas Eve for football fans,' tweeted that soccer sage Joey Barton.
10.40 a.m. Good Lord a mention for BURNLEY: and at the SKY investigating hub it was revealed by SKY sources that Burnley had lodged a £3million bid for West Brom's Graeme Dorrans.
11.10 a.m. alas I had to drag myself away from the hub to go to Wetherby, without any further updates.
3.35pm: return from Wetherby, back to the armchair, pot of tea, KitKat, and the news that Burnley's Dorrans bid has been gazumped by Norwich and Danny Ings rumoured to have signed a pre-contract agreement with Real Sociedad.
4.10pm: The SKY guy at West Brom reports that Dorrans is at Norwich for a medical and is discussing personal terms.
7.55pm: Nothing to report other than Lansbury's name coming up and then a tweet – 'the lights are on at Turf Moor.' Ings tweets he's gone to the pictures to see American Sniper.
8.00pm: HA HA JIM WHITE at last takes his seat at the desk for the last pulsating three hours resplendent with brilliant yellow tie and pocket handkerchief.
10.20pm: absolutely nothing doing but Danny Ings will be staying at Burnley says the reporter inside the ground who sums up the evening – no Graham Dorrans, no Henri Lansbury and no Stuart Armstrong. But: Lee Hoos, he says, is still in his office hopeful of pulling off one last deal as white smoke comes out of one of the chimneys.
11.00pm: Camera shot of Big Ben as it chimes and the window shuts, although if a club signifies to the Premier league that it intends to sign a player, it has another couple of hours to complete the paperwork. Not a mention of Burnley where all deals and attempts have failed, and what money there is has stayed in the jar on the mantelpiece.
No doubt it's been a long day at Turf Moor Towers. But there's nowt to show for it.