I just wish I had a memory for jokes. Mike King cracked so many nonstop for 25 minutes that most of us had face-ache by the time he'd finished, except for a couple of PC riddled folk who walked out because they thought some of the jokes racist. Since when has mimicking an accent been racist? Would they walk out if I cracked a joke using a German accent, an upper class twit, an Oirish accent, or a Cornish accent moi lovely? Can we not tell jokes about an Englishman an Irishman and a Scotsman? Some people need to get a life and learn to distinguish between what is truly racist and what isn't. They should watch Citizen Kahn where the running joke is the Mosque manager is a dozy white Brummie.
I have one standard joke I use at weddings, funerals and Bar-Mitzvahs. It makes fun of the legendary and stereotype meanness of Yorkshiremen. I tell it in a broad, thick, Yorkshire accent. Is that countyist?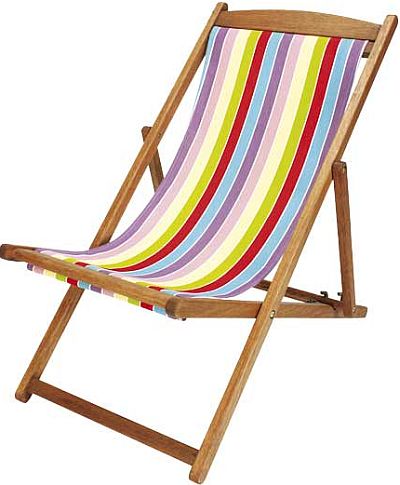 Deckchair for Lee Grant
Des Kelly in the Mail on Saturday asked a good question regarding the racism malarkey at Chelsea. He asked, how come the Chelsea players heard Clattenburg abusing Mikel, but didn't hear Terry abusing Ferdinand? Just about everyone in football from Fergie to Wenger is saying what a load of tosh it is.
Meanwhile, back at the launch, Mick Docherty was mine host, Steve Kindon kicked things off and Kingy finished off the evening. We even ran out of raffle tickets people were in such a good buying mood. What we raised with the raffle and the auction will go to a Cot Deaths foundation.
So not at all bad for a fiver indeed then; the room was absolutely filled, the atmosphere was great and the top table of half of the team of the seventies did their Q and A session with aplomb. You can feel the friendship these guys have with each other. As PF said, "You probably won't see the Chelsea team getting together 40 years from now like we do." Actually perhaps they will – but only to celebrate the 40TH anniversary of invading Clattenburg's dressing room and threatening to break his legs. What a deeply unpleasant lot they are.
Saturday morning and there was a queue at Smiths for the signing session. The publisher says at the rate its going he won't have many left soon – but there are still copies at Smiths, club shop and just one box load of 18 signed by Fletch from me.
The game a couple of hours later was terrific. When he took the job on Dyche knew already that Burnley were a 'soft' team. He told the directors. He saw it at Cardiff up close. Not for one minute am I going to say he has made us into a set of square-jawed hard cases overnight or can possibly do that in just a few weeks. But what Burnley did show against Wolves is that they can be a hard team to beat if they group and defend like they did to a man in the last 30 minutes or so. They had to as Wolves took most of the game over and moved forward relentlessly. But more often than not they moved into the blind alleys created by solid defending and two holding players. When they did create a chance, Grant was there to mop up impressively. This was a far different type of display than what we say at Cardiff. And that was what Dyche saw – a 'soft' team.
What he did do was give Marney a role that was more up front where he harried and hassled and as someone else said if he had a finishing shot to match the rest of his game in this role he'd be a fantastic player. Edgar was brought into midfield and had the best game I've seen him play. Man of the Match could have been any one of half a dozen players.
Wolves were uniformly big, muscular and 'orrible. But our unlikely liquorice allsorts collection of all shapes and sizes outfought them and ran and hassled and covered and regrouped and held on. Two nil was never really a comfortable lead; this is Burnley innit? I sometimes think we'd chew our nails if we were winning 5–0. Charlie got back on the goal trail for the second. I'd just said to Mrs T that he was now having a lean spell, and within a minute he heads home. Pato got the first from a lovely through ball down the flank by Mee; cut in and fired home under the advancing keeper.
Ah ha now then: I've remembered one of the jokes and I can't decide whether to tell it in a Punjabi, Welsh, Irish or Southern Fried Chicken accent… anyway…
A fella has bought a car from the local corner garage and he takes it back and complains… hey my car is no good… when I go up Manchester Road I can't get it past 80…
So what's up wi' that then… says the garage bloke in a thick Burnleh accent…what d' yer want to go past 80 for…
Cos… says Mr Patel… I live at bloody 120…
The impeccable minutes silence before the game brought a lump in my throat, the big Union Jack, the Last Post, the silence. Thoughts of John Connelly, my grandfather who somehow survived four years of WW1, and my father who did the last two years of WW2 in the RAF in Egypt, were all jumbled up. It was an emotional moment. My grandfather sometimes spoke of what he went through. In a word it was hell.
I spent chunks of the game watching Dyche and his assistant on the touchline. He was there constantly; barking orders, cajoling, urging, prompting, instructing. When he wanted them to move up as a unit he let them know. When he wanted them to fall back as a unit he left them know. When someone did good and harried and hassled and pressured a Wolves player in to a mistake he showed his appreciation. He was vocal, instructive, demonstrative and ever-present, visibly leading from the touchline. There was a picture in the programme of him in full vocal flow on the line presumably in a game versus Watford; in the background was an expressionless, blank, hand-in-pocket Howe. Surely the programme editor wouldn't have put this picture in on purpose I wondered – surely not?
An email arrived from David Greenwood from Colne. It began:
"I thought I'd let you know of the consequences of your Clarets Mad articles…"
Dear God my heart skipped a beat and I wondered what I'd written, who I'd upset, had he contacted his lawyer yet…
And then I continued… nervously. All was well; it was all to do with what I'd written about Kalkan a while back. It had inspired David to take his wife there for her 50TH birthday. They had been planning to visit Turkey and on the strength of the unpaid Kalkan promo work gave it a try and thought it was wonderful. People have interesting stories: his granddad was Johnny Greenwood who played cricket for Todmorden in the late 1920s; then Nelson poached him and he played in the same Nelson side as Learie Constantine. After that his granddad then had the same problem as Owen Coyle in Burnley and didn't dare set foot in Tod again.
It's been a bad week for me nerves then. A Leeds game always makes me nervy as well. I live there and my neighbour is a supporter. There's a Jimmy Adamson book I'm working on for next year and two big chapters are to do with Jimmy Adamson's two-year spell at Leeds. In spite of getting them to fifth and a place in Europe he had a torrid time there and it all went pear-shaped with some of the worst supporter demonstrations and abuse ever heard at Elland Road. Revie's shadow enveloped the place like a shroud and the Leeds experience finished off any last, lingering interest he had in football.
Facing any Warnock team you know you're in for a tough time. The Leeds paper I got on matchday morning listed team spirit, resilience, fight, toughness, a never say die attitude and effort. They wear teams down and grind out results. Warnock himself says there's no great quality and they might be limited. The guy who ferries us back and forth to airports is a die-hard Leeds fan, and possesses that rare quality – fairness. He says Leeds are a very average side but Diouf makes them tick and lifts them that extra level. But apparently now that he is back in the limelight he is unhappy with his wages, or at least his agent is, and may not be there much longer (or at least that was the threat).
Against Leeds the 'new' toughened up Burnley emerged again. The away end was packed and the noise from them incessant. I wondered if they saw the same game as Warnock who moaned that he'd never felt so disappointed and Burnley barely had a shot all night. Funny that: I thought goalkeeper Kenny saved them from a much more emphatic scoreline. He made good saves look easy. At the other end Grant could have brought a deckchair out. Warnock was right about one thing though. This is a Leeds side without class or quality, but high on effort, grit, spirit and attitude. Alas none of that wins championships. Much of Leeds' game was Cotterball, the ball pumped high into the air with agricultural clearances the aim being to get their first, or win the second balls. Pretty this was not; what few real flowing moves there were came from Burnley. Leeds had a couple of chances. Burnley had several but Kenny was inevitably there.
Diouf was anonymous until his reptilian side emerged whenever there was a free kick to dispute or an opportunity to snarl in the referee's face. Mee was taken out by a crunching tackle; Trippier was lucky to walk off the pitch at all after Drury left a foot in. From that point on Trippier was simply magnificent and deserved a medal for sheer heroism as he played on in obvious agony. From where we were we could see it in his face. Sweet justice then that the cross for the one goal of the game came from him so that Charlie scored his 20th of the season. What an astonishing feat that is. One man team – not at all. There are ten others making the goals for him, and the goal itself was the result of a superb four man move.
On a vile, wet night, no–one could say this was a classic game but nevertheless it was a game that if you took your eyes off for one minute you were likely to miss something, not the least of which were the sly handballs that Leeds got away with, and Mee being sent sprawling in the penalty box when he had burst through.
The drive to the game took two hours to do just 40 miles. We cursed and humphed. The quick drive home was all smiles on empty roads. And here's that Yorkshire joke:
An elderly bloke is in bed upstairs and he's really ill and about to snuff it… then he smells his old wife's new baked cakes she's just taken out the oven…. They smell fantastic and they're his favourites so he drags himself out of bed, struggles down the stairs, makes it to the parlour… and is just about to take a cake from the plate… when in comes the wife and stops him and yells… what are you doin'?
I'm 'avin' a cake… they're my favourites he says… oh no you're not she says… get back ter bed… they're for yer funeral tomorrow…