We were in the Prem and been with the big boys. Therefore we must be one too. Garry Rowett the Birmingham boss said we had a vast array of attacking options available to us. McCarthy said the win over Burnley was a measure of how far Ipswich had come.
It was predicted by the pundits that we'd expect to go straight back up. Lots of the experts thought that too. Of course we know this is rubbish; that it's some kind of inevitable foregone conclusion. And anyway giants get more than 14,000 coming through the door and the last time Burnley ever threw their weight around was in the shape of a certain Mr Bob Lord.
When we went up in 2009, we were the underdogs. When we went up in 2013 we were the underdogs. We've always been underdogs. We've traded on it. We've never lived in the fast lane, champagne has always been in short supply, success here has always been against the odds. But what there has been and written about so well by Tim Quelch in his book Underdog, is inspirational leadership, guile and drive, a hard-core of talented players, resilience and spirit. And every now and then it all clicks, the faces fit, the right manager arrives, the players gel, and the rewards come our way.
Harry Potts took over an Alan Brown team and brought huge success. Jimmy Mullen took over a Frank Casper team and brought success. Owen Coyle took over a Steve Cotterill squad and inspired them. Sean Dyche took over an under-performing Eddie Howe group and inspired and motivated it beyond all our expectations.
The Tim Quelch book, a joy to read, recently re-issued in paperback, contains tales of all those clubs that have battled against the odds, faced uphill battles, lived the dream, then endured nightmares; it tells of amazing league and cup runs by minnow clubs, improbable feats and looks at clubs that have risen to the heights only to fall like Icarus back to earth as rapidly as they rose. Then there are those clubs that embraced dodgy benefactors such as Robert Maxwell, the bouncing Czech, before returning to their true level.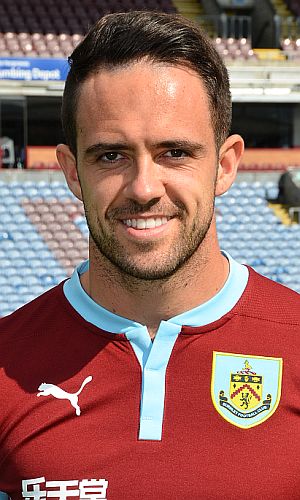 Danny Ings is on the bench
Of course it includes Burnley for this is Tim's team. A substantial section looks at the phenomenon of Adamson's 'Team of the Seventies' with observations from Paul Fletcher, Colin Waldron, Geoff Nulty and Martin Dobson. It was a team that was built on a shoestring, briefly flirted with the top of the old First Division, and then headed ever downwards as Old Bob flogged off the best players, there were no more new kids on the block, and eventual penury beckoned.
Did you see the travel programme on ITV about Tenerife the night before the Ipswich game? It featured a variety of families on an all-inclusive package holiday in one of the big flash resorts along with couples, gays, and a trio of Brummie girls who gave new meaning to the word dim. There was a family of four with a young lad who had a Burnley badge on his shirt. There was an older couple clearly Clarets because he wore his claret shirt round the hotel and his woolly hat up Mount Teide. The guy tried to challenge the barman to a drinking competition using words like 'drinky drinky'. The barman looked suitably bemused. It was all cringeworthy stuff.
All these good folk were clearly chosen for their 'entertainment' value and the whole thing was probably nudged and edited to bring them all out in the worst possible stereotype way. Not all people from Burnley are like this. I know. After a long search, I met one once.
Sample one liner from Brummie girl number 2, as they were at a wine tasting trip: 'With my steak I like red but I like white with Nandos.' If you missed it have a look on Catch-up and see if you know the Burnley people.
'This side isn't going to scare anyone,' began one of the leading independent Ipswich websites. It did a good job of analysing Burnley so far by using dozens of tweets and posts from twitter and Clarets Mad. You couldn't help but agree with the opening sentiment. It hasn't taken very long to spot that too often now in the games so far, that Burnley had played the long ball more than we were used to. Of the three defenders only Darikwa seemed able to bring the ball out at pace from the back.
Ipswich on a Tuesday night: the computer with unfailing consistency threw up this ghastly mid-week journey again and it was an extra £2.50 for Clarets to pay on the day. It could have been worse; Carlisle fans had to go to Plymouth. Ipswich got to the play-offs last season and this time round were fancying their chances. Das Boot was still awaiting international clearance but apparently it arrived while the team were travelling so that he was on the bench. Burnley trained in the afternoon at AFC Sudbury on a new 3G pitch. The Jut, benched despite being Burnley's most effective forward against Birmingham, was replaced by Vokes.
Of course this meant that later in the evening tweets abounded that the Jut would be on his way to Forest as part of the Lansbury deal with a local Nottingham reporter stoking up the flames again. By the end of the evening after the defeat at Ipswich, there were several suggestions that any forward could go to Nottingham as part of the deal if it meant Burnley might acquire an effective midfield player. 'Five strikers and one goal between them,' was one disgruntled tweet.
Vokes on for the benched Jut was eventually replaced by Jut. Hennings came on too. It made no difference; the Ipswich website was correct. 'This side isn't going to scare anyone.'
The bare truth is that Ings, Trippier and Shackell had gone and not been replaced by anyone as good, let alone better; Marney's influence clearly seen by his absence and Shackell hugely missed. The annoying irony is that Ings and Trippier were sitting on the bench at Liverpool and Tottenham as we all suspected they would. Ings knew what he was doing, Trippier, told by Duff and other players that he just had to move, sat I suspect on that bench thinking if he'd stayed at Burnley he'd be playing. Plus Lowton and Ulvestad were out of action.
The second goal conceded: a header from some distance from a corner would no doubt have had Dyche and the coaches livid at the freedom given to the scorer who powered in and headed home with little or no opposition from defenders. The first goal was from a low cross sent over by the attacker who had acres of room to do as he pleased. The defending for both goals was slack, slipshod and sloppy. And at the other end we all know what the problems are although to be fair Kightly hit a post.
It could be argued that Burnley had a decent first half, looked untroubled and might even have been the better side. But what use is that if the strikers can't score. Our selection of strikers is currently like a box of Liquorice Allsorts, faced with a choice just which do you pick first, and which do you leave 'til last? And which one do you just not bother with at all? And on top of all that we have the new lad Long to add to the mix when he is fit. He scored for the Development side in midweek.
Strikers Vokes, Jut, Vossen and Hennings all had time on the pitch. Dyche afterwards said he needed more from his forwards. He talked of transition. He talked of losing Trippier, Ings, Shackell, Marney and Barnes. 'We are down to the bare bones of the squad,' he said.
Some comments from the 470 that went and endured the usual motorway road closures and diversions, said by one traveller to have been the worst he had encountered in the last 10 years, did not make good reading: Our strikers are embarrassing at the moment… not doing my health any good this lot… up front is a mess…no flare or creation in midfield… going to be a long season… vulnerable at the back…well that was depressing… what is wrong with this team… time to go back to the drawing board… did I really think top 6… it could have been worse, the coach could have broken down…
But there was also sympathy and understanding of the situation: the scoreline was harsh… Hennings looked a real livewire…for two thirds of the game a defeat hardly looked likely…don't start pushing the panic button we are only three games in… if we'd had the right penalty decisions we'd have had 6 points on the board… we were promoted in 2009 after a poor start… the management are working damned hard to bring people in.
Just three games in, true enough, but SD already saying we were down to the bare bones of the squad and in transition. All true enough but also true was that this squad desperately needs a big, ugly, hairy, physical, dominant centre-half to get the back line sorted. It needs a dominant midfielder to free Arfield to get back to his best role. It needs Boyd to get back to the player he was up and until the City game last season. It needs one of this plethera of gentlemen strikers to start scoring and using a bit of muscle. It needs an injection of real pace all the way through the side.
Support may yet arrive. Sean D said we are looking to spend as much as we can, pushing the boundaries, active in the market and looking for big signings. We have money. I'm talking millions. The club is not trying to keep money back and he certainly wasn't.
Brentford next up at Turf Moor, promoted in 2014 and currently on a roll. Times were when they would have been the minnows and we'd think 'hey it's only Brentford.' But with things as they are at the moment they could not be disrespected, no assumptions could be made; this was no time to look down our noses and think 'Brentford won't be a problem.'
Ironically they had said some months ago that Burnley winning promotion was the inspiration and model for other small clubs and had proved that the 'little' club can hit the heights on a tiny budget. So here they were, little Brentford against the fallen giants, and nobody was confident that this would be any kind of an easy win and even wondering if a draw would be a good point.
48 hours before the game all us tweeters probably gawped at the screen when the Forest chairman tweeted that Lansbury would be staying at Forest. He'd added a picture of himself with Lansbury on a sofa somewhere with their arms round each other. Lansbury, wearing a silly hat, red shoes and ripped jeans took the word plonker to a new level. How this is 'style' is beyond me. In fact at first I wondered if it was Charlie Cairoli. The word was that the deal was set, both managers happy, but the Forest owner had a paddy because he hadn't been properly kept informed and so pulled the plug in a fit of pique. A local Nottingham journalist seemed satisfied that this time the protracted saga was indeed laid to rest. It seemed emphatic and final.
But, I wondered, if my maths is correct there are 104 central midfielders plying their trade in Divisions 1 and 2. Surely there must be one of them that could step up to the Championship and the jar on the mantelpiece still had £4million in it.
Goodbye Lansbury but hello Andre Gray from Brentford for what was believed to be something around £6million. We were all gobsmacked. It came out of nowhere. No wonder Dyche was upbeat in the Thursday press conference talking of spending big and surprising people. The Gray thing emerged only 36 hours before he signed with reports we'd bid £9million on BBC, Talksport and SKY. People guffawed and muttered gerraway, this is Burnley not Barcelona. One guy laughed so loud he reportedly had a hernia. The websites were filled with promises that if this was true: 'I'll bare my a*rse in Burton's window,' and other assorted pledges. One guy promised to run round the pitch naked ten times.
But: through the afternoon there were reports of sightings of Gray in Burnley. Then one fan posted a pic of himself with Gray, mercifully not wearing a silly hat, outside TM. Hell this actually looked really promising. Were Burnley really going to break their transfer records? Gerraway we said again. But by Friday 6.30 pm Gray had signed and the guy with the hernia was asking, who's laughing now then?
Tweet of the week: 'The moths of Burnley need a new home. The wallet is open.'
And a tweet from the boardroom: 'Er who's got the receipt, fer Gawd's sake don't lose it.'
Keen not to miss anything I raced back to the internet after a very nice tea of scrambled eggs and salmon with brown bread and butter. And there it was. Gray had signed. Cor blimey! The mathematicians were asking, now that we have 10 strikers, how many different pairs is that if we play two up front or how many combinations if we switch to 4-3-3?
With supreme irony next game up was against Brentford but Gray had been signed too late to play. He sat with his pals in all the gear n caps n stuff innit, in the Bob Lord. Five of them sat looking cool and folk were thinking ey oop it must be a Boy Band from BGT. Lord knows what Bob Lord would have thought of it all. He went apoplectic when Tony Morley wore an ear-ring. The newly restored sense of optimism was increased further with a welcome 1-0 win. Hallelujah! Euphoria reigned supreme as next, we sat back to wait for a new midfielder.