Win: and it was still all to play for. Not quite make or break then, but certainly the first of the five remaining moments of truth.
The signs were not good with Leicester having dominated games at Turf Moor in previous years. Their recent form of three consecutive wins and a bunch of goals did not bode well set against Burnley's extremely poor form and a pronounced goal drought.
The aftermath of the Everton game rumbled on quietly for two or three days. The pundits on the SKY Sunday sofa pointed out that the type of penalty denied to Burnley when the Barnes cross cannoned into the defender's outstretched arm, using past evidence, would have been given by referee Jones to a home side.
The Burnley players were adamant that Mourinho's savaging of Barnes following the Matic incident was now contributing to referee decisions against him. Who knows if Jones thought 'ey up it's Ashley Barnes, he's got previous.'
With 66 fouls clocked up, more than any other Premier League player, you could well imagine Mourhino feeling smugly satisfied. In fact this is only 2 fouls per game, hardly criminal considering the front-line position he plays in.
And of course reference was made to the attempted trip by Jagielka on Arfield as he slalomed his way across the penalty area. Arfield stayed on his feet; the pundits to a man said that had he gone down the referee would surely have had to give the penalty. It made the Barnes first booking for the scythe that completely missed all the more significant. Barnes was booked even though the opponent stayed on his feet. Jagielka was not. On such inconsistencies are games won and lost and seasons determined.
The loss of Barnes meant changes had to be made. With Taylor fit again there were actual choices available. Would Taylor play on the left or Kightly? Would Taylor play in the middle with Arfield returned to the left? Might it even be Sordell on the left? Would the Jut replace a struggling Vokes? We knew one thing for sure; wholesale changes are not the Dyche style.
Questions, questions, questions: could Burnley shake off the Leicester hoodoo at Turf Moor? Could Ings or anyone else for that matter bag a precious goal? Would Burnley's nemesis, the injured Nugent miss the game? Could Burnley begin a three or four game run that would see them escape the drop and reap more of the Premier League millions? Would Hull and Sunderland lose, both with difficult away games? Might there be another fairytale story to add to that of last season? And should we head for the Queen or the Kettledrum for a change after the game?
In the run-up there had been much to celebrate. St George's Day (are we still allowed to fly flags and celebrate this by the PC brigade?) The Queen's 89th birthday, Princess Beatrice's 14th foreign jaunt in the space of just 6 months, NHS bosses receiving fat bonuses, the anniversary of last season's joyous promotion, the announcement that middle-age now starts at 74, cheap chickens at Tesco, and for us men it was refreshing to see Poldark stay fully clothed.
Further cause for rejoicing: each day that passes by was one less day to have to listen to prattling, pontificating politicians. I swear if I see one more of them visiting a primary school to sit with toddlers doing jigsaws and hand-prints and trying to have conversations with them, I shall puke. Labour was blessed by an appearance from the oleaginous Tony Blair which I would imagine promptly lost them thousands of votes. The Tories wheeled out Boris Johnson and what was meant to be an ace publicity shot of him holding the flag of St George in front of a London Bus was spoiled by a gust of wind that wrapped it round his head.
'We have a lot of respect for Burnley, it should be very much like a cup-tie,' said Nigel Pearson ahead of the game. Hmmm, not quite what he said after Burnley snatched a draw at Leicester earlier in the season when Burnley fans deemed him to be downright rude and showed clear disrespect. The welcome and reception from the front row Bob Lorders should be interesting, one could not help thinking. Comments about him on various Burnley fan websites were in the main unprintable.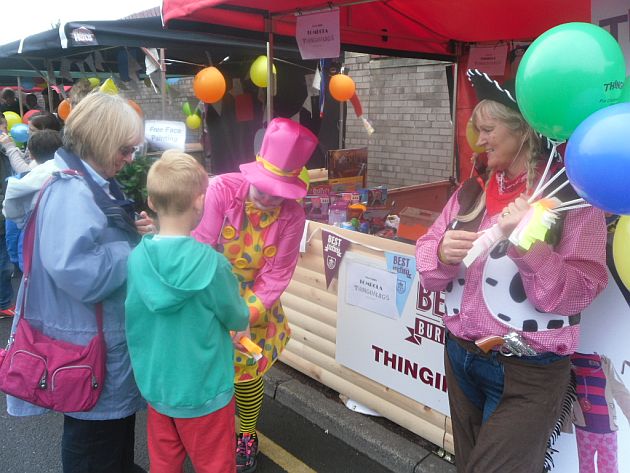 At the Turf it was the fun-fest on Harry Potts Way to celebrate The Best of Burnley, a celebration of local business, culture, food and music. The stereotype view, south of Watford, of Burnley is well known: cobbled streets, terraced rows, mill chimneys and Lowry townscapes; clogs, whippets, flat caps, fish and chips, bread and dripping and brass bands. SKY Sports and MOTD thrive on it. There's always a long distance shot of the rows of streets taken from the moors miles away and the camera slowly zooms in.
They don't seem to know that lamplighters and knocker-uppers are now extinct; Burnley folk are now quite familiar with Focaccia and Brioche, lasagne, pate, meringues, Vol-au-vents, and shopping at Sainsbury's. Tea you can stand a spoon in has been replaced by filter coffee. Folk are as familiar with Benidorm as Blackpool, Malaga as Morecambe in the summer. The mills are long gone. Innovative industry and fine restaurants are easy to find. Ninos at Cliviger is filled with the beautiful people at weekends. The surrounding countryside is spectacularly glorious. The town received an Enterprise award in 2013. Chumbawamba and the Milltown Bothers are Burnley bands, the latter doing a set at 2 o' clock. The former, by the way, were horrified that UKIP chose their Tubthumping anthem as intro music at a Farage rally. Norbert Nobacon, the one who once emptied a glass of water over John Prescott at an Awards evening, was particularly incensed.
The Harry Potts Way attractions and events were brilliant. The food stalls were particularly scrumptious and inviting. Sadly there was no tripe stall. I was brought up on tripe doused with vinegar by my granny, truly yummy I can promise. There used to be a little wooden hut, green I think, on Tod market and that's all it sold, cheap, nutritious, edible offal from animal stomachs, delicious. We always had the reticulum beef tripe with its gleaming white honeycomb appearance after it had been boiled and bleached by the tripe dresser. For a spell I once fancied being a professional tripe dresser but now I just write it.
Me and Little Joe had a good wander up and down the different sights and sounds, he by the way not so little any more. He scored for his school team on Thursday although they lost and he dedicated his goal to Danny Ings. The weather during the week had been hot and glorious. On matchday it was predictably grey and dull with overnight rain. Shame: the effort to create a special pre-match atmosphere was hugely commendable and people clearly enjoyed what was on offer – certainly the complimentary tots of Benedictine.
This was the 100th or 101st meeting between the two clubs depending on which paper you read and Leicester fans had been treated to a breakfast, a T-shirt and refreshment vouchers by their club as a thank-you for their support. Several papers had big features on Matt Taylor with special reference to his confidence taking key penalties at the clubs where he had previously played. Oh irony, oh irony.
It's a cruel game, said Dyche afterwards. True enough after the heart-breaking sequence of events that decided the result of this game. Yet again you despaired of Burnley ever scoring. A chance in the first half when Ings burst through in the early minutes but his shot easily blocked, and then a chance from a corner kept out; then an Ings shot beaten away by Schmeichel when he wriggled through in the second half. Neither side at all impressive, everything tense, tentative, on edge, Burnley marginally the better.
And then came what you hoped was the one moment of luck after the Schmeichel save, that might have decided the result. A Burnley penalty when Taylor was felled after he burst through. It had been no surprise that Taylor was the replacement for Barnes. The Jut was in for the injured Vokes. You looked for Ings to place the ball on the spot but no it was Taylor.
The Express piece had ended with: 'if Burnley get a penalty today you can be sure that cool-hand Taylor will be the first to volunteer.'
Volunteer he did. He placed it. Some people turned their backs. Score and it could win the game. A Burnley goal, we'd forgotten what they looked like. We held our breath. He hit it well but a foot slipped just a fraction. Schmeichel went one way. The ball went the other. From our position it looked like it was going in but cruelly it hit the post. When your luck is in it hits the wood and goes into the net. When your luck is out it hits the wood and bounces away. Burnley haven't seen real luck since the City game.
The agony was set to continue. Within a minute Leicester had scored. From the goal kick Leicester worked a plum position on the right. The low diagonal cross came over at pace. Heaton most certainly had it covered. But Duff intervening and attempting a clearance diverted the ball towards his own net. Heaton made a superhuman effort to keep the ball from crossing the line and did. But Vardy rushing in slammed it over. It was hard to believe it had happened. In fact for a minute I sat there thinking it hadn't.
From a possible 1-0 lead at one end to a heart-breaking 0-1 deficit at the other in seconds; these are the moments of truth that help decide a season. Atle Norman was over from Norway to see it. John Gibault from Seattle was over to see it. Just 40 miles from Leeds for me and Mrs T seemed far enough.
And still the luck was missing when a Mee thunderbolt from the corner of the box hit a defender and was heading inexorably into the net; it seemed a certain equaliser until Schmeichel, body going one way, twisted and stretched an arm the other and somehow managed to palm the ball away when all of us were ready to erupt.
You might have bet money that Hull and Sunderland, both with away games would lose. But astonishingly Hull won at Palace. Sunderland got a point. The table therefore did not make happy reading with Burnley now five points away from safety, marooned on 26 points with the 17th club, Leicester, on 31.
At the end there was just a dull resignation and reluctant acceptance of the way things are although the Burnley websites began the blame game during the evening. What there was though, during the game, was a large HOOS OUT banner in the Cricket Field Stand end.
I slammed the guy (Retainers, Vouchers and Downright Stubbornness) for the retainer fiasco a year ago and still can't understand why he recently defended it. But the point of this protest escaped me. Unless I am hugely mistaken, policy and the money available for wages and signings are set by the Board not Hoos. If the stories from within the club are correct it wasn't any fault of Hoos that deals for two good players fell through on the final day of the January window. One of them was said to have been having a medical when his club pulled out of the deal at the last minute. It wasn't Hoos that decided to sign Chalobah, Sordell, the Jut, Ward or Reid, who for one reason or another have had little impact on the season. It isn't Hoos that selects the team or the tactics. And it certainly isn't Hoos that is responsible for the Danny Ings goal drought or for Matt Taylor missing a critical penalty.
Why Burnley lost this game was easy to see; good fortune deserted them again. Boyd is a shadow of the player that scored against City. Ings can't buy a goal at the moment. A penalty missed at one end and from the restart what was as good as an own-goal at the other; you couldn't make it up. Poor Duff: that's twice in three games he has unwittingly gifted the deciding goal, against Arsenal when the ball simply smacked into his head. A lack of real penetration up front, no width, no craft or guile, no pace, a glaring weakness at this level; too many long, hopeful balls played up to the front players who were then simply outmuscled by Leicester's back five. Many of us were asking the same question; just what has Kightly done to become the forgotten man with Boyd so out of form – although he did play a cameo few minutes in today's game at the end. And of course, why didn't Ings take the penalty?
There was such euphoria and optimism after the City game but since then each game has been a dogged endurance test for supporters as Burnley have flopped in front of goal and those split second lucky breaks that win games have been absent – except for the other side. And then there was that dire refereeing performance at Everton. This might have been the Best of Burnley along Harry Potts Way; oh how we wanted it to be the Best of Burnley on the field. Sadly it was not. One single minute gifted the points to Leicester. It was a moment of truth. And the truth hurt.
Just 5 points from 30 someone posted since Marney was injured. But football is fickle. Who is to say that in the next two away games Burnley cannot fashion a couple of squeaky, narrow wins. Good God they deserve them for their spirit, pluck and fight. The patient isn't quite dead just yet. It's still hanging on. The season is not over.