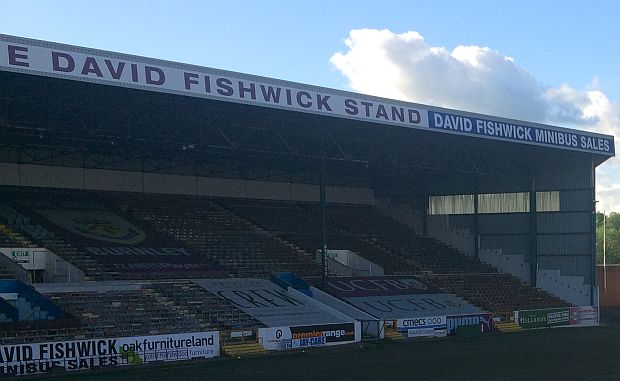 A lot of seats to paint
Maybe there were more of them out of shot. But all I could think was 'better hurry up guys' as one of them painted while the other watched and there were still 3,999 seats to go. If they are sharing the one brush – 'Houston we have a problem'.
It reminded me of the time I was doing the Harry Potts book several years ago and I went to Bolton to see one of their directors who had known Harry in his time at Blackpool. He showed me all around the place and then took me out to see the pitch. It all looked fantastic and then high up in the stand I saw just one solitary cleaning lady with a bucket and a cloth wiping down the seats. It was just her and it looked like she was doing 20,000+ seats all alone. Better hurry up love I thought.
As England made 9 changes and showed Costa Rica what's what, Suarez, his problems mental and dental, had bitten the Italian guy on the shoulder and then feigned injury himself clutching his teeth thereby indicating that he knew damned well what he'd done. Camera evidence and close-up pictures that came later showing teeth marks were pretty conclusive to most of us so we knew it would be fun to see what FIFA would decide. Blatter had already said that the evidence found of corruption and bribery in the award of the World Cup to Qatar was nothing more than British media conspiracy. The betting was that they would bottle it and do nothing; in fact they charged him more or less immediately. It was difficult to decide if Suarez himself needed to see a psychiatrist or a vet. His manager afterwards followed Blatter's lead and announced that nothing had happened other than yep - a British media conspiracy.
England played their last group game and had certainly shown Costa Rica that they were no pushovers. Rooney laid the poor results down to England being just too nice. There was a nice Costa Rican tweet when someone said: 'How did we not win that against these minnows, I'm ashamed to be Costa Rican.'
I'd just tweeted a guy about the Buchan book and nearly fell off the chair when he replied from Manaus up the Amazon. Technology makes the world we live in such an amazing place. Just a shame that the technology does not exist that enables you to have the ITV World Cup commentary on but edit out the agony of enduring Andy Townsend during the game and Adrian Chiles at the interval. Having said that, Townsend did make a brilliant comment about Chris Smalling when he observed, 'having the ball at his feet isn't his greatest strength.' And Smalling is a footballer playing for England. Ditto the Jones at full-back.
We were up in the Dales when the fixtures came out and I'd even forgotten it was the big day, legs and feet aching from a 7-mile walk, until a chum emailed to say what two fantastic home games to start with. Chelsea the first and we watched Brazil in their third group game and at one point they had all four of their Chelsea players on and I thought hell they're gonna need them to beat us. Perhaps now we are a Premier League club the name Trippier might become just a little more fashionable. Watching Jones labouring away in the game against Costa Rica at right-back was quite excruciating and made you wonder what Trippier had to do to get a look-in.
Chelsea first game: and you know what, we owe a massive debt of thanks to big David Edgar for this one if you think about it. There have been some key goals in the story of BFC and Edgar's against Cardiff was one of them. Last season, after the away game at Leeds and just three games to go, there were serious possibilities that relegation might just have been on the cards if the results of the final three games had gone badly. The display at Leeds had been abysmal. Burnley had made Leeds look like Real Madrid to the astonishment of even their own supporters. There were serious concerns. And next up it was Cardiff already assured of promotion. It was another poor game heading for a 0-1 defeat and no points. But then Lord have mercy, as we groaned and squirmed and grimaced and gurned, up came Edgar and scored with an injury time header to gain a point that barring any ensuing major disasters as good as made the championship place safe.
And not much more than 12 months later there was the astonishing climax to a season that won promotion to the Premier league. It was something the Yorkshire Evening Post commented on when Burnley beat Leeds at Turf Moor that the progress Burnley had made through astute management, smart signings, fitness, and a fantastic team ethic, contrasted with how little Leeds had made in the same period. It was nice therefore to see that Edgar had got himself a two-year contract at Birmingham City.
From a small-town team on dwindling gates, and disappearing parachute money, heading for the bottom three in April 2013, to a team heading for the Prem in April 2014; it all went to show that football does indeed do fairy tales. For weeks afterwards we looked at that final league table to see if it was still true.
The big news maybe: the price freeze on season tickets for season 2015/16. By the time that welcome announcement came, the outcry directed at the £100 'retainer' aka 'voucher' (non-refundable advance payment some said) had pretty much subsided but there was certainly no rush to snap up the remaining season tickets after the expiry of the early-bird period as you might have expected.
The fixtures came out with all the big names: Chelsea, United, City, Liverpool, Arsenal et al. Mrs T and me looked for the Southampton games because of family connections down in Southampton. We managed to get little Joe a mascot place, one of the last remaining, against Southampton. The game that he really wants to see, though, is City. Bring 'em on.
The sponsors were named at last. FUN88 again, the Asian on-line gambling firm, in what we were told was a record deal. That meant the shirts could be unveiled at last. The black away kit 'secret' was already known. Smart folk had noticed the black beach towels in the club shop and thought ah hem… you just wait and see.
Tripps by now had signed a new deal. Kightly we were told would sign after his honeymoon. Stanislas was reportedly wanted by Bournemouth; Ings (now doing Pilates) reportedly by half the clubs in Germany and Newcastle and Southampton. Rumours of new signings began with Chris Boden tweeting that things were imminent and ace hack Alan Nixon reporting that things were on the go somewhere in Bolton. The Blessed Sean signed a new deal. In the aftermath of the England performance in Brazil and the media debates about where the next England manager might come from, his name was in the small up and coming group, listed by several of the pundits. Mike Garlick was pictured out in Brazil holding up a large England flag. Not for Mike taking his star employees on dull ski trips as a reward; this one was to the World Cup. Way to go Mike.
Pictures of the changing Turf Moor were flashed up on various sites, the newly laid pitch, the blocking in of the old pitch entrance; the same players' entrance that had seen such historic ends of games, some of them resulting in relegation, some of them in promotion; and one of them the fabulous incident when Andy Cole, whoops Andrew Cole, suddenly chased the disappearing Cardiff centre half just sent off the pitch, to land him one after a leg breaker of a tackle. It was one of the great Turf Moor incidents as Cole chased Purse, then the subs chased the both of them, then the coaches chased after all of them and no-one by now was watching the game but had their eyes firmly placed on the tunnel. If Benny Hill music had come on over the speakers, the afternoon would have been complete. And who will ever forget the emotional scenes after the Orient Game. With the filling in of that tunnel a whole shed-load of history has gone including the night Kev McDonald disappeared up it on his way to the pub during the thumping by Man City while the game continued without him. Good quiz question that: which Premier League player left the game halfway through to go for a pint?
Meanwhile with every picture that appeared on the webs the excitement mounted: the new tunnel was being constructed, miles of cables were being laid, new turnstiles, new press boxes and camera gantries, goal-line technology, new TV areas being installed, new refreshment kiosks down below the away stand. All that plus new access card control systems. Goodbye to more history as the old style season ticket booklets were replaced by plastic credit card type thingies which will also enable the introduction of a loyalty points system on all items purchased at Turf Moor (and local shops wanting to be involved) that will act as a savings scheme towards for example, season tickets, but not as yet your State Pension. Points will equal pence.
Other improvements included the prospect of a bigger and better shop at the ground and a museum somewhere within the site. The Premier Rules Handbook (a tome that needs two people to carry it) also demands better floodlights and improved dressing rooms.
So: all in all, these flurries of news and pictures against the background of (England apart) a fabulous World Cup in Brazil, were all enough to quicken the pulse, get the juices running, and crank up the anticipation. Me and Mrs T looked at the fixture list and picked out the away games we'd like to see. A Supporters Club weekend in London for the Arsenal game would be nice. The friendly against Celta Vigo sounded attractive providing good practice for the Europa League in 2014/15 after our 7th place finish in the coming season. Can any of us really see the team rolling over and surrendering in the second half of the season as it did in 2009/10?
Nor do I see Brazil winning the World Cup either. How can you have a Brazilian team with two players called Fred and Hulk. It's just not on. Argentina are just too Messi but Holland have looked sensational and Germany as usual robotically efficient.
And: for those who have subscribed already to the Charles Buchan Football Monthly book, yes it is going ahead and planned for November. Subscriber lists will remain open until the end of July if you have not yet subscribed and wish your name to be added. Order forms from me at beehivethomas@aol.com
A free supper/launch evening is planned for Thursday 11 December, 160 places. It is my 70th birthday later in the month. Harrods Christmas hampers and bottles of Moet & Chandon welcomed. And Liverpool at home on my actual Boxing Day birthday; Suarez if he is still there, Sturridge, Gerrard et al. The one big question though – The Queen at Cliviger is changing hands. What will happen to the wonderful pies?
Exciting stuff in prospect then: but memo to painters. Better buy another brush and get a move on, Chelsea are not too far away.