Cruciate knee ligament damage was the announcement. There couldn't have been a Burnley supporter anywhere, a Burnley player, the Burnley management, or anyone connected with the club, and many neutrals too, that wasn't devastated. And then there was Sam himself. Lord only knows what he must have been thinking with months out of action in prospect. 20 league goals; a wonderful partnership with Ings, his season was finished with months of recovery ahead of him. What made it all the more numbing was that we had taken this guy to our hearts.
For most of his career Vokes has been a wandering footballer on loan here and there, and never settled. Then he has his best ever season at Burnley, develops superbly, man of the match on several occasions, signs a three-year deal, well in contention for player of the season, and then suddenly, with everything going so well, hit by a lengthy spell out of the game. Football is cruel and unpredictable. One minute a player is at the top of his game and then in an instant his season is over.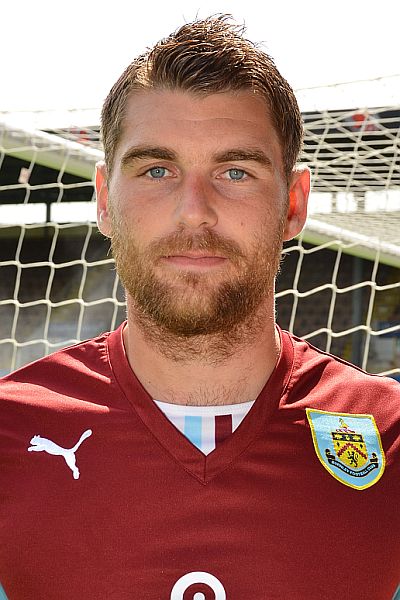 Sam Vokes was having his best ever season
Some said, on 79 points the season was now on a knife-edge, even with a nine-point cushion. Would those points be enough? Could we scrape together the remaining points needed? Others were still confident, that Trippier was near to a return, maybe even at Watford. Marney would be back for the Barnsley game. Ings might see the final two or three games. There was enough ability and resilience to gather the required points. Just two wins would do it, some said. By contrast at this time in 2013 Burnley were just four points above the bottom three.
In the meantime, could this battered and depleted team find the energy, the spirit, the bottle, to get a result at Watford? Recent games there had been not quite meaningless but almost. The last one of any real significance had been way back in 2003 when Stan Ternent's side played a quarter-final FA Cup game there. The semi-finals beckoned but what followed was one of the poorest games and performances of that or any other season as we lost 2-0.
If I had a pound for every time I've sped by the Watford turn-off on the motorway I'd be a wealthy man. I've seen it signposted so often I used to feel the car veering towards it before swerving onto the M25. We head for Kent or Sussex regularly. Southern folk think that the world ends just north of Watford. Hertfordshire's own Xanadu, wrote Igor Wouk ten years ago.
'Cultural oasis of the south with their fantastic one-way system, the outstanding curves of the inner ring road, the place that gave the immense cultural talents of Elton John and Gerri Halliwell, big shops like B&Q and the redundant power station next to Vicarage Road. It's hard for a down-to-earth place like Burnley to match the architectural majesty of the jewel of the M25 and the Parisian-style sophistication of downtown Watford.
But Watford fans didn't think much of Burnley either:
Can I give you a piece of advice? Always try to avoid a trip to Burnley if humanly possible because, quite frankly, when God created a waiting room for all the evils bound for hell, he twinned the place with Burnley. Furthermore if you ever feel hungry in Burnley; try to resists all temptation of food. Burnley is a God-awful, puss filled hole of a place. It has no redeeming features whatsoever. It is as much home to all the grossly generalised stereotypes of the north held by southerners, as Essex to the North's equally blinkered picture of the south. Narrow-minded, coarse and hostile are three descriptions that come to mind. A trip to Burnley is amongst the least pleasant of the football calendar…
Clearly the guy who wrote this needs to visit the Crooked Billet at Worsthorne on a Thai night, or a Saturday pre game and sample the pie and peas. Or visit the Queen at Cliviger and sample any one of half a dozen pies on offer there. And by the way it's two-quid Tuesday every week there.
Anyway; Watford should grumble.On our last visit there ten years ago we noted the splendour of the nearby Watford General Hospital, the cemetery over the road from the ground, and nearby assorted allotments of all shapes and sizes. It's where if the football was dire and there was no fun watching the paint dry, you could turn your gaze to the chrysanthemums, cabbages and cauliflowers. Today it has a John Lewis so Mrs T was well impressed.
1 April: and the FA had a great April Fool gag. The newest England kit was out and they were asking £90 for the shirt. I saw through it straightaway and fell off the chair in the office laughing when I saw it. It was up there with the best ever 1 April gags. Like the story that Holland had beaten England at cricket. The shirt, designed by Nike of course, modelled by Rooney, Gerrard, and Hart et all was made up of space-age technology materials and was described as keeping the body at the optimum temperature required for an early exit from the World Cup whereupon the shirts would be down to £10 which punters wouldn't have to actually pay, but would be given by the FA to persuade them to take the piles of shirts off their hands.
And then I gulped. This was not an April Fool joke. This really was £90 for the shirt. Even cash-rich Premier League superstars were twittering that this was too much, even for them. And Holland really had beaten England.
Sometimes you feel you just HAVE to be at a game to show solidarity and support in times of adversity. Watford was one of them. The last one when we felt such an emotional pull was when the promotion team of 2008/09 had been knocked out of the Carling Cup by Spurs in extra time after scoring three goals to level the game at 4-4. It was the emotional equivalent of being kicked in the head by a donkey. We were just distraught at coming so close to a fabulous win that would have taken us to the Wembley Final. Following that we headed for the Midlands to see them in the FA Cup game against West Brom, simply to be there. It felt the same when we heard the news of Big Sam's injury and that he would be out for months. It just seemed such a massive blow to the promotion push. And thus we headed for Watford with the thought ringing in our heads; your team needs you.
It was referee Stuart Attwell's first game at Watford for five years but Watford fans had not forgotten him. Five years ago in the game against Reading he had given 'the goal that never was', when a linesman possibly high on LSD had imagined that Reading had scored and flagged the referee to insist that there had been a goal. Experts are still baffled as to the sequence of events that led the linesman to suffer this hallucination. Football being football, hardly anyone remembers the hapless linesman, but football does remember Attwell and he goes down in the history books as the guilty man copping the blame.
Thursday night and even Dyche was saying things were a bit stretched intimating that there were people outside the camp almost thirsting for this to happen. Ings was still out but 'back on the grass.' Trippier was 'on the cusp' of coming back. Junior Stanislas had a tight hamstring. Marney was still suspended and of course Vokes was missing, his operation delayed for a week to allow the swelling to subside more.
Thermopylae this was not. Rorke's Drift this was not. Crecy this was not. It was Watford.
But nevertheless this was still backs-to-the-wall stuff in a desperate attempt to hang on to some kind of points cushion until injuries had healed and reinforcements could be brought up to the front. Bullish thoughts of a win were far from our minds; a point would be welcome. Watford, still with their Italian connections, at home were a good side, free-scoring and well organised. It was a return to a place where Dyche has such strong connections. He had been player, captain, youth coach, reserve coach, assistant manager and then manager. Ever the rational pragmatist, his departure he described as 'a business move.'
'Well how did you spend your Saturday?'
'Er well, we went to Watford for the day.'
So did nearly 2,000 other Clarets. With a full team all would have been confident. But this was a Burnley side playing with one arm behind its back. The odds were with Watford. Leicester had won the night before. They were as good as up. Not even the thick Saharan dust and cloying European pollution that had blanketed the country for days had any effect on Leicester's progress, as the health experts advised folk to stay indoors with people coughing and sneezing their way around with irritated weepy eyes.
Not bad is it when you can be back at home in Leeds from Watford by 9.00pm without breaking a speed limit. In fact much of it was at 50mph thanks to long stretches of roadworks. And what a mood we came home in, a mix of yet more astonishment, incredulity, more admiration and more respect for this gutsy team that never knows when it is beaten.
Marney, Trippier, Ings, Vokes and Stanislas all out: you could have been forgiven for thinking the worst. Even more so when Watford took an early lead when Deeney scored with a shot that might, on another day, have hit the top of the hospital behind the stand, but on this day became a stunning strike that flew in over Heaton's head. You feared the worst from that moment on and then could only hope that both Derby and QPR might lose.
From those games the news was good, both of them falling behind whilst Burnley did their utmost to get back in the game with their makeshift, patched up side shorn of its key players. And how they tried: Kightly was everywhere; Jones was in the thick of everything. Mee got down the left over and again. Barnes battled away in the lone role and was magnificent. But enter Mr Attwell and his linesman.
If Attwell is infamous because of the goal that never was, the one he allowed at Vicarage Road five years ago; this was the game where he disallowed the goal that was, again thanks to a flag-happy linesman desperately in need of a trip to Specsavers. No way was Barnes offside when he swept in from behind the defenders to force Treacy's superb cross home and equalise. The Sky pundits' team was nearby with their monitor and summariser Mat Murray assured us at halftime that the goal was good. It left you thinking that this was going to be just one of those days and this soufflé of a season was about to collapse.
But this Burnley side is rugged, robust, resilient and remorseless, the image of its creator. It wasn't one of their better days up front in the box; how could it be minus Ings and Vokes, but nevertheless they soldiered on with Barnes leading the charge, Kightly buzzing like a hornet, inroads being made, Heaton, the back four, and superb defending at the other end keeping Watford out, and all of us willing them on to salvage something knowing that Derby and QPR were losing.
With the score still at 1-0 our hearts were in our mouths when it seemed Watford must surely score a second and put the game to bed. A slide-rule pass cut Burnley in two: a masterful through-ball that the great Jimmy McIlroy couldn't have bettered and a Watford player ran onto it. Heaton dived but the player went round him and struck the ball homeward. Suddenly the ball with not a player near it was rolling in slow motion towards the Burnley goal line just feet away from us. We stared at its progress; mesmerised, hypnotised, horrified until it was just inches away from a goal. And then, just as you thought it must trickle over, in swooped Baird from nowhere, a blur of claret, to hack it away to the utter elation of the away support. Maybe then, we thought, there was still something in this game for Burnley.
And there was. Wallace replaced Treacy. Burnley turned on the pressure. Attacks became more frequent until Baird played a ball for Arfield near the edge of the box. Arfield moved onto it, turned beautifully and struck a shot into the bottom left corner of the net. It was so far away from us at the away end that at first it didn't register. Had it been finger-tipped by Almunia, had it hit the post, but then we knew it had gone in and he had scored and rescued a precious point just four minutes from time. I always think of the goal at Blackpool in the storm scored by Kalvenes as one of the defining goals of that season. Maybe the goal at Watford scored by Arfield will be one we look back on in the same way.
All of us knew that Derby and QPR were still losing. The whistle went. 'Going up, going up, going up,' the away end sang, knowing there was now a 10-point gap over QPR and just six games to go. Any one of half a dozen could have been Burnley's man of the match; Kightly, Jones, Barnes, Baird, Mee or Shackell. If they were the props, then the others weren't far behind. This was a supreme team effort, a triumph for the never-say-die spirit instilled into them, the day spoiled only by the terrible news that Jay Rod had been stretchered off at Man City earlier in the day.
'Nobody is going to catch Burnley now, are they,' said a dejected Harry Redknapp and all of us hoped that Harry was correct.