The final eight games approached and an end of season that promised to be nerve-wracking, tense and quite unpredictable. It was enough to put you off your food.
Fans at six clubs were probably all at it, Leicester, QPR, Sunderland, Villa and Hull City, plus ourselves, trying to figure out who would beat who, where the points would come from, how many would do it, which the final unlucky three would be. Even the top end, the table was not quite certain with Chelsea stuttering every now and then and Arsenal and Man U picking up win after win. But who cared about them?
With little else to fill the space, the press was hard at it. The Mail had Burnley to finish 17th on 33 points. That meant they needed a point a game from their run-in. They had Leicester, QPR and Sunderland to go down. The Telegraph tipped Burnley to stay up by 2 points this being based on games played in 2015 so far.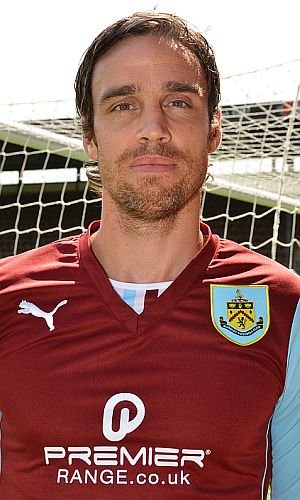 Heart ripped out of the club said Michael Duff
For Burnley it was the final six games that were the key, we thought, and any points from the two home games against Spurs and Arsenal would be a bonus. But after that it was Battle of Britain, Dig for Victory stuff with winnable games that came into the 'Must Win' category.
At this same stage in 2009/10 the positions and points total were not dissimilar but the big difference was that the team that season was 'gone.' It was dispirited and listless; the towel had been pretty much chucked in as Laws failed to inspire any kind of fight. It was a team that was still within three points of safety but winnable games ended in defeats. There are memories of a team simply going through the motions and of us cursing Coyle for his desertion. A 4-1 win at Hull gave the illusion of hope but three defeats followed. 0-4 at home to Liverpool confirmed the inevitable.
How ironic that if instead of Laws, a Dyche type figure had been appointed, someone who could impose himself, make demands and drive players on; this was a team talented enough to have avoided the drop. One of these talented players was Steven Fletcher; at Burnley he had moments of sublime technique and deft skills. He also missed several sitters. No-one would ever suggest that he was the sole reason for relegation that year but had some of those easy chances been taken there would certainly have been a couple more wins. The picture of him with his fancy cars was a symbol of all that is wrong with the game; ridiculous wages for minimal input and huge rewards without merit.
You lose track of the number of internet football sites. One of the vast selection is The Boot Room and on it was a very decent Burnley piece: The Club from a Bygone Era. It talked about nostalgic soul, old stadiums, the hard-core of Britishness that once characterised the game, and the traditional feel. All of that is gone save at one club – Burnley. The fact that it is in the town centre, the stadium a tough place to go, a team filled with fighting spirit maintains the feeling that Burnley is the one remaining Premier League place that still feels traditional with old values and a real town/club identity and relationship. The stadium is like an old shoe that fits comfortably; I sat in the Southampton ground thinking how soulless this is, how is it any different from the other new-build Lego identikit places that have sprung up over the last ten years?
The Guardian joined the media ranks analysing the final run in and asked did Burnley have the fitness to match their endeavour? They noted that as a team Burnley were running everywhere all the time, topping the charts for total distance covered so far this season, the average distance per game, and the number of sprints in total this season. Boyd was joined in the top group by Scott Arfield, David Jones and Kieran Trippier all among the top 20 players with Boyd up at the pinnacle. Stats also showed that Burnley were the team likeliest to pass long and the third least likely to pass short. Thus it seemed that the players were doing the work, not the ball, since the players were forever chasing the ball. The question asked then was: given that Burnley have only used 23 players this season so far, was manager Dyche expecting a small squad to do too much and would they have the fitness to cope in the season's run-in. Would they now tire more quickly than their relegation fellow strugglers?
One can only assume that the guy that wrote the piece, Tom Bryant, hadn't seen the stats for the promotion season, when with the final games approaching the stats showed that Burnley were running even further and their fitness was actually increasing the longer the season went on.
On April 1st the club Community Department outlined plans for a new matchday mascot experience. Junior Clarets already have the opportunity to be a mascot for the day but the new scheme extends to senior citizens. A spokesperson said that for some time now it has been felt that restricting the opportunity to Junior Clarets is discriminatory. There will be three categories available from the beginning of the new season in August 2015. These three categories reflect the level of care needed.
Bronze category mascots will be able to walk although perhaps some support may be needed. Claret and blue walking sticks if needed will be provided by the club. Arm support will be provided by a player of the mascot's choice. Selected players are attending an NHS course 'Helping people get around.' A level one diploma in 'Supporting the Geriatric' will be the minimum requirement. Two players are currently studying at the Birkenshaw Fire Service Training Centre for the Fireman's Lift entry level certificate.
Silver category mascots: this is for the elderly who need wheelchair support and a blanket, or scooter. The club will look at any reasonable request for the mascot to bring their own mobility scooter but only those who can demonstrate complete mastery of their vehicle prior to the game will be allowed to bring it onto the pitch. An obstacle course will be laid out in the gymnasium two hours before the game where tests can be observed. Alloy wheels, spoilers and wheelies will be strictly prohibited.
Gold category mascots: This is for extreme high-dependency mascots such as those in need of a stretcher or a gurney with a defibrillator within close reach. Medical staff will be necessary but will remain at a discreet distance. Such medical staff will be provided by the club and will at the very least have achieved the St John's Ambulance Brigade level 3 diploma in resuscitating the elderly and infirm. Gold category mascots will need to demonstrate immediately prior to the game they are fully conscious and can say the days of the week.
Further details, the club said, will be released as soon as the new fixture list is available at which point interested over-65 supporters can register with the Community Department.
The Tottenham game not a sell-out: but something like 17,000 home fans as opposed to the paltry 7,000 that attended the ill-timed Monday night Cup game against Spurs. Easter weekend and the weather appropriately English, in other words, cold and wet leading up to the game. Mercifully it warmed for the game. You know it's Easter when there are sightings of giant rabbits leaving eggs in obscure places and people are out on the Moorland View estate power washing their drives and washing down garage doors.
'A pivotal two months,' wrote Jordan Neary in his Shoot blog with up until now' the battle for survival as tough as a two-dollar steak and Burnley a house of cards stabilised at the core by Sean Dyche.' If Ian Britton and his goal keeping Burnley in the Football League in the 1980s was a historic moment, then the class of 2015 will re-write the history books if they can pull off another Great Escape. The move to have Burnley fans in the Cricket Field Strand behind the goal is a great move for the final two games when it will be only half-filled anyway by away fans.
In the Saturday games, Leicester City were at home to West Ham and won, Villa were away to Man United and lost, Hull lost away to Swansea and QPR away to West Brom. On the same day as the Burnley game, Sunderland were home to Newcastle and won. QPR thumped West Brom in the surprise of the day. We looked at them, studied them and analysed all the permutations of what might happen, what we needed to happen, and above all what was needed at Turf Moor.
At Burnley it was new kids on the block with Ings v Kane in the battle of the hotshots and it was Duff v Kane in the battle between the 37-year old and the 21-year old. There was a nice piece about the 'old Duffer' in the Daily Mail on Good Friday. It went through his career in eight different leagues and also included towards the end a brief insight into the Coyle departure of 2010. Other than Brian Jensen's comments in his book, few if any other players have spoken about it in public.
'It ripped the heart out of the club. He had everyone buying into what he thought and then he decided to leave for his own reasons in the January.'
Maybe it's just me, but in its short and understated way I found that quite a withering put-down.
Harry Kane, Harry who… the magnificent Duff had him tucked in his pocket for the whole of the game and in the battle of the hot shots it was Ings who led the way in this particular game despite a frustrating shot straight at the goalkeeper in the early minutes after he had done all the hard work, shrugged off two defenders and got himself into a clear shooting position. Another blistering drive had Vorm tipping it over the bar and later in the game a cross from an impossible angle might well have gone in but for Vorm tipping this one over as well.
It was a measure of how well Burnley played that all of us were disappointed at the draw when a win would have been fully merited. And all this in wonderful sunshine, a crowd in shirtsleeves, the Fanzone dishing out pints like there was no tomorrow and the crowd building up an hour before the game.
Before the game we might have thought a point would be a bonus. Here were Spurs, spenders of millions and millions, up there fighting for a top-four place. You could be forgiven for thinking the result would be a foregone conclusion. But not so: just as against Man City this was a never-say-die Burnley that you just could not fault.
According to Talksport commentators, Burnley lacked quality whilst Spurs were having an off day. On MOTD Jenas staggeringly said it was the worst Premier game he had seen, probably miffed because Spurs were so poor. Sure, it started slowly but by the end it was edge of seat stuff as you sensed Burnley might just pinch it. With minutes to go Boyd missed a wonderful heading chance when the ball was played on by the Jut's head but Boyd's tame header went an inch wide of the post with Vorm scrambling after it.
Spurs were reduced to just neat approach work, some tippy tappy football, a few long range shots, mostly off target, and were never able to break Burnley down. Burnley meanwhile, were everything we have come to expect them to be, organised, tireless in their running and pressing, harassing, chasing and forcing Spurs into countless errors. Much of the first half was cat and mouse stuff, though it was hard to figure out who was the cat and who was the mouse with spells of head tennis every now and then.
The second half livened up with Burnley shading things. At the back Heaton was composed and secure, Shackell and Duff were simply masterful; Trippier and Mee frequently got forward. Arfield and Jones were tireless in midfield. Boyd did his usual marathon stint and Barnes was like a juggernaut whenever he had the ball. Vokes was superb leading the line and Ings, although a few things didn't come off, was like a little wasp constantly annoying Spurs defenders. He deserved a goal. As we drove home we wondered if it would come against Arsenal another game where a point would be a bonus. Drat, we'll be in Tenerife, we chuntered, a holiday arranged a long time ago.
Strange how the 'experts' saw this as a poor, dour game. The press concentrated on saying how poor Spurs were as opposed to acknowledging that they were made to look poor by Burnley. Reams of stuff were written about how disappointing Kane was with not a mention of how he was so comfortably snuffed out by Duff and Shackell. You have to be fashionable to get a mention it seems.
'There's life in us yet', said Dyche. The received wisdom a few games ago was that 33 points would do the job. Burnley got one of them; it could so easily have been all three. Somebody said on the way out let's settle for another seven 0-0 draws. True enough, but a win would be priceless his pal answered. With games to come against Leicester, Hull and Villa, this is one helluva script.