It felt good to win and with the international break there were 2 weeks to savour it and stop all the moping and griping.
The Sunday Mirror described Ashley Barnes' goal as the catalyst that might be the beginning of the survival campaign. Commitment, togetherness and integrity must surely give them a fighting chance of staying up, it continued. 'There's belief in the impossible,' said Sean Dyche, but he confessed to giving the lads a bit of stick at half-time in the interval. 'I gave 'em a bit at halftime,' he said post-match.
The attendance was fractionally below 17,000. Some reasons are obvious and one is debateable. The Hull crowd was poor, the away end less than half full. Had they filled it the crowd would have been a respectable 19,000+. But, significantly, there were empty spaces in the home areas, a result of high prices and the 'attraction' being a struggling Burnley and a dull and unglamorous Hull City on a day when the rain teemed down all morning. With prices as they are, the ones with precious little spare cash, and the floating, walk-ons will pick and choose their games as they have every right to do. This was a game they chose to ignore.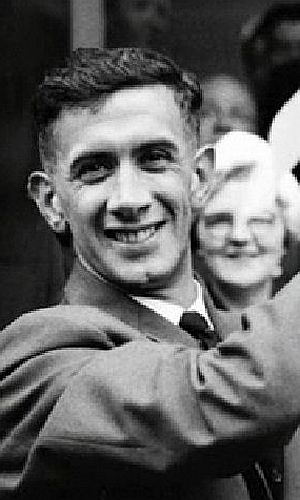 Jimmy Adamson - one of the poorest Leeds managers
The debateable bit is the effect of the 'retainer,' with its critics predicting that this would be the first game that tested attendance and exposed the mistaken belief that this was a good policy. It is guesswork, but it is not unreasonable to suppose that it cost the club at least 500 season ticket sales. The retainer subject received a fair bit of air-time on Clarets Mad after the game with people saying quite candidly that it was the reason they did not buy a season ticket. Nothing has happened since its conception to convince anyone it was a good idea.
Oh dear, Downton finished. This hugely watchable programme is filled with wonderful one-liners such as Lady Mary being told by her doe-eyed mother that she looked tired so she should lie down for an hour before dressing for dinner. I shall suggest to Mrs T that she should have a lie down before she makes my tea. Anna was carted off by the plod suspected of being the killer of the dastardly manservant who turned out to be a serial abuser. Bates was beside himself but with his gammy leg could only hobble after her. The dog died in bed, laid between Lord and Lady Downton in their jim jams. There was a chance here for His Lordship to say in plummy tones, 'you've been such a pedigree pal,' but the script missed a trick there. There are real worries that the Americans who lap this stuff up, think this is the way we all still live. I remain convinced that Lady Mary is simply a life-size cardboard cut-out. The trouble is they can be so damned realistic. I was shopping in Poundland the other week (I'm not proud) and security was a tall policeman by the main door to stop anyone legging it with anything valuable. I didn't have my glasses on and was going to ask him if it had been a busy day, until I got within a foot or so and realised it was only pretend; it was a full-length cardboard figure. I never saw him at Turf Moor but there are stories that Paul Stewart was much the same.
With the Buchan book finished and while I wait for a Premier galactico to ask me to ghost his book that will sell thousands of copies and make me rich, I ventured into town (bus pass) and Waterstones to buy a few footie books and one of them had a mention of Adamson and his team of the Seventies. It does puzzle me that the Adamson book (still selling on Amazon and in club shop) has sold precisely one copy in Leeds. I asked them at the desk why they didn't have any on the shelves. 'Because we only sold one last April,' said the hippy lookalike assistant. That plus the Elland Road club shop not stocking it is a mystery. Poor old Jimmy is regarded as one of the poorest ever managers at Leeds. His time there was controversial. There were confrontations, demonstrations and Adamson Out chants at many games. His time at Leeds provides one of their biggest stories.
One of his notable achievements at Burnley seemed to pass by without much fuss, this being the 1974 Cup semi-final and its 40th anniversary. How Burnley did not beat Newcastle that day was a travesty. How Newcastle got to the semi and not Nottingham Forest was an even bigger injustice. With Nottingham Forest leading at Newcastle, in the closing minutes the Newcastle fans invaded the pitch. Forest were winning comfortably and the FA with a bit of backbone could have awarded the game to Forest when the referee took the teams off the pitch. With the 90 minute so close the referee could justifiably have abandoned the game but he took the teams back onto the pitch and 10-man Newcastle went on to win the game with Forest players seriously concerned for their safety. After two replays Newcastle triumphed. The FA could and should have kicked them out of the competition as punishment especially as the final whistle had been so near at St James' Park.
What received little publicity at the time was that during the night preceding the semi-final, the Newcastle players had to evacuate their hotel in their pyjamas when there was a fire scare. So, with sleep disturbed and having stood in the cold outside the hotel until the all-clear was given, Newcastle, half-asleep, then set out to do battle with Burnley. They had the football Gods and Malcolm Macdonald on their side and having been given a football lesson for 90% of the game, they scored from two breakaways and broke Burnley hearts.
The fire story came from The Gibbo Files, a collection of anecdotes from the north-east's best local reporter John Gibson. What John doesn't know about football up there isn't worth knowing. He was of great help in the writing of the Jimmy Adamson book.
Another book I bought was Duncan Hamilton's book Immortal, the story of George Best. I never get tired of reading George Best books and with Hamilton twice winning the William Hill Sports Book of the Year Award, it was a must-buy. I always look for the Burnley bits and in this one there's an account of the game at Old Trafford that followed the 6-1 Boxing Day demolition of Man United by Burnley. Best had been summoned back from Belfast to play in the return game just a couple of days later. This time Burnley lost 1-5 and neither John Angus nor Alex Elder had any answer to the young George Best.
Matt Busby had advised Best before the game on how to handle them. Busby had been biding his time with Best letting him get a bit stronger and build up his leg muscles in the reserves but the defeat at Burnley was a sickener. Best scored his first goal in the ensuing 5-1 win, a right foot drive from the edge of the box. Confronting him were two of the best full-backs in football. It was arguably the best pairing of the time. Both had impeccable reputations. Both were tough and uncompromising but Busby's advice to Best on how to play them was priceless. At half-time Busby had watched the confrontations and spotted how Best could get on top.
'You're running flat out as soon as you receive the ball and he's catching you over the first four or five yards. So, don't go at breakneck speed straightaway as soon as you get the ball. Go at three-quarter speed. That way the full back adjusts his own speed to make the tackle. Then, just as he commits himself, that's the time to accelerate and go past him with a burst of pace. He won't catch you then.' For the rest of the game Best was as good as unplayable.
Duncan Hamilton relates that he tore into Elder and proceeded to embarrass the doleful Angus who was like a man trapped in a revolving door. Busby waited 48 hours before seeking out Best and telling him how well he'd played.
It's an odd feeling when a book is completed and spare copies are in boxes in the garage and all the postal orders have been sent out. After you've spent anything up to nine or ten months working on it, there's a feeling of anti-climax almost as if to say ah well, that's it, job done, what's next? There's pleasure in looking through it and there's more satisfaction when a few people email or write and say how much they've enjoyed it. The Buchan book seems to have hit a nerve though amongst a certain older group of supporters who can remember seeing the players and the mud, the thudding tackles and all the no-holds-barred confrontations.
Colin wrote: 'The book arrived today; it's absolutely brilliant and the memories for me and my generation are priceless. We lived on Irene Street lower Brunshaw '48 to '58 and as a nipper I used to marvel at all the green corporation buses that used to park the length of Lyndhurst Road on match days. Later in the mid-50s I can remember being smuggled into the Turf by Mum who worked in an Enclosure tea bar for a couple of seasons giving me the opportunity to sneak up into Stand C if there were seats available. Plus there was the added thrill of having Billy Gray as our next door neighbour for a short while. My dad said that Morty, Stan Mortenson, never had a good game at the Turf whenever Alan Brown was in our team – 'Cos Brown alus got 'im first.'
Alan Brown, Stan Mortenson and Billy Gray, these were three great names of the era. Mortenson played for Blackpool with Stan Matthews, one of those wonderfully skilful players just as good as any of today's stars. Stanley Matthews was as good back then, if not better than Ronaldo is today and would fetch £100million. Brown was the ramrod-straight, fearless, hard-as-iron centre-half at Burnley who later became manager. In the Buchan book there is a wonderful colour full-page picture of Gray wearing the regulation, leather, huge, brown boots of the time.
Players like Billy Gray at Burnley in the 50s more often than not lodged in those little terraced houses that surround the ground, such as Lebanon and Mizpah Street. If you were a young lad and lived next door to one you were in seventh heaven. Until her death Jimmy Adamson's mother had a terraced house near the ground and took young footballers in when Jimmy brought her down to live near him. And for a short while Jimmy Mac did a milk round with his wife Barbara. Can you imagine, today, Danny Ings delivering two pints of red-top to your doorstep five days a week?
Charles Buchan magazines can be picked up for just two or three pounds on eBay; maybe a bit more for the early 50s copies. But what a glimpse they give into a long gone football world when the blokes who turned out for Burnley on a Saturday afternoon, really were the blokes who lived next door.