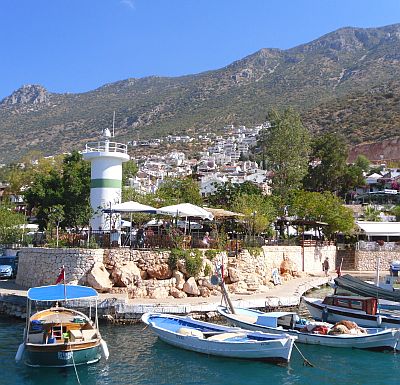 We flew out while Birmingham were demolished 3–0. That was a result I kind of assumed might happen although not by a nice comfortable three goals. The texts kept coming in from our chums in Burnley, (the Sutcliffes of Towneley – you must have heard of them) as we enjoyed the complementary 90-minute white-knuckle ride from Dalaman to Kalkan. I always thought Greek taxi drivers were bad enough in their huge Mercedes limousines; but give a Turk a white minibus on the now completed dual carriageway super-highway and a kind of Indianapolis 500 streak emerges in the male Turkish psyche. But 'completed' doesn't mean smoothly finished.
The four of us were the only occupants of a 15-seater luxury model that had us bouncing and rolling around like peas in a can as it hit ridges and potholes in the super-road at 80mph and overtook anything and everything in its path. All this was in the dark with blinding headlights ahead and unlit cars at least 30 years old emerging at junctions, or suddenly appearing in front of you with no rear lights; and we did wonder if our two weeks would be in the apartment (luxury with pool) or in Emergency Ward 10 in Fethiye.
But: somehow we made it unscathed and emerged from the minibus with rubber legs and having left curiously damp patches on the seats. What a good driver though, to drive all that way one-handed, with his phone in the other, glued to his ear.
We used the same apartment as last year; and here I have to make a confession; my new best friend is a Leeds United season ticket holder. He emerged on our first full day, beneath a large wide hat, draped in a towel, from the apartment next to us. Significantly for both of us, the next Burnley game was at Elland Road. We exchanged pleasantries.
"By gum those legs are very white. You must be a Leeds supporter."
"You talk funny, you must be from Burnley."
John meanwhile, to his credit, is living proof that not all Leeds fans think they have a divine right to live in the Premiership. Like many fans, the universal football supporter, at many football clubs; like many of us at Burnley over the years, he has questioned the sense in buying a season ticket, when so often we have been submitted to displays of dross and boredom week in week out. He is as baffled as the rest of us when asked, "Why have you got no money?" He was far from happy. Elland Road is no Xanadu, he declared. He has lived through all the daft years of Leeds' financial problems and the chaos of the way it has been run.
By the day of the game, we were on pins. He because he fully expected to be beaten, and me because I really did think there was the chance of a result, the way things were going. We sat by the pool, sun beating down, (5 o clock in Turkey), views of all the boats and gullets heading back into the harbour half a mile below us, with an iPad that his Mrs had brought, and drinks. By all accounts Burnley's display in the first half was Barcelona class, but we had no sense of that.
"Oh dear," said his wife, slightly tickled; (she is not a football fan and is annually amused when he says he will not buy another season ticket). "I daren't tell you; it's 1–0 to Burnley." He groaned.
Half-time came and I did a quick 200 lengths. (It was a small pool).
Picture the scene when she told him it was then 2–0 to Burnley. Game over we thought until Leeds pulled one back and then we both sat and squirmed; me wanting the whistle to blow, he wanting the equaliser.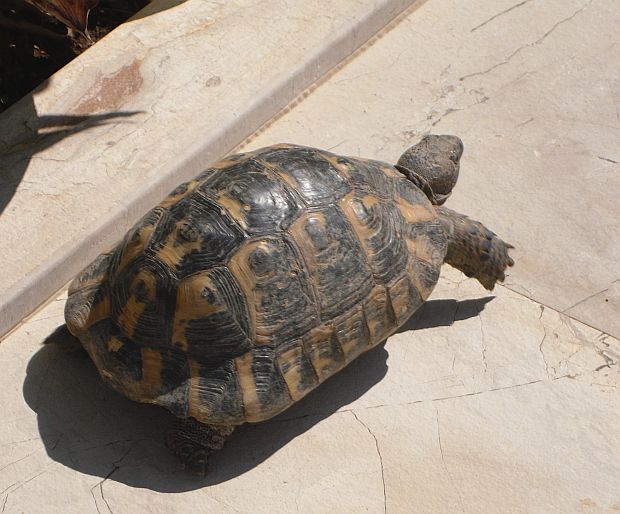 "You'll not be buying another season ticket then," his wife said to him, somewhat unnecessarily, I thought. The day then took a slightly surreal twist when a large tortoise emerged from the flower bed, looked at us, did a U-turn and ambled back into the greenery. In the supermarket later in the evening I saw they had Mum champagne. It was tempting… a Burnley win at Leeds and the Adamson book still at number 1. At £60 a bottle we thought not and settled for Angora white at £4 a bottle.
We caught the goals in the sports bar and as each one went in I let out a loud "YEH". A guy turned round in front and stared, in fact it might have been a glower. With a sour face he muttered something along the lines of: "Humph it won't last." In the short conversation we had it turned out he was from Blackburn, miserable sod. Mind you my huge smirk wouldn't have improved his mood.
Tuesday was another game. With our Leeds chums we headed towards a rooftop restaurant. Lamb stuffed with spinach and apricots for me, and then back at the apartment the iPad said it was 1-1 at half-time. (We'll have to get one of these for next year, said Mrs T)Forest are one of those Billy Davies sides that can turn up and get a result. They didn't this time and the 2–1 final score meant it was three wins on the trot.
Saturday: Burnley at home to Charlton and Leeds away to an improving Millwall. The sports bar heaving with Man United fans watching one big screen and a 2–1 defeat at home to West Brom; and on the other side a horde of Man City fans watching City lose at Aston Villa. I reckon old Fergie knew what he was doing when he retired and saw the writing on the wall. This was a poor Man United side and how they won the title last year is still a mystery to me. Meanwhile: Burnley stuck their three goals in against Charlton and Leeds conceded them at Millwall. It was a fair bet I was the only happy person in that bar other than the lass who gratefully took her bloke's credit card and headed to the jewellery shop across the alleyway determined to make good use of it. So second we went in the table. I looked around to see if the Blackburn guy was in the vicinity. Sadly, he was not. Perhaps it was as well. I'm trying to give up smirking. I used to be on 40 a day.
Second: I couldn't believe it and that meant a walk down the hill in the morning to get the Sunday papers and sit reading them with a coffee in the Café del Mar, a fabulous little place with what I call the Beckham chairs. It's filled with plush huge ancient sofas with crimson upholstery and old bowed legs. If you ever saw Maurice Setters you'll know what I mean. Jimmy McIlroy by the way hated playing against him. Shelves are filled with Turkish antiques, pots and pans and objet d'art covered in dust. Carpets and tapestries hang on the walls. And at the front are two huge upholstered wing-back chairs from which you can read the papers, and watch the passers-by heading down the narrow cobbled street. As soon as I saw them I called them the Beckham chairs.
In the evening the best steak and chips I've ever had, in a posh harbour-side restaurant called Trio. The downside was the smarmy waiters and a haughty front of house guy that I could have happily smacked. But the food's the thing. Akin's is the place to eat and feel properly comfortable with great food and friendly staff who entertain you with Turkish jokes like:
"Akbar was walking along the lane with his camel…. In the distance he saw a stranger approaching… as they passed, the stranger spoke… my word that's a fine donkey you have with you he said… Akbar rather puzzled replied… pardon my friend, this is not a donkey it's a camel… I know replied the stranger, I was talking to the camel not you…"
We always visit the market in Kalkan. It's once a week and a whole street at the top of the town is closed off and buried beneath huge shady canopies and beneath them are dozens of stalls manned by shady dealers. You cannot go past any stall without being entreated in pigeon English to buy whatever they are selling usually at "cheaper than Asda prices." I always stop and look and ask: "Do you have any Burnley shirts?" It shuts them up a treat.
A text arrived. To my surprise it was from another Burnley supporter, Harry Gardner, now retired, and who heads to Kalkan for three-week stints. He'd heard from a total stranger that me and Mrs T were also in town. That stranger could only have been (I worked out) the guy I'd talked to for a while on the boat trip we did. I'd been eavesdropping when he'd been talking about having been an ex pro-footballer at Portsmouth. I went over to talk to him and it turned out he'd only played twice for Portsmouth in the early 50s before being sold to a club up north. He must have been in his 80s by now of course but looked fit as a fiddle. Astonishingly one of the two games he'd played had been against Burnley and he could still remember being up against the two full-backs, Harold Mather and Arthur Woodruff. We reminisced about the good old days when we were all poor. We were so poor in our house we didn't get the Betterwear man calling at the door. It was the man from Worse for Wear.
Anyway: Harry and I met up at the Sports bar (where else) and watched the three Charlton goals, each one a peach; poor crowd though and the sub 10,000 gate against Birmingham must surely have set alarm bells ringing at Turf Moor Towers.
Not a drop of rain for the whole two weeks, endless blue skies and hot sun; but the very last day, departure day, Burnley at Doncaster, brought rainspots and overcast skies. Taxi due at 5 to the airport and the prospect of another English winter ahead. Rain on fast Turkish roads, not good, the roads now greasy and treacherous, the second complementary white-knuckle ride in prospect. Having negotiated our way through two accidents, the airport was a blessed relief but by now a massive electrical storm was flashing and blasting all over the skies above and around us.
With a 9.10 departure time it meant we wouldn't get the Doncaster score until we landed at Leeds/Bradford. Doncaster: like Barnsley a place I'd vowed not to visit again, usually the scene of miserable defeats and poor performances. And since when had Burnley ever won five on the trot? Over our heads the storm worsened with continuous massive lightning lighting up the sky almost permanently. All flights either diverted or grounded. Our plane was now sitting indefinitely on the runway at Rhodes where it had been diverted. Ah well: gin and tonics and slices of pizza; and the bonus of texts letting us know the Doncaster score.
Bloody hell, winning 1–0 with a Vokes penalty; Vokes… taking penalties… we both exclaimed at once. The storm raged as we sat in the huge departure-lounge windows looking out over the runways. Not a drop of rain but just incessant sheet lightning and tempestuous winds blasting across the runways. Another text arrived, 2–0 and an own goal; by now the game surely over and Burnley clear top; the storm clearly abating, the lightning receding into the distance. And the first sign of life outside as a plane landed to the cheers of the waiting crowds. Another 30 minutes and ours came in. The 9.10m departure became well after midnight but by now it was confirmed, Burnley had won 2–0 and were clear top.
We go away for two weeks, turn our backs and they go and win 5 on the trot and go top. Turkish delight I suppose you could say. "You just know what'll happen on Saturday against Reading, don't you?" said Mrs T.