Burnley's record against them at Turf Moor was abysmal with not one win since 2000. It was therefore a game we approached with some trepidation even though we were up there in second spot, only one defeat in eight, and with praise from Harry Redknapp.
'People keep writing Burnley off. I don't think Burnley are going to fade away,' said Redknapp. 'From what I've seen Burnley are a very good team. Their two front men are excellent, they score goals and both scored at the weekend. They are solid. The right back is an outstanding young player. They're a good side and I think they will be bang there at the end.'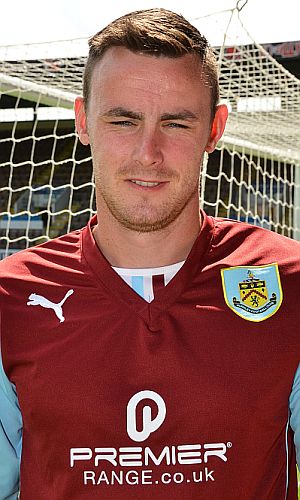 Keith Treacy was in scintillating form
Sean Dyche was calm, pragmatic and down to earth: 'We look at what we have and what we can do, rather than what we don't have and can't do. Our main focus is what we think about ourselves and everyone else can come across for the ride. It's about dealing with our own expectations and setting them where we feel it's appropriate. I know what we are about and what we are trying to challenge ourselves to do, individually and as a group. We've been very strong at home and we look to continue that. '
I hate teams that play in all black. Small teams look big. Big teams look like giants. Whatever their size, teams in black look mean and cussed and Neanderthal. Sheffield Wednesday were in black instead of their usual blue, bananas in pyjamas strip. They looked big and strong and menacing.
The omens had been good. Mrs T had news of a windfall in the morning. Then we learned of a mascot cancellation so that we could book grandson Joe to do the honours at the Millwall game. It made we wonder. It's quite a lucrative little side-line for the club. So: if kids can be a Junior Claret and become a mascot, why not the Pensioner Clarets and we too could pay to be mascot and limp out on our Zimmer frames or be pushed out on a trolley.
There seemed to be conflicting views of the game. Manager Dyche waxed lyrical about the performance and said it was one of the best. Second half maybe: but much of the first half was dour, attritional, ball in the air too much, much of the play matching the dull, leaden skies above. Even so, with Treacy in scintillating form, Burnley carved out chances that had us with our heads in our hands. Treacy in the local press had just confessed to feeling lower than a snake's belly during the Howe reign but that Dyche's man-management had rekindled his love for the game.
Ings thundered a shot from 25 yards that Kirkland tipped over, the goalkeeper destined to become man of the match by the end so that it would be Ings with his head in his hands more than once; Treacy's goal bound-shot was kneed away, and Marney spurned a glorious chance when played through, electing to cunningly slip the ball wide of the goalkeeper, but in so doing cunningly slipped it wide of the right hand post with the other side of the goal at his mercy.
At last Burnley did score, Vokes tucking home the through-ball from Marney in style. Not much before half-time we perhaps felt a bit too cocky. So too did the team maybe because just 60 seconds later a sloppy equaliser was conceded, the result of lax defending of a free kick given for a needless foul. How many times had Wednesday been in the Burnley area in the first 45 minutes; five or six at the most? Where was the team that had scored 10 in their last two games? They weren't at Turf Moor, that's for sure. It made the equaliser all the more annoying and frustrating.
It was in the second half that Burnley's play became brighter, more inventive and dominant especially when the ball was on the floor, Vokes by now giving a master class in leading the line and winning the headers. But would the ball go in? No it would not. Notwithstanding a ten-minute spell of Sheffield attacking, the number of efforts on goal piled up. At last a tolerant referee booked a couple of Wednesday players. The defender going through the back of Treacy was ignored in the first half. The theatrical fall-over in the box by one of their forwards, as blatant a dive as you will see was ignored. Both sides had legitimate penalty claims ignored.
How did we not win this game? Duff powered a free header over the bar. Jones had a cannonball shot headed off the line. Ings fluffed the chance, with his legs in a tangle, of converting a Trippier cross. Arfield wildly shot across the goal with Ings begging for the pass to come across. The stats say there were 23 attempts on goal. The stats say there were 10 Burnley corners. Alas they were all too similar, lacking in imagination, guile or variety. The game now was more open, more end to end, Burnley still the more dominant. Into the last 20 minutes and this had become a cracking game. Wednesday's raucous hordes from the wilds of Yorkshire had the atmosphere bubbling. Burnley's support the longer the game went on, more and more vocal as it began to seem they must score with all the mounting pressure.
New-man Barnes came on with just ten minutes to go and Treacy was the man to leave. It could just as easily have been Arfield. Now it was three up front and the pace hell for leather, Trippier breaking from the back more and more. Barnes reached an impossible ball by the goal-line and pulled it back. The chance went.
How did Ings not win this game? Into the last five minutes and his cracking shot hit the post. Then a terrific Ings shot was superbly saved by Kirkland. And then Ings fired in again in the final minute, another stupendous shot that once again produced another dazzling save. We groaned. The whistle went and Ings lay on the turf on his back contemplating the nature of things and undoubtedly reaching the conclusion that this was just not his day. It clearly wasn't Burnley's.
At least with the Worsthorne pipe-line replacement road-works completed and traffic lights gone, we didn't have to grind our way back home up Todmorden Road at a snail's pace as we'd had to do for several weeks. Of course we stopped for food at the Queen Hotel again in Cliviger. Behind us we left a Wednesday fan with a stab wound in the leg and the Miners Club not quite trashed but almost according to reports when things kicked off in there with a brawl between the different sets of fans. Outside, gangs of lads wandered the area looking for trouble. A dozen police congregated outside the Queen presumably to stop Wednesday fans going in and to keep the minibuses of fans moving. There were fewer than 2,000 of them at the game. Gawd 'elp us when Leeds arrive, we said as we went in.
At lunchtime Leicester had beaten Leeds 1-0 at Elland Road. Nugent with just three minutes to go scored as sloppy a goal imaginable when a soft cross came over, the defenders dillied, the goalkeeper dallied, and Nugent nipped in to slip the ball home giggling at his good fortune. QPR beat Huddersfield and Burnley's stay in second spot was over as they slipped to third. How could you be gloomy though? It was just one of those days at Turf Moor. Whilst the ball ran kindly for Leicester it didn't for Burnley. The images that remain are the two world-class saves that Kirkland made in the dying minutes and the ball slamming against the post just seconds before them.
The Sauvignon Blanc (just the one glass mind) and the Hunter's Pie with chips and petit-pois-au-mush at the Queens was the deserved consolation for the two lost points. Whilst the team prepared to jet off to Alicante for a few days in the Spanish sun and the Levante versus Barcelona game; whilst rival fans smacked lumps out of each other in the Miners, and played pin the knife in the supporter's leg, we sat back and smacked our lips with the Hunters Chicken Pie and the Luxury Fish Pie. Luxury here simply means it is generously bigger than your average Fish Pie and packed with extra-flavourful, fishy goodness. The Hunters Chicken Pie is not a Mereclough chicken with the arrows still stuck in it but a delicious blend of silky pastry and tender chicken and stock and cream sauce, with a layer of cheddar, whole grain mustard, barbecue relish (the secret ingredient, I'm the only person Carole's told) with a lid on top to keep the flavours in until that first forkful that quite honestly, and you have to trust me on this, is almost better than sex.
If the Queen's Steak and Ale Pie is the Carole Vorderman, then the Hunters Chicken is the Charlize Theron; alluring and sensual perfection, enticing, totally pleasing on the eye and something made in heaven so desirable you just can't wait to get hold of it. Sex on a plate; there, I've said it. The chunks of chicken bathed in relish melt in the mouth. The pastry smoothly slithers, you groan with pleasure; the rough puff pastry enriched with layers of extra butter in the mix. Rough puff (ruffe puffe in Shakespeare, rough pough in Islington, rough pouf in Brighton) is a much richer pastry than mere ordinary pastry. I'll back Carole at the Queen against Paul Hollywood any day. It was coffee and home-made fruit and cherry cake for afters, whilst the team were probably by now passing through customs and the lad who'd headed Jones' thunderbolt probably still wondering what day it was.
Sell Ings for £4million this month and there'll be riots in the streets I said to Clive Holt in midweek when the subject came up. Sunday morning with the papers and guess what, Fulham were planning a £4million bid for him; giving the club a choice, £4million now or maybe, just maybe, £90million next season? Chairman John B had personally been phoning people to persuade them to buy shares and get some cash into the club coffers so that bills could be paid and Ings bids could be rejected. The guy needs support as he works his socks off to find more cash. He'd had the odd chuckle when people thought he was selling insurance until he explained who he was. In a way he was selling insurance – insurance against having to sell Ings, or anybody else for that matter.
At start of play Burnley were a marvellous second. This was a Lancashire-Yorkshire derby game. And yet still the gate was under 14,000. If there's a chairman prepared to work his socks off raising money with personal phone calls, he needs help. Back at home I remembered how I used to try and raise funds, but in a much smaller way, in my other life, head of a small village school. Sometimes I felt like I was the only one that bothered. Sometimes I wondered if I was wasting my time.
Spread the word; bring a friend to the Brighton game. Raise the roof. If it can maintain the pace and retain Ings, this homely club is on the brink of something extraordinary.