He and Botham were talking about dogs they'd once had and Botham asked him about the one that he said used to bite him on the ankle. 'What happened to him,' asked Botham.
'Oh he's ont mantelpiece with me dad,' replied Bumble.
There wasn't much football in the Mail this Sunday, the 20th. What there was dwelled mostly on Van Gaal at Man United. But tucked on the inside back page was a telling little piece about fans being made to pay the price as clubs raised prices.
There was a league table of percentage increases. QPR were top with a 38% season ticket increase. And who was second? Well guess who it was? It was Burnley with an increase of 37% with a top ticket price of £685.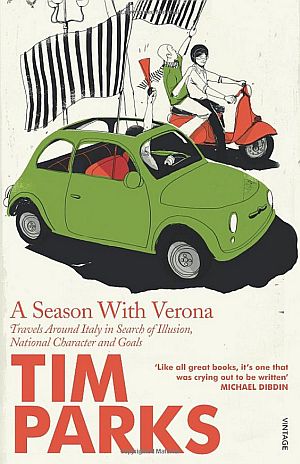 One of the best football books on the market
But fans are able to watch Premier League football, said Lee Hoos defending the increase, and £100 of this year's season ticket price will go towards the 2015/16 season when fans renew.
That last bit came across well, a neutral might be impressed. Alas it didn't say the bad-news bit about if you don't want to renew, hard luck you've lost your £100. It still rankles with a lot of people that have decided not to rush down to buy a £685 ticket. My grandfather was in retail for 40 years. I can imagine his customers' responses to him if he'd tried something comparable with the bags of flour or the fork 'andles.
In Austria after all their tree climbing and jumping off into what were called 'leaps of faith' from the top of dinner plate sized platforms atop a 30' pole, the 'friendly' game was a resounding success with an 8-0 win. Of course the quality of opposition might have been fairly mediocre, but fans who went out to sit in the hot sun were treated to goals from the two new strikers Sordell and The Jut, plus Barnes (two each), plus one each from Arfield and Gilchrist. Of course you take such a result with a pinch of salt, but it sure reads better than last year's 1-0 defeat to Morecambe. There were eight goals and not one from Danny; now there's a novelty.
Andy Lochhead must have smiled when he heard that the final friendly would be against Hellas Verona, an Italian side. This is the first game against an Italian side since the legendary games against Naples in the Fairs Cup way back in the mid-60s. The games against Naples are down in BFC history as two of the most violent games ever. Burnley won the first in a pulsating game at Turf Moor and Naples vowed to kick Burnley off the park back in Naples. At Turf Moor Lochhead scored and was involved in a goalmouth incident when the Naples centre-half was sent off for kicking him in the head. Alex Elder said the game was so brutal; it was worse than any game against Leeds United. It was the return game in Naples when Burnley drew 0-0, goalkeeper Harry Thomson saved shot after shot and there was mayhem at the end with fighting, police intervention and an armed escort away from the ground.
Verona meanwhile provided the inspiration for one of the best football books on the market, still going strong over a decade after its publication. First published in 2002 it's still on the shelves of all top bookshops. Not having looked at it for some time I pulled it down off the shelf at home and opened it at random. It was a page where the fans were grumbling, somebody said Verona and Burnley had several similarities, this could be one of them. But what they were grumbling at was very Burnley. They were hardly ever on TV and when they were it was a just minute at the end of any programme. How often have we heard that before? No-one loves us we don't care could have been written for Verona. Back then they were seen as vulgar, violent and racist.
The appeal of this excellent book is that it is far more than just football; it is as much about Italy, people, travel and life in fact the sub title is 'Travels around Italy.' Tim Parks spent a season with the hardened bunch of away supporters who travel from Udine to Catania, from the San Siro to the Olimpico. In Serie A the club is struggling to keep its head above water (where have we heard that before?). The back cover blurb describes it as combining the tension of cliff-hanging narrative with the pleasures of travel writing. The police are ever present, the coach journeys long and exhausting and the referees as ever unforgivable. It all ends with them still in Serie A, players and the small group of travelling fans on the same plane home. Parks is worn out and then there is the realisation, it all starts again in two months.
By the end you know the characters so well and feel all of Parks' emotions from weariness to joy. For a start he has to be accepted by this close-knit group. It's been mentioned more than once to me why don't I do a book of travelling for a season with the Burnley Supporters Club. Hmmm… would they really want their secrets, skeletons and warts revealing as Parks does in his book. It's just such a simple but brilliant idea, like the book about 32 programmes.
We had a few days in Dorset… there's a little place there actually called Turf Moor; recommended – Quigley's Bed and Breakfast in Beominster. We weren't too far away from Yeovil, scene of a happy Supporters Club weekend trip when we stayed in the same hotel as the players and the 2-1 win when Danny scored that 25-yards blockbuster. It was a few days without CM and twitter and messageboards and Alan Nixon and rumours of Troy Deeney and Henri Lansbury. The current rumour is that the signing of centre-half Craig Dawson from West Brom inches ever closer. Plus an African who plays for Celtic that nobody has ever heard of before. The latter sounds bang on.
The drive back took 8 hours in temps in the 80s. Blame the M42 crawl and an accident on the A42. At home I staggered in and checked out CM for any good news. It was bad news. Walk-on tickets would be a staggering £42 for premium games in premium seats. The first two are on the telly but they remain at £42. The airwaves were filled with 'Well I won't be paying that price, I'll watch at home or in the pub with a couple of beers… no way can I bring the family at those prices… they've finally priced me out at last… that price plus petrol will cost me the best part of £100… no thanks. '
Others said they'd pay the price but they'd pick and choose the games, finding the money to attend every game was no longer an option.
The club, Lee Hoos, the directors, whoever, have backed themselves into a corner with prices driven by the retainer add-on. Whoever you talk to outside of the boardroom, no-one sees the sense of it. The club still defends it. It transpires that the idea and add-on price was never discussed (as we suspected) with any supporter group. The end result is the astonishing walk-on prices although those who can afford will pay.
What is a fair price was the question asked. You can only answer that with the starting point of no retainer. Then you can have a policy that no ticket will ever exceed the £40 barrier. Without the retainer you could get the max price down to something around £35 or maybe less. I was in the Glen View pub the other day sorting out sponsorship for the Buchan book. The Glen View, in Cornholme, Todmorden (superb steak sandwiches) is a hot bed of fervent Burnley support. Landlord Chris said the feel-good factor following the wonderful season was immediately deflated when they got the news of the retainer and the extra £100. I'd like to have been a fly on the wall when they talked about the new walk-on prices.
Of the hundreds of posts and comments on the messageboards this one stood out: Shouldn't a pricing structure be based on what is affordable to your main target customer and the area in which they are located? This should consider average wages, living standards, levels of unemployment, historical date, previous prices and then a slight increase to acknowledge the higher level and achievements. Basically, this is strong market research.
All of that is spot-on and the early bird prices fitted the needs well. It was after that, that it all exceeded affordability for certain groups of supporters.
Case Study: Joe is a pensioner and lives in Ormskirk. He cannot get to every game and has always managed maybe 8 or 9 games a season. He brings and pays for his son and three grandchildren. It will now cost him £119 for a Category A game in the 'wings'. This, he simply cannot afford; he has reached his cut-off point.
In the second pre-season game Burnley beat a spirited Accrington 1-0 with a goal from Gilchrist. Sometime soon the law of averages says that some young lad will get his chance and seize it and Dyche has given the young 'uns appearances in the two friendlies so far. Could it be Gilchrist or centre-half Tom Anderson that stakes a claim? We are due for a 'discovery'. It seems a long time since Jay R came on the scene. Dummigan, too, gets good write-ups. Dyche was emphatic after the game that Burnley can't entertain £8million players when asked about Troy Deeney. Meanwhile, Andy Lochhead in his press column thought that Burnley now had enough strikers which is probably true enough. Add yet another one and Dyche will have the problem of too many to choose from and never knowing his best team. He always knew what it was last season. He only had one and it picked itself.
It was good to see from pictures that the painting of the seats in the Cricket Field Stand was completed. Those two guys must have fair whistled round.
In the third pre-season friendly Burnley lost at PNE. The second Preston goal was a stunning free kick from 35 yards. General opinion was that Burnley were decent in the first half and lacklustre in the second. There was a full spectrum of reactions from, 'Good workout and plenty of positives,' and, 'it's all about fitness,' to 'we need new players' and 'friendly or not, we shouldn't be losing to teams like this.'
Sean Dyche had commented about the competitiveness of the Accrington game. Preston by all accounts took it to another level with some robust late stuff that saw two yellow cards and scope for more with a stricter referee. Nine players got a full 90 minutes; he might well have been relieved that they came out of it unscathed. You don't expect yellow cards in a 'friendly'.
Meanwhile: it's all systems go for the Charles Buchan Football Monthly Best of Burnley book. A friend who went through all the selected pages that had been printed out and then put in order with the draft intro was absolutely fascinated by this look into 50s and 60s Burnley. The pages are due to go to the designer guys in a couple of weeks' time, local firm, Hudson and Pearson at Dunnockshaw. They did the two Jimmy Mac books. Of the print run of just 700 copies, 500 are spoken for already. Get in touch if you want to order beehivethomas@aol.com