From the faraway distance another voice yelled out. 'Never mind f***ing Africa. What about Padiham?'
Afterwards, we drifted home bemoaning Mike Dean's eyesight that left us minus two points; and next up was Man United. The run of easy games was over. If we'd known at that point that Dean Marney was out for the rest of the season with a cruciate ligament injury we'd have been totally distraught. Leaving the ground we thought it was just a couple of bad ankle knocks.
Memories of this time five years ago came drifting back. You-know-who had left. Half the staff had left. It was a toss-up between Martin Dobson and Barry Kilby who would be temporary manager. Dobbo won the toss and then Brian Laws came in, the players were baffled, and the first game was at Old Trafford.
Comparisons: the players back then had the wind kicked out of them. Too many spat their dummies out, said Brian Jensen. The season was as good as over, though we didn't quite know it, and we roared and cheered at Old Trafford as sentiment and loyalty and affection for little old Burnley cascaded down from the away end. Unity so often comes from adversity and we were up to our necks in it. We were all in it together because Coyle's walkout had dobbed all over every one of us. The history books will not forget his infamy.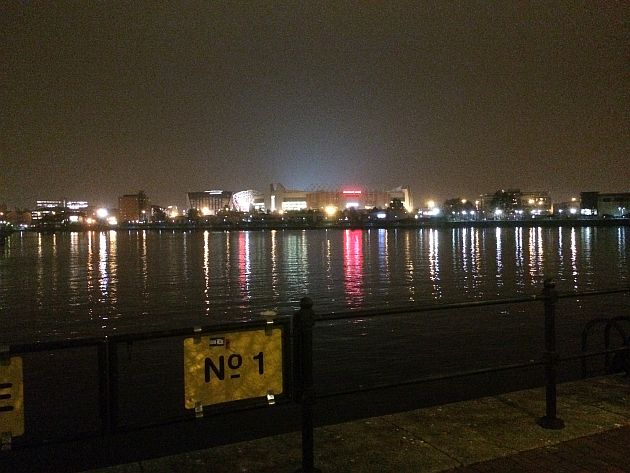 And here we were again, five years on, but with a different mindset, players who we know would not throw in the towel, and a manager who would not let them, or walk out in mid-season. Nobody could possibly have thought in 2010 that five years on here we would be again; and, in the same bloody uncomfortable seats that need a shoehorn to get your knees in.
Van Gaal had got Man U competing again in a messy kind of way. It's Van Harl by the way. The Dutch don't have seagulls; they have seahulls. They play holf not golf. Rooney, Van Persie, Mata, Falcao, di Maria, Blind – stellar names, oh Gawd sometimes you just have to laugh, daunting opponents but still not a proper team and because of that there was hope. Football scripts don't always go the way you write them; Bradford at Chelsea the living proof.
The Man U millions versus the Burnley jam jar. There's an old Lancashire joke and for some reason it always makes me think of the Burnley boardroom, its panelled walls and old framed pictures and they're always short of money. It wouldn't surprise me if this joke had been born in Burnley.
'Granddad can I have sixpence?'
'What do you want sixpence for lad?'
'To go t' pictures granddad.'
'There's pictures ont wall lad.'
'But they don't move granddad.'
'Well, bloody move 'em then.'
Maybe we are too honest, maybe our honesty cost us, said Sean Dyche after the West Brom game. Too true, we're not close to the top of the Fair Play League for nothing. The elbow in the back of Jones' neck in the build-up to the West Brom equalising goal was as blatant as you could ever wish to see; perhaps if Jones had gone down theatrically with a somersault thrown in, holding the back of his neck calling for medical attention, Dean might have taken notice. In fact two Burnley players were taken out during the second goal. Shackell was the other who ended up on the floor. What goes on at corners now is coached and is all part of the game, the wrestling, holding, shoving and all the rest of it. Pulis actually said afterwards: 'We look at set-plays very closely and thought they were vulnerable at the back. The second goal was a little bit of a block that we work on.'
But an elbow in the back of the neck is far more than a block. Pulis made it all sound so convincingly acceptable and normal and referees allow it to happen. Calling it 'blocking' masks what it really is; obstruction anywhere else on the pitch, and seems to make it sadly legitimate. It's a cynical ploy that has got worse and worse since Jack Charlton first stood in front of a goalkeeper on the goal-line. It rewarded West Brom with two goals and cost Burnley the win so that two days later they were back in the bottom three when Hull and QPR of all people won away. It was a Revie invention years ago and now perfected by Pulis; horrible to watch – so much for the beautiful game.
Mike Dean provided two key moments in the game and the memory lingers. The other was to wonder just how he missed the arm to ball penalty. All that is before we even mention the 'taking out' of Dean Marney by the number 5 with not just one but two goes at Marney, one that needed treatment, and then another one afterwards that finished him off. Once it was known he was out for the season the airwaves went into meltdown again, bemoaning the lack of any cover and a January signing. Sean D has said it's just social media niggling and griping and it's a sad fact that such as twitter and football sites is riddled with it, be it football, politics, the price of fish or anything else. But in truth it's only the same grumbling that used to take place on street corners, or the pub after a game. Social media hasn't invented it.
The next games coming up: Man United, Chelsea and Liverpool but then we noticed and laughed, they got easier after that, Man City, Tottenham, Southampton and Arsenal. A point at Old Trafford we wondered, ever positive? Stranger things have happened.
Richard Scudamore had just said that Burnley currently are more powerful than Ajax. We weren't sure if he meant the Dutch football team or the old pan scrubs. It was the day after the announcement of the new TV SKY deal and after next year even the bottom team gets a staggering £99million. It was a reminder, with bells on, of what this club will miss if they don't survive this season.
The coach from the Turf at 4.30; early in the afternoon we renewed our season tickets, a gesture of solidarity and loyalty. There was no retainer thank goodness. Earlier in the week I'd met up with Boff Whalley the Chumbawamba guy and still full-time Burnley supporter with a Longside season ticket. How does that song go?
'I get knocked down, but I get up again… you're never gonna keep me down.'
Hell: only a Burnley supporter could have written that. Meanwhile, still knocked for six by the Marney news and with the loan option unavailable as well, ideas were flooding in about available un-contracted free agents. Darren Anderton was the latest.
Even at 6 the areas surrounding the ground were heaving… Burnley coaches piling in… every space filled with food kiosks… the clip clop of police horses… the shop filled with tourists … we looked to buy little Joe a shirt for his collection and then saw they were £60 quid… 60 quid for a junior shirt dear God… a group of Japanese visitors were wandering round spellbound, one of them bought four adult shirts at some astronomical price at least £60… This club is just a money machine.
Inside: Professor Van Gaal took his place and sat with ring binders, flow-charts, pie-charts, graphs, folders, slide rules and set squares. Sean D by contrast, in his black raincoat, stood by the touchline and studied what looked like the back of an envelope. Everything inside the ground looked splendid, the sheer size, the brilliant colour, the brightness under the lights. But how quiet those Man U fans are and how average is their massively costly team that really shouldn't be called a team because it seems to be just a collection of disparate individuals waiting to be introduced.
By the end though, we came away from the game wondering just how or what we had done to upset the football Gods. We must have done something wrong. There seems no other rational explanation for the scoreline that at the final whistle read Man United 3 Burnley 1 despite the Man U display being so stop-start, stuttering and stilted. Van Gaal could have filled another ring-binder with how bad they were. He was full of praise for Burnley and scornful of his own.
By contrast Burnley were simply dazzling for the first 45 minutes and not just because they wore the shiny silver outfit, a kit so awful, so rank bad, we deserve to know whose idea it was so that we can take them to the top of the tallest building in Burnley and drop them off the roof. 'Truly hideous,' said the Guardian. If the guilty person still works at the club I invite them to get in touch and offer some insight into what possesses anyone to want to dress footballers up in this way. Stick goldfish bowls on their heads and you'd have a passable imitation of a badly dressed spaceman going to a Dr Who fancy-dress party.
But, despite this fashion abomination, this crime against good taste, dazzle they did in a first half display that oozed class, skill, pace, desire, power and panache. Yet still they went in 2-1 down because of dreadful defending, yet again against corners, the first routine, and the second short. Man U had just three corners in the half and scored from two. There couldn't have been a Man U fan in the building who wasn't flabbergasted to go in with the lead especially as the second was just before half-time to give them a huge psychological advantage and Burnley a lesson in shooting themselves in the foot, the marking was so weak. Van Gaal must have been hobsmacked. Rooney and di Maria worked the far post cross over totally unopposed. Smalling could have headed it home sipping a cup of tea whilst he soared high above Keane.
In between their two gifted goals the Burnley equaliser was simply stunning. A move at pace down the right and suddenly Trippier is whipping a cross over that the inrushing Ings meets and it goes into the corner like a bullet. From that point on it was all Burnley, the whole Burnley and nothing but the Burnley. Chances came and went; shots went wide but then that maddening giveaway goal that had us burying our heads in our hands at the sheer unjustness of it. Man U had been in the Burnley half a dozen times so far, their players chasing shadows, their manager without an answer in any of his notes. Even before Man Un scored their first, Keane could have scored from a golden opportunity but put the header wide.
Of course Man U raised their game in the second half and things levelled out but what a glorious chance missed when Ings slammed the ball against De Gea from five yards. From the clearance the ball smacked into a Burnley player and ricocheted back at 100mph towards the net. When the Gods love you they go in. This went over the bar. The miss was the one thing that detracted from his otherwise wonderful 90 minutes. He was here, he was there, he was everywhere, impossible to pin down, impossible to tackle, blink and he was gone. His feet were a blur, his movement razor sharp, all of it deserving of every media accolade that came his way. Without a shadow of a doubt, he was by far the best player on the pitch. Will Van Gaal be the next to make a mental note of his quality?
Now the game was back and forth, hell for leather, nip and tuck, end to end, a glorious display of competitive football with the odd tasty skirmish and confrontation thrown in for good measure. The Burnley fans in fine fettle:
'Three quid, we've only spent three quid…' they sang mocking the millionaires.
Still anyone's game, a Burnley equaliser always a possibility, but then Arfield goofed. He'd had a superb game. They all had, none of them deserved to be on a losing side. But Arfield gave the ball away in the middle and the next thing you saw was di Maria haring away up the left and going like a rocket into the box. Arfield was chasing, his legs pumping away like pistons but the tackle was a sloppy one. Penalty, no grumbles, the referee pointed immediately. Up strode Van Persie, a millionaire who had done so little and been painfully anonymous. He'd had hardly had a kick all game and smacked it home and looked totally embarrassed that he had actually scored. Football is cruel. Sometimes it's just absolute (forgive me Lord) sh*t. The guy next to me who had foamed and frothed at the mouth all the game hurling obscenities at Man U and their world, now beside himself and in danger of choking. I doubt it was his mother who ever taught him all those words.
The coach subdued all the way home; the crawl away from the ground interminable; a leftover bacon sandwich in the box helped cheer me up. Where there's bacon there's hope. Mrs T ate the fruit. She's just so virtuous. It was a defeat but a performance where it was still a pleasure to read about it the next day. One comment stood out: 'If Burnley are eventually relegated, it will be to a standing ovation.' But that is a long way off and as well we know Fairytales do happen (copies available in Tesco I do believe).
Next up Chelsea – sometimes you just have to laugh and shake a fist at the football Gods. We got knocked down but we'll get back up again.
And here's a thought, the next red buckets at Turf Moor should be in aid of bad defending at corners; never mind f*cking Africa.