And such is football and the long championship slog to the finishing line. The stronger teams emerge and rise to the top, the weaker fall away. Some running on adrenalin and sheer guts hang on in there. It was clear that the latter was Burnley's group. For the last ten games they'd stuttered and stumbled and it was also sod's law that as New Year approached, the two most recent games had been against teams on the up under new managers.
Years ago Bobby Charlton who scored more than his fair share of 20 yarders in an age when pitches were a mudbath and the ball weighed a ton, said that all he ever did was let fly without aiming for any particular spot on the assumption that if he had four attempts one would go in. Not for him the modern method of deliberately curling it, bending it, swerving or dipping it. Vincent Tan the well-known Cardiff stylista owner advised his players they should shoot more often and in so doing provided the quote of the year, presumably an ancient Malaysian proverb:
'If you ask 10 girls to go out with you, no matter how ugly you are, I bet one will say yes.'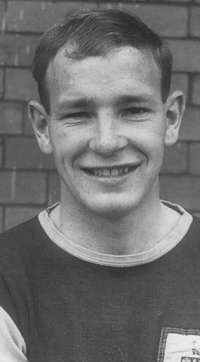 Four goal Andy Lochhead
Most rejuvenated manager of the year must surely have been Steve McClaren for his work at Derby County. Let us not forget he was once referred to as the Wally with the Brolly for one of his forgettable performances as England manager, and that whilst managing in Holland he was much mocked for the Dutch accent he picked up whilst speaking English. On Boxing Day Derby overtook Burnley.
Most monumental event in football must surely have been Alex Ferguson's retirement. Moyes' appointment as replacement was perhaps a bit of a surprise but in hindsight was maybe the obvious one, one dour Scotsman following another. Most impressive reformation might well be Luis Suarez, he of the cannibalistic urges and with gnashers to rival Dracula's, but after his lengthy ban knuckled down so that by Christmas he was on course to be Player of the Year and the bloke you'd most like to live next door. Non surprise of the year was probably the news that Bolton Wanderers were £163million in debt. Next year's big surprise will be if they haven't folded.
Burnley hero and legend Andy Lochhead was in the spotlight. This time it was the Sun featuring the 6-1 demolition of Manchester United on Boxing Day 1963. Willie Irvine once said old strikers never forget any of their goals. Andy remembered the four he scored that day:
Scoring and beating Manchester United was always an achievement. But to bag four goals was something special. I am so glad I played in the 60s, an era I still regard as the greatest the game has seen. We started brightly and had the impetus of an early lead after just six minutes when I scored following good work by John Angus. I got my second just after half time, a speculative shot from 20 yards which went in off the angle of the bar and post. From the start of the second half we ran riot with Willie Morgan hitting his first two goals for the Clarets and my own second-half brace bringing the total for me to four and the team a whopping six.
Morgan was in the side because John Connelly was injured. Morgan's display convinced Bob Lord that Connelly could be sold to United and in Morgan there was a dazzling replacement. It was Jock Stein who recommended to Lochhead that he should sign for Burnley, then a fantastic nursery for young players. He still lives in Burnley today but had spells at Leicester, Aston Villa and Oldham. At Villa he remains a cult figure. Manchester City and Joe Mercer were keen to sign him but old Bob Lord would have none of it. Later in the 60s Coach Jimmy Adamson wanted him to remain at Burnley and play as a centre-half.
The death of former player Paul Comstive came as a huge shock. He was only 52. Following the near disastrous 1886/87 season he was one of the new players drafted in to re-shape the ailing team. He left in 1989 after 103 games and 23 goals for Burnley. He was a member of the team that reached the Wembley Final of the Sherpa Van Trophy against Wolves. After the horrors of the previous season it was a marvellous achievement, almost fairy-tale, to progress to the final and two of his goals were crucial in that campaign; one was the winner at Bury, and the other was the final goal in the second-leg against Preston. Twice he hit the woodwork with headers in the Wembley game but Wolves were the victors in front of 80,000 spectators, a quite amazing attendance for two sides in the Fourth Division.
New Year's Day: Huddersfield had been on the up since beating Burnley 2-1 at the John Smith. In the first half they'd looked a class outfit. In their most recent game they'd clattered Yeovil 5-1. Paterson was once again banging goals in for them like he once used to at Turf Moor. Huddersfield therefore represented a stern challenge and with Burnley's form resting on a knife-edge there was certainly no confidence that a Burnley win was a certainty.
There's always something flat and lifeless about a New Year's Day morning. The weather outside the window was grey, dull, uninspiring. It's always fun putting up the decorations. It's always a drag taking them down. It's a symbol that the enjoyment and escapism of Christmas is over. Reality beckons. The rain began to lash down. This was an afternoon to sit in front of the fire, watch a film, drink sloe gin, eat the last mince pies, read a bit more of Harry Redknapp; above all stay warm and cosy. But the Turf beckoned. How did that old WW1 recruiting poster go: Your Team Needs You.
1800 Yorkshiremen headed over the hills to Burnley on roads awash with water and spray; all ee by gums and na' then and 'ecky thumps. Yorkshire-folk generally were thrilled to see they could save a quid or two by re-using 1986 calendars. Simultaneously, Bulgarians and Rumanians headed across the channel by 'plane, coach, bus, ferry, horse and cart, and submarine to Eldorado and the land of opportunity. They'd all learned to say: 'I go for work not for benefeets.' Yeh right Dave. I'd half expected to see Nigel Farage at Dover shooing them away.
If we thought Huddersfield would play like they did at their own ground we were totally wrong. Other than the last few minutes after they scored their second this was a terrific Burnley performance. By then they should have been dead and buried, the game out of sight, Burnley cruising and relaxing.
What a start: an amazing thing happened. Burnley scored after just 6 minutes when Ings broke through and smacked it home. There was a brief moment's hush and surprise as if we were thinking, 'ang on a minute, we don't do this, this isn't the way we do things, we don't score early goals. Then it sank in and the roar grew.
Huddersfield were neat and tidy but unthreatening. Only a defensive lapse and poor marking from a corner in the swirling wind gave them an equaliser. We groaned. But back Burnley came, urgent, confident, inventive, and it was no surprise when Ings got his second with a crisp shot. Jones hit the bar with a superb effort, the keeper made a cracking save from another shot from Jones that was arrowing in. Another baffling referee gave Huddersfield every advantage and soft free kicks at every opportunity.
Ings was back to his best, Marney and Jones dominant, Trippier magnificent going forward. It brought him Burnley's third goal. I missed it, downstairs having a barny with a pimple-faced steward that looked about 18. Turned out he was 20. He'd been up to warn me about my language earlier. I was puzzled; I'd stood up and yelled 'absolute cr*p', at one of this infuriating ref's crap decisions and 'absolute rubbish' at another. He told me he'd heard me twice using foul language. Downstairs I asked him what two words had I used. He told me I'd used the word sh*t at the referee.
'And the two ladies with you as well, they used it as well.'
That was the clincher. I was livid and bellowed at him, 'get me the supervisor.' Off he went. I waited fuming. I can understand now how easy it must be to succumb to rage and blind fury and take a swing at somebody. He returned with supervisor and FOUR more stewards. Is this where I get dragged away to the cage, I wondered. Will there be a picture on twitter?
I let him and supervisor have it, both barrels. 'Now come and meet the two ladies,' I invited the supervisor. Up he came. The saintly Mrs T and daughter gobsmacked at the accusation; nobody around us had heard the word. Lots of apologies were duly offered. The pimple-faced one was removed.
And the most annoying thing: I missed Tripps wonder-goal. 'A champagne moment' Sean Dyche called it. So: just sometimes we do get champagne with beer money.
The last few minutes were nerve-wracking, the wind blowing stronger, seagulls flying backwards, the rain swirling, the pigeons wearing wellies. We knew Derby were losing and second-spot was there ready and waiting. Burnley weathered the storm. It was Paterson who scored both their goals, his celebrations deliberately muted. He was warmly applauded onto the field in contrast to McCann at Wigan who was soundly booed at every opportunity. Paterson didn't want to leave, would have been happy to stay, but wasn't guaranteed the central role he craved in the forward line. Oh to have him here still, I thought, to take the weight off Ings and Vokes, as he slammed in his second. McCann revealed he wanted a new challenge, code-speak for having had enough of Burnley. By and large, many Burnley fans had had enough of him as well. Football is funny. Some players are likeable. Some players are not. They find out when they leave just where they are in the popularity stakes.
The piece about new director Brian Nelson in the programme was a nice one. I've known Brian for ten years and chuckled at the quote that many years ago in the days of the Venerable Stan; Brian had offered to pay for the hotel on a trip but ended up paying for five 'plane flights for the team. That's Brian. Over the years he's always coughed up funds when asked, quietly, without fuss, publicity or fanfare. I was on one of those plane flights to Norwich and that's how we first met. All Burnley directors are fans to the core either born and bred or been here 30 years. It's a comforting thought whenever I see Vincent Tan or the Venkys.
Ah well, goodbye 2013; but here came 2014 filled with hopes, expectations, resolutions (to do my best not to punch a steward) and the dream of Burnley hanging on in there. A pile of books ready to read, Ferguson, Redknapp, Mike Tyson and John Grisholm and The Railway Man by Eric Lomax. Then there are more Simon Scarrow Roman legion books on the pile. Love 'em.
Books to get into print too: there's a possible book deal if we get promotion or it's a close thing, and I emphasise IF. A sort of It's Burnley Not Barcelona Ten Years On. And then there's the Charles Buchan Burnley Soccer Annual I'd love to get off the ground but that can only happen with enough subscribers and sponsors to fund it. 150 people have already been in touch but it needs another 150 on top of that. Season tickets: of course we'll renew, that's three of us but this year an extra fourth for little Joe; his first season ticket. He looked plaintively at us when we said we we'd be seeing Burnley play Huddersfield. He missed hero Danny scoring twice.
And alas a rather chilling thought. I shall be 70 this year. Now that is frightening. And far too old to be getting into rages with stewards. I must mend my ways.