I wondered if we had Great Expectations at Turf Moor from the heady heights of seventh spot before the Leeds game. It felt odd not going to Elland Road but the prices there are ridiculous. Leeds fans think so too. Ken Bates told them when he started putting prices up that it they wanted to pay Cheshire League prices; they should go and watch Cheshire League football.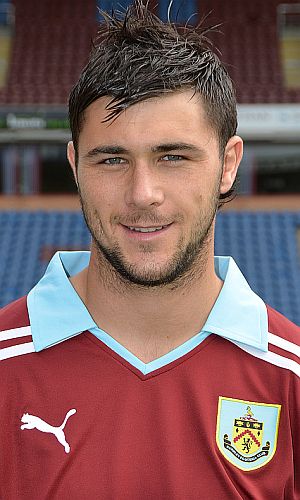 Charlie Austin gave Burnley the lead at Leeds
Leeds had been thrashed at Barnsley. Their home form had been patchy. Bates more and more irritable at the way things were going, leaving Grayson vulnerable to the New Year chop. Burnley had won six out of seven. The Leeds websites were generally far from happy with Bates, Grayson and the world in general. I looked at the Leeds Mad site… what a depressing experience that was. Burnley's nemesis Snodgrass was indisposed after having his appendix out. Star man Howson was missing. There was a great expectation of a Burnley win and you felt they'd never have a better chance than this game.
But, Burnley had beaten Leeds only twice in something like 35 years and Leeds you assumed would be desperate for a result after the collapse at Barnsley; so this was by no means a formality.
We were out for the afternoon at a birthday bash and as we drove home with minutes to go the score was 1–0 to Burnley. We rushed through the door, switched on Soccer Saturday and it was still 1–0. By this time we knew Trippier had been sent off early on in the game by a numpty of a referee, for the most innocuous second foul that earned him a second yellow. Leeds fans were as astonished as those from Burnley. From that moment on it was a backs to the wall fight to keep the score level as Leeds poured forward. But, astonishingly it was Burnley who took the lead with an Austin swivel and shot from some distance out.
Meanwhile back in the kitchen as I poured me a whisky Leeds equalised; an own goal of all things from a sliced attempted clearance by Rodriguez from a poor weak corner that should have been cleared into row Z. Until then it had been a magnificent rear-guard action with Amougou, Mee and Edgar outstanding. I stood and stared at the screen and muttered the usual profanities.
There was worse to come. With seconds to go there was a long distance attempt that skidded through to Grant who spilled the ball for an onrushing Leeds player to bang it home. Not even a 1-1 draw then and a sickener of a result. Sometimes the gloom of a particular result lingers for several days. Usually we manage to shrug them off but this one wouldn't go away. With five minutes to go there we were in 6th place. By the end of the game we were down to 10th. From Grayson's reaction you'd have thought he'd won the Cup Final.
On top of this my five year old computer was in its death throes. For weeks it's been a devil of a job to get it to start up and then it started to shut down of its own accord when I wasn't looking. Then there was some message about a blue screen error. The doctor said this was serious and there was no known cure.
"It sounds like the motherboard," said the guy at PC World. I thought he was going to say "motherf***" until he finished the word. "Could cost a couple of hundred if it's repairable," he added. At that point it was me who muttered "you motherf***** at the bast***d computer." How can a lump of metal reduce you to this?
That settled it. Mrs T decided that what was the point of spending that amount on a repair to the motherf*****r; surely better to get a new one.
"Well," said Shaam the salesman, "we have this package on special offer at the moment," the glint of a sale shining brightly in his eyes.
Knowing that the old thing was on its last legs at least I got everything saved over the previous few days onto those things you plug in. It flickered into life one more time and it held on until I'd got as much as possible done. God forbid if I'd lost all the Roger Eli stuff and the next book I've started (top secret for the moment).
And so, the old set-up was dismantled whilst Norwich were dismantling Burnley at Carrow Road. The desk was pulled out and the dust and fluff of the last five years was cleaned up from underneath. Dust upsets Mrs T. I tell her it isn't dust; it's layers of history. Dust brings back memories. Women don't seem to understand this. The window ledge was cleared of all the paraphernalia I'd collected over the years – the chopsticks from the Chinese restaurant on Mott Street New York, old bottles, my Mickey Mouse alarm clock from Disney World, bric a brac and objet d'art. Mrs T calls it rubbish and tat. Sometimes I swear I don't understand her.
It was good to have the distraction of setting it all up whilst Norwich banged the goals in. It sounded like it was a fairly routine win for Norwich and the gulf between them and Burnley was obvious. Smoothly they moved into a 2–0 lead without breaking into a sweat. Rodriguez pulled one back quite quickly with a fine header from way out, but hopes of a spirited fight-back were quelled in the second half without much trouble. Actually I won't pretend that I set the computer up. What tends to happen is that Mrs T does it all while I fuss around until I'm sent out to make some tea.
Meanwhile those who were there at Norwich were critical of a generally dispirited performance providing little opposition other than Marney. Edgar is no full back and it showed. The lack of cover in that position is clear. Amougou by all accounts was simply not at the races. Players were out of position, nobody who was there had any idea what position Austin was supposed to be playing; the defence was clearly makeshift, the midfield undermanned and as good as surrendered. And then it kind of summed it up to see Alex MacDonald eventually brought on at full back. Nor did it help that Norwich were on top of their game. From the very limited highlights it seemed like men against boys.
It was kind of worrying was the general consensus that this squad had such a paucity of defensive cover or alternatives and that this is after a year of squad building. Cort left as well, contract paid up and no longer required at Charlton either. Something seems odd about the whole thing. I never thought he was quite as bad as some would make out. Can we guess that assuming he was on a very high wage; he simply had to be shifted out – of frozen out.
What a panic on Monday the 9th. Word vanished from my brand new, sparkling, shiny desktop. Well it didn't really vanish; it was there but would not open. For me, with one book virtually finished, and another just started, it was a pain. Step forward Mrs T my resident technician. She messed about and made phone calls from 7 on Monday night until 10.30 Tuesday morning. First call goes to the PC World help desk. (Round about the same time as Henry was scoring for Arsenal) Brilliantly prompt but they decided, sorry, it was a Microsoft or a Licence problem. Bast***ds… Phone Microsoft… Sorry lines closed now (unless you want to pay) open from 8 until 6… bast***ds. First thing in morning phone Microsoft… recorded voice… menu options…bloody dozens… choose one at random… more options… bast***ds… Mrs T picks another one… a voice… success… takes details… sounds like he knows what he's talking about… OK licence is good but I can't help I'll put you through to another number… bas****d… puts us on hold (meanwhile the alarm man has come to check out the alarm system and the bloody thing keeps going off… the new cat has diarrhoea… bast***d… I am not surprised… after 30 minutes wait … wahey… there's a voice from Microsoft… they don't do cats with diarrhoea… it's a call centre in Belfast we think… but its Deepthi who guides Mrs T through the repair process… another 40 minutes of do this, do that, press this, close that, open this… and she comes off the phone… red faced… frazzled… worn out… BUT IT'S DONE… fixed… mended… repaired… Deepthi says that Word had been disabled by an unwanted add-on… what f*****g mystery add-on…. Where the f**k has that come from … while all this has been going on I've been outside the door pacing up and down worried sick like a bloke in a maternity ward waiting for news…
You may come in now says the nurse. I look at the screen and smile. IT'S THERE. There's Word… there's my Roger Eli document… it's still there… "I'll take you somewhere really expensive, "I promised Mrs T – and took her to a petrol station to fill the car.
It was Eddie Howe's first year anniversary at Burnley and the Middlesbrough game. We elected not to travel choosing instead to make marmalade. Who says men can't make marmalade. It's tough work slicing and cutting up the oranges into tiny pieces, then stirring the mix in a giant pan. Skilled work too, when it's time to test a tiny sample and see if it's setting. You put a teaspoon on a cold saucer, give it a little, gentle shove with your little finger (no other finger will do) and if it creases and crinkles it's ready and setting and it's time to ladle it into the jars (clean and dry and saved from last year). Gotta say, there's something very satisfying about seeing 16 jars of home-made marmalade lined up waiting to cool, before it all goes down into the bomb-proof shelter along with the candles, matches, fire-lighters, tins of beans, and twenty bottles of Southern Comfort for bartering purposes. Next job is build up the toilet rolls.
At half-time with Burnley (astonishingly) 2–0 up, and the marmalade safely in the jars, Boro were booed off the pitch with the pundits lauding McCann and Marney to the skies. The big debate was Trippier's goal; was it 35 yards or 40 yards. "A stunning half of football from Burnley," said a drooling commentator, "And if there is a God up there it's payback time for the Leeds result."
Payback was achieved. The second half sounded to be rather different with Middlesbrough taking the game to Burnley rather more than they did in the first. But it also sounded like Burnley were seldom really troubled. Boro had just one shot on target. Of course when the final five minutes came there was a bit of nail-biting remembering what had happened at Leeds. There was a good line from one poster on the message board: "This young still callow team performed like a bunch of gnarled 30-year olds."
What a super day then with gorgeous weather, sun, blue skies and crisp temperatures; an excellent full page article in the Telegraph Sports about Bolton's debts, a fine scoreline of Man U 3 Bolton 0, and a very acceptable M&S Indian Meal for Two and some fizzy, before we settled down to watch telly. Only one point separates 5 teams fighting for sixth place, one of them, us. A few weeks ago we had no great expectations. Turf Moor was more like Bleak House. Now, they are slowly but cautiously building up. The only blot on this fine day was the Blackburn win. But a 100% perfect day would have been too much I suppose. Even the waste-of-money, outdoor, solar powered Christmas lights that hadn't worked once and were still outside draped on a tree, came on and twinkled.