Jimmy Mac flew back from Spain specially. You can't pay a higher tribute than that to a former colleague. Many of them were on the pitch before the game versus Leeds to lead the applause.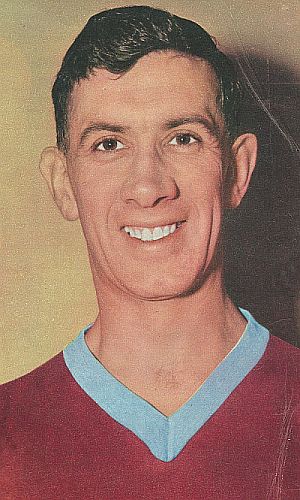 Jimmy's passing at the age of 82 was not unexpected. He had been in a declining state for some time. He was, however, present at the opening of the Jimmy Adamson Suite in the Jimmy Mac Stand and loved every minute of it. He had not been at Turf Moor since an aborted attempt to attend an FA Cup game some years earlier. It never even kicked off because of the atrocious weather.
Football and life work in funny ways sometime. The next Burnley game after his death was against Leeds United. Whilst a hero at Burnley he was the opposite at Leeds having been there as manager at a time in his career and life when he was slowly losing all interest in football. Whilst a legend at Burnley, he became a figure of scorn and derision at Elland Road, despite a reasonably successful first season there.
It's possible that the seeds of his disinterest with the game began in 1976 when his team of the seventies was finally buried at a game against Blackpool in the FA Cup. As the foul weather dove in off the Irish Sea, a team managed by Harry Potts of all people, knocked Burnley out. Adamson was dismissed just days later. Things were already acrimonious between him and Chairman Bob Lord. Jimmy had a mind of his own and old Bob found that difficult to cope with.
Overall his management story is one of broken dreams. His playing career was outstanding. His reputation and renown as a coach was second to none. But his success as a manager was limited to just one brief spell at Turf Moor, when there was a promotion and then two good seasons in Division One, until one by one his players were sold to pay the bills.
There were players who loved him and were his disciples. There were others who did not. Such is football. But what a cultured and elegant player he was, his long legs and long stride, his passing skills and football brain making him one of the truly great Burnley players. Adamson and McIlroy, McIlroy and Adamson, the two names were spoken in the same breathe many times by all the sports writers. What a fabulous team it was that won the '59/60 title and then had two more outstanding years. Jimmy A was one half of the brains in it. It tells you how good Jimmy was as player and coach that Bobby Charlton devotes several pages to him in his biography. You get the clear feeling that Bobby Charlton was an Adamson disciple.
Mrs T and me didn't get to Burnley for the game. Various things I won't bore you with meant we had to stay at home. In some ways I wasn't sorry. Behind us last year in the James Hargreaves trouble kicked off when a 'family' of Leeds supporters were ejected. Whether they were instigators of the trouble or the victims was unclear. But how on earth did they get into the James Hargreaves? And what a bizarre looking group as well. Five of them if I remember rightly, all dressed in black; not Leeds colours, but black. It was bizarre.
You could say that Leeds and all their money troubles some years ago were a football definition of what Barry Kilby is trying to avoid. That is to say the slippery and rapid road down to financial meltdown. The Burnley accounts that were published a couple of days before the game were as per the earlier forecast and showed a loss of app £4million. By and large there is a reluctant acceptance of the situation at Turf Moor, albeit with a degree of headscratching from many. The feverish messageboard responses reached their peak the day before the game and then slowly tailed off. Most of it was constructive and informed with genuine questions and worries. A smaller group was abusive demanding a new Board and chairman but quite where the next generation of directors is to come from is anyone's guess. Wealthy investors are not exactly queueing up. Someone like the Venkys taking over perhaps; there's some interesting stuff emerging about them that if correct will take Blackburn into a catastrophic position.
For whatever reasons, despite the parachute payments, the money just ain't there in any great quantity. The indicators are that it won't get better either, if the proposed 60% of income rule kicks in, along with the way Prem clubs will soon be able to cherry pick any kid they choose from any club outside the Premiership with only minimal compensation payments. The next hurdle is when Jay Rod only has a year of his contract left and other clubs start sniffing again. Mind you, he'll need to start scoring again for any of them to show interest. But it isn't rocket science that he will be sold if the right offer comes along.
Where all this leads in Burnley's case over the next few years is the mystery; a return to the Premiership would be a miracle, just as it was when the blessed Messiah was here, but with ten years supply of good luck (long overdue), he pulled it off. The worry is that if the last 6 weeks of the promotion season used up all that good fortune, there's nowt left for the next ten years – the bad luck the club has had with injuries to players this season alone has been staggering. Simply remaining an established championship club would need a decent team on a probable £6 or 7million a year wage bill. Someone worked out that this might provide a squad of 25 players on only five grand a week. God, the poor sods, what wouldn't I give for 5,000 a week? Without naming names, there's one or two in the first team right now that I wouldn't give 5,000 a week.
There was a minute's applause for Jimmy Adamson before the game instead of silence. You could argue that there is nothing more dignified than a one minute silence. But with Leeds being the visitors, and Jimmy not being their favourite manager of all time, you could argue that applause was the right way to do it for fear that out of a Leeds following of almost 4,000 it was likely that some of them would have abused the silence. It's a sad reflection of Leeds that we even thought of that. But the day before the game one of their fans' websites was hinting that a silence would not be observed impeccably.
Why Leeds United provokes a negative reaction from so many supporters goes back to one thing, the "Dirty Leeds" tag they were awarded decades ago under Revie. It sticks with them still. They were a hard club to love then, and still are. There was a real ugliness about the way they rose to the top and Revie was the embodiment of the do-anything-to-win mentality. Leeds United by the way takes up quite a fair amount of the forthcoming Roger Eli book. It's where he started, played a couple of first-team games and to this day feels that if Eddie Gray had not been sacked, then along with the other really good young kids coming through, some of them already in the first team, he would have been part of a new, young team that might have blossomed into something really good. But along came Billy Bremner and cleared them all out.
.
As well as The Accounts, by the Saturday safely delivered to all shareholders, and chewed over at length on message board, the talk was of Paul Fletcher's decision to leave his post as CE. One does wonder if behind the scenes there is a clash about what his focus should be? I also suspect with the number of football university students they have that this year must be a sort of loss-leader. Then there was the unexpected signing of Sam Vokes on loan from Wolves, a big target man. The camp was split into those who moaned, "Oh Gawd, not another striker," to, "Good a big man target man up front." I signed up for the second group remembering it was the signing of Steven Thompson in the promotion season that made a huge difference – in my 'umble opinion. All in all then it was quite an eventful week.
Now that Fletch is to leave and money too tight to mention, one might also assume the Stadiarena idea is now like Monty Python's parrot, bleedin' deceased… ceased to be… no more… expired… passed on… this is a late stadiarena…. bereft of life… it rests in peace… this is an ex stadiarena…
All those wonderful colour pics, artists' impressions and plans and designs that filled the pages of the Burnley Express… we shall miss them. How will the Express fill its pages? But then what do I know? A long time ago I wrote a piece that said the Stadiarena was feasible and potentially profitable, and the Football University was the lame duck. And look what's happened. For that reason I said to Mrs T that Leeds would win at least 3–0 hoping for just the opposite.
It didn't work. Leeds won, 2–1: A thoroughly undeserved win that left us shaking our heads and fuming at the penalty that was denied when Bartley was brought down. That might have made the score 2–0. We watched the game on TV, wishing we were there, but the TV replays showed how clear the penalty was. Then the Burnley defence ball-watched to give the equaliser away; the goalkeeper standing transfixed as if he's hypnotised and bingo it's 1–1. From that point you just know what's in store, and it duly arrives near the end and Snodgrass scores his second, again a goal that should so easily have been prevented.
The penalty that was denied, Treacy clips the bar, some great on-target shots, Rodriguez playing well, Vokes winning things in the air; Burnley crisp and sharp, and there was so much that made you feel the win would come. But if Leeds had something, it was what Burnley lack in every game; steel, grit, physical toughness, mental toughness, a pragmatic ugliness and a never say die spirit. They're not pretty, they're functional; they work so hard. They're not worldbeaters but how often did a Burnley player have the ball to find 3 Leeds players around him? Should we be pretty and lose and be one place above the bottom three; or ugly and win… and be in the top six?
This was not a game that Leeds deserved to win and it was a game Burnley deserved not to lose. But what you deserve and what you get are two different things. Burnley were good in the first half but as ever the opposing team gets back into the game because Burnley cannot keep up their momentum. There are real worries now that the bottom three beckons. It's too early to even contemplate relegation; but those fears will become more apparent in January if things don't buck up. A club with no money, a team that can't defend, another shoulder injury to Charlie Austin, down near the bottom end - you could begin to get a bit gloomy.
Ah well, and so away to Birmingham…. And then Hull… and then West Ham… Mrs T went off to M&S and found that their £30 a bottle champers was less than half-price. She stocked up for Christmas and we had one watching Come Dancing and Russell Grant. You have to do something to cheer yourself up. If things carry on like this, we may well have supped the lot before Santa comes.