It was Maine Road that was christened the Theatre of Base Comedy years ago by Stuart Hall. Now it's Ewood Park as the Venkys do their utmost to provide the rest of football with more comedy than Charlie Chaplin, Tommy Cooper and Ken Dodd all put together. Mrs Brown's Nativity, the Royle Family and Have I Got News for You were amongst the laugh-aloud TV highlights and then came the Blackburn story on BBC News – priceless. It topped everything.
But all that (and Mrs T's thumb) was overshadowed within minutes by the breaking news that there was the possibility of Russian investment at BFC. It was Burnley Express headlines. John Sullivan was talking to Russian contacts and connections. There was speculation though; was this John Sullivan the former BFC director and Burnley businessman, or was it John Sullivan the guy who wrote Only Fools and Horses?
If this was to be believed there was £40million up for grabs from people who wanted the prestige of sitting in Premiership boardrooms after a promotion push; but would be content to let the present board run things. And pigs might fly.
SKY Sports News reported Burnley denials.
Phil Brown was reported to have thrown his hat in the ring for the Blackburn job. There were a few laughs at that as well – but why shouldn't he? You can see the job in two ways – as a joke job, or as a real and genuine challenge. The latter includes the fun of working with the Venkys, Shebby Singh and Balaji Rao, plus regular trips to India, free chicken takeaways and the sure knowledge that if you succeed you are a hero, and if you fail you get the sack and a lovely pay-off. Kean allegedly received over £1million. Berg too will presumably head to the bank to see how much his account has increased. It's the fastest way to become a new millionaire – have a few games managing the Rovers.
The club, via global advisor (what the f**k is a global advisor) Shebby Singh, denied reports that the new man in charge would be Judan Ali, star of Bollywood movie 'Dhan, Dhan, Dhan Goal.' But Ali was reported to be at the Ewood training ground along with Shebby Singh running around in a training kit. But this, said Mr Singh, was only in a guest capacity. Mr Singh also denied Balaji Rao's claim that a manager with Premier League experience would soon be appointed. Clearly they are not all Singhing from the same hymn sheet at Eebygumwood. Surely it won't be long before we can all sing 'Going Dahn, going Dahn, going Dhan…'
Mr Singh concluded by saying, "The club is well run, we've got proper people here." Although as he spoke, the background to all of this is the suspected loss of £2million a month and the reported power battle between Singh in the red corner and Paul Agnew and Derek Shaw in the blue corner; the latter two last seen heading for Pune for talks with another of the leading characters – Mrs Desai.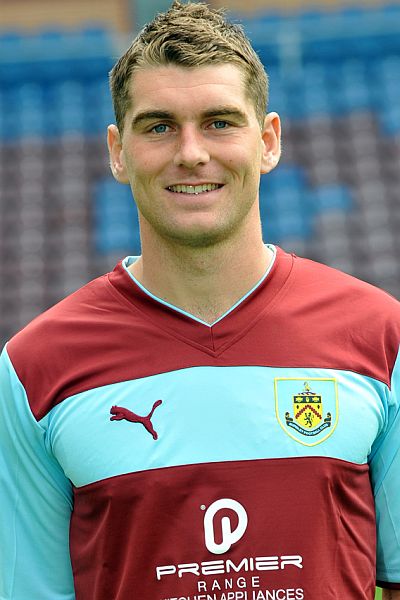 We upped the tempo when Sam Vokes came on against Leicester
Unfortunately the jocularity was spoiled by two things: a Blackburn win at Barnsley and the defeat for Burnley at home to Leicester City. The journey to Burnley from Leeds was in torrential rain that miraculously stopped past Todmorden. Our trip was only 40 miles. My chum Alan who has done a lot of the Jimmy Adamson research up in the north-east drives down from Ashington and back again. Others drive even further from Sussex and Cornwall and even the northern wilds of Scotland.
Leicester City were good, but not outstanding. Burnley were poor but not disastrous. Manager Dyche said it all seemed so flat. How right he was with a first half that registered 10 on the groan meter several times. Leicester deserved the win but Burnley didn't help themselves. Starting with an unfit Austin was a gamble that failed. He went off within minutes. We looked to see Vokes coming on as the obvious replacement. But no it was Paterson sent on to do battle with muscular, much bigger centre-backs who had him in their pockets. As a result Burnley were impotent up front, toothless and punchless. Leicester didn't have to do much – and in the first half didn't – other than score as soft a goal as you could wish to see. The defence was AWOL; the low cross came over from a weakly defended throw-in, and Nugent was there to knock it over the line scarcely believing his luck and the unmarked space.
Treacy began the game. Whether you saw this as a failed gamble or a worthwhile gamble boiled down to personal preference and opinion. Me: it was a marked improvement (with one nice slide-rule pass into the box that McCann didn't cotton on to, some neat touches and a couple of crosses) on some of the others he has provided. But then if he didn't set the world on fire, neither did several others that were below par as passes went astray, runs went into blind alleys, and the cold started to bite as we huddled into our overcoats and scarves. Stock, the one natural playmaker with real vision the club possesses was left on the bench until too late. Within minutes of coming on he pinged the cross-field pass of the game 40 yards out wide to Trippier
When Vokes came on in the second half at last Burnley upped both tempo and threat level, but in truth Leicester were never really seriously tested until the very last minutes when a Vokes back-header was hooked straight at the goalkeeper by Paterson from around 6 yards. It was a split second chance, but nevertheless a golden chance to salvage a point. We groaned again and left the building, contemplating the money that Leicester have spent, the wages they pay and the resultant muscular, athletic team they have assembled. It was a bit like watching a mobile brick wall. Even so, the thought lingered, that Burnley should and could have given them a much stiffer test had Vokes been brought on straightaway for Austin and Paterson brought on for either Treacy or Wallace later in the game.
We chose to go to the Barnsley away game not Sheffield. Typical – Burnley won 2–0 at Sheffield and by all accounts it was thoroughly deserved result with Keith Treacy coming on as sub and lighting the blue touch-paper with a long range shot that nestled in the bottom corner to make it 1–0 and in so doing confirmed again the law of the ex, that players will always score against a former club. Next up, it was his cross that was handled to set up the Wallace penalty that made it 2–0. And in the dying seconds Treacy again picked up a Bartley pass and thumped a shot against the inside of a post. Trippier too hit the woodwork. Those who were there gave credit to Treacy, Stock and Vokes. But if several players were below par against Leicester, then at Sheffield there were no passengers judging by reports. Lafferty had another good game and could well be developing into a fine full-back. Manager Dyche began the game with Vokes as Austin was injured. The cultured Stock replaced the injured Marney. Treacy came on for the injured Paterson.
The manager was fulsome and explicit in his after-match praise for Treacy. We who know nothing can only assume he has been battling personal demons that he is now overcoming. Dyche clearly saw him as a rescue job worth pursuing. Restored to his peak and full potential there is clearly a match-winner there.
Maybe the poor display against Leicester was put into some sort of perspective by the six goals Leicester put past Huddersfield. Even a poor Burnley limited Leicester to just the one goal, and the final score might easily have been 1–1.
New Year: time for the horoscopes and predictions. For Burnley more of the same I suspect – a little club, doing well to remain a Championship club battling against bigger clubs with bigger incomes.
Win a few, lose a few, hover mid-table, struggle to reduce the wage bill as attendances diminish by a few more hundred each game especially when the price for casual walk-ons hits £30 and at Christmas to boot when we've all spent up. Somebody really hadn't thought that one out.
Hope for something out of the ordinary or someone gifted to "light the blue touch-paper" as Brendan Flood once put it as we use the words 'mid-table' and 'average' and 'inconsistent' with increasing frequency.
See if there is any mileage in this story of Russian roubles maybe heading our way. Most of us I would think are smiling and shaking our heads at that one.
Wait and see if the sale of Charlie Austin generates more than the sale of Jay Rodriguez. If you'd put a price on him a few weeks ago it might have hit the £10million mark as the goals flew in. Now with the goals drying up the crystal ball is a bit cloudy.
Hope that a few more youths will emerge as real talents; the record since Rodriguez is poor; several real prospects, have disappeared on loan into anonymity, Chaplow, Lafferty, McCann and Rodriguez the only products in a ten-year period. Is the youth development system really cost-effective?
And accept we are what we are, a small club in a small town, that will, once the parachute payments dry up really struggle moneywise. The writing was on the wall in the most recent accounts that without substantial player-sales income, the club would have been in the red, even with the extra parachute windfall. It's a gloomy scenario. But what really sticks in the throat is how extra income is denied by those who choose the SKY games. Whilst clubs like Leeds coin in the extra income from repeated selection small clubs like Burnley are as good as ignored.
My personal horoscope said money and success would be coming my way. But then it always does, every year, without fail. I'm still waiting. For some bizarre reason another one said I'd be doing a lot of DIY. I think not. Anyone who has seen my attempts at woodwork will know why. The Daily Express horoscopes are about as useful as their front page weather forecast headlines that predicted three months of Antarctica.
What the last year has been brilliant for is the great sports occasions we've seen – Chelsea and the dramatic Champions League win, Andy Murray in New York, the England comeback in India, Europe's fabulous Ryder Cup win, Man City and the most astonishing last minute winner to clinch the Premiership title. Relegation for both Blackburn and Owen Coyle's Bolton Wanderers, we couldn't have written the script any better. By gum the whisky went down a treat that night. And then the fabulous, marvellous Olympics and the almost daily lumps in throat moments. We might all have had our own personal ups and downs, but what a year in sport it's been.
And: will we ever find out how and why Eddie Howe struggled at Burnley; needed to head back south, and proceeded to lift Bournemouth from a relegation battle up into the top six of Division One. Football – it's a funny old game and if you could predict what was in store – we'd all be millionaires.