He played in a Cup Final for Man City with a broken neck for the final 17 minutes and really was one of the all-time great goalkeepers. An ex German prisoner of war imprisoned in England in Ashton in Makerfield; at the end of the war he had no wish to return to Germany and settled in the area becoming the goalkeeper for St Helens Town. In October 1949 he signed for Manchester City but it was Burnley who had expected to sign him. Trautmann was ill in bed on 6 October in his lodgings, when two officials from City arrived and more or less wore down his resistance. Bert's confidante and father-figure Jack Friar with whom he lodged was absent and was unable to prevent the signing. When he returned he was astonished to hear what Bert had done with Burnley in the background desperate to sign him.
The following day the Burnley chairman sent Trautmann a letter expressing his astonishment. Trautmann and Jack Friar were expected at Turf Moor on October 8th to sign for Burnley. It's thought they had already talked of obtaining a job at the NCB in Burnley for Bert, as 'aliens' were only allowed to play part-time for professional clubs at that time. The letter expressed surprise and had the chairman known what City were up to, he would have been to see Trautmann before them to make sure of his signature.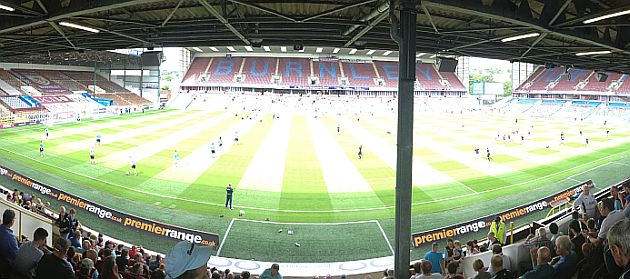 Turf Moor is once again owned by the club
When I sat down for the Sparta Rotterdam game it was nice to think that the seat was once again owned by the club thanks to the 'buy-back' group who amassed the £3.5million to re-purchase it. I'm in that group that applauds it. For me the ground is the heart and soul of the club, it's the whole history thing that gets me. I'd hazard a guess too that the people who funded it would have been swayed to invest in the ground, but less so for any youth development where the prospects of another Rodriguez emerging seem to lessen each season, or the funding of players for a promotion push. Regarding the latter what would £3.5million buy? Two half-decent championship players and their wages for two seasons; not much is it? But the ground is iconic, an emblem, a symbol of all that the club has been through. And tangible too, a visible sign that this club is not in dire straits just yet. Look what's happened to Coventry City. That might be an extreme example; the detailed origins of it are clearly explained in Paul Fletcher's Coventry chapter in Magical.
Of course a few people asked, and not without reason, what eventually happens to the bonds and the bondholders. Both capital and interest are repaid over 7 years and I am also told that under new planning rules, Gawthorpe is worth a small fortune. Hmmm, read into that what you will. The rent payable to Longside properties and then Lionbridge (anonymous owners registered in the British Virgin Islands), always seemed to me to be dead money, especially as the club, not the landlords, was still responsible for maintenance and upkeep. I always thought it should have been a priority purchase with the Premier League money. And as for the few people who are suspicious of the whole thing regarding who makes what out of it all; I know two of the bondholders well, and for sure they won't be making a fortune out of it, plus which seven years is a long time to get your money back. And: the repayments to the bondholders are less than what the club was paying in rent.
I'd been in once or twice during the summer and seen the work being carried out on the pitch. On the last one, two groundsmen were slowly walking up and down the turf with a fertilising machine. A group of school kids was up in the Bob Lord being given a tour. If it was me I'd have been asking them to work out how far these two guys had walked by the end of the afternoon fertilising session. 'Can we use a calculator?' they'd have probably asked. 'Or phone a friend?'
People on the Irish trip were none too confident about the coming season but David Jones provided a bit of a boost. Few if any dared think of a top six place; most expected us to be dallying with bottom half of the table. Dane Richards was gone; so far out of his depth that probably all of us were scratching our heads as to why he was ever signed in the first place - on the strength of a cut-price video in a clear-out sale at Poundstretcher was a strong story. George Porter was sent out on loan, another one where we all asked, what was the point of this one? The chairman reported that moves to sign Charlie Austin on the cheap hadn't even been considered.
Overall, the pre-season results had been good and included decent wins at Cork City, Carlisle United and Tranmere. As well as the four new goalkeepers the other arrivals were Ryan Noble, Scott Arfield and eventually David Jones. Out had gone McCann, Paterson, Jensen, Porter and Dane Richards.
Sometimes I think I should have been a food critic. You've heard me rave about the Stubbing Wharfe in Hebden Bridge. On the other hand it has to be a fairly rotten meal to make me grumble and Mrs T says I'd eat anything. So: perhaps I'd have made a poor food critic 'cos everywhere I go I'd say this is the best… But on one of my football book hunting forays to Victor's Border Bookshop in Todmorden the other day, me and my pal Pete…another glutton… called at Hebden Bridge to visit Sid's Muse record store up Market Street; that's the Tod road on the way out of town. Now this used to be the tiniest little shop and independent music store with barely room to swing a cat but after the floods of 2012 Sid and Valeen had a sit down, a big think, and made a big decision. They'd knock the back-wall through, install what flood defences they could, double the size of the place, retain the music side of things, and on the other side of the room open up a little café; thus making the MUSE MUSIC and LOVE CAFÉ. It is now thought to be the only music café in Yorkshire of its type. Sid's musical knowledge is without parallel; Valeen's food-making is exceptional. It astonished me to hear they received nothing from the insurers for the flood damage, but they sank their own money into it and boy if you're passing by, love music and food; then call in for a treat in this little jewel of a place. You can check it out at www.musemusicandlovecafe.co.uk
Sid and Valeen will sit and chat about music or food and we watched a procession of people come in as if they were old friends. The café means you can sit and listen to the music you love while you eat or have the best hot chocolate in Hebden Bridge, a hot choc described as 'richer than Pink Floyd, smoother than George Benson and more luxurious than Sade.' Pete and I had a warm curried vegetarian pasty, a slice of quiche and a mix of three house salads after we had been to Victor's bookshop: and in the background great music.
What a pleasant day-out it was on the Saturday of the Sparta game. We ended up afterwards at Nino's the Italian place near the Kettledrum.
The game was worth seeing. The sun was baking hot most of us in shorts and sunhats. A hundred or so Sparta fans in red-striped shirts added some noise and colour. They drank and mixed in well in the pub over the road. Jimmy Adamson had dallied with the idea of managing Sparta after he was sacked at Burnley.
The details of this are in the new Adamson book due on August 1st. There's a 'bit of a do' in the club shop from 4 until 5 with a glass of plonk and some of his old players to chat to and sign books. Come on down if you can. To cut a longer story short Jimmy realised he didn't want to be separated from his wife and family and after just a few weeks came back. One of the things he left behind was a small note-book in which he had jotted down all the details of his time there so it became a key part of the Sparta chapter.
Meanwhile Sparta provided a good work-out for Burnley in what was a properly competitive game. It wasn't all kid-gloves stuff. They're currently in the Dutch Second Division which maybe takes some of the gloss off the resounding 4–1 Burnley win. But: you can only beat what's put in front of you and Burnley duly did – and in truth could have scored 8 or more had the goals gone in that their slick play deserved. There were moments of intricate Harlem Globetrotters stuff that was a joy to watch from a team (and it looked like a team) that was organised, quick and inventive – and in temperatures where it would have been far more sensible to just sit on the grass and eat ice-creams.
Sparta took the lead, players like Vim Van Vonk, Wit de Van Driver, Crescendo Van Berkel, Wip Van Winkle and Jeremy de Hooter combining well to set the early pace. Unfortunately for them it lasted just minutes as Burnley equalised with an Austin header that the watching Andy Lochhead would have been proud of. Then for long spells it was party time. Marney was head and shoulders man-of-the-match with a cracking display.
The day was finished off at Nino's on the way home with chums. With my food critic hat on, the lasagne there is superb and plentiful. And so was the totty. Processions of them came in; bright young things, pert, perky, polished, pretty, pouting, average age 20 maybe, in all their flimsy, dolled-up, giggling, where's-the-men, finery. But it was the shoes that got me. We could have held up cards with marks out of 10. They tottered in on a variety of stilts masquerading as stylish footwear that looked fantastic but upon which most of them could barely walk in a straight line. Now call me an old dinosaur but to look good, you need footwear on which you can glide, sashay and proceed into a room with a slinky style that oozes nonchalance and says 'hey boys how's this for an ass.'
But darlings, it does nothing for you if you wobble all over the place, stumble into things; have to hold the nearest chair, or look as if you're some kind of novice skater.
All in all, a good game at the Turf and a free cabaret and shoe-show at Nino's; now that's what I call a good day out. And don't forget – come and have a glass of vino in the shop on Thursday, 4 till 5 with Fletch, Waldo, Ian Brennan, Jim Thomson and Frank Casper. If Sean Dyche is not tied up; he'll be there too.