But you have to. It's like a road crash. You just have to look. Just why do people send them? What compels them to write stuff like this? This one came from people we haven't seen for at least ten years:
We feel truly blessed; darling hubby's hospital admissions continued throughout December so that despite being ill, they decided to reverse his ileostomy to give him a chance of retaining some nutrients. The net result has been his very gradual improvement and becoming an 11.5 stone porker from 8.5 stone. He now has a different sort of lymphoma in his small bowel from in his lungs but the good news is that they are both currently behaving themselves and not developing. Meanwhile, I fell and broke a bone in my right foot and tore ankle ligaments in my left ankle but the swelling and pain diminished in November…'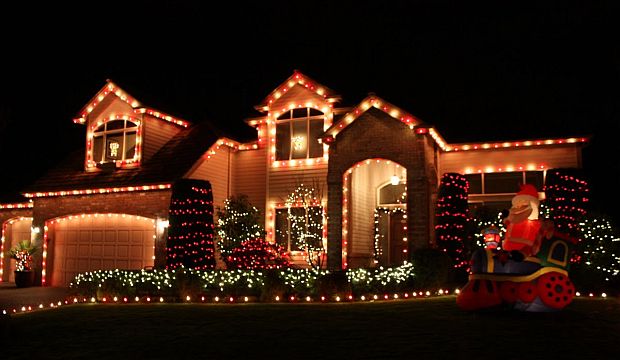 The view from across the road
Our neighbour opposite has put up new lights along the front of the house. They drape the whole frontage, miles of them; you can see them from space, brilliant, white, glaring, in your face, dazzling and blinding. Since they went up we've had to keep the curtains drawn and wear sunglasses.
I suppose all that counts as a moan and here am I saying let's stop it. But the moaning that really ought to stop is the stuff that goes on, on a matchday, especially the last two home games when the atmosphere was strange to say the least bearing in mind that Burnley on such limited resources were third in the table; had still only lost two games, had one of the meanest defences in the division, and when they went 1-0 up in the second of those games they went to the top again.
Top of the pile; little Burnley, running up the debts keeping its head above water and striving to succeed, and when the team runs out they have no idea how they will be received, rapturously, or half-heartedly. And one or two of them as individuals must curl up inside at some of the stuff they can hear directed at them.
Sure the actual performances might not have been as crisp and magical as those that took us to the top the first time; but the draw at Millwall could so easily have been a win, the draw at home to Bournemouth on any other day would have seen Burnley score five. And even at Huddersfield when the first 45 minutes were so disappointing; it was only those unbelievable decisions by officials who were appalling, that prevented the draw that by the end of the game would have been just about deserved. That penalty still rankles. What monumental incompetence it was by referee and linesman. And that Vokes booking verged on the incomprehensible. The 0-0 against Watford was maybe about right over the 90 minutes, but there again, it could easily have been a win if Burnley had capitalised on chances created, especially in the first 45 minutes.
So out they came onto the field on the Barnsley matchday. You would hardly have described their appearance as being received with massive acclaim. And they struggled in that first half. They'd be the first to agree. But what help did we give them as a crowd? Sod all as far as I could make out.
This is a dog eat dog league. The stakes are huge; £90million at the season's end for the lucky three if the latest figures are correct. Nobody will therefore make it easy for Burnley to succeed; and whilst 'Arry at QPR can nip out and add another classy midfielder to his squad and pay another huge wage, Burnley certainly can't. And it was certainly correct that one championship club would not loan a striker to Burnley. Instead they loaned him to a bottom end club. Burnley offered to pay this particular club £6,000 a week. Nope they said. The club that he is at now agreed to pay just £3,000. This was a striker that we would have found very acceptable. This guy was one of four targets that were either priced out beyond range, or deliberately rebuffed us.
So what could we do? Well raise the noise for a start. And then stop visibly and volubly moaning at individual players when they can hear the abuse being shouted at them. It should be opposition players that we make nervous and apprehensive, not our own. Sean Dyche was tactful in his gentle criticisms. Maybe he would like to have turned round to those behind him in the Bob Lord; for those are the voices that can be heard by anyone in the dugout, and bellowed at them to stop their moaning especially at a young player who had barely figured and was brought on late on the game. If Dyche decided to blood youngsters away from home rather than at Turf Moor; who could blame him?
Sure players will make a bad pass, some more than others; wingers will not beat the defender every time. If they were perfect, they wouldn't be playing for Burnley; they'd be in the Prem. The position at the top wasn't earned by galacticos and world class players. It was earned by honest pros that have raised their game, doubled the commitment that we have seen from some teams, and developed a team spirit and work ethic that has been second to none. The leadership has been superb.
And yet during the game against Barnsley there were times when the place was not quite like a morgue, but almost, certainly flat and lifeless. When the team needed a lift, they didn't get it. Vocal support was fitful and sporadic. At times, the greater support came from just a few hundred Barnsley fans. It was as if, during the Watford and Barnsley games, that folk were waiting for failure, waiting for the slide to commence, waiting for the wheels to fall off. Turf Moor needs to be intimidating; filled with the 'fear-factor' that daunts the away team, unnerves them as a team and as individuals (I can remember years ago seeing Alan Ball reduced to a gibbering wreck by the Longside). It needs to be the kind of place that opposing teams and their supporters hate to come.
In the second of the meetings with Clive Holt, he confessed to being baffled by it, saying that it was particularly bad from the Bob Lord, especially during a lull or a quiet passage of play when everything is clearly audible to Sean Dyche and the bench right in front of them, some of it downright hurtful. All of them want, in fact need, the crowd to be supportive, vocal, loud and passionate. Think back to that night against Spurs in the Carling. The deafening roars never stopped, wave after incredible wave of it. If they know the crowd is on their side that's when a side steps up a gear when it creates an extra energy and the players' adrenalin flows. Then, in effect, you've got a real and potent 12th man.
During that chat, we also talked about the refereeing display at Huddersfield. The day after we talked, the papers were full of the revelations about Obama's 'deaf' signer used during one of his big glossy speeches in South Africa. It was reported that the guy was a total fake and was making the signs up as he went along. Monty Python couldn't have bettered it. Rightly or wrongly my sense of humour is pretty basic. I'm the kind of bloke who laughs out loud if there's a loud fart (fartissimo) during a quiet passage (pianissimo) in a posh classical piano recital. In fact just thinking about it creases me up.
And thus it was with the signer. The President of the World all dressed up and behind him a guy having a whale of a time just waving his hands about. You couldn't make it up. But, it did make me think about that Huddersfield referee. Was he too a fake making up decisions and rules as he went along? Is it just possible that he was an interloper that somehow bamboozled his way into the ground and fooled everybody? Or was he a schizophrenic listening to the angels as the signer claimed? It makes you think.
The Leicester game was on TV with referee Andy D' Urso the genuine article. He was the same as his pictures so it must have been him. Mrs T and me settled down to watch. Why is it that seeing your team on TV is more stressful than seeing them playing live? When you see them for real, you're close up. You can shout and roar and support and feel that you make a contribution. It's not quite the same shouting at the telly. Make no mistake this was a big game, although far too early in the season to describe as a six-pointer, or a 'decider'. But for sure it was a game neither side wanted to lose.
If there was a perfect example of a game between the Haves and the Have Nots then there it was at Leicester, the latter where the jar on the mantelpiece is forever empty; the former bankrolled by a Thai consortium in which people play Polo, have second homes in London and own strings of Duty Free shops. Where's the level playing field in that? For the first 30 minutes it was the Haves in total control.
With Burnley rarely in contention it was Leicester with all the shots and possession for the first 30 minutes or so. And yet, after Shackell had uncharacteristically given the ball away, it was another soft penalty decision that gave them the 1-0 lead; this time not quite as outrageous as that at Huddersfield; but nevertheless a decision where D'Urso fell for the age old trick of a player falling in between two defenders converging either side of him to give it the appearance of a foul. Contact was minimal from Shackell; contact from Mee came as the player was already falling. A far more blatant shove in the back on Kightly was later ignored. All that plus a horrible tackle from Nugent on Mee that went uncarded gave Dyche and Burnley fans just cause for dissatisfaction. But, an ever-resilient Burnley slowly edged their way back into it with a header hitting the post and an Ings shot going narrowly wide. But the omens were poor. Watching on TV, the squirm factor was stuck on high.
But how can you write off this Burnley side? Within minutes of the second half re-start, Trippier put a wicked low cross over that went between two defenders to find Ings in oodles of space. Ings took his time, controlled the ball and placed it home from inside the 6-yard box. It gave Burnley all the confidence they needed and much of the second half almost belonged to them until Leicester went all-out in the last 10 minutes. Vokes incredibly might even have given them a 2-1 lead when he latched onto a dreadful back pass but Schmeicel made a brilliant save from the angled shot. From that point on it was a fine game with Burnley's football, passing and moving, improving all the time.
D'Urso alas missed another nasty tackle by Nugent when he went for the tackle on Trippier and left his foot in. This should have been a second yellow and then the red. The pundits too questioned the penalty and then picked Trippier as their man of the match. For me it was Vokes who had a terrific game. By the end it was a tremendous point. Alas QPR won to go top. Derby won yet again to close the gap.
On the day of the game, the esteemed Henry Winter in the Telegraph wrote a superb feature about Sean Dyche. If Henry writes about someone, they've arrived. They're a 'name'. He doesn't write about the small-fry. The more Dyche is featured like this, the greater the possibility he will be 'poached' as his profile increases. Perhaps the Burnley crowd is in need of a Dyche 'straightener', that is to say some basic plain-speaking that gets your feet back on the ground. If he wants to better himself he won't want to do it at the club if the old 'Grumpytown' label is still evident.
It was Tommy Hutchison who invented the name and the only thing I can offer to Sean is that even back in the glorious 50s and 60s the Burnley crowd always let their feelings be known. Clearly by the time Hutchison arrived in the 80s it was even worse. By the 90s it was fearsome with demonstrations and regular protests. The moans and grumpiness may still be there on occasions but maybe today the consolation is; it is a fraction of what it used to be. But sadly, so too are the tidal roars from the once-feared, all-standing Longside.