Some time ago she found out no end of stuff about her own family and then set to work on mine getting as far back as 1776, folk who lived in Halifax and great, great, great, great grandfather, James Pickles. James might well have been a handloom weaver and if so would have made his way down to the Piece Hall where there were over 300 separate rooms built around a central courtyard; built back then so that the weavers could sell their cloth.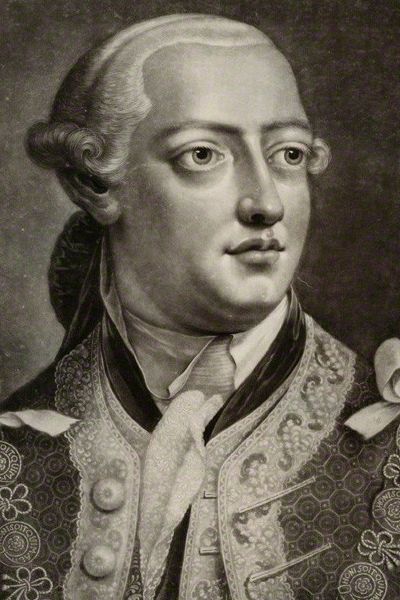 King George III in 1776
1776: at that time the redcoats were being given a tonking, losing 5-0 in the American War of Independence, James Cook was off to the Pacific again, the first ever St Leger was held at Doncaster. George lll was king. He suffered in later life terribly and made a film called 'The Madness of King George.' William Pitt was Prime Minister. And if you lived in Halifax then, London for the embryonic Thomas's who would no doubt have doffed their caps to the wealthy Listers, owners of Shibden Hall, was as far away as a journey to the moon. The old expression 'From Hell, Hull and Halifax, good Lord deliver us,' tells you all you need to know about 18th century Halifax. There was certainly no Halifax Town FC. For sport and entertainment people made their way to the Halifax Gibbet to see a good hanging. Fortunately, the Thomas's were indeed eventually delivered and as far as I know none of the family was connected with the 'Halifax Slasher,' although some ancient relative lived at Slicer Lane. Just imagine, though, being able to say to your prospective mother-in-law: 'Oh hello I'm one of the Slashers from Slicer Lane.'
So far the most exciting things have been a great, great, great somebody or other who was an engine driver for the Lancashire Yorkshire railway in the mid-1800s. I liked that. And then there was somebody else who fell in the River Calder in Todmorden and drowned and his body was found miles away still in the river in Elland. I might be doing him an injustice but you can only wonder if he was drunk when he fell in. The Thomas's in general are a pretty sober lot so this chap is obviously the one in the family we don't talk about. Mind you the words Mrs T and g&t are often seen in the same sentence.
We've never been a wealthy family but the nearest was great great grandfather ….. He had his own cotton manufacturing business with several employees in Todmorden. My grandfather had a bakery and confectioners and in it, actually in the shop (no health and safety in those days), resided a squawking parrot in a large cage and it was famed through the town for its bad language and the coarse remarks it made to unsuspecting customers. There was always the story that he was a bit of a dab hand ducking and diving on the black-market during the war. When I was a nipper I used to go down into my granny's cellar seeing what I could find and there was the parrot's cage all forlorn and rusting. Memories were heaped up down there; old ornaments, ships in glass bottles, possers, mangles and old tin tubs where she did the washing; she used to do the ironing with one of those ancient black irons that weighed a ton into which you put a hot brick that had been heated in the fire range.
There's a whole bunch of people buried at Blackshawhead Methodist Chapel on the moors above Hebden Bridge. There's another bunch in the graveyard of the old ruined chapel at Cornholme, on the way to Burnley. On a cold, dank, grey day on the way to a game we spent an hour trudging through the overgrown grass and weeds, picking our way through mud and moss-covered headstones that were leaning over, half fallen down, looking for names of old family members. We made a mental note that next time we'd make sure we did this on a warm, sunny day. We came out shrammed. Mrs T's mother was from Bristol way and shrammed is a West Country word she often used.
Mrs T has dug up old names of streets and places in and around Todmorden that bring a tear to my eye. They were a part of my youth and are now just receding memories; Summit, Cornholme, Lineholme, Stackhills, Der Street, Ferney Lee Road, Mankinholes, Lumbutts, Wellfield Terrace, Adelaide Street… and Portsmouth. Polish lorry drivers still arrive in Portsmouth having arrived at the wrong one. They look for the sea and the docks and then a local will tell them; 'Na then lad, tha's come ter wrong place. T' Portsmouth thee wants is 300 miles that way.' If it's a Spanish lorry they'll add 'ole' and do a quick flamenco.
With nothing better to do I spent days trawling through old emails making a database of folk that had bought books or made enquiries. This was one from Brian Sellers from way back in 2010.
'I attended the evening with Jimmy Mac at the Turf towards the end of last year. At the end of the evening I recalled to Jimmy a story that my father told me. I asked Jimmy if he ever had a milk round and he remembered that he and Barbara did have one for a couple of years. One day during his delivery round, he came down the back street of my parents' house on his milk float. My dad spotted Jimmy and said he couldn't believe that here he was in the same back street as his football idol. People of a working background like my father just did not meet their football heroes. They just admired them from the terraces. Yet here he was on the same back street. I am not sure if any words were exchanged; I suspect my father would have been completely dumbstruck by the occasion. He did say, though that had the float been pulled by a horse and the horse had lifted its tail, he would have scooped up the result and had it framed. When I told this story to Jimmy it brought a smile to his face.
Re-reading it brought a smile to my face too; Jimmy Mac with a milk round – astonishing. Footballers back in the 50s did all kinds of things to supplement their wage. A bit of painting and decorating on the side was a popular one. One Burnley player continued with his steeplejack job. Hard to imagine Danny Ings turning up at your house with a paint brush and tin of white gloss, or Sam Vokes rattling the bottles at 5 in the morning and delivering 2 pints of red-top and a carton of cream.
Some while ago I bought a book about Millwall and their promotion under Kenny Jackett. Journalist Michael Calvin spent the season on the inside with full access to everything going on. (How I'd love to do that at BFC) In it there's a poem that should probably be pinned up on every teams' dressing room wall. Maybe it is. Calvin attributes it to sprinter Jesse Owens but in fact it was written by an obscure poet called Walter Wintle, about whom little is known; probably American, possibly early 1900s, is the nearest anyone has got. Maybe Jesse Owens had it pinned up over his bed.
If you think you are beaten, you are.
If you think you dare not, you don't
If you like to win but think you can't,
It's almost a cinch you won't.
If you think you'll lose, you're lost.
For out in the world we find,
Success begins with a fellow's will.
It's all in the state of mind.
If you think you're outclassed you are.
You've got to think high to rise.
You've got to be sure of yourself before;
You can ever win the prize.
Life's battles don't always go,
To the stronger or faster man.
But sooner or later, the man who wins,
Is the man who thinks he can.
Sean Dyche spoke about state of mind on The Footballers' Football Show. It was a fascinating insight into a number of things. It certainly showed again how Dyche is the man of the moment; so much so that he was strongly linked with the vacant Crystal Palace job. He talked huge sense sitting alongside Director of Sport Research at Liverpool University, Dr Sue Bridgewater, who runs football management courses. Psychology now plays a huge role in that management, the analysis of individuals and their specific needs, along with self-knowledge. Football now is about getting the best out of individuals within the group and then applying that 'best' to the group. He likened it to 'horse-whispering.' It raised a few smiles. Some quiet players respond to 'a nibble in the ear', others are happy to be spoken to in front of the group. The key was observation of players at the training ground, standing back, assessing their mental strengths, body language; all the clues that indicate a person's state of mind. Much of it is not rocket science. Continual learning is the key. Football is so different now to what it was just 20 years ago when he was a player. Clubs and managers can no longer treat the apprentices, or established players for that matter, as they once did. They once did as they were told mindlessly; it was the way things were especially for the young kids, cleaning out latrines, sweeping terraces and painting barriers. Now they are 'scholars' and come from a culture and society today that is so different to what it once was and will not be treated badly. Today is all about embracing change, open communication and inclusiveness. Think of the media and social networking and its impact.
25 years ago I jumped from a classroom straight into being a headteacher without training or credentials. It was straight in at the deep end without a scrap of preparation. I survived, learning as I went along. If you were a good teacher it was assumed you could be a good headteacher. So it was in football. If you were a top player it was assumed you would be a good manager like Waddle at Burnley. A good player could move into management overnight on the strength of his name and yet be a fish out of water. Bobby Charlton was the classic example of that and at Burnley, Martin Buchan. Today you don't even need to have been even a moderately good player player to become a top manager; look at Mourhino and Wenger and Brendan Rodgers. The era of jobs for the boys is over. Now you need a CV, documentation, licences, badges and qualifications. There's a new brand of manager.
Wednesday November 12th was 5 years to the night that Burnley beat Chelsea in the Carling Cup. It's as clear in my head now as it was the day after. Some things leave an indelible mark and what I still think of is the sight and sound of 6,000 Burnley fans in the away end. The word awesome is inadequate. Mrs and T and me were sitting with our Chelsea pal Bob, down the Chelsea Longside in amongst their fans, fortunately a mature, decent lot who didn't kill us when we couldn't help stand up and scream and shout when Akinbiyi scored. They politely suggested we sit down before we drew too much attention to ourselves and ejected by stewards. We'd driven up with our chum Bob from Kent, stopped for sausage sandwiches on the way, drove through a surprisingly quiet London, had a meal in in a restaurant on the King's Road and watched for celebs. And then headed for the ground hoping we'd put up a good show and not lose by too many. I doubt any of us who were there will ever forget what happened. When Jensen saved their last penalty the away end went mental. Me and Mrs T had to sit still and just grin. The Chelsea hordes left quickly, quite stunned but we stayed for several minutes after the game just watching and listening to the away support it was so magnificent. Fish and chips on the way home have never tasted so good.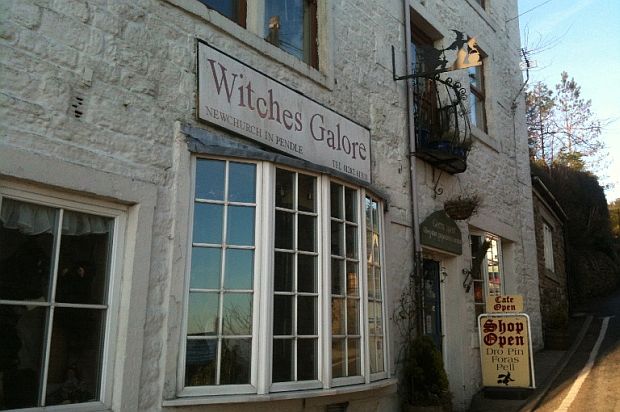 Newchurch-in-Pendle home of the Nutter's
AND THEN (play eerie music): just as England were about to play Chile, the family tree stuff got even better. One of the short-cuts to delving further back is to tag on to the investigations of someone else when their research overlaps yours. In so doing Mrs T made a staggering discovery. Latching on to great, great, great, great grandfather James Pickles again, she found that someone else had taken his family tree as far back as the 1500s.
And one of them was a Nutter, Elizabeth Nutter to be precise of Newchurch in Pendle. Born in 1575 she then married Christopher Hargreaves in 1604. And if there is anyone out there with knowledge of the Pendle Witches of this area, you will be aware that one of them was an infamous Pendle Witch. Alice Nutter of Roughlee also near Pendle was hanged at Lancaster. Elizabeth and Alice were undoubtedly related, cousins, maybe even sisters.
How amazing is that? I am a descendant of the Nutter family of Pendle Witches infamy. I've always wondered why I like black cats so much; and why I have the strangest urges at full moon.