It was also a chance to think about re-doing some of the fading white gloss paint in the house. That idea didn't last long at all. I succumbed to leafing through the recently arrived Viking River Cruise catalogue instead.
Our 'Arry's book, ghost written by the admirable Martin Samuels, was instantly snapped up by the Daily Mail, eager to search out the juicy bits for serialisation. Jim White, who I love to read in the Telegraph, just as quickly cast his twinkly eyes over it and came up with some apt conclusions one of them being that he suspects that Harry wasn't so much interviewed in depth, but that Samuels was only able to snatch quick conversations and conduct his research through the car window as 'Arry sped away from the training ground.
I suppose the basic question is: if an 'Arry character tried to sell you a second hand car, would you buy it? In his tax evasion court case, if I understood it right, his main defence was that he hadn't a clue what they were talking about and the money in question was in a forgotten account in the name of his dog; so what did he know about it. He is probably the only manager ever who could happily tell the story of the game during which he kept a wad of £30,000 down his trouser leg. It was when Paul Merson asked him to look after it until he could pay it off to an Irish bookie after a Portsmouth game. Redders duly popped the envelope down his pants and thought no more about it. Until, that is, he felt the loot sliding down his trouser leg while he patrolled the touchline. Fearful that the cash would eventually end up blowing round the pitch he then sat down on the bench and remained there for the rest of the game.
And odd goings on at Cardiff City, not quite on the same scale as the Venkys at Blackburn where things have been reasonably quiet of late, but filled with the promise of more daftness to come. The club's billionaire owner is Malaysian Vincent Tan, the one who decided to change Cardiff's shirts from blue to red, and changed the crest from a bluebird to a dragon. All that was fine, and fans had a good laugh, because it all came good in the end and they were promoted to the Premier League. But when he tried to rename them the Dragons, fans gave that a loud raspberry.
But warning lights began to flicker when Malky Mackay's right hand man, friend and chief scout, or at least one of them, Iain Moody, was suspended, placed on gardening leave and replaced by 23-year old Alisher Apsalyamov, a lad who was there on work experience and was last seen painting some of the club walls. Allegedly, Alisher, as well as being a dab hand at decorating is also a friend of the billionaire's son.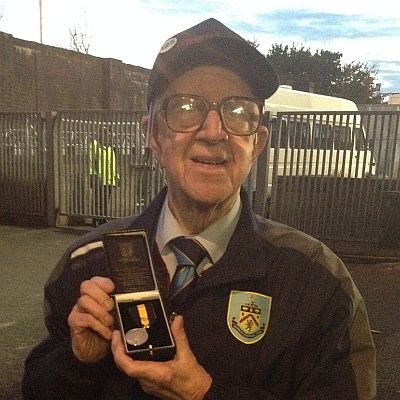 Jim Thompson back at Turf Moor with his medal
It was in April 2006 that Burnley supporter Jim Thompson received his first award. To his astonishment he was stunned when Boundary Clarets rewarded him at the end of season Player of the Year Awards for 59 years' service to the club. Until that moment he had only missed two home games in his various working capacities at the club; on turnstiles, or as head checker, or in bars or press room, or in the ticket office. Serving in the directors' room bar he has met and become known to a procession of managers and chairmen.
Of the two matches at Turf Moor he has missed, one was only because he had a part-time job chauffeuring and broke down on a motorway and couldn't get back in time. His full time work was in a Building Society. When he retired from that, it was Secretary Albert Maddox who asked him would he work full time at the club.
In 2011 came the next honour when for his long service to the Clarets, Jim received the 'Unsung Hero' presentation at the Football League Annual Awards. He was the first one to win the award. Jim was there at the awards in London, again, with his wife Violet. He was proud to be the first, and with typical modesty dedicated it to all fans who work for their clubs behind the scenes, year after year, including for Jim sparsely attended reserve games selling programmes in all weathers when most of us would rather curl up on the sofa in front of the fire and the telly. By 2011 he had seen 22 managers and seven chairmen come and go.
The next award was at Buckingham Palace when in October 2013 he was there to see the first ever game of football in the palace grounds and also to receive one of just ten medals awarded to supporters who had given unstinting service to their clubs and football. Jim received his medal from HRH the Duke of Cambridge but had already met his father on an occasion at Turf Moor that Paul Fletcher describes in his book Magical:
Prince Charles came to the club in February 2010 and as part of his tour he would walk across Turf Moor and up into the James Hargreaves Stand. Then as he was leaving he would meet and say goodbye to selected people who were to line up at the top of the stairs. Problem: who would be first in the line, the plum spot and who would be at the end? It was a classic bun-fight, jockeying-for-position moment, but was eventually sorted.
Except I had plans for old Jim Thompson, a lovely, lovely man; he had worked at the club for over 60 years in all kinds of roles. His wife Violet used to be one of the laundry ladies and footballers wherever they are have a soft spot for them. Jim was there in the finance department when I was a player…
…Anyway on the day of the visit I told Jim to stand by me; all smart he was in a new suit and tie, and thick jumper, for a good view of the proceedings. People like him are the salt of the earth and at the centre of what makes up the heart of football. Jim stood close by me with no idea of what I'd planned. Suddenly as HRH got closer I grabbed Jim and stood him at the very front of the line to be introduced. The look on his face was priceless. Prince Charles chatted away to him for about three minutes (the ones at the end of the line might get 30 seconds) and the photographers were shooting away. Jim still talks about it to this day. You get magic moments in my job. This was one of them. (MAGICAL Paul Fletcher 2012 available from club shop)
Saturday October 12th and all there was on offer were the results from Divisions One and Two. You know you're getting old when the highspot of the day was the visit to the doctors in the morning for the annual flu jabs, unless you counted the guy who accidentally reversed clean through the local paper shop's huge front window on his mobility scooter. Apparently all he'd wanted was a pint of milk but it seemed a fairly dramatic way to get it, although it later emerged he suffered from unintentional acceleration syndrome.
Up at the doc's I looked around the surgery waiting room at all the OAPs and lined, wrinkly elderly faces. Some of them looked distinctly yellow; some of them looked like a puff of wind would knock them over. In one corner you couldn't move for Zimmer frames. So this is it, I thought. This is what's heading my way when I'm old. And then it hit me, Jeez I am old. That's why I'm here. I'm one of them. For some reason it all made me think of my old dad. He had a glass eye and used to take it out at dinner time, plonk it in the mashed potato and say: 'I'm watching what I eat.'
After the doc visit we went straight up to M&S, for nothing in particular other than to sample the freebies at the Deli counter and then the Bakery counter. I told you; without football on a Saturday it's just Dullsville round here.
The night before, we'd watched the England Montenegro game. Until then I hadn't been able to dredge a spark of enthusiasm for England but then it did kind of sneak up on me, that these games now had a real edge and tension about them. Lose them and it was goodbye Brazil. Win them and maybe Mrs T could find a Viking River Cruise over there. For 45 minutes it was nail-biting stuff; England, despite first-half pressure and attacking play, but guilty of wayward shooting, just couldn't find a way past a tigerish defence and an inspired goalkeeper. Four goals in the second half, however, produced a comfortable win when chances were taken and a fortuitous own goal produced a 2 – 0 lead. At last I enjoyed an England game. Brazil was just that little bit closer. Man of the Match Andros Townsend was apparently an Eddie Howe loan target.
Believe it or not we almost missed the Poland game. I can still remember the game back in '73 when England could only draw just about the most one-sided game I've ever seen; a game they had to win. It seemed like the whole country remembered it. Back then, England didn't get to the Finals and Ramsey was replaced. This time we were heading up to Sedbergh up in the Dales to visit friends for an overnight stay and a meal out. I looked at it in two ways; that this was either bad planning, or if England could only draw again, at least we'd be spared the agony of watching them fail.
I needn't have worried. The Steak and Ale Pie (an excellent seven out of 10) at The Pheasant in Casterton went down a treat and all in time to get back to watch the game; to my astonishment on a cinema-sized screen, sitting on cinema-style seats, in an upstairs room in our chum's house that he'd made into a mini cinema. I'd no idea he had this. This wasn't watching it on TV; this was almost as good as being there to see a belter of a game. We added The Pheasant to our list of Good Grub Pubs. Another one is The Golden Lion in Settle where I also had the Steak and Ale Pie, a superb nine out of ten, and described on the menu as 'prizewinning.' The Pheasant would have merited an eight, but lost a mark because I had to request extra gravy.
The game: a classic with so much riding on the result; a first half when Poland could have gone two up, nervy, edgy, tense, 1973 all over again I kept thinking until at last Rooney scored with a superb header just before half-time. If that, we thought, might settle the nerves, how wrong we were. This was a ding dong game that in spite of the stats that made England overwhelmingly the better team, still the Poles with swift breaks and nervy defending could have equalised so easily. Nails chewed, legs crossed and uncrossed, Brazil on the horizon, but so far away, one slip would have undone the whole thing. The minutes went by; our hearts in our mouths every time Brazil crossed the halfway line. Until at last, Gerard finished them off with a fabulous captain's goal, latching onto a ball that was dinked over the defenders, brushing off three sturdy challenges, and deftly slipping the ball home as he was bundled over.
At last an England game that was a good as any Burnley game I've seen when you thought 'how glad I am that I watched that' and especially in HD vistavision.
And congratulations to Clarke Carlisle whose book was long-listed for the William Hill prize. The prize this year is £25,000 and a day at the races and a £2,500 stake. Er um, excuse me Mr Hill… is it too late for someone to have a look at the Jimmy Adamson book? But a publisher did offer me a deal to do another Burnley book IF and only IF we got P*******n. I daren't say or write the word. Is it possible? Will the wheels fall off at some time? Next game Ipswich away is a tough one and the record there is poor; and then it's QPR. Hmmm let's ask again at Christmas.