Mrs T and me elected not to bother with the rigmarole. Not only do you have to put up with a rickety, old, ramshackle, worn-out bus that has seen better days; you actually have to pay for the privilege. I sat down in the comfort of my own home and doffed my cap to those who were prepared to put up with all the hassle, especially those Burnley fans who had travelled from Germany, India, Ireland, Alicante, Norway, Bulgaria and Heckmondwike. In Crawshawbooth, Riley's butchers had created claret and blue sausages using red wine and blue Stilton.
One guy that did return for more hassle was Brendan Flood, returning to the board as a director again. There may well be days when being a director is rewarding. I can well imagine there are days when it is not. When last we heard, there had been a state of disagreement between Brendan Flood, Mike Garlick and Clive Holt. Brendan Flood had been specific in his comments, that he felt that he would not wish to work with Clive Holt and Mike Garlick again. I remember thinking at the time that he had been quite frank in his comments.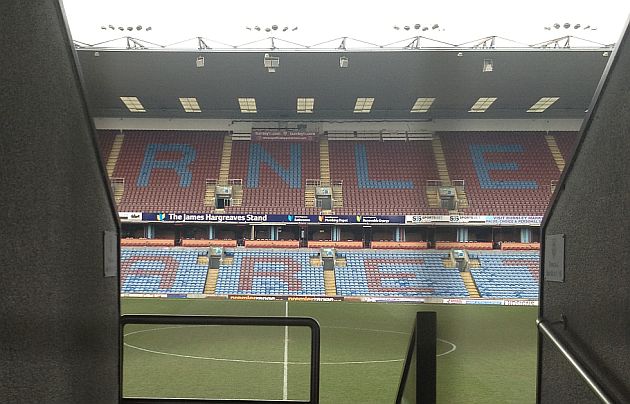 It had been Mike Garlick on the club website that had revealed that Brendan Flood was no longer permitted to be a director because of the IVA that he held then. Football League regulations specified that this was not permitted. Flood had retaliated saying that he felt there was a lack of leadership and a lack of belief and that he had been forced out. It was all so very public.
What had prompted all this, for those who have forgotten, was the news that thanks to John Sullivan the Russians were coming with new investments and the club and chairmen were involved. It was reported that Brendan Flood's resignation had allegedly slowed things down. It was this that provoked the Mike Garlick statement; that the Russians were definitely not coming and that Brendan Flood was, in any case, no longer permitted to be a director at that point. Perhaps we should all be relieved that the Russians didn't come. The image of troops surrounding Burnley Town Hall does not sit easy.
Following his resignation he said he wanted to get away for a while and recharge his batteries, regain his enthusiasm; that perhaps one day he would return. He still retained the largest individual shareholding and the lure of football did not go away. Now, the enthusiasm was back and so was Brendan. It was good to see that bridges had been mended. The negotiations that would see his return had been on the go for some while. We can all make guesses as to who might have brokered the 'peace deal' , in all probability John B, who just seems to do more and more for the club behind the scenes (it was John B who 'found' one of the newest directors Terry Crabb) but Brendan Flood brings something to the table that is crucial – contacts and ambition.
By the end of that momentous promotion season his financial support had dwindled but no-one can underestimate his importance in supporting the bid for promotion in 2008/09. He and Modus injected enthusiasm, money, 'get-up-and-go' and vigour into the boardroom when he first joined. If his business ventures suffered, then so did many others. It was a global problem that knocked him back. He certainly took a hit but entrepreneurs have that knack of bouncing back. The UCFB was, is, his brainchild. At year end 31 July 2013 it had made a loss but the new Wembley campus could well change all that. The UCFB could have been the club's to own. In time, when the initial 'loss leader' years have run their course and all three year-groups are in residence, it might well generate serious income for the owners, but in the boardroom there was early scepticism about it. All it brings in at the club for the moment is rent.
The QPR Directors' report made for entertaining reading, unless you were a QPR director of course. Their names made for interesting reading too; Fernandes, Bhatia, Meranun and Maheshwan. The first line of the intro was the Chairman expressing his delight at presenting the report. He reported a loss of £65.4million; delightful I'm sure. It was said to reflect the continuing investment in players and management and supported the focus on regaining Premier status. At this point you could be forgiven for smiling at their predicament. Automatic promotion was by now slowly disappearing on the horizon like a mirage. Meanwhile that little club from the north, Burnley, whose team had cost only a few quid, a book of Green Shield stamps, and some old Embassy coupons someone found in a drawer, was 9 points ahead of them in second place. And their directors: 6 locals from Burnley, good, honest Lancashire lads, and one that had been resident oop t'north for 30+ years.
Things were a bit glum at Nottingham Forest too. They'd lost a mere £17million under their owners the Al-Hasawi family. I bet they're not from Bacup. Neither Forest nor QPR had managed to beat Burnley all season. Whilst they had struggled through the previous weeks, Burnley's Sam Vokes had been named Sky Player of the Month. At Birmingham owner Carson Yeung had been jailed for 6 years for money laundering. No-one can launder money at Burnley – there isn't any.
And in the meantime things were hotting up in readiness for the fixture to come. On Twitter and all the websites fans were counting the days down to the game on Sunday. Blackburn and the Venkys had been quiet of late. Things seemed calmer and more stable there. It wasn't quite the joke club that it had been in previous seasons with the Indian owners although in their last game they had been clattered 4-0 at Bolton.
Journalist, clarets fan and publisher Tony Dawber wrote a superb Sean Dyche derby piece for SportNW (worth a google for news and sport) as part of the build-up:
There's a lot more to the Burnley boss than meets the eye. Don't be fooled by the stick your head where it hurts centre-back image, although there is a fearless and relentlessly positive air about the Clarets chief. Dyche is also a deep thinker about the game and a keen student of sports psychology. Indeed it was in pursuit of more knowledge on that particular subject that he read the opening chapters of 'Moneyball.'
The gist of the book, if you're not familiar with it, is that the Oakland A's were skint, so general manager Billy Beane wanted to find a way his penniless team could compete with the big spenders.
'There are rich teams and there are poor teams. Then there's 50 feet of crap. And then there's us,' was how Beane bluntly but brilliantly put it.
He went to work and discovered a strategy which held that too many sports teams are carried away by emotion, assumptions and hearsay in terms of buying and selling players and running the team. Beane removed all the collected wisdom, prejudice and emotion of experienced coaches and pundits, and signed players based on pure and in-depth statistical analysis.
The tactic disgusted his wizened old coaching team, especially his team manager, played in the film by the recently deceased Philip Seymour Hoffman. But guess what, it worked. Unfancied cast-offs came good and season after season the A's confounded the critics and made the post-season play-offs, defeating bigger spending rivals over and over again. And they're still doing it today.
Sound familiar? It might do to anyone who has been at Turf Moor this season and watched a vibrant Burnley team dismantle the expensively assembled QPR, Nottingham Forest and just a few days ago, Derby County, despite operating on a fraction of that trio's respective budgets.
Now, I'm not saying that Dyche has faithfully adapted the Moneyball method. He hasn't and he gave the impression it hardly registers at all in his general strategy as he stressed that reading the early part of that book was merely one of the countless tasks he took on to try and widen and improve his managerial skills. But: there is clearly an echo of Oakland A's story in Burnley's achievements this season.
Let's also strip away the stomach-turning bile from both sides that has seen gross and personal insults bestowed on former chairmen or backers on both sides of the fence. And let's strip away the emotion and adrenalin this most passionate of games inevitably sparks. What you have left, as far as the Burnley standpoint goes, is a fantastic season in which the Clarets soared in the early stages, dug in when they did not hit the heights for a spell, then surged on again.
Consecutive home wins against two of their closest challengers on the last two Saturdays have brought new highs, especially in view of the manner of the triumphs. And now, they face a trip to a mid-table side whose squad has much more quality than their league position suggests, but one which has long since lost the chance of automatic promotion. Indeed, it is a side that needs a fairly striking run of form to even make the final play-off spot, a run that shows little sign of materialising, particularly after an abject showing against a similarly under-achieving Bolton last week.
Imagine, after those wins against Forest and the Rams, Burnley were travelling to Leeds, Brighton or Watford, sides in a similar position to Blackburn and with similarly-decent squads, who might have been expected to do better. You'd be fairly confident. But in the cold light of day, you would have to say a draw would do.
The hard work was done against Derby and now it's just a case of keeping things going. In the light of all that, the question is would I take a draw? And the answer, which might surprise one or two, is yes. I'd be lying if I said I wouldn't dearly love Burnley to end the hoodoo and win an east Lancs derby at last, and what satisfaction that would bring after years of taunts and derision, many from fans who have long since deserted the listing Ewood ship.
With Burnley in good form and with a fully-fit squad, there's no reason why they can't do it, especially as Blackburn have a host of injury problems and the central defensive area looks particularly vulnerable. But, my point is that a draw would be far from disaster and while a defeat would be a huge blow to our local pride, the cold facts of the table say that if that did happen, Burnley would still be second and still have everything to play for. (Courtesy of Tony Dawber sportnw)
'You don't support Burnley for 42 years without being a glass half-empty man sometimes,' Tony continued. How many more of us might say the same? Mrs T, me and little Joe settled to watch the game on Sky. Below us QPR had caught up three points, but Millwall, bless' em, had beaten Derby. The butterflies felt like they were wearing clogs at the prospect of an 8 point gap opening up if only Burnley could win.
Unchanged for the eighth game, no win against Rovers for 39 years, Rhodes hadn't scored in 8, Ings hadn't scored in 5, 4,500 Burnley fans there fervently praying for the win that would become the stuff of legends; a win that folk would say 'were you there' and would tell to their grandchildren.
The obligatory chicken clucked its way onto the pitch; Vokes in the early minutes had a good goal disallowed for offside. TV replays showed him to be in line with the defenders. It was a good goal. You feared the worst, that this, even so early, might be the defining moment of the game. We feared that even more when totally against the run of play Rhodes scored, given room and space by three defenders around him. He turned and scored. The air went blue in the lounge at number 12 and probably hundreds of other rooms all over the UK.
Halftime and 0-1 down; and thoughts before the game that we would not lose, began to turn to gloomy thoughts that this was going Blackburn's way. Rhodes broke clear and hammered the ball against the post as we sat with our eyes closed. Another turning point, because after that Burnley upped the tempo, kept possession and the Dyche substitutions were sprinkled with stardust.
Wallace curled a perfect free kick and Shackell headed home. Irony: he scored last year only to see his goal equalised by the most ridiculous Blackburn goal when they had players a yard offside. Football is like that sometimes when sweet justice is granted by the football gods; even more so when Ings pounced on a ball 12 yards out that had swung around the area from player to player until it came to his trusty (at last) foot and he struck it home. Delirium, ecstasy, and that was just chez nous.
We, the away end, the world, went mad. Tears were shed. Tweets flashed round the universe. Blackburn faces were glum as Rovers piled on the pressure in the dying minutes and Heaton was needed to keep them out with one superb save and others that were routine. This was the stuff of which history is made and legends are born. The names of these guys will be remembered. And: the bonus, the wonderful bonus of going 8 points clear. Derby and QPR fans would no doubt have been gnashing their teeth. It's tempting to say we have a foot in the Premier door, but no, a toe maybe, just a toe. This is Burnley, broken dreams have happened before.
Mrs T and me watched the whole thing again in the evening, the build-up and the post-match, savouring every moment, every kick, every tackle, every interception and roaring with delight all over again when the goals went in. Mr Dyche said it was for us the supporters. Forgive my language, but it was just f*****g ace.