An occasional gap in the clouds was enough to reveal a reminder of blue skies and sunshine – but they were fleeting moments.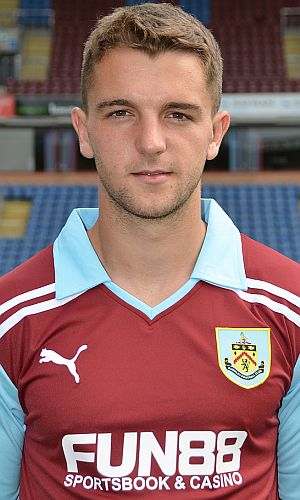 A chance for Jay to say goodbye?
The game had a first half that was nothing to write home about but a second half of spells of entertainment and some decent football. The better openings and chances went to Burnley but there was a kind of grim inevitability that it would be a goof/lapse/individual error that would allow the equaliser to Ings' blistering, perfectly-placed shot from outside the box that gave the 1–0 lead.
But the afternoon was less about the game (though we'd have been miffed to lose) but more to do with other events off the pitch and team selections on it. The Beast for example was given rapturous applause and a hugely warm welcome when he appeared dressed and ready to play. Was it significant?
Was this his swansong? Sure he'd been offered a new deal but there was no indication that it had been accepted. Presumably it will be on much reduced terms so the Jensen household calculator will have to come out to work out is it worth his while to stay and enjoy the fruits of a testimonial year (if he is granted one).
So: was it his and our chance to say goodbye and thanks for the memories – and I'd rather remember the good than the gaffs; his wonderful performances in the promotion season and other individual games over the years when he was unbeatable. If this was deliberately done by Eddie Howe it was a nice touch. Football can be sentimental when it wants to be.
Then there was an appearance by Jay Rod. Was this a chance to say goodbye? There have been rumours and stories all season but that has been exactly what they have been so far. It's been the same with Trippier for a couple of weeks with Newcastle said to be sniffing round.
There was a warm welcome too for David James and an even greater display of sportsmanship by the crowd when he limped off during the game. Was this the last time we'll see him? A goalkeeper of stature who was once known as Calamity James in his early years.
There was nothing to play for. Burnley had made themselves safe in mid-table with points to spare. Bristol made themselves safe just a week earlier. Now that I have become an expert tweeter I can tell you that more than one Burnley player before this game was thinking and tweeting mostly about holidays. Trippier asked where everybody was going. I tweeted him I was off to Greece in June. He hasn't tweeted me where he's going. Mind you he does spend a lot of time in the Trafford Shopping Centre.
During the final game and on the way home afterwards you maybe think about the what-might-have-been and the 'ifs'. Two games came to mind; the two defeats to Leeds United lost 6 points. There were nine drawn games at Turf Moor. Just 5 more scoring shots on target, one in each of five of those games would have brought another ten points. Burnley's huge number of shots off target through the season has been noted by the statisticians. Goalkeeper scrutinisers noted the number of goals given away by Grant. But what about the clear chances missed at the other end by the forwards, particularly Rodriguez. Why is it that a goalkeeper's goofs are remembered but centre-forwards' costly misses are soon forgotten?
For me the significance of the game was that it was the last one to be overseen by Barry Kilby. What memories he must have, of huge home defeats in Stan's early days until Stan did the business at Scunthorpe. What awful moments he must have had such as deciding it was time to say goodbye to Stan and that Stan had got the club as far as he was ever going to take it. Next it was Steve Cotterill and Brendan Flood in his book hinted that by the end of Steve's time Barry was running out of energy. But it was Barry who went to see Owen Coyle in Scotland and thought, yes, this guy has something extra. What a decision it was to hire the Scot. What terrific times there must have been in the boardroom away at Chelsea, and home against Arsenal, but what deflation there must have been (and whisky consumed) after the Tottenham heartbreaker.
Nerves must have been in shreds when it was clear only a few weeks before Wembley that there wasn't enough lolly in the pot to pay the bills so that yet another injection of directors' money was put in. And how it paid off; none of us will forget that wonderful day.
But how must he have felt when he knew that Gartside was calling. And then when Coyle walked. He did his best to rescue the appalling situation in which he was placed. "Let the beauty parade commence," he said. One of my abiding memories is how we sang Barry Kilby's name at Man United in Laws' first game.
The money that Barry Kilby put into the club over his years in the chair is well documented. He invested his money without any hope or guarantee that he would ever get it back. If he got it back after Wembley then fair enough and good for him. He has shielded this club, protected it and nurtured it. Where it is now in relation to where it was when he took over is testimony to his careful use of resources, his refusal to take ill-thought risks and his custodial skills. It is also a result of shrewdly getting new people with money onto the Board. In place now is a club that is solvent, is established in the Championship, and still has two years parachute money to come. If it was Brendan Flood who took the club to the next level whilst he had the funds to do it, without Barry's care and prudence before that, there might possibly have been a club much lower down the leagues.
The resumption of my own affair with Burnley Football Club came in Stan's first season back in the Championship. Barry had already been here a couple of years. In that time since promotion back to the Championship a few things stand out.
There were the games to remember: beating Liverpool in the FA Cup with that bizarre Traore own goal. Burnley 2 Tottenham 1 in the Carling (I think) when Glen Little came on as a sub and tore Spurs to pieces with a virtuoso performance. There was a survival game at Bradford towards the end of one season that we won 2–1 when Brian Jensen gave a performance that Bryan Robson said was one of the best he'd ever seen. Who will ever forget those Carling games in 2008/09, the Play-off games and then the jackpot game? Next up was the 1–0 win over Man Utd in the first home game of the Prem season. More recently there was the 2–1 win away at West Ham when Big Sam must surely have thought he'd get 3 easy points.
What players have given pleasure and enjoyment since 2000 (albeit for different reasons); Andy Payton, Robbie Blake, Glen Little, Ade Akinbiyi, Gareth Taylor, Andy Gray, John McGreal, Gary Cahill, Chris Eagles and Jay Rodriguez.
Let's not forget Ian Wright, Gazza and Andy Cole. OK they were in their twilight years but the news they were coming had us all agog. Ian Wright at Burnley – don't be daft! But it was true. SKY did that memorable interview at Gawthorpe and just managed to find two blokes with wellies and whippets. You couldn't have made it up. I reckon they were out of work actors brought up specially for the day from RADA.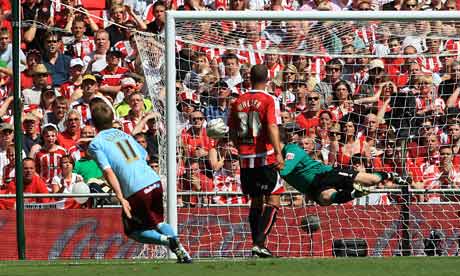 The Elliott Wembley special
And what have been the most memorable goals – be it the goal itself or just the occasion; Gudjonsson's dipper from 40 yards that one second was heading towards the stand roof and the next had arced downwards into the goal, Robbie Blake's deadball free kick from 30 yards in a home game several years ago in Stan's time; this one being a strike that went in a straight line like an arrow before the keeper could blink. Then there was his curler against Tottenham in the Carling that made its way round the end of the Spurs wall. You could do a Christmas DVD of all of Robbie's sublime free-kicks. Paterson's goal against Reading in the Play-off game is up there in my top three best of all time goals. Starting the run inside his own half on and on he went before unleashing a 30-yarder that even when I see it now I think the goalkeeper must save, but in it went like a missile. And how can you not include the most dramatic of all goals, the one with the bulls-eye pay-off, the Elliott Wembley special, the goal that would have been truly marvellous in any game, but in this one was just stupendous in its impact, consequences and magnitude.
Then you could make a list of all the "Were you there when…" moments – Bertie Bee up-ending the streaker – Ade being sent off within two minutes of his home debut – the Amougou formerly known as Bikey ripping his shirt off - Graham Alexander playing his 1000th game – Jimmy Mac receiving his MBE… Jimmy Adamson's poignant appearance taking a bow…
I'd imagine Barry would include some of the above in his own best memories. He takes away with him 13 years of achievement but probably also 13 years of sleepless nights. But despite those sleepless nights his proudest claim is that he leaves the role of chairman with Burnley FC regarded as "a proper football club."
How do you define exactly what that is? I wouldn't like to try but maybe the opposite is a club like West Ham and the way it is run, living far beyond its means in a football fantasy land. Or even Bolton Wanderers over £100million in debt facing implosion were they to be relegated and with a chairman who once proposed there should be no relegations from the Premiership.
When Barry, as chairman, and Paul Fletcher as CE attended the meeting of all the Prem League chairman and CE's in the summer of 2009 they sat round a huge table and each of the 3 new clubs was presented with a 'golden ticket'. There was polite applause for the other two jackpot winners, but when Barry Kilby went up to collect Burnley's in this little ceremony, the whole room stood and gave him (and Burnley) a spontaneous standing ovation.
I remember doing a piece about him for Russians Don't Land Here back in 2006 I think it was. Back then the Jimmy Mac void was unoccupied. I asked him where he saw the club in 5 years' time from then. "We'll have had a year in the Premiership," he answered, "with the Jimmy Mac void used as offices maybe by something like the NHS. "
Well how good a projection was that? We DID have a year in the Premiership. And the Jimmy Mac is now occupied by not quite the NHS but the University of Football, which if reports are correct has already had applications for the next academic year 2012/13 of well over 200.
And what about next season: just as I used to do at the end of any summer term at school, I got home, had a scoop or two, and shoved school out of my head. I loved the place dearly but needed a break. I feel much the same at the end of a football season. Let's worry about the next one nearer the time. Let's see if we can hang on to Jay Rod and Trippier; let's see if Eddie Howe can pick up the new players needed. Let's see what's happened, let's say by the beginning of August. And then we can get excited all over again.
There's only one certainty. Barry Kilby won't be chairman any more. A new guy will sit in his place. I hope it's the right one.