My Uncle Arthur used to come home after a game, give me his Everton programme on a weekend when I was a nipper and used to visit them in Newton le Willows, and he'd say he'd just seen an angel play.
I only mention this because we've been so besotted with some of the performances we've seen so far this season from the likes of Eto'o, Sanchez and Fabregas and I feel I ought to mention that way back in the 50s and 60s, despite the mud and the thundering tackles, you could see players that were just as good and better than these galacticos, and they were Englishmen too playing for £20 a week.
I suspect too that the likes of Eto'o, Fabregas and Sanchez would have received short shrift from defenders with brylcreemed hair, enormous boots and baggy shorts, when tackles sent players six feet up in the air on a Saturday and they landed on a Sunday. Protection – what was that? None came from referees unless it was outright assault.
I have this image in my head of a player called Eddie Clamp. He played for Wolves; a team that played long-ball football then, battered other teams into submission and won titles. The name Clamp was more than apt. His job was to kick, destroy and protect the skilled players in his team and this he did like no-one else. Jimmy Mac tells the story that it was Clamp who finally ended his ploy of timewasting by the corner flag when he set off with a sliding tackle from 30 yards away and took Jimmy, ball and flag halfway up the terraces. It took Jimmy three days to straighten his legs out. The ball was never found.
Clamp had a wry sense of humour. Later in his career he played alongside Stanley Matthews for Stoke City and served as his 'minder'. But when the day came that a statue of Matthews was erected Clamp on seeing it was rather acerbic. 'It's perfect Stan,' he said. 'It's low enough for the pigeons not to crap on and high enough for the dogs not to piss on it.'
Eddie Clamp or our very own Gordon Harris versus Alexis Sanchez: now there's a thought.
And speaking of Gordon Harris, the Burnley Express sometime in '65 or '66, or thereabouts pictured him in the buff displaying all his bruises after a game at Newcastle. There wasn't an inch of his body not covered in welts, abrasions and purple splodges. It was not for the squeamish but it was tastefully done so that old ladies would not faint into their tea cups. It was a game so rough that every Burnley player was crocked by the end; some of them so badly they had to be helped to walk, limp or hobble to the coach such was the ferocity and relentlessness of the Newcastle thuggery.
What a namby pamby game we watch these days, free kicks given for the merest nudge, and yet oddly enough all that wrestling and grappling in the penalty area at corners goes largely unpunished. He's a lucky man is Alexis Sanchez. Had Newcastle got their hands on him and their boots into him 50 years ago he'd have gone home in an ambulance. And what did Roy Hartle say to Tommy Banks after Tommy had kicked Brian Pilkington from pillar to post at Burnden Park. "Oi Tommy, when tha's finished with 'im toss 'im o'er 'ere and give me a turn."
I sometimes think back to those days of yesteryear when I went with my father in the old Ford Prefect (3 gears) that chugged up the Cornholme Valley, past the Glen View Pub, to the Cliviger Gorge, up over past the Kettledrum and what was The Fighting Cocks, then down Pike Hill and Brunshaw to the ground when the floodlights towered above the streets. I remember sucking those Fishermens Friends lozenges that took the back of your throat off. You could get quite addicted to them. It was the picture of the fishing boat on the packet that conjured up all kinds of images of bravery and hardship. I can't remember when I last tasted one but you can still get them although that seems kind of ironic with North Sea fishermen kind of hard to find these days. An image of Tony Kay comes back as well in a game when he came with Sheffield Wednesday and kicked seven bells out of Jimmy Mac. The crowd was incensed especially at Kay's casual arrogance as after one savage tackle on Jimmy, as he then did a few keepie uppies a few feet away from Jimmy as he lay on the ground in receiving treatment.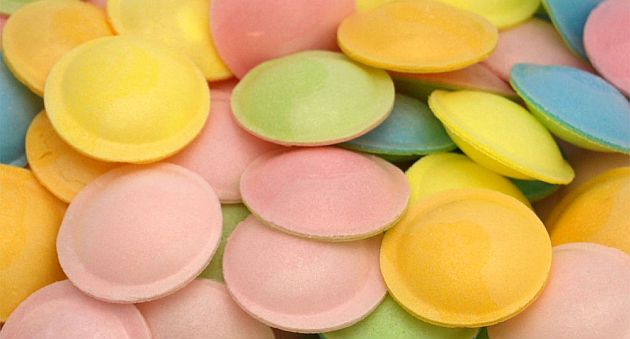 There were things called Flying Saucers too, fruit flavoured sherbet in a wafer shell. Boy I used to love those. Black Jacks aniseed flavoured chewy black rectangles, turned your tongue black that you could show your friends. They were called Black Jacks because in the 20s they had a picture of a Golly on the wrapper. That was then changed because of the racist implications to a picture of a pirate. Now even the pirate has gone after complaints from National Union of Jolly Rogers. You get them now in a bland non-offensive wrapper. A treat was a bag of sherbet and dipping a liquorice stick into it and then chewing the flavoured end of the stick. There was a chip shop just 100 yards down the road from our house and once a week tea was a bowl of tomato soup filled with chips. It's a meal still to drool over but such things are forbidden to me now. Pathe News at the Olympia cinema kept us up to date with big football matches. Teddy Boys hit the streets, the word 'teenager' was invented as Bill Haley and Rock and Roll invaded our lives. If I fell and cut a knee it was treated with iodine. Spoonfuls of cod liver oil was the cure-all, ice formed in thick layers inside the windows in winter, the Coop coal wagon pulled by great shire horses rumbled along the cobbles outside the house, and rag and bone men shouted up and down the street. The Billy Cotton Band Show on the radio, Journey to the Moon on Monday nights, playing Cowboys and Indians until it got dark and three-rail Hornby Dublo train sets; and if the car was out of action it was a slow bus ride to Burnley on a packed green double decker with a conductor who doled out the tickets.
60 years later there's not a bus to be seen filled with supporters. They used to line up along by the cinema, sometimes a dozen of them. For the Hull City game there wasn't one Football Special. Most folk were agreed this was a must win game, a pivotal game, a game of huge significance. Win it and the season could continue with a degree of optimism. Lose it and it would be a clear sign that although not all was yet lost, it would be hugely disappointing and even the most optimistic of us would begin to wonder.
Somewhere in the jungle of clutter, lists, notebooks, files, ring binders, old annuals, programmes, things-that-must-not-be-thrown away and general detritus, in what I lovingly call the office, but Mrs T calls a mess, there is a list of all the players who started at Burnley as lads, were told they would never be good enough, and then went on to become established players, some of them great. Ian Rush was one according to legend. Steve Bruce was another. He remembers it fondly, from the day he arrived as an 11 year old having been spotted in Newcastle and then travelling over regularly. He signed as a schoolboy and trained until he was 15 when they told him that he wasn't big enough or strong enough. One thing he remembers is the 1974 Cup Final for which he got two tickets and was then horrified to find they were in the Burnley end. He chose Sean Dyche as his manager of the year last season and now he was back with Hull City, definitely bigger round the waist.
The crowd was the smallest of the season so far, not even 17,000, the away end not even half full. But the day was special, Remembrance Day, which this year has been so significant everywhere being the 100th anniversary of the start of the Great War. I'm lucky enough to have seen the incredible sight of the poppies in the moat of the Tower of London on a day when you could walk around freely and take it all in.
At Turf Moor the black-covered programme, the mournful Last Post, the tributes and the silence were hugely moving. I imagine a few tears were shed. Down in the basement there's more of my clutter including old framed pictures that I've accumulated over the years. One is a huge blow-up sepia portrait of a young Great War soldier, jacketless, his khaki shirt casually unbuttoned, sitting on an upturned ammunition box with his rifle. It's a moment of calm, an hour or so of relaxation, a brief lull in the savagery; a cigarette dangles from his lips, he looks at the camera, the trace of a smile shows on his face. I've no idea who he is and he was doubtless dead within 24 hours. I used to take it into school, show the kids and tell them stories about my Granddad Jim and it's been something I've never managed to throw away whenever I've had a clear-out. He was someone's son and husband and probably ended up blown or shot to pieces in the mud of no-mans-land. Somehow it doesn't seem right to dispose of it.
It was lump-in-the-throat-stuff when the Last Post was played and the flags were lowered whilst the sorrowful notes echoed round the stadium. The minute's silence was impeccable. The drenching rain had mercifully stopped. The black-covered commemorative programme was superb with its tributes to the 6 fallen ex-Burnley players, one of them Teddy Hodgson a member of the 1914 Cup winning team. But if the afternoon began with the haunting poignant echoes of the twin bugles then a fitting end would have been the Buddy Rich Big Band blasting out the Bugle Call Rag; from tearful sadness to sheer joy, from a team that seemingly could not win, to one that at last deservedly got its just rewards. Google it and you'll see what I mean.
The team that had so far played its heart out for the scant reward of just four points when double that were merited, at last got its first win with Hull described as embarrassing by a hugely frustrated Steve Bruce who had seen his team outplayed and outfought. The pundits had already said that no team would want to be the one that gave Burnley its first victory. It was Hull who departed, tails between their legs.
It was only 1-0 but could have been more. Not for the first time Burnley dominated the first 45 minutes but the Hull goal led a charmed life with great saves, goalmouth scrambles, a hoof off the line, blocks and sundry other clearances. The crowd willed them on. The lowest crowd provided the biggest support, urging, cajoling, roaring, knowing that Hull were there for the taking. They sensed victory and so it came.
Just five minutes into the second half and a perfect Trippier cross found Ashley Barnes steaming in. His head did the rest and the net bulged. The roar filled the skies, a mixture of relief, exultation and belief; sure that at last a win was coming, that somebody somewhere had decided that this would be Burnley's day.
Ings, set on a summer departure, was the instrument of torture that tormented Hull for 90 minutes. Barnes who started the game was the hammer that battered them. Shackell and Duff were immovable rocks and save for one wayward pass Duff might well have been man of the match. Trippier put in cross after cross. Every player ran his socks off. Such was their first half dominance; it was 40 minutes before Hull had a first tame header on goal. Of course Hull put a bit more effort in during the final quarter but there was no way through the phalanx of defenders. Burnley rode the mini-storm; the referee, having booked half the players on the pitch, blew the final whistle, missing his target of booking all of them. Mark Clattenburg: more like Mark Bookemburgh. The previous week he had been dropped from the refereeing programme for not following FA travel rules in order to attend an Ed Sheeran concert. Football humour is cruel and some had suggested that being sent to Burnley was further punishment.
If music was sprinkled throughout the afternoon, Brass Band and Rock Band in the Fanzone, Kieran Trippier's music choice of Ed Sheeran for his matchday playlist, the haunting, whispering refrains of the bugles; then it all ended on the right note. A win, what a morale booster; all is not lost.