There's a history of great games between the two clubs that date back to the title season of 1960 and going right on up until the unforgettable Carling tie in 2009 and the 4-2 win in the final game of the other Premier season.
It took me back straightaway to a 2-0 win at Turf Moor in the title season with goals from Ray Pointer and John Connelly under the floodlights. There was a memorable 4-4 draw the following season at White Hart Lane when Burnley had been losing 4-0 but came back and could even have won the game in the final stages.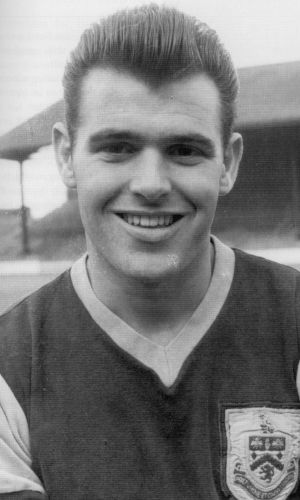 John Connelly scored under the floodlights
There seemed to be FA Cup games galore in the early 60s with the Cup Final, a 3-0 defeat in the semis at Villa Park when Jimmy Robson scored a perfect goal only to have it disallowed. He scored another in the Cup Final that he swears to this day was not offside. And then there was the win at Spurs 3-0 in the ice and snow when Tottenham uncharacteristically decided to physically intimidate Burnley. There were punch-ups galore. It was a Briercliffe Parish Council meeting on ice. Their little winger Terry Dyson picked the wrong man when he slid into goalkeeper Adam Blacklaw. Fisticuffs and nastiness followed on and off throughout the game. Purists Burnley might have been, but they had plenty of players who could more than comfortably take care of themselves, Blacklaw of course, John Angus, Gordon Harris, big Brian Miller, the cultured Jimmy Adamson was hard as nails and Alex Elder could tackle a brick wall for fun and demolish it.
All of us were heartbroken when Ralph Coates was sold in the very early 70s. But going to Tottenham made it seem almost acceptable. The subterfuge of the sale and how Coates was secretly transported from Burnley to a car park somewhere in the Midlands to complete the signing in the back of a car would have made a hilarious 'Carry On' film.
Alex Elder was at the Buchan book launch and still looked incredibly fit and still able to play 90 minutes. The inimitable John Riding, he of the elegant Fedora hats and quality pith, hosted the evening. Fewer than 100 copies of this book remain. It was a good night with Steve Kindon and the usual 70s suspects exchanging banter and insults amongst themselves. There probably won't be another group quite like them for sustained camaraderie and get-togethers. There was a trio of key goal scorers; Trevor Meredith who scored the winner at Maine Road in 1960 that won the title, Ian Britton who scored in the Orient game in '87 to save the club, and of course Jimmy Robson who scored at Wembley. Granite-hard Andy Lochhead was there as well, probably the greatest header of a ball the club has seen, scorer of four against Man United in one game on Boxing Day.
Joe Vaiders one of the people who helped finance the book was there and remembered his first ever game in the fog. The Buchan era seemed to be filled with thick, pea-soup, foggy days when the game went on regardless as long as the referee could see his whistle; another memory of the distant past.
It was a cold, still and frosty morning. The weatherman said it would remain below freezing all day. But this was 1967, what did they know then? They were still sticking fuzzy felt clouds on a fuzzy felt map of the UK on a black and white TV. Actually, it wasn't that cold and there certainly wasn't any frost. That was just the memory playing tricks on me. Which makes me ask the question: just what do I actually remember about my first visit to t' Turf?
November 4 1967: Someone had gotten hold of Gene Pitney's heart, Donovan was singing about a mountain, and Dave, Dee, Dozy, Beaky, Mik and Tich were wailing on about Zabadak. The Israelis were fighting over Palestine and Bobby Charlton was seeing off Stoke 1-0 at Old Trafford. Paul Newman (aka Cool hand Luke) was shovelling 50 hard-boiled eggs down his throat and Patrick Troughton (aka The Doctor) was fighting off The Abominable Snowmen.
It was two weeks after my 14th birthday and I'd saved up to visit my Mecca for the first time. This was no mean feat for a young lad who lived t'other side of Leigh and who'd never been further than Westhoughton before. I remember very little about the game other than Burnley were in claret and blue and Chelsea were in yellow and blue. Never having seen my beloved Clarets in the flesh I didn't recognise the players. For the whole of the first half I thought that Gordon Harris was Andy Lochhead but then again, it was quite misty and the programme promised that Lochhead was playing.
During the second half the mist turned to fog and I struggled to see the far side of the pitch from my vantage point in the Brunshaw Road Enclosure – homely wasn't it? On 82 minutes Chelsea scored, not happy, not only were we losing but I would be stuck in Burnley with no buses to get home. Those who were around back then will well remember the 'pea-soup' fogs that stopped the buses running. With a long journey in front of me, I left the ground early. I hadn't got to the lights at Todmorden Road when I heard an almighty roar. Willie Morgan, 89 minutes, 2 hours and 55 minutes to get there, 2 hours 55 minutes home, and I missed the goal.
On the 236 back to Bolton I remember looking out of the steamed up windows over Burnley, Water, Waterfoot, Rawtenstall, Ramsbottom and all points south. Being a Saturday and the day before Bonfire Night, some people had lit their bonfires; proper bonfires before Health and Safety got involved. Fireworks were exploding all around. By the time I'd got to Bolton station the Evening 'Pink' was out, strange because it was light green. It was only a 20-minute wait for the bus to Leigh but I almost missed it as I devoured and savoured every minute of the match I had just seen. I was to do this trip for the next four seasons for every home game and there was something comforting about reading the 'Pink' all the way back home; that is unless we got thrashed.
But back to the Turf and Chelsea, what do I remember? The smells, strange that: The aromatic sweet tobacco being smokes on the 236 from Bolton to Burnley, the onion rings being fried and being singed at the hot dog stall, the cordite lingering in the air all the way home from fireworks going off everywhere. I loved it, and even now it brings a lump to my throat casting my mind back seeing Ralph Coates, Brian O'Neil, Willie Morgan, Frank Casper, Martin Dobson who was the single sub that day, and Colin Waldron making his home debut that day, on display in front of me.
For Chelsea, Bonetti had a blinder, along with Ron Harris, Eddie McCreadie, Charlie Cooke and the very imposing figure of Peter Osgood. It was real football played by real men. So there it is, my first 'kiss' with Burnley Football Club. We were married shortly afterwards and celebrate our 50th anniversary soon. Courtesy of Joe Vaiders
Jim Pilling was nine years old in 1962. It was April 3and Burnley were playing Nottingham Forest. Had Burnley won they would have been top of the league with three games in hand and nine left to play. Jim had never seen the team play before but knew everything about them. His dad asked him did he fancy going that night.
'These words were like a lightning bolt. Going to the game was something that only grown-ups did. We were also just about to make it to the FA Cup Final. What could possibly go wrong thought the 9-year old debutant supporter? Needless to say, that thought never enters my head these days.
The whole day went by in a haze. The bus journey from Rawtenstall, the bus full of Burnley supporters, increased my excitement to fever pitch. Dropping down Manchester Road into Burnley I got my first sight of the ground and I was awestruck. I had seen the ground before of course, but the sight of those huge floodlight pylons gave the stadium a feeling of invincibility – and I was actually about to go inside.
The walk from the bus station, the walk under the canal, men selling scarves, badges, hot dogs, the smell of tobacco, rattles rattling, pubs doing a roaring trade, the feeling of intense anticipation… it was sensory overload.
We took our place on the Longside. I moved down to the wall at the front and just took it all in. It was a much grander stadium than I had ever dreamed. And all these people – they were all Burnley fans. The sounds, the smells, the pushing and the vast hordes of humanity; and then the Gods entered the arena. The noise was incredible and I added my share.
Actually seeing my heroes in the flesh, each one as recognisable to me as my own family, and then the floodlights were lit at halftime; I was spent and exhilarated at the same time. The game went by in a flash; we drew 0-0, but never mind we will win on Saturday I thought. We didn't. We went on a poor run and were pipped by Ipswich for the title and lost the Cup Final to Spurs.
I remember that day, April 3, 52 years ago, as if it were yesterday. That day Burnley FC became part of my family – and what a great set of relations I now had. Jimmy Mac, Ray Pointer, Jimmy Robson… an unbreakable bond was forged that day between them and me – and today it is just as strong as ever. Courtesy of Jim Pilling
Saturday December 20: Mrs T had decided this would be the day we did a little Christmas open day chez-nous, have the neighbours round, promote the Christmas spirit, slurp mulled wine, scoff mince pies and cheese, but leave the telly on SKY and see the scores coming in. Burnley were at Tottenham and the last two visits there had seen scores of 5 and 4 conceded. Spurs games have always seen goals. The cards were up, wrapped presents heaped high, 16 for Mrs T and just the one for me, the garden lights working; my pleas to have a giant inflatable Santa singing Jingle Bells and all lit up at the front door alas fell on deaf ears. The small boy in me sulked. Our opposite neighbour's Christmas lights that festoon his house and can be seen from Space fill me with envy. The morning was spent polishing, dusting, hoovering and switching up the little lights that we do have to twinkle level 10.
Earlier in the week we'd been with chums for a Christmas meal in Skipton, this time at The Woolly Sheep, voted Yorkshire's favourite pub of 2014 (though it didn't say who'd voted for it). Turkey was put on hold, the Stacked Burger was a worthy alternative, piled high with a pure Yorkshire beef burger, then a layer of pulled pork, then a layer of bacon, then a layer of cheese, then a layer of lettuce and tomato, and all accompanied by a pile of chips that would have fed a football team. Common sense and heartburn forbade me eating the lot. I was so full I couldn't manage a pudding which is very unusual for me. The Woolly Sheep is down by the bottom roundabout in the town centre, highly recommended and is Dave's delectable, delicious, top tip. The signature dish is Braised lamb Shank Rillettes, Shoulder Shepherd's Pie, Salsify, Parsnip Purée and Red Currant Jus, followed by an Assiette of Quality Street. Some people may think that an Assiette is a small donkey. But no, it is une petite dessert plate.
The heart hoped for a point maybe at White Hart Lane, the head looked at the Tottenham line-up, saw their two recent wins, and thought nowt for Burnley today. People wandered in and out the house through the afternoon. The pile of mince pies slowly diminished. We'd got a Brie amongst the cheeses that was so pungent we'd had to keep it down in the cellar. Unleashed on the visitors we watched their faces and noses wrinkle and everyone scanning each other suspicious that someone in the room had passed wind. Mrs T wouldn't let me play the CD I have of 120 different recordings of flatulence that ends with the 1812 Overture.
For four hours I ferried drinks, refilled glasses and spread bonhomie. But there was a groan from the telly room. Tottenham had gone one up. My bonhomie diminished. A few minutes later a roar and a shout that Burnley had equalised. Bonhomie exploded through the house. I caught the goal by Barnes on an obscure website, boy what a stunning beauty from 22 yards. And then another groan from the telly room when Spurs scored again.
The hour-long recording on Sky showed just how close Burnley came to taking the point they deserved. Spurs were mighty relieved at the final whistle with Burnley disappointed and dejected at another undeserved result. 'A win but too close for comfort', said one of the Spurs websites, and pretty much summed it up. At one stage it seemed to be their goalkeeper Lloris versus Ings. On three occasions he beat his shots away. With seconds remaining he saved a superb Wallace free kick. On a couple of occasions the Spurs goal led a charmed life. In the very first minute Arfield hit a spectacular volley that whistled so close over the bar. Had it gone in it would have been goal of the century. The Spurs first came as a result of a handball – what handball was my immediate reaction to the TV footage, and the free kick went on to illustrate yet again how utterly confusing and daft the offside rules are. If a free kick is deliberately played to a player standing in an offside position how can he not be interfering with play? That plus a possible penalty when Barnes was hauled to the ground leaves an unhappy taste.
Filled up with mulled wine the evening ended in a sort of haze. The last time we were in the Prem away game after away game ended in a whupping. Not so this time. This team is so well organised and fights and grafts and once again didn't get the point it deserved.