Firstly ex-footballer Sol Campbell grumbling at Ed Milliband's proposed Mansion Tax and secondly the report that 18-year old Ruben Loftus-Cheek along with other youth players at Chelsea was on £10k a week and has yet to play a full first-team game. Then at Liverpool there's Raheem Sterling not signing a £70k a week contract according to reports.
Sol Campbell might well have a valid point or two regarding the Mansion Tax but the significance, it seemed to me, was not the justness or unjustness, but simply the fact that with his £million+ house he will be in line to be slapped with payments if Milliband has his way. Footballers have clearly come a long way since their back-to-back houses, living next door to the likes of you and me, in the days of the 50s and Charles Buchan, and then their little homely semis for the next decade.
The response to the request for boyhood memories dating back to the time of Charles Buchan was splendid. So much so that it could be 2019 before I get them all into something coherent. But here's one from writer Tim Quelch who has a number of Burnley books under his belt. His book 'UNDERDOG' is well worth a read; a book that begins with his boyhood days and non-league football.
'It is a blazing August Saturday in 1958, a remarkable exception in a predominantly wet World Cup summer. I am sitting near the open café door at a crowded Waterloo Station, sipping stewed tea waiting for my mum. The recently arrived expresses are disgorging their holidaymakers: quiffed men, heavily suited, pony-tailed women florally dressed; all struggling with plump leather suitcases. The exhausted locomotives are hissing with excess steam. Scents of scorched oil, tar and sulphur waft around the grimy concourse. The unappetising café food has a gritty, sooty quality. A public address operator announces the impending departures to places near and far, in a plummy accent. But, I am absorbed in the latest copy of Charles Buchan's Football Monthly that my dad bought for me to occupy my journey. It is my opiate for the awkward access meetings. I stare at the coloured pictures of the Burnley players – shockingly blonde Ray Pointer, imposing John Angus, smiling Brian Pilkington, strangely situated in a sunny, rural setting. I had always understood that Burnley is a place of sprawling mills and spectral smog but here it seems as exotic as the Black Hills of Dakota. Although the memory is almost 60 years of age, the impression is as fresh as ever. Football Monthly took me to faraway places I could then never hope to visit, introducing me to glamorous if tough looking footballers I might try to imitate but could never hope to be.'
And isn't this the thing today, just as much as yesteryear, when young kids pretend or hope to follow their heroes. Grandson Joe scoots up and down our hallway in his Burnley kit re-enacting the goals of Danny Ings or Sam Vokes. He'll change into his goalkeeper kit and pretend to be Tom Heaton. Back then in the Buchan days in Burnley and surrounding areas we'd pretend to be Jimmy Mac or John Connelly and Ray Pointer. The lads who fancied themselves as goalkeepers would be Adam Blacklaw or Colin McDonald.
What I remember about football back then was how hardy these guys were. I can't recall a player wearing gloves or long sleeves or a thermal vest in winter conditions that would have had a Polar Bear sending out for a hot water bottle. At Todmorden Grammar School our fifth form games session was on a Friday afternoon. With icicles hanging from the trees and rooftops we'd clop down the steep Ferney Lee Road to the icebound football pitch on Centre Vale Park. We'd play on that and slowly turn blue without hats or scarves or gloves. The PE master would have ridiculed us had we dared step out in sub-zero temperatures with a pair of gloves. For good measure I can remember the inside of my bedroom window icing over many times and we thought nothing of it.
At the Turf, Cleghall remembered 'the Beehole End bogs at half-time, Woodbines and Park Drive cigarettes, the kids' enclosure affront the Longside, green painted railings, the half-time scoreboards and traffic jams on Brunshaw Road. But more importantly the greatest team to grace Turf Moor. It's 1959/60 once again and in a black and white world Charles Buchan painted it claret and blue.'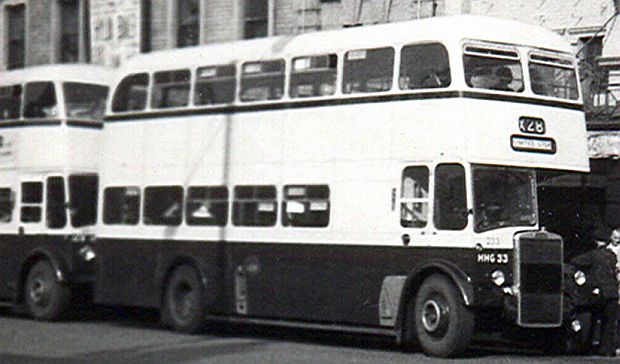 The buses ready in town to take people home from the game
Dave Alty was 14 in 1958 when he started watching the Clarets. At the home games he would arrive at 1.30 and wait for the players for autographs he collected in his large scrap book of Burnley photos only. These were taken from the Charles Buchan Football magazines that he and his brother had delivered along with any home matchday specials which were published by the local paper that also did 'the last sports' on a Saturday evening. An hour later he and his brother would be standing behind the goals at the open end. He remembers Burnley would attack that way first, most games. At half-time they'd then run round to the Cricket Field End via the Longside for the second half. At full-time they'd run to the Bus Station to catch the 5.30, the 236 Bolton bus to Edenfield.
How important the buses were back then. Today they are a faded memory unless you have sampled the enforced ride from Turf Moor to Blackburn. 50 and 60 years ago it's how most of us got to games from the outlying areas like Todmorden. You went with your pals; you queued at the bus stop for one of the 'specials'. Great lines of them filled up with supporters and then made the slow, steady trip up the Cornholme Valley, through the Cliviger Gorge, down through Walk Mill and then eventually to the parking area near the ground. There was the buzz of excitement and conversations, the steamed up windows, the shared expectations and hopes, and enormous camaraderie. Bob Nicholson remembers the buses that he caught:
I've always been impressed by people who can remember their first match, my brothers can, and my children, who we played, who scored and so on. I can't. What I recall is the overall experience. I went with my dad that first time. I was born in 1947 so I am guessing I went on in the 57/58 season. I remember seeing Winton, Seith, Shannon and Shackleton. There was a Turf Moor Special bus that picked us up from the end of our road in Nelson, perhaps starting from the Shooters Arms just up the hill where Tommy Cummings became landlord. That was a great way to go to the match, everybody talking about the game, who would be playing, who was the best player. I have a vivid recollection of walking up the steps behind the Longside and seeing the pitch for the first time, a dazzling green so it must have been the start of the season. People say it's a long time ago, but it's not is it? It seems just five minutes since. At the recent Villa game I was telling my wife and the youngest down from Uni, about nipping through the crowd after the game, running up the path beside the cricket club towards the armada of buses, practising my magic moves as if I was Jimmy Mac shimmying through the opposition's defence. We go on and on don't we, Brian O Neil, Willie Morgan and another, Ralph Coates. Danny Ings today – who tomorrow?
It's rare these days on our journey from Leeds to see any supporters in their claret shirts standing at bus stops. There certainly weren't any as we drove over for the Southampton game. You'd once see them in Mytholmroyd, Hebden Bridge and most definitely Todmorden in their droves. We don't stand at a match like we once did inhaling the cigarette smoke of others. We are no longer hemmed in shoulder to shoulder on the Longside straining to see. It was uncomfortable, sometimes downright unnerving but it produced noise and emotion of an intensity and volume that is rare today. The Longside was special. Those of us who stood there on European nights when the lights shone through the mist, the wet pitch glistened before it turned to mud and all of us squeezed in like sardines, treasure the memories. They will never happen again.
Southampton in town: the day beginning with crispness and blue skies. Frost and ice made our sloping drive into an early-morning skating rink. By the time the teams came out the sky was black and ominous. By the time the game ended sleet and hail belted down vertically. Full marks to Jason Shackell who talked to grandson Joe all the time as they walked out onto the pitch; the cameras caught him and there he was on MOTD leading the team out beaming and applauding. It was another magical day ending with chicken nuggets and ice cream in The Queen at Cliviger. And in-between, there was a priceless win. If Carlsberg did birthdays –
Southampton were slick and pleasing on the eye, but by and large got nowhere. Only in the final minutes did they make chances that on another day might have gone in. The luck was with Burnley in this game – and about time. They had precious little at QPR. Sean Dyche acknowledged that yes there had been a scratch of good fortune. At one end Tom Heaton saved a penalty. But, in fact, was it luck or just good planning and previous homework on how Southampton man Tadic takes penalties. Heaton said it was the latter and dived the right way making it look just another routine save, whereas in fact it was anything but.
It was the turning point of the game, and who knows, maybe the season, for it kept the score sheet blank so that up at the other end Ashley Barnes could pounce on a defensive error when Ings charged down an attempted Clyne clearance, head for goal at pace, and slam a shot under the giant keeper's body. At this point I felt rather smug and knowledgeable. On the way to the game I had mentioned to Mrs T that giant keepers suffer from a disadvantage; they can be poor and slow to get down to low shots. I'd seen this on an earlier MOTD. Like the expert pundit that I am, I explained that this was just how we could score as she munched on a sandwich.
And so it proved. The shot took the tiniest deflection and Forster was unable to adjust and get down quick enough to smother the shot as it went under him. I waited for Mrs T to say wasn't I clever. She didn't. It's been a long time since she has ever said that. After this, Southampton made a couple of chances but you knew this was not to be their day – it just had that feel about it. You did not envy their supporters' long journey home.
If Heaton and Barnes were two heroes, then so was Jason Shackell with another display of assured elegance. Trippier had a stormer. All the others played their part. And then there was young Danny. If he ran into blind alleys once or twice then we can forgive him that for the dribbles and spins and shimmies and twists and turns and fleets-of-foot that got him half-way up the alley in the first place. They were alone worth the admission money. For the most of the game he ran and harried and sparkled and twinkled like the lights on a Christmas tree. Ajax are the latest said to be interested in him. But take my advice Danny; if you do leave, Ajax is not the place for you.
By now the conditions were raw, the air biting, the sleet belting down. 20 or 30 geese flew across in the distance, heading for shelter if they'd any sense. This was hot chocolate weather but the draughty Fanzone filled up with hardy beer drinkers after the game. They must be made of stern stuff. But celebrations were definitely in order be it with beer or a tot of rum. The last 6 games have seen 3 wins and two draws. Er, excuse me but this is top-four form. Who can predict if it will last or not but this is the team that was predicted might not win a game all season.
In Charlie Buchan's day the players could well have gone home on the bus alongside the supporters. Brian Pilkington used to go home on the bus after training and remembers hiding behind a newspaper to get a bit of peace if he was particularly tired after a training session with Alan Brown. Few players had a car so that there was no protected car park for them. Many a young fan saw where they left their cars a few streets away and then waited after the game to get autographs. Alan Tomlinson remembers one day chasing after the great Stanley Matthews after a game as Matthews was about to drive away.
There, within sight, was the great man himself after a game at Burnley; the icon, the magnificent sportsman, filled with worthiness and virtue, the embodiment of Corinthian values and ideals, a footballer that the sporting world revered. Alan dashed after his car before the great man got in. In fact he was part of a posse but got there first and stuck out the autograph book, puffing and panting after his hectic dash.
'Sign please,' begged an awe-struck Alan totally out of breathe. Picture Alan, dear reader, his face wreathed in smiles, hero-worship etched into his boyish face, his hand and pen outstretched, the book ready for signing, the anticipation of a sought-after prize. THE Stan Matthews was actually there in front of him.
The much-loved Stanley looked down at him. Alan anticipated a smile and a friendly greeting but none came.
'F**k off son' the great man spat.
The deflated young Burnley fan, now thwarted, returned to his pals and informed them that Mr Matthews was a 'c*nt.'
'Autograph hunting was never quite the same after that,' says Alan. 'And neither were Saturday afternoons.'